A Singaporean man has been fined for transporting a pangolin from a park, where it was found at, to another reservoir.
56-year-old Chong Soo Yong pleaded guilty on Nov. 4 to one charge of displacing a live pangolin.
Transported it from park to reservoir
According to CNA, the National Parks Board (NParks) first received feedback that two men were seen moving a pangolin from Upper Seletar Reservoir Park.
The park is located within the Central Catchment Nature Reserve, which is a gazetted area under the Parks and Trees Act.
On Oct. 6, 2019, Chong reportedly saw the scaly creature on a grass verge near the road.
He was with a man, known only as Tony, CNA reported. Both men picked the pangolin up by its tail, placed it in a bag and then got into their van.
A passer-by who spotted the two men questioned them about what they were doing.
When asked why they were moving the animal, they replied that there were "too many ants in that area", and claimed they were transporting it away for its safety.
They continued about their way despite the passer-by asking them to release the pangolin.
Both men then drove off in their van, and the passer-by tailed them in his car.
At Lower Peirce Reservoir, both men stopped and released the pangolin along a grass verge.
Could have been fined up to S$50,000
In court, CNA reported that Chong admitted to displacing the pangolin.
However, he did not reveal any more information about the other man, Tony.
The prosecutor added that he was "not forthcoming" about giving away more details of who Tony is.
As Chong did not have any prior convictions, he was fined S$5,000.
For displacing an animal from a protected area like the CCNR, Chong could have been jailed for up to six months, fined up to S$50,000, or both.
Aborted poaching attempt?
While Chong claimed he had moved the pangolin away for its safety as there were many ants around, ants are actually one of the pangolin's main food sources, aside from termites and other insect larvae.
Sunda pangolins are critically endangered, and are shy mammals native to Singapore. Here, they are most threatened by habitat loss. They are also often victims of road accidents.
Due to their scales and meat being prized in other Asian countries as delicacies or ingredients in Traditional Chinese Medicine, pangolins are also the most trafficked mammal in the world.
After news of Chong's deed circulated online, numerous nature lovers were outraged.
Some believed it to be a failed poaching attempt, suggesting that the only reason why Chong eventually let it go at the Reservoir was due to the passer-by noticing his actions.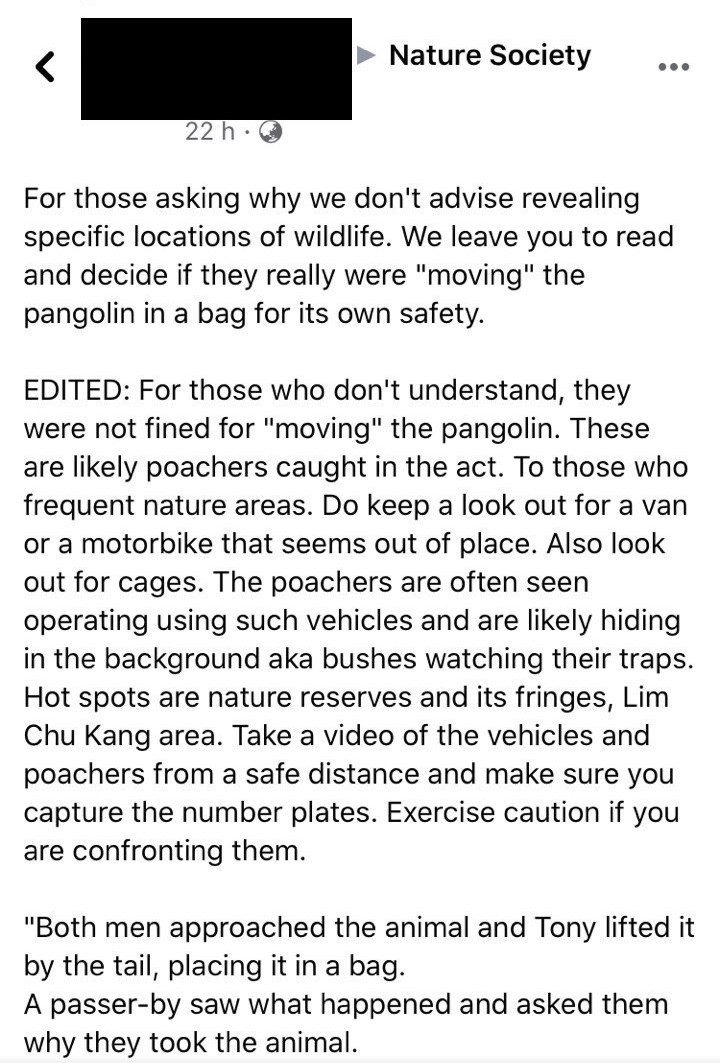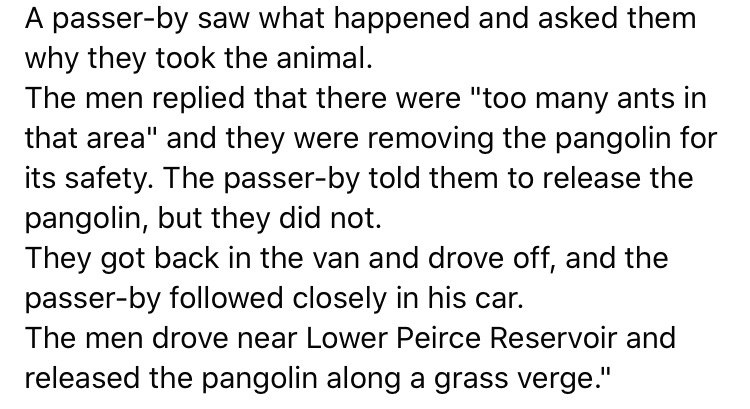 Others expressed relief that the passer-by was there to "save" the pangolin "from a horrible fate".
Members of the public who encounter pangolins in the wild need not be alarmed.
Should the pangolin be in danger, such as if they are found in the middle of a busy road, they can contact NParks or Acres.
Those who witness any illegal trading or poaching should take photos or video evidences of the traps, snares, nets, trapped animals, poachers, and/or their vehicle license plate number.
They can also call NParks' hotline at 1800-471-7300 or contact the local police.
Totally unrelated but follow and listen to our podcast here
Top photo from Louis Ng Kok Kwang / FB 
If you like what you read, follow us on Facebook, Instagram, Twitter and Telegram to get the latest updates.