Life of the junglefowls and chickens living in the Sin Ming estate in the Thomson area has been a roller coaster ride.
Sin Ming's chickens
In 2017, 21 pieces of feedback from residents in three years led to the decision to cull 24 free-roaming chickens in Sin Ming estate.
What appeared as a knee-jerk reaction to get rid of the chickens then led to a huge national discussion over the then-Agri-food and Veterinary Authority's (AVA) decision to put down the birds.
Here's a recap of the tail-end of what happened three years ago:
Poll showed residents okay with chickens
Following that, a poll was conducted by the Thomson Sin Ming Court residents' committee (RC) in May 2019 to seek residents' views on whether to leave the chickens alone or to relocate them.
More than 1,000 residents cast their votes and in the end, over 90 per cent of the residents who voted chose to leave the chickens alone, The Straits Times reported.
Yes, that was a clear mandate to leave the chickens alone.
Sadly, the chickens in Sin Ming still face the possibility of relocation despite the poll conducted last year.
Residents' feedback about noise and overpopulation
One resident, Jun Chong, received a flyer on Oct. 7 informing residents that there has been feedback claiming that the population of the free-roaming chickens within Thomson Sin Ming Court estate has shot up.
Adding on to that, there were complaints about the noise from the chickens as they disturb those working from home during this pandemic period.
Therefore, some chickens will be relocated to a Seletar farm where they will be kept as pets, the flyer said.
A quick check on Google Maps shows that the Seletar farm is called The Animal Resorts.
The flyer did not state how many chickens will be relocated and whether the native and rare junglefowls will be spared from this move.
There was also no mention of how did the residents' committee come to this conclusion that the population of free-roaming chickens had gone out of control.
Here's the flyer: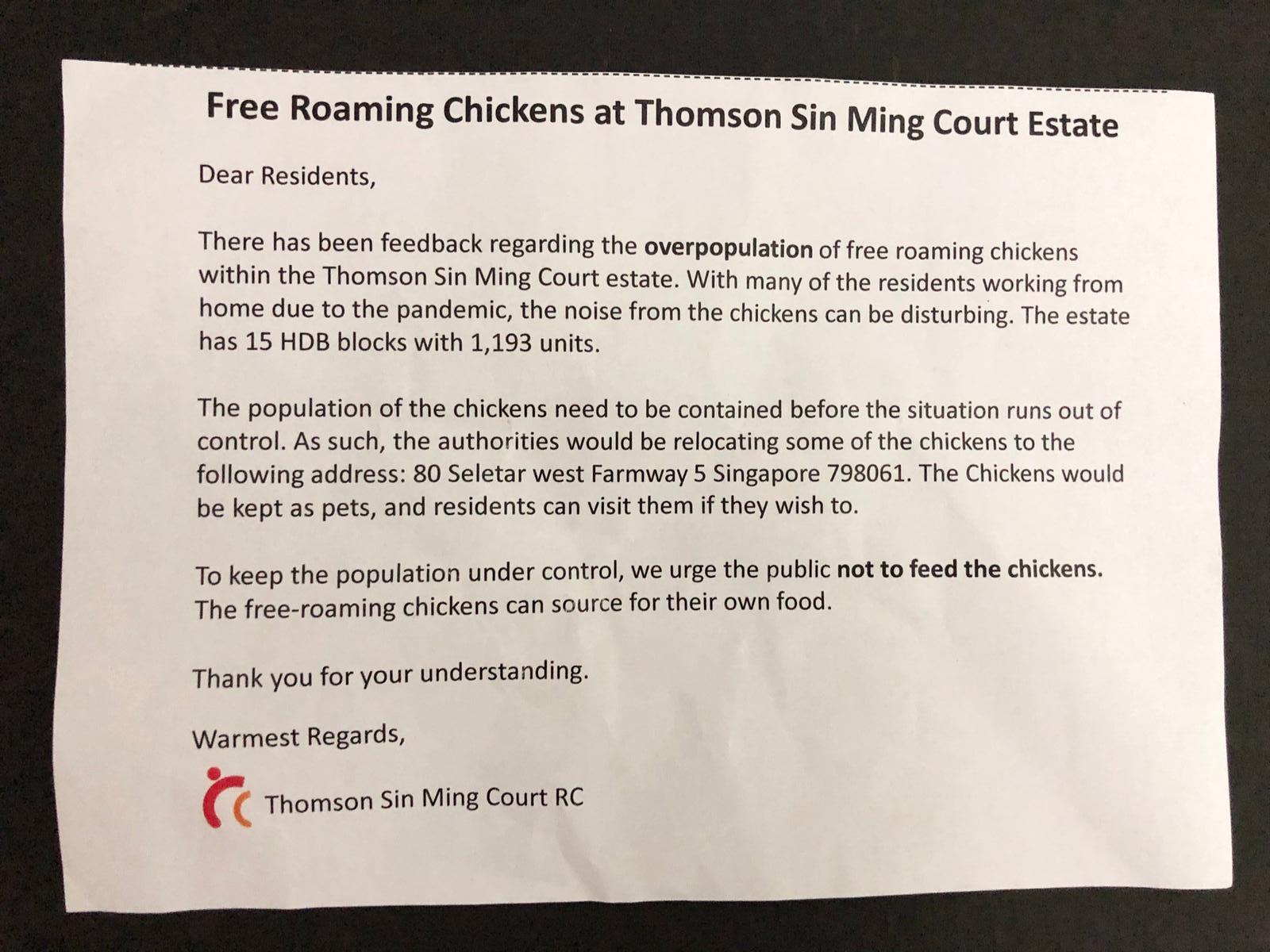 Jun Chong, who is a filmmaker who made a film about the chickens in the estate, told Mothership that he observed that two hens had produced about six chicks each recently.
However, not all chicks will grow up to maturity, he added.
Unique bond between Sin Ming residents and chickens
Earlier this year in January 2020, there were about 20 chickens observed in the Sin Ming Court area.
Many residents have grown attached to these chickens, with some even participating in a short film inspired by the relationship between Sin Ming residents and the chickens.
Those residents who are attached to the chickens are concerned about the safety of these animals.
Jun Chong recalled encountering some middle-aged men and women in the neighbourhood who were very protective of the chickens:
"I actually spent more time trying to talk to the residents and coax the residents, more than directing the film itself. Because whenever I was directing and they see the chickens, they would be like, 'Oh my God what are you doing?? Are you catching the chickens?? Are you going to do something to the chickens??' So they were very worried and I would say, 'No, it's a response to that incident and I'm just paying my tribute as a filmmaker to do that'. And so they'll like, 'Ohh okay,' then they would feel at ease."
On Oct. 8, Mothership spoke to residents in Sin Ming and checked out the chickens. MP Chong Kee Hiong has also spoken out on the relocation of chickens:
Totally unrelated but follow and listen to our podcast here
Top image via New Resident and by Zheng Zhangxin
If you like what you read, follow us on Facebook, Instagram, Twitter and Telegram to get the latest updates.