The Land and Transport Authority (LTA) shared an update on Oct. 2 on their enforcement actions against motorcyclists.
However, the Facebook post has sparked much public outrage, garnering over 1,200 shares so far.
The post said that enforcement officers wearing plain clothes have issued a few motorcyclists riding or parking on pedestrian pavements along Orchard Road.
Here's the post:
It also reiterated the penalties against offenders include up to S$2,000 fine and three months jail.
Public outrage, fines not tackling root of problem
While the enforcement action is important to ensure the pedestrians can use the pavement safely and in an unobstructed manner, many comments also urged LTA to show some empathy and leniency towards food delivery riders.
A few comments highlighted that issuing fines to delivery riders who parked illegally on pedestrian pavements is the result of a lack of designated parking facilities at Orchard Road.
Speaking to Mothership, a food delivery rider going by the Facebook handle Joey Fred Collins, said that even a grace period of 10 minutes can be insufficient given the time spent waiting for the food.
"... Most car parks are like this, excluding wait time for food, we wait for [the] lift and all, not enough time really.

[...]

One delivery is maybe S$5 to S$7, there's no way we can spend S$1 or more, HDB parking sometimes we spend 10 cents, 20 cents etc no choice, but mall parking isn't the same.

On top of that mall's parking, to enter, sometimes will have traffic jam."
Here are some comments made in response to the post: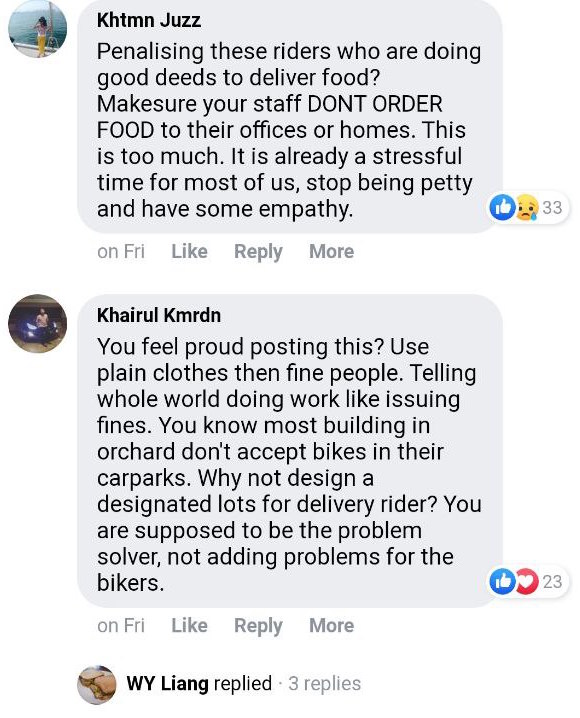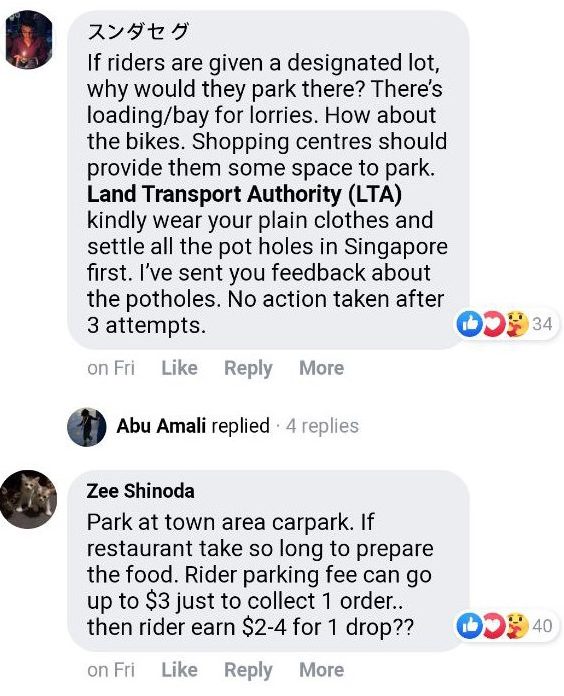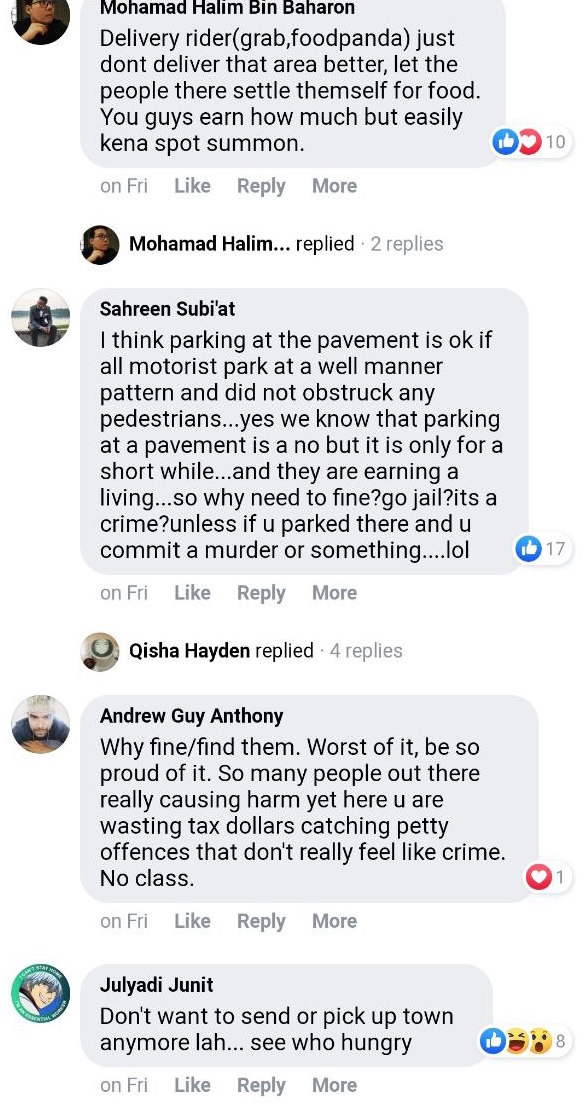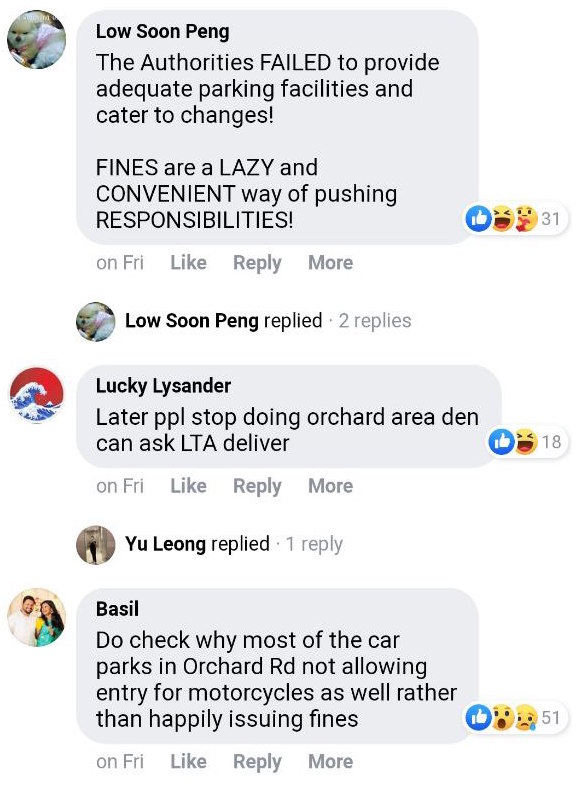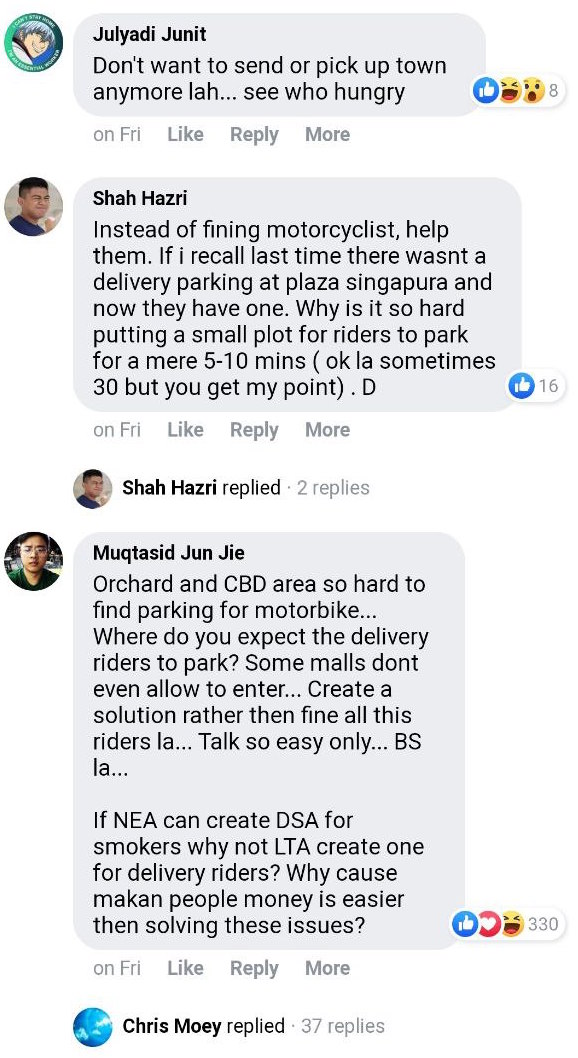 Calls for better facilities for delivery riders
A Workers' Party member, Azhar Abdul Latip, who previously contested in East Coast GRC, also spoke out in response to this particular LTA post.
He mentioned VivoCity as an example of a mall that has already created designated lots for delivery persons to park temporarily.
"And if VivoCity is able to come up with such an arrangement, I am sure it can be done at other places as well. What needs to be done is a working together between the food delivery companies and the building management to designate a suitable place to allow for short term bike parking without posing any dangers to pedestrians. If building management can increase their bike lots capacity in their existing parking areas, all the better."
Here's his post:
Previously, Member of Parliament Hany Soh also called for a 15-minute grace period and designated pick-up points for delivery riders.
She said that creating these facilities would be a "win-win" situation to reduce illegal parking and improve the delivery process.
Totally unrelated but follow and listen to our podcast here
Top image via LTA/Facebook
If you like what you read, follow us on Facebook, Instagram, Twitter and Telegram to get the latest updates.