Louis Ng, MP for Nee Soon GRC, says he will continue to tackle the issue of second-hand smoke during the next Parliamentary session, according to a Facebook post made on Oct. 28.
Previously, he spoke at length about the topic during his adjournment motion speech in Parliament, where he argued for a ban on residents smoking near windows or on the balconies of their homes, which was proposed by a Government Parliamentary Committee (GPC).
Ng chairs the GPC for Sustainability and the Environment.
The proposed ban would entail challenges in enforcement
On Oct. 5, Ng told Parliament that about 383 people in Singapore died due to second-hand smoke in 2016, or about one death every day.
The GPC's proposed ban will empower National Environment Agency (NEA) officers to enforce what is currently an advisory for residents not to smoke near windows and on balconies.
Although he acknowledged that this might appear to be an intrusive regulatory approach, Ng pointed out that certain laws, such as those against nudity at home if others can see it, already curb people's behaviour at home.
In response to his speech, Senior Minister of State for Sustainability and the Environment Amy Khor said that such a move would entail significant practical challenges in enforcement.
She said that enforcing the ban within an individual's home will "exacerbate existing concerns" about "infringing" the owner's rights to his or her own private space".
Ng questioned how the government enforces the law against nudity at home
In his latest Facebook post, Ng argued that the proposed smoking ban is not the only law that is difficult to enforce.
He repeated his example regarding the law against nudity at home if others can see it, questioning how the government can enforce the law effectively.
Ng also emphasised the dangers of second-hand smoke, calling it a serious public health issue. He also linked back to a previous post explaining why this won't be an intrusive proposal.
Ng then brought up another law that appears seemingly tough to enforce as well, namely the law on nudity in your own house.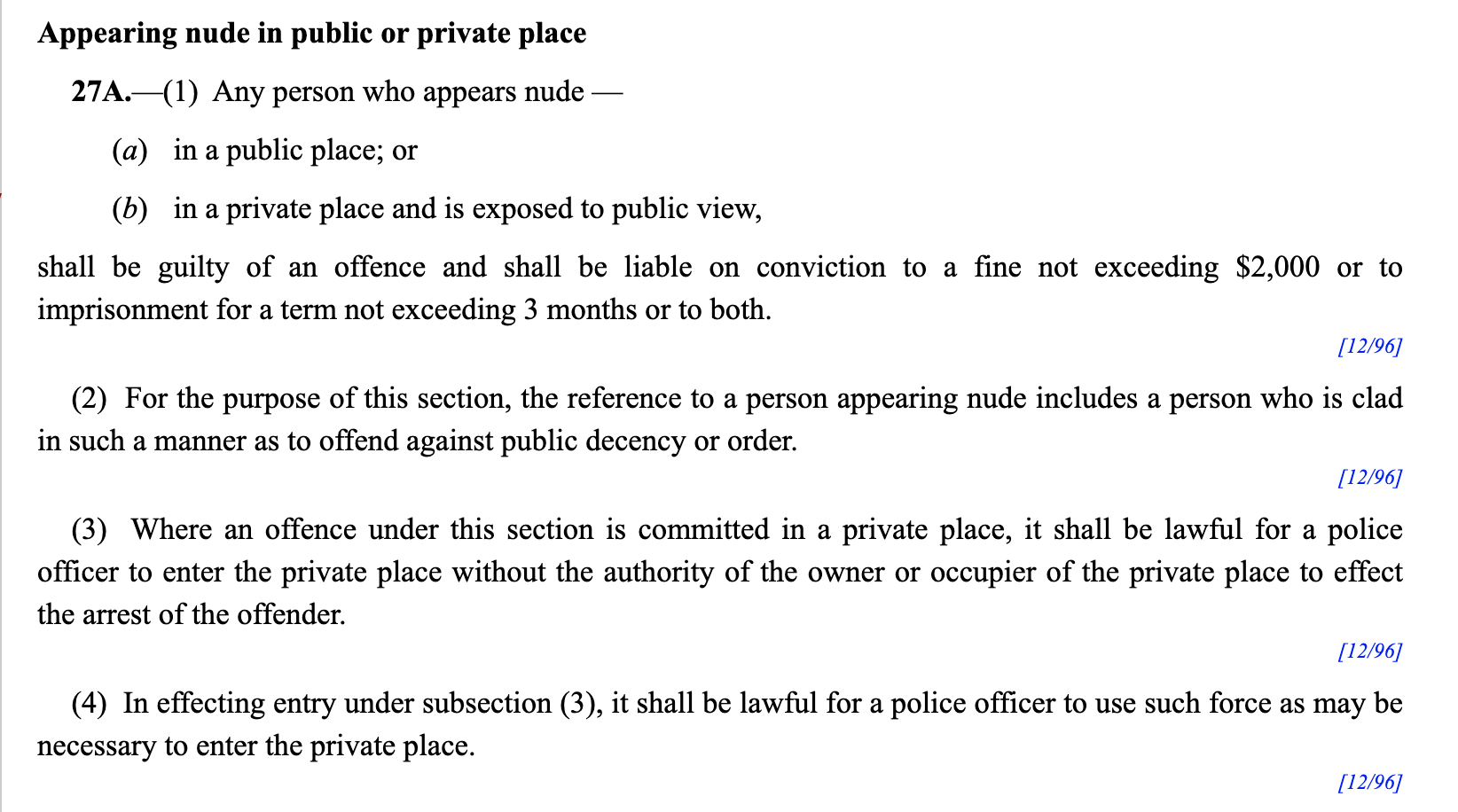 He then compared the two in terms of lethalness.
"Being naked in your own home doesn't kill your neighbour but second-hand smoke could," he said.
Ng said that in the next Parliamentary session, he will ask the Minister for Home Affairs for an explanation on how the Singapore Police Force (SPF) collects evidence for offences under Section 27A of the Miscellaneous Offences (Public Order and Nuisance) Act, where a person cannot be naked in a private place while being exposed to public view.
Ng also asked for members of the public for their opinion on the matter, and said that he will help raise them in Parliament.
You can see Ng's full Facebook post here:
Related Stories
We deliver more stories to you on LinkedIn

Top image via Unsplash and Gov.sg/YouTube.
If you like what you read, follow us on Facebook, Instagram, Twitter and Telegram to get the latest updates.