Follow us on Telegram for the latest updates: https://t.me/mothershipsg
Returning to a damaged car at the car park is probably a nightmare for many drivers.
Like any other drivers, Kiss 92.0 DJ Maddy Barber was "about to get mad" when she saw that her BMW's wing mirror had broken off at Seng Poh Road on Oct. 2, 2020.
Truck driver left an apologetic note behind after hitting her car
But the person who accidentally broke the wing mirror left an apologetic note written in Mandarin.
This note made her feel better, and made her wonder if she should reach out to him to ask for compensation.
The note was left behind by one driver named Wang Yao Wen, it says:
"Wang Yao Wen, driver

I accidentally hit your car, I'm sorry.

This is my number..."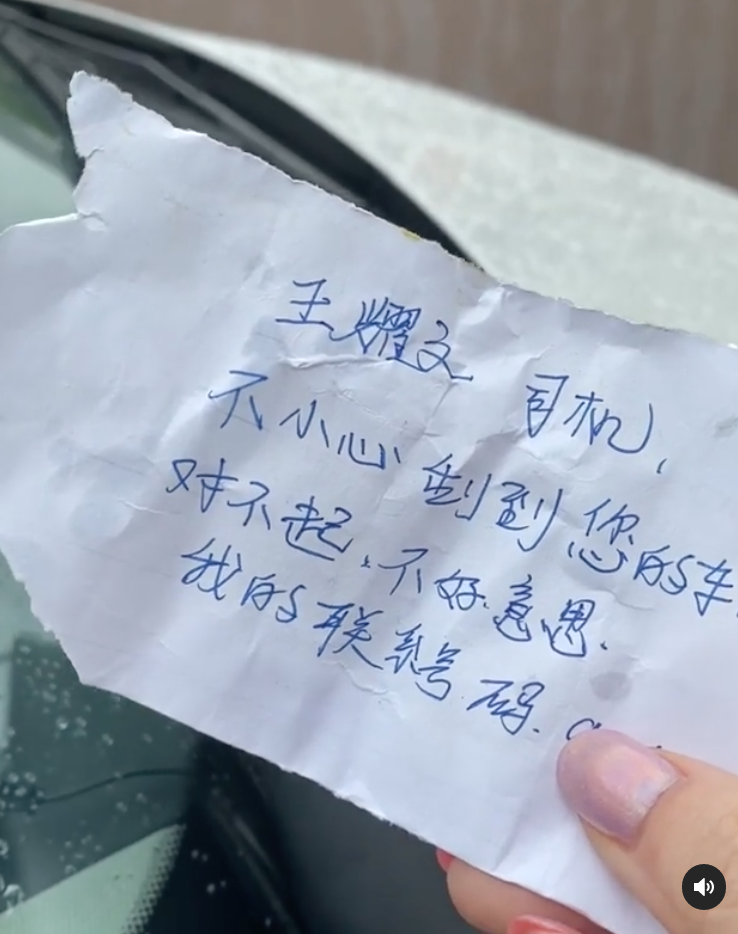 Truck driver waited for her, wants to compensate her despite having financial difficulties
A day later, Barber updated that she reached out to Wang eventually.
She found out that he's a truck driver who just came from China. Wang also admitted he has to support his family and is new to the job.
Speaking to the Chinese evening newspaper, Lianhe Wanbao, Barber said that when the call got through, Wang immediately asked if she's still at Seng Poh Road and he would rush down to meet her.
She also understands that Wang had waited for her in the rain that day for an hour and left a note behind afterward.
Wang's honesty and sincerity moved Barber. When she told him that he does not have to pay for the damages, Wang "sounded shocked and even cried at one point".
Willingness to take responsibility goes a long way
Barber said that even from her personal experiences, she's met drivers who were willing to forgive her after she apologised and offered to pay them for accidentally damaging their cars.
These experiences, including the one with Wang, show that "the willingness to take ownership and rectify a mistake of yours go a very long way with people".
Here's the full post:
Totally unrelated but follow and listen to our podcast here
Top photos via Maddy Barber's Instagram
If you like what you read, follow us on Facebook, Instagram, Twitter and Telegram to get the latest updates.