When the Covid-19 pandemic struck earlier this year, many of us had to adjust our work schedules and routines to fit the new normal.
One group that has really had to completely overhaul the way they do things are educators, by shifting to online learning. And keeping the interest and attention of hundreds of students is no easy feat.
We spoke to two senior lecturers at the Singapore campus of James Cook University (JCU) — Peter Chew, who teaches Psychology, and Caroline Wong, who teaches Business — about how they managed to keep their classes engaging for their students and continued to foster good relationships, despite needing to work through a computer screen.
Training prepared them for online learning
JCU's trimester began in mid-March, but within three weeks, the university had decided to switch to online learning.
While the announcement of the switch was abrupt, both Wong and Chew felt prepared to do so, thanks to previous training they had undergone.
Back in 2018, all faculty members at JCU had enrolled in the graduate certificate of education on academic practice. This was a one-year programme training them on how to use technology to enhance learning, such as how to shift lessons online and how to use blended learning.
In addition to the 2018 course, just in February, all JCU instructors went through a two-week intensive online training, in order to familiarise them with how to conduct online learning using blended learning — utilising a mixture of different activities, such as videos, quizzes, online lectures, and more, to teach remotely.
The previous training sessions gave Wong the confidence to switch over to blended learning when the announcement came that JCU would be switching to virtual classes.
"In a way, we were not caught by surprise," she says. She laughs, adding, "The surprising element came in that we didn't think it was going to continue on for so long!"
Chew's initial reaction to the switch was a bit more apprehensive.
"My initial thought was that there's gonna be a lot more work for myself," he says, laughing, and explains that because he is "a little bit of a perfectionist", he would likely find himself re-recording his lectures in order to get them just right.
"Because I know we have never done this before. And then, out of the blue, we are asked to do this. So there was the initial shock and surprise, and not the pleasant type."
Still, he stated that he was thankful for the past training he had received, especially the 2018 course, although he may not have realised it at the time:
"At that point in time, I was not really enjoying the lessons. But when Covid-19 came in March, I start[ed] to appreciate what I have learned, and it was just in time to put it into practice, I guess."
Some slight hiccups initially
Of course, the process of switching to e-learning didn't come without its own hiccups, especially in the beginning.
Wong, for example, had some trouble with figuring out how to share her screen and audio with her class. Thankfully, she says, her students were very understanding and patient with her:
"I fumbled a bit, but the students were very understanding. They would say, 'It's okay, Dr. Wong. We are with you, you did a great job.'"
Chew similarly faced some mild technical difficulties. For example, in the online platform, there are multiple virtual "rooms", and for Chew's very first virtual lecture, half of the students ended up in the wrong room.
"I was wondering, 'Why is my class size so small?'.

And it was only after about 30 minutes that we realised there was actually another half of them waiting for me in the other room. So that was not that optimal."
Eventually, he says, he was able to gather all of the students into one virtual room, and they all had a good laugh about the situation.
In addition, Chew's classes have experienced the classic issue faced by group calls, he says laughing:
"Of course, we have the usual instances where students leave their mic on. And you will hear music or their mother screaming at them, various things."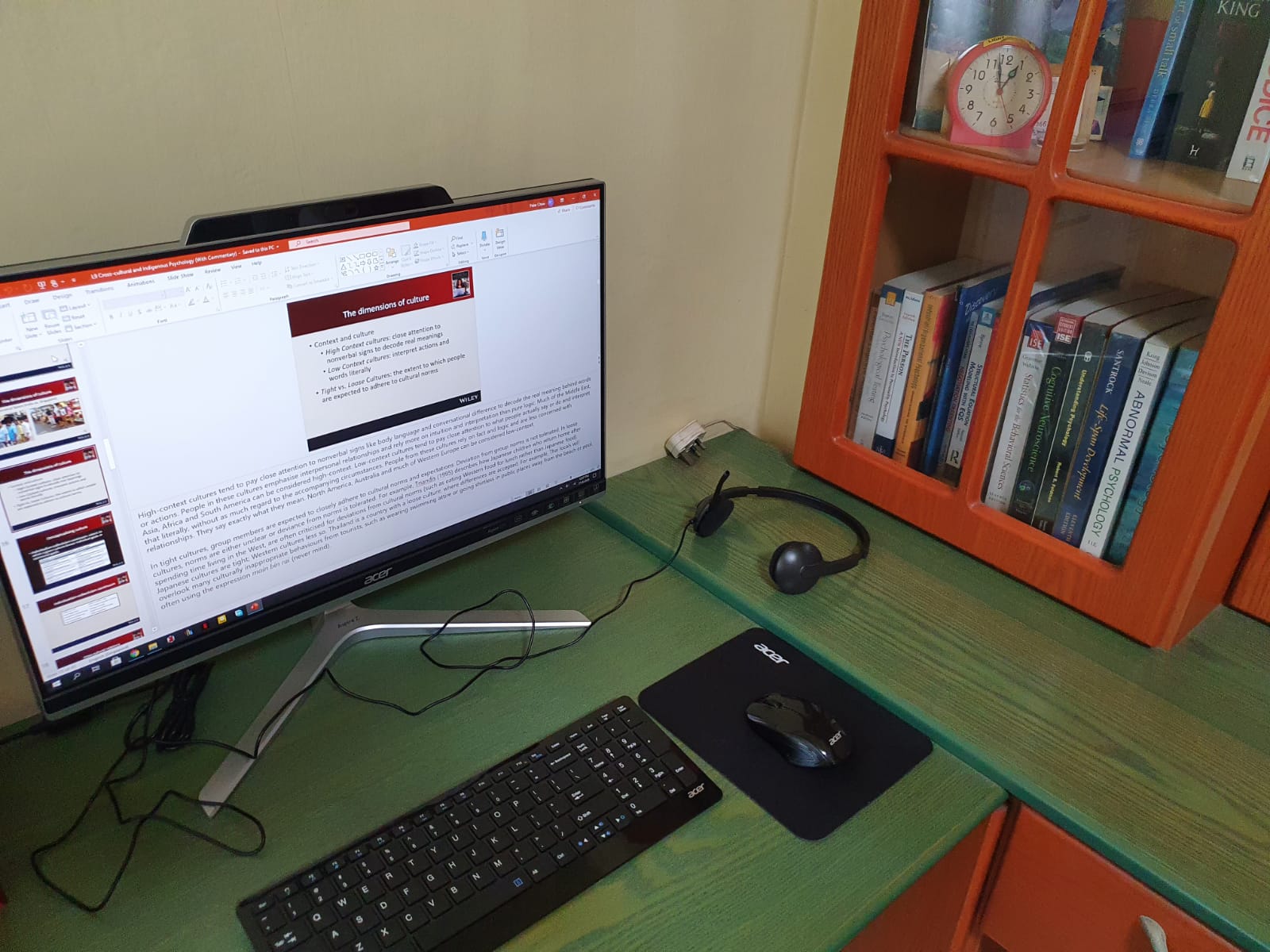 Keeping students engaged
Virtual learning is, of course, not the same as having in-person classes, and one major concern faced by lecturers is how to retain the attention of such a large group of students.
As Wong and Chew became more familiar with blended learning as time passed, they developed their own ways of keeping students engaged and involved in their classes.
A typical course, under the blended learning model, involves one pre-recorded lecture and one live lecture.
JCU encourages its lecturers not to pack too much information in all at once. Instead, they are encouraged to teach in small, bite-sized chunks, in order to keep students engaged.
For example, Chew breaks up his pre-recorded lectures slide-by-slide. So, instead of one one-hour long lecture recording, he records many shorter recordings, according to the information on any one given slide.
He admits that this method of recording lectures has been pretty time-consuming for him, though, especially given his perfectionist tendencies:
"For myself, maybe because I'm a little bit of a perfectionist, if I were to say the wrong words, I might start over again.

And so recording takes a little bit more time for me. As compared to a face-to-face lecture where I just have to roll with it."
He explains that, if his recording goes smoothly, he might only need to record a slide one or two times. But if not, he'll re-record four or five times.
And time taken to record definitely adds up, because Chew typically has 40 to 60 slides in a lecture.
But as time passed, he got used to it. And he also feels that it's worth it, for his students:
"I don't mind doing it, because in the end, over 100 students are playing that segment. And it's best to make it as concise as possible."
Wong keeps her students engaged by interspersing live lectures with a variety of interactive activities for them to participate in.
She uses video clips, live polls, discussions, sharing, and even Kahoot quizzes.
Kahoot quizzes keep the students engaged with the course material in a fun way, but without the pressure of being graded on them, she explains.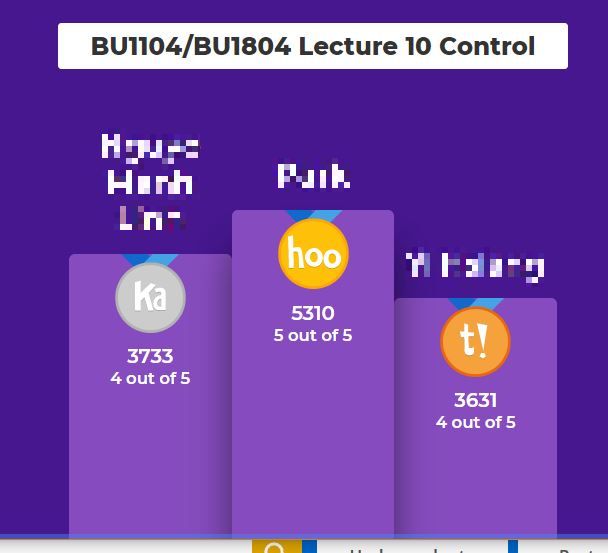 Students very much prefer to "chat"
One benefit about online lectures that both Wong and Chew have found is the ability for students to ask questions through the chat function.
Chew shares that while he noticed that while students tend not to ask as many questions during in-person lectures, they seem to be much more comfortable doing so in e-lectures. This is good, he says, because when students see others asking questions, they can feel less alone in their confusion.
For students who may be less comfortable asking their questions in front of their peers, Chew also offers them the option to send the question to him directly, which he then shares with the class anonymously.
Wong similarly has noticed that students tend to chime in with their questions in the chat box.
She says that she appreciates how the virtual set-up of having one pre-recorded lecture and one live lecture per week allows her to focus on answering the questions students have during the live lecture. Normally, during in-person lectures, she would need to be just focusing on teaching all of the necessary content, with less capacity to answer questions.
Main challenge: more difficult to form personal connections with students
One of the biggest differences between in-person classes and online learning is, of course, the lack of being physically present in class and developing good connections between lecturer and student.
Live lectures are set up such that all of the students can see the lecturer, if the lecturer chooses to show their face, but lecturers are unable to see their students' faces. This has its impact on relationships between lecturers and students.
For Chew, the personal connection with students is very important, as it has always been his favourite part of the job. Thus, he was initially concerned about how he could connect and engage with students virtually.
One small thing he tried to incorporate was to answer emails a little faster than usual:
"I will try to respond to emails a little bit faster, even faster than before.

Partly because there's a lack of contact, and I think it's important to let them know that I'm still here, I'm alive, and I will continue to provide support even though it's blended learning."
He also loves to include small jokes in his lectures, although the experience of pre-recording them is very different from what he's used to:
"With the shift to blended learning, I'm recording my jokes onto the slides. And that's a little odd, because there's no background laughter this time around."
"It's a little demotivating," he admits, laughing, "but I do what I can to record my jokes into the slides."
Wong has her own set of strategies she employs to stay connected with her students. For one, she always makes sure to turn on her video function, as she feels that it's important for students to be able to see her nonverbal cues.
She starts every class by asking her students how they are doing:
"I just try to find out about their well-being. I think they appreciate that, at least, the lecturer is human! She's not just talking, she's also asking about us!"
Prior to class starting, she also has a habit of playing music for the students to listen to.
"I just wanted to engage with them in a different way just before class starts, so that instead of looking at a blank screen, I just play some music."
Her students have also chimed in with their suggestions, she says:
"In fact, one kid said, 'Madam, why don't you play some rock and roll music or pop?'"
And so she obliged them with some tunes by disco group Boney M.
Wong also tries to change up her video backgrounds to keep things interesting. She points out her current background to me, and tells me that it's a mountain in Nepal.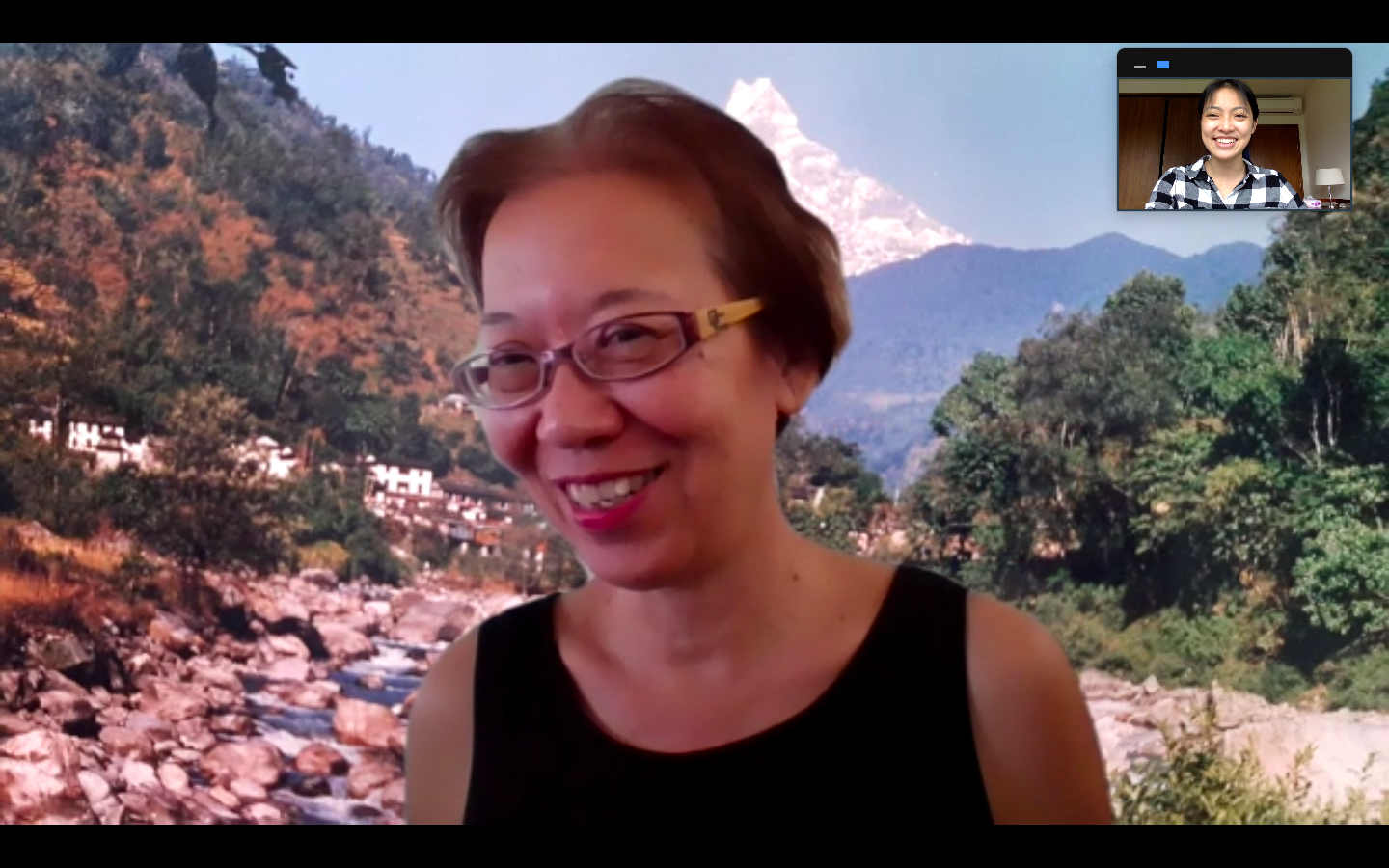 For a period of time, she also had a Christmas tree in the background, even though it was no longer Christmastime.
"I said [to my students], 'Don't worry, guys! Every day is Christmas here! Be happy!'

They quite liked the Christmas tree in the backdrop."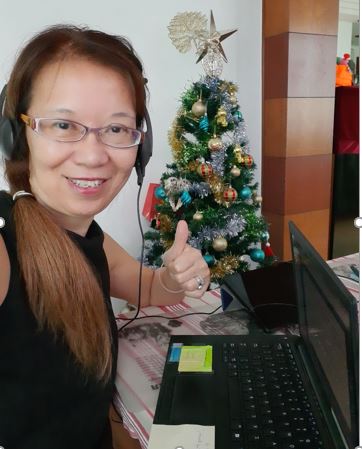 The future of blended learning
After five months of blended e-learning, JCU is beginning to shift toward having some of their tutorials in-person, in small groups.
Both Chew and Wong share their relief that they are able to see their students face-to-face again.
Wong, who has shifted back to working in her on-campus office, shares her thoughts on being able to see students in-person again:
"I think it's great, to know that they're so happy to be back in the classrooms and they want that interaction with their classmates and with their lecturer.

Even though it's small, it's a very comfortable kind of environment where you can interact quite closely — not by distance — but at least you can see them."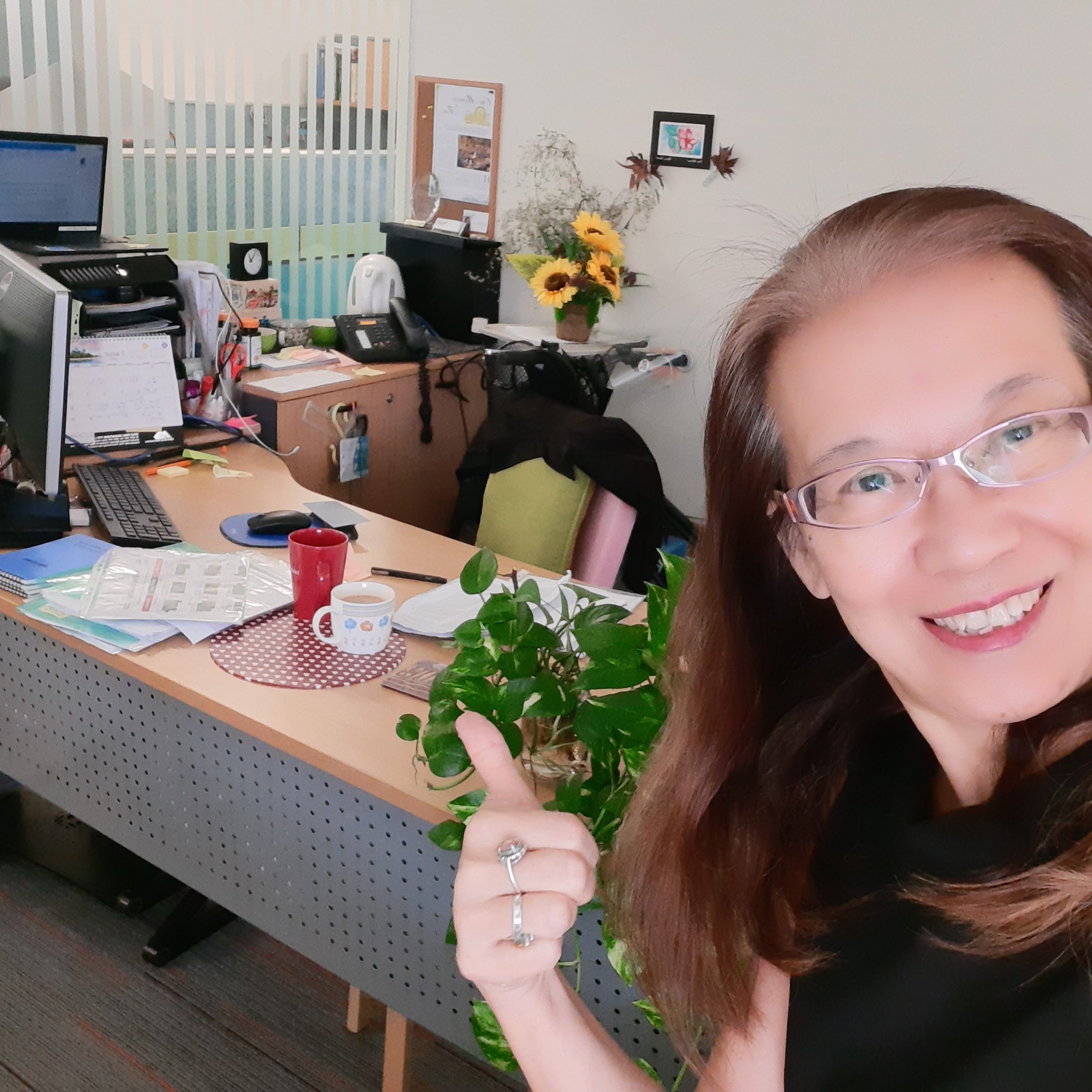 Chew also expresses that he's glad he gets to see his students in person again:
"How do I describe it? There's always that magical moment when you see their eyes light up in understanding. And that's the part that I will get face-to-face, as compared to just online when you can't see anyone."
He hopes to carry forward some of the lessons that he learned during the blended learning period, particularly about how to make the classroom more conducive for students to ask questions.
"Even if we go back to normal one day, and it's face-to-face, I might try to set up some form of online system, because I can see now that this system can clearly encourage students to ask questions in a safe environment."
In terms of the path forward for blended learning, both Chew and Wong acknowledge that blended learning has been something that people have been pushing for for a while now, but that the Covid-19 pandemic pushed the needle forward.
Chew says, laughing:
"I think any Covid-19 has done more for blended learning than any other administrator in the university."
He explains that while recommendations for embracing blended learning have been ongoing, the actual implementation is a bit more difficult, because of the work involved.
"And so, they will keep recommending over and over again, and we will just keep delaying. And now, finally, we had no choice but to do it. And we had to do it fast."
Wong also feels that this shift has been a long time coming, and that it's opened up new possibilities for online learning:
"While blended learning has been around for a while now, only now do people recognise the beauty of using online learning and technology to assist in learning.

And to some extent, this has opened a window of opportunity, in terms of, how do we package our learning in such a way that we are making use of technology?

And also maybe in the future, this is going to be the norm, where you have face-to-face and technology-learning going on at the same time."
However, Wong cautions that technology is just a tool, and that it's still important to engage with one another.
"[Technology] is not the end-all of everything for students' learning. You still have to engage with them, whether you're using technology to engage with them instead of engaging with them face-to-face.

And I think human connectedness, that relationship, is still very vital to learning."
Find out more about James Cook University at their live full day event on Sep. 19 here.
This sponsored article is brought to you by James Cook University.
---
Stories of Us is a series about ordinary people in Singapore and the unique ways they're living their lives. Be it breaking away from conventions, pursuing an atypical passion, or the struggles they are facing, these stories remind us both of our individual uniqueness and our collective humanity.
---
Top photos screenshot via Zoom.
If you like what you read, follow us on Facebook, Instagram, Twitter and Telegram to get the latest updates.