Follow us on Telegram for the latest updates: https://t.me/mothershipsg
An online event focused on safe sexual practices with a feature on rope bondage has been taken down after a petition alleged that it was promoting "violent sexual fetishes."
The event had been organised by a student group at the National University of Singapore's (NUS) residential Tembusu College, TFreedom, as part of its weekly discussions on sex education and sexual health, called Let's Talk About Sex (LTAS).
A statement by the group on Aug. 31 stated that it was aware of the circulating petition and slammed it for mischaracterising the event and promoting misinformation.
The statement added:
"The petition misrepresented the event as one that promotes and facilitates violent sexual fantasies among students. This is entirely false. The intention was to provide students a safe space to learn more about a lesser known practice from a studio that values communication, respect, and consent. The event was in no way aimed at encouraging or promoting the practice."
It also clarified that the event was to be held over Zoom with no physical contact.
Personal details of group's members and the studio engaged were revealed
In addition, personal details of TFreedom's members, and the studio that had been engaged to conduct the talk, had been revealed by the petition, thereby leaving them open to harassment, the group further alleged.
In condemning the "unauthorised sharing of personal information", TFreedom stated that the event was cancelled to protect the privacy and mental health of the affected parties.
Promotion of event could have been done better however
The group however acknowledged that promotion of the event could have been done better.
In referencing a poster that it had put up for the event, the group stated that it could have been "better designed" to communicate the event's "discourse-driven aspect".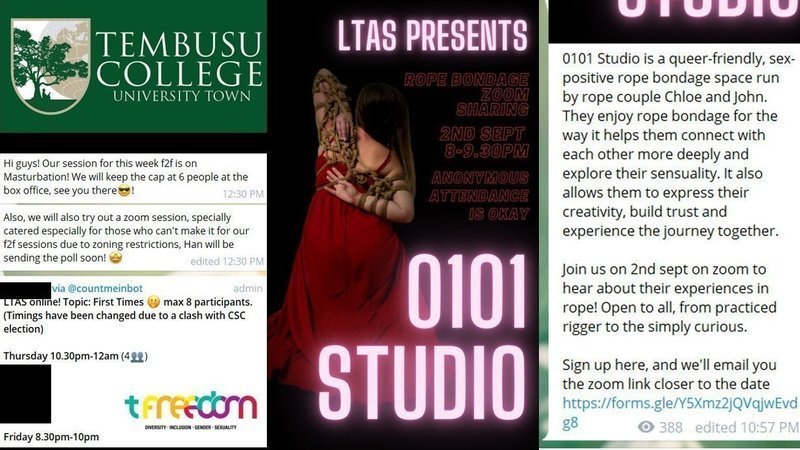 TFreedom then expressed regret that this issue had also caused anxiety and a misunderstanding of the event and its intentions.
It also expressed regret towards victims of sexual assault by stating,"We failed to consider how the image might have brought distress to victims of sexual assault, and sincerely apologise for any distress caused."
What did the petition say?
As for the petition, it had stated that the group was "organising a talk that glamorises 'creative' bondage sex" and added that such content should be restricted as it was promoting violent sexual fetishes among students.
The petition also slammed the group's LTAS discussions as promoting "loose sexual behaviour" and added:
"There is no educational value for such a weekly discussion because these dialogues only stimulate sexual fantasies. It is deeply troubling that tFreedom, an official interest group mentored by professors, should even conceive such an immoral practice."
As of Sep. 2, the petition has garnered more than 7,600 signatures.
Petition's founder dismisses allegation of personal details and harassment
The petition's starter, Hope Leow, also released a subsequent statement on Aug. 31, in response to TFreedom, adding that there was no intention to harass students or members of the studio.
Leow added that the allegation that the petition had exposed personal details was untrue and highlighted that TFreedom's Telegram channel was publicly accessible.
As per Leow:
"Being a public group, anyone in the public can view the chats, media and members without joining the group. If privacy is a concern of the admins, they can and should make it a private group and limit access to the list of participants within.

Furthermore, the names of the members of the studio were also posted on the tFreedom Telegram channel (again another public group as mentioned earlier), thus making them accessible to the public.

Only information that is publicly available was accessible from the petition. The petition did not mention any names nor encourage harassment in any form."
The telegram channel appears to have since become unavailable.
In response to Mothership's queries, a letter sent out by Associate Professor Kelvin Pang, the Master of Tembusu College on Sep. 1, revealed that the operations of TFreedom has since been placed on hiatus while the 'alignment' of its activities with  the Code of Gender and Sexual Respect is reviewed.
Here is the letter in full:
Dear Students

I have been privy to many of your views on the cancellation of a rope-bondage sharing event organised by tFreedom. I am also aware that there are online petitions in relation to this matter.

As you know, Tembusu College prides itself on its culture of care and inclusivity. tFreedom is a student interest group within the College, and is an avenue for students to discuss a wide range of topics, including topics relating to gender and sexuality.

We also have a proud tradition of intellectual curiosity. As a community of learning, we have created safe spaces for you to ask uncomfortable questions, and learn from discussing complex and multifaceted issues, in a respectful and responsible manner. We will continue to do so.

Our goal is to strike a better balance between enabling student-initiated activities and discussions, while ensuring that these events are still educationally sound and contribute to the positive growth of our community.

Upon further review, the tFreedom talk that was scheduled to be held this week was cancelled and tFreedom's operations will be put on a hiatus, while we look into the alignment of its activities with the Code of Gender and Sexual Respect, and the educational value we must bring as a college of learning. The cancellation was also necessary to protect the privacy and well-being of our students, as their personal details had been disclosed online.

My team and I will continue to be here for you, should you have any further concerns.

Sincerely

Associate Professor Kelvin Pang

Master, Tembusu College"
Totally unrelated but follow and listen to our podcast here
Top image screenshot from Change.org
If you like what you read, follow us on Facebook, Instagram, Twitter and Telegram to get the latest updates.