Valencia is a storied football club with decades of footballing excellence.
It is considered one of the most successful clubs in Spain and boasts legends such as Pablo Aimar, Santiago Canizares, and David Villa among those that once graced the Mestalla.
This season however has been a tough one for Valencia. After two previous consecutive seasons at a very respectable 4th place, which secured the team a lucrative Champions league spot, the team finished the 2019-20 season in 9th place.
Unlike the previous year, where they emerged cup champions, Valencia will also not be in the running for a Copa Del Rey title this time round, having been knocked out in the quarter finals.
But perhaps more importantly for Valencia fans than on-the-pitch developments, is what happened recently in the transfer market.
These developments appear to be at the heart of the current fan outrage against Singaporean billionaire and club owner, Peter Lim.
Parejo and Coquelin
Villareal, who is Valencia's regional football rival, recently secured the signings of two Valencia players.
They are defensive midfielder and former Arsenal man Francis Coquelin, and Valencia captain Dani Parejo.
Parejo has been with the club since 2011.
OFFICIAL STATEMENT: https://t.co/zH2A48X4qA

Valencia CF are thankful to @DaniParejo for his commitment and professionalism during his 9 seasons as a Valencianista and his contribution to win the Copa del Rey title in our Centenary year. We wish him the very best in his career. pic.twitter.com/Sy4959BQH4

— Valencia CF 🦇🍊🌊 (@valenciacf_en) August 12, 2020
Here's Parejo talking about the decision.
Dani Parejo bids farewell to Valencia after 9 years:

"My oldest son Dani asks me, 'How am I going to change teams if he's always been a Valencia fan?' I told him football is like that, it's sad, but at the end, children are children."pic.twitter.com/CW75vUAiOy

— Zach Lowy (@ZachLowy) August 12, 2020
And a farewell video.
Hasta siempre pic.twitter.com/oBz629616Y

— Dani Parejo (@DaniParejo) August 12, 2020
The two players were sold for a combined 11 million euros to Villareal. For context, Coquelin alone was signed for a fee of 14 million euros back in 2018 from Arsenal.
Villareal has also secured the loan signing of Real Madrid wonderkid Takefusa Kubo, so it's turning out to be quite a good transfer season for them.
This all culminated in a protest against Valencia management by supporters on Wednesday.
Club legends like Canizares and Ayala have also been vocal about their displeasure with the current management.
Here is what Canizares had to say in an exclusive with Tribal Football:
"In general, the arrogance with which 'Meriton' have behaved is now reaching a point where they are humiliating the fans of Valencia CF,"
Meriton is the the group through which Lim controls the club.
Underlying discontent
Of course it is unthinkable that two signings by and of itself could cause such disconcertion within a fan base, especially as the team secured a valuable Copa Del Rey victory the season prior.
While the transfers might be the trigger behind the outcry, there has been quite a bit of anger that Valencia fans have expressed for a while now.
Segments of the Valencia fanbase have had issues with Lim relatively early in his tenure, but perhaps the biggest upset for the team in recent times was the firing of coach Marcelino García Toral back in 2019.
Widely considered the architect of Valencia's consecutive top four finishes, they had finished 12th twice before then, and Marcelino was adored by the Valencia faithful.
Marcelino's departure
Publications like USAToday pointed to public comments Marcelino had made about the club's decisions to sell players and not bring in others he felt were necessary to keep the team contending.
Marcelino himself posited that a probable reason for his firing could be the emphasis he placed on the Copa Del Rey.
A Straits Times article said that Marcelino had "demanded" a lot of influence in the transfer policy, placed public pressure on management and did not agree with the "ideals of utilising academy players".
Whatever the reason, former Real Madrid assistant coach Albert Celades took over the reins of the club.
That arrangement however would not last long, with Watford's Javi Gracia taking over the managerial position on July 27, 2020.
What management has to say
In an interview with ST, club president and former diplomat Anil Murthy emphasised the importance of pulling through during these difficult economic times.
"We are going to have a complicated season because of Covid-19, so we must be responsible and control costs tightly. What use is a bankrupt club?"
According to ST, mass emails were sent to Singapore media accusing Lim and Murthy of:
"Negligently managing the club", "deteriorating the value of the team" and "mistreating old legends and club workers."
Anil emphasised that the club is open to direct communications with fans, even though there will always be dissenting groups in any club.
And the issue of debts is an incredibly relevant topic for any football club, especially Valencia.
Debts and ownership
In 2009, Valencia was facing debts of over 500 million Euros and a half-finished stadium suspended due to lack of funds.
A tumultuous debt-ridden period in the early 2010's saw Valencia offloading stars like Jordi Alba, David Silva, David Villa, and Juan Mata.
The offloading of key personnel meant an inevitable slide down the La Liga table. From a lofty 3rd place finish in the 2011-12 position to an 8th place finish in the 2013-14 season.
The debt situation was by no means solved as well. And then, some light came at the end of what had been a really long tunnel.
Singaporean billionaire Peter Lim bought over the club.
Very popular.
The 2014-15 season saw Valencia once again finish in the top four, securing a Champions league position. The manager at the time was Nuno Espírito Santo, who is now having a great run at Wolves in the Premier League.
After a poor start to the 2015-16 season, winning only five out of 13 games, Santo resigned from the club.
But perhaps lost in the merciless managerial merry-go-round was the hiring of former Manchester United player Phil Neville as Santo's assistant manager in 2015.
Manchester United connection
Phil at that time did not have any managerial experience outside England, though he did serve as a coach at Manchester United under David Moyes.
When Santo was fired, it was Phil who served as interim assistant manager till a full-time manager was hired.
The replacement for Santo would end up being Gary Neville, Phil's brother.
Gary did not have a good go at it, and was let go after less than four months.
Some considered it quite perplexing that two Englishmen with no experience in the Spanish league were effectively handed managerial reins at one of Spain's most decorated clubs.
Lim however is no stranger to either of the Neville brothers. Lim, together with the very Manchester United quintet of the Neville brothers, Ryan Giggs, Paul Scholes, and Nicky Butt own Salford City. David Beckham would later come to own 10 per cent of the club as well.
A CNA article described the Valencia owner as having a hands-on "business style", pointing to two transfers that Lim had apparently spearheaded.
Recent transfers
One of the transfers highlighted in the piece involves Ferran Torres. Torres is expected to be a world beater someday, having established himself as one of the best Valencia players at the tender age of 20. However, he was recently sold to Manchester City.
According to CNA, Lim reportedly took charge of the transfer negotiations due to his close relations with the Man City owner.
"People around the club saw that as a sure way to speed up the sale of one of the club's most popular players and also gives the impression that Lim is using his ownership of Valencia to buy goodwill with other businessmen for his commercial interests in other areas."
The CNA article also pointed to this sale as a sign of star players being offloaded in recent seasons.
It is of course unfair to say that Lim has not invested in the club, with striker Gonçalo Guedes being signed for a club record 40 million Euros from PSG after a loan spell just last season.
Negotiations for that deal was also reportedly led by Lim.
Guedes might not have had the impact a player of that price tag might be expected to, garnering 12 league goals in 79 league appearances at the club, but that could be chalked up to injuries as well.
According to Anil's interview with ST, Guedes underwent an "unacceptable" injury situation where he was out for four months with a misdiagnosed foot ailment.
Still, the talent is definitely there.
Impact of players
Valencia is well versed in how crushing debts can lead to abject misery both on-and-off the pitch.
One of those pain points might be how their club had to dismantle an absolutely stacked Valencia team reaching the height of their powers, just to secure a glimpse of financial survival.
The impact of the players they sold can be felt even if it has been nearly a decade since they put on a Valencia uniform.
Take David Silva, the then 24-year-old shaggy haired maestro was offloaded at a relatively low price in 2010 as Valencia tried desperately to balance the books.
Silva has gone on to become an icon over at Man City.
In a slightly ironic twist, one of the reasons cited by Torres for his Man City signing was the influence of David Silva, whom he admires greatly.
A potential Valencia core from different generations are now poised to give their best years to Man City.
Whose club is it?
Perhaps at the core of it lies the question "whose club is it?".
During their poor performance this season, many Valencia fans apparently took to Instagram to express their displeasure.
Lim's daughter, Kim Lim's Instagram posts were spammed by angry fans, many of whom hashtagged #LimGoHome.
Kim then posted this on her Instagram stories.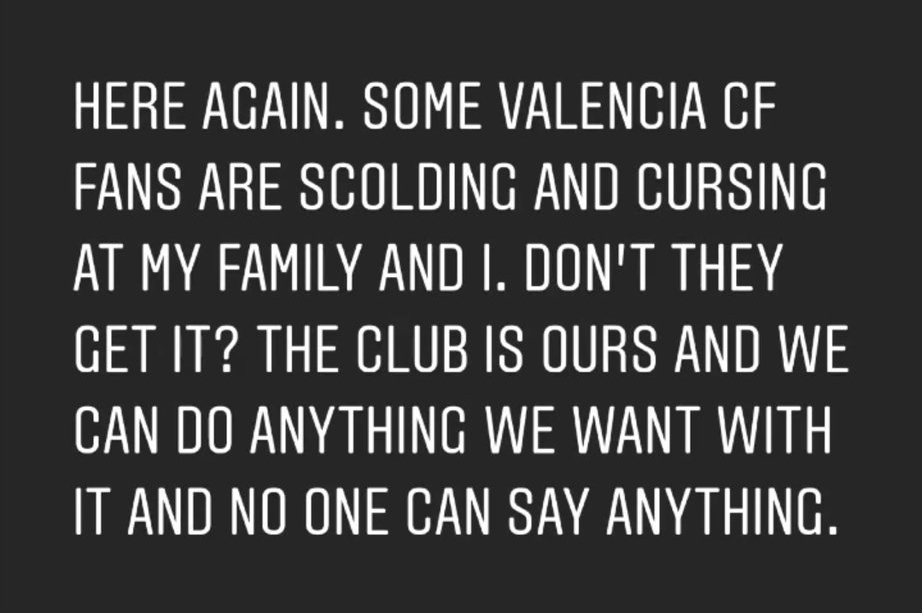 In her account to Mothership, Kim addressed the above statement and makes a stand against racism and cyberbullying.
"Everyone has a limit. And they have been harassing my family and the Chinese race verbally for awhile. I felt that an immediate response was needed to stop and manage the online bullying.

I stand up for my dad and the Chinese race, because they keep saying Chinese are lousy and screw the Chinese."
But the phrasing "The club is ours and we can do anything we want with it and no one can say anything" while technically true, definitely would not go down well with the supporters of any football club.
The aforementioned CNA article put it rather succinctly:
"Football clubs can often be bought and sold like normal businesses but there is an emotional connection with one of the key stakeholders – fans - that can run deep especially at a club that had averaged 40,000 fans in attendance at matches."
---
Mothership Explains is a series where we dig deep into the important, interesting, and confusing going-ons in our world and try to, well, explain them.
This series aims to provide in-depth, easy-to-understand explanations to keep our readers up to date on not just what is going on in the world, but also the "why's".
---
Images from Getty.
If you like what you read, follow us on Facebook, Instagram, Twitter and Telegram to get the latest updates.