A 29-year-old woman in Singapore has put out a request for donations to fund an experimental treatment for her leukaemia.
Rachel Cheong suffers from T-cell Acute Lymphoblastic Leukaemia (T-ALL). It was diagnosed in April 2018 after Cheong started encountering night sweats, bloating, and being unable to lie down to sleep.
She was later found to have a tumour 25cm in size pressing against her heart.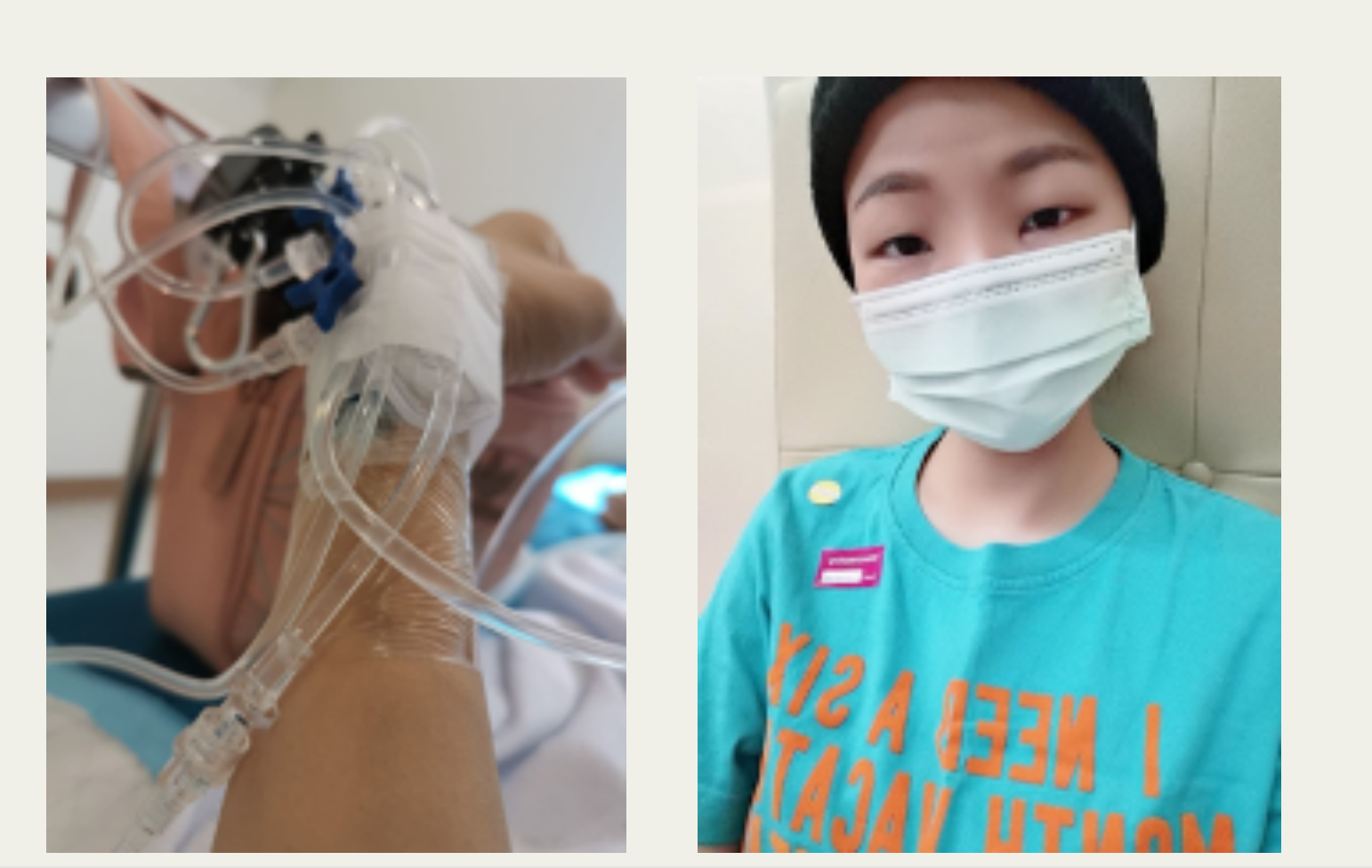 She wrote in her fundraising campaign, which is hosted on fundraising platform Ray of Hope:
"Surgery was not possible due to the high risk. I began undergoing numerous chemotherapy and radiotherapy sessions to help me cope. My body initially responded well to the first 6 months of chemotherapy in 2018, with the Positron Emission Tomography (PET) scans and necessary tests coming back clean, declaring me free from cancer."
Unfortunately, one morning in January 2019, Cheong found that she had difficulty opening her left eye and within a week, she was unable to open her left eye completely. It was caused by a cancerous growth at the back of her left eye and neck.
Targeted radiotherapy
It was her first relapse after her treatment and she was subsequently put through targeted radiotherapy to get rid of the cancer cells.
Cheong later went through a stem cell transplant to be cleared of the cancer cells but barely three months later, the leukaemia returned and caused dark spots on her skin.
And now, having exhausted every other treatment option available, Cheong intends to try a new treatment: Chimeric Antigen Receptor (CAR-T) at NUH, where cancer-immune cells (T cells) are equipped with CAR-T to kill cancer cells.
You might have read about CAR-T when it was administered to a British boy who travelled to Singapore for treatment.
He was treated successfully.
Chemotherapy before CAR-T therapy
Cheong says:
"I am expected to go through at least 3 months of chemotherapy to make sure the cancer cells do not overwhelm my body before I can receive the CAR-T therapy, which is currently pending results from the laboratory testing of my cells.

From March 25, 2020 till the present, I have been on chemotherapy to suppress the cells. The total cost as of June 11 is S$$12,947.97, which has already exhausted all of my savings. It will cost an estimated S$47,147.40 to sustain the therapy till July 15, 2020."
"I am humbly pleading for a chance to live on and lead a normal life for as long as I can. Please, any amount of donations would be of great help to me," she adds. "This is my last chance to save my life."
As of the time of writing, Cheong's campaign has raised S$159,185. She aims to raise S$250,000 which will pay for her hospital fees, including the scans.
Funds raised will go directly to the hospital to pay for Cheong's medical bills. You can donate here.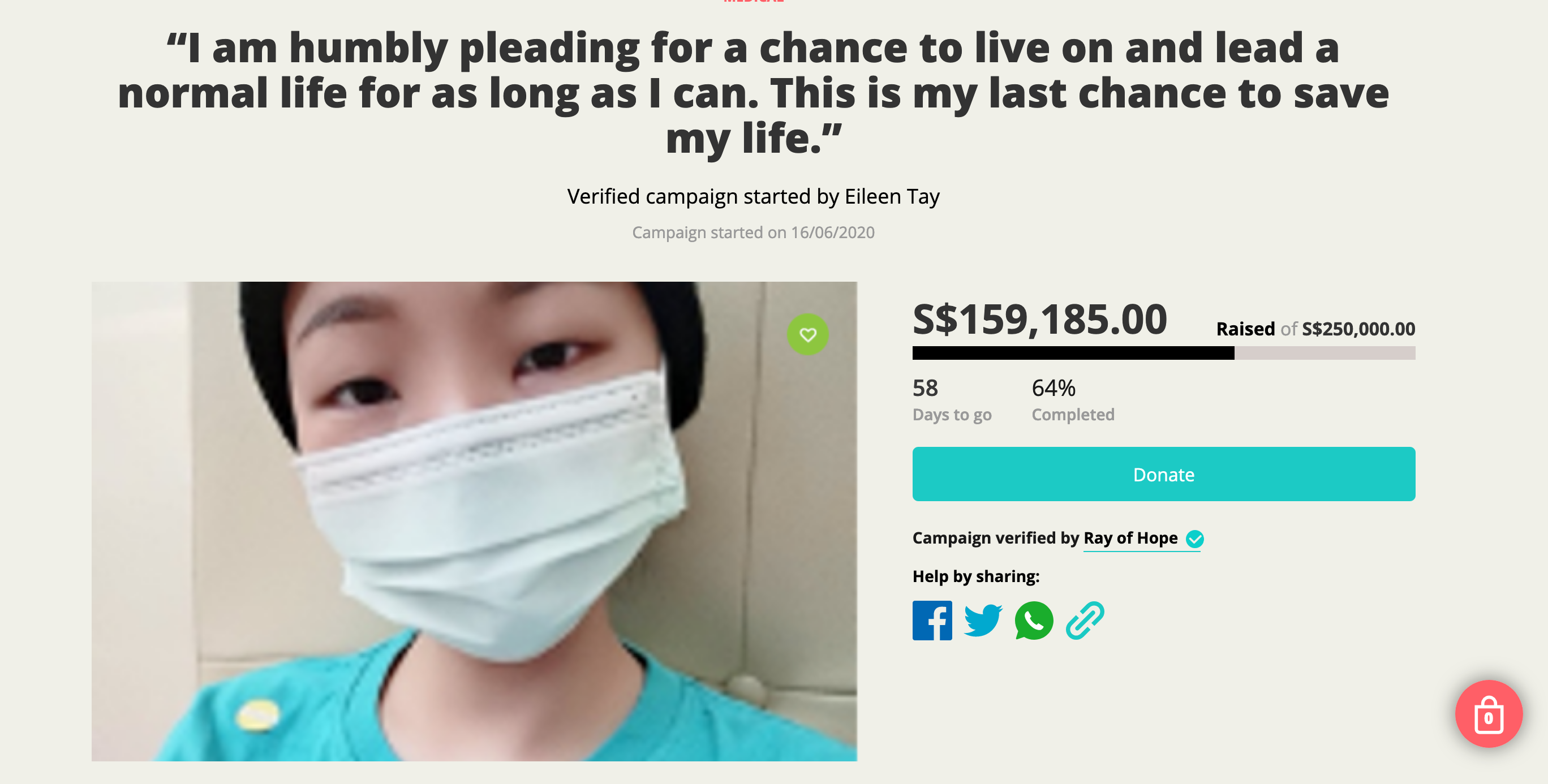 Top images via Cheong's fundraising page.
If you like what you read, follow us on Facebook, Instagram, Twitter and Telegram to get the latest updates.