Prime Minister Lee Hsien Loong has sent out the letter on "Rules of Prudence" to the People's Action Party Members of Parliament on Aug. 1, 2020.
The letter, signed off by PM Lee, is a tradition following the election of a new slate of parliamentarians from the ruling party to set out the prime minister's expectation of their conduct and discipline.
The 41-point letter covers a wide range of personal, business and public-facing conduct of MPs, and serves as a reminder that as public figures, MPs are open to scrutiny.
What letter said
In terms of upholding reputation and integrity, MPs are reminded to be humble in victory and that they are "servants of the people, not masters".
The letter warned at one point: "Never give cause for allegations that you are misusing your position, especially your access to Ministers. That would discredit both you and the Party."
Be a good judge of other people's character
Besides watching out for one's own conduct, the letter also reminded MPs to read other people better as "a few will cultivate you to obtain benefits for themselves or their companies, to gain respectability by association with you, or to get you to influence ministries and statutory boards to make decisions in their favour".
MPs are reminded to be wary of "gift hampers" and "personal favours", which act as "social lubricants" for some people to ingratiate themselves to MPs.
MPs should not accept gifts that conflict with public duties, the letter implored.
Avoid conflicts of interests
The letter also instructed MPs to separate business and politics, and make clear who the MP is speaking up for and in what capacity.
The goal is to always remain above board.
Absence with reason
MPs are told to seek permission from the party whip if they are absent from parliamentary seatings.
In parliament, MPs ought to seek to be understood by the people and the media by preparing parliamentary speeches well.
New MPs are implored to speak up, with the debate on the President's Address a good starting point.
PAP MPs are also told to expect sharper questioning with a Leader of the Opposition now appointed.
Fundraising from a myriad of sources
MPs are reminded not to be beholden to other people.
One way to do this is by gathering multiple small donations and not be reliant on one or two big donors.
Manage finances
As MPs, they are also advised to be financially prudent so as not to be exposed to pressure or blackmail.
MPs should also not solicit directorships, and the public is expected to scrutinise parliamentarians' involvement in companies.
PM Lee's letter clearly stated that the party cannot decide or accept a directorship on behalf of an MP.
If in doubt, the MP should decline.
Business and professional interests, and remuneration, should be disclosed to PM Lee by Aug. 28, 2020, the letter said.
Use of social media
The use of social media to engage constituents has also been acknowledged.
MPs are advised to observe decorum and factual accuracy, and to not attack another person using the medium.
Attendance at important events
Attendance at important events, such as National Day, is of utmost priority.
The letter said: "Those who cannot attend must have very good reasons."
The full contents of the letter can be viewed here: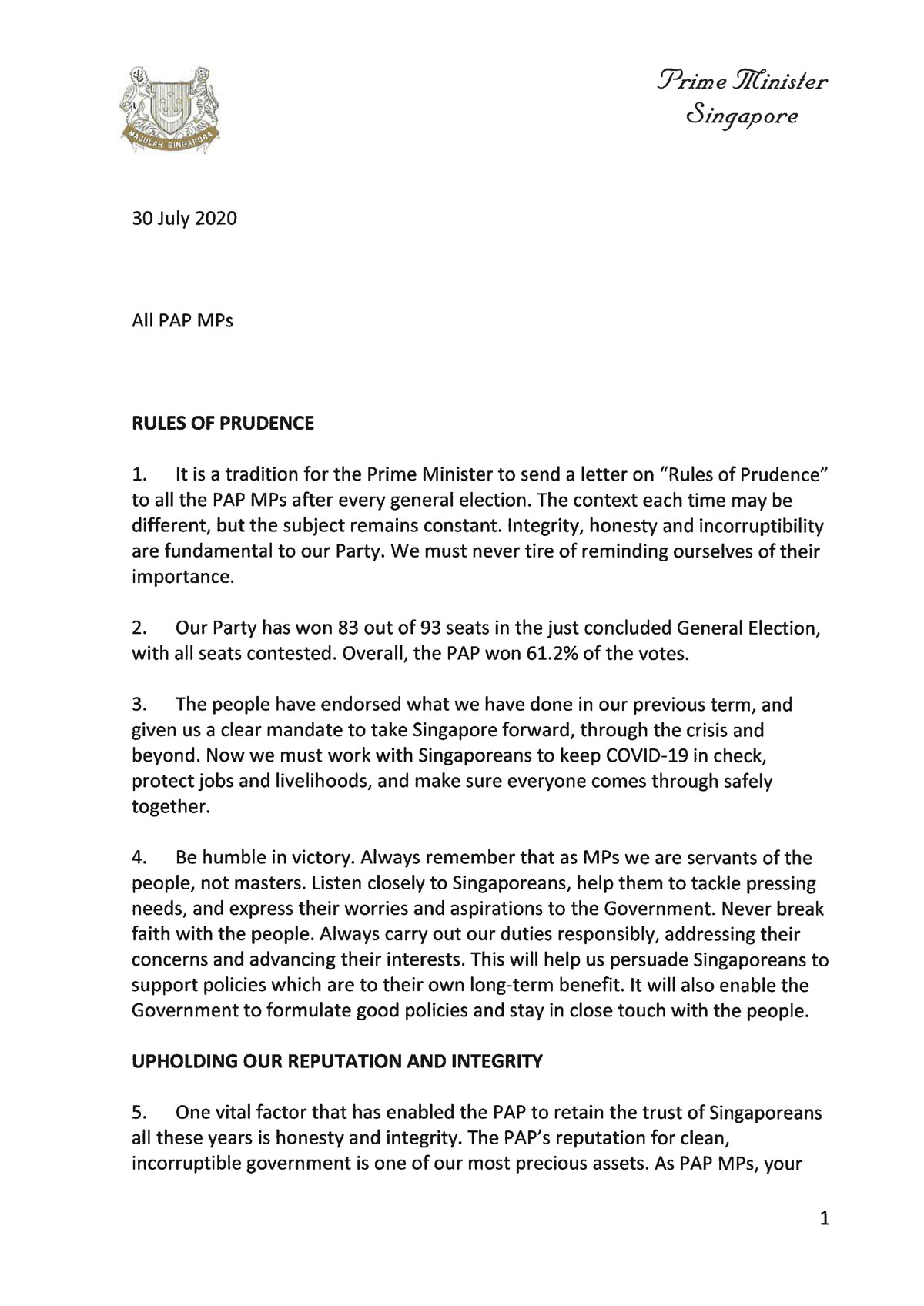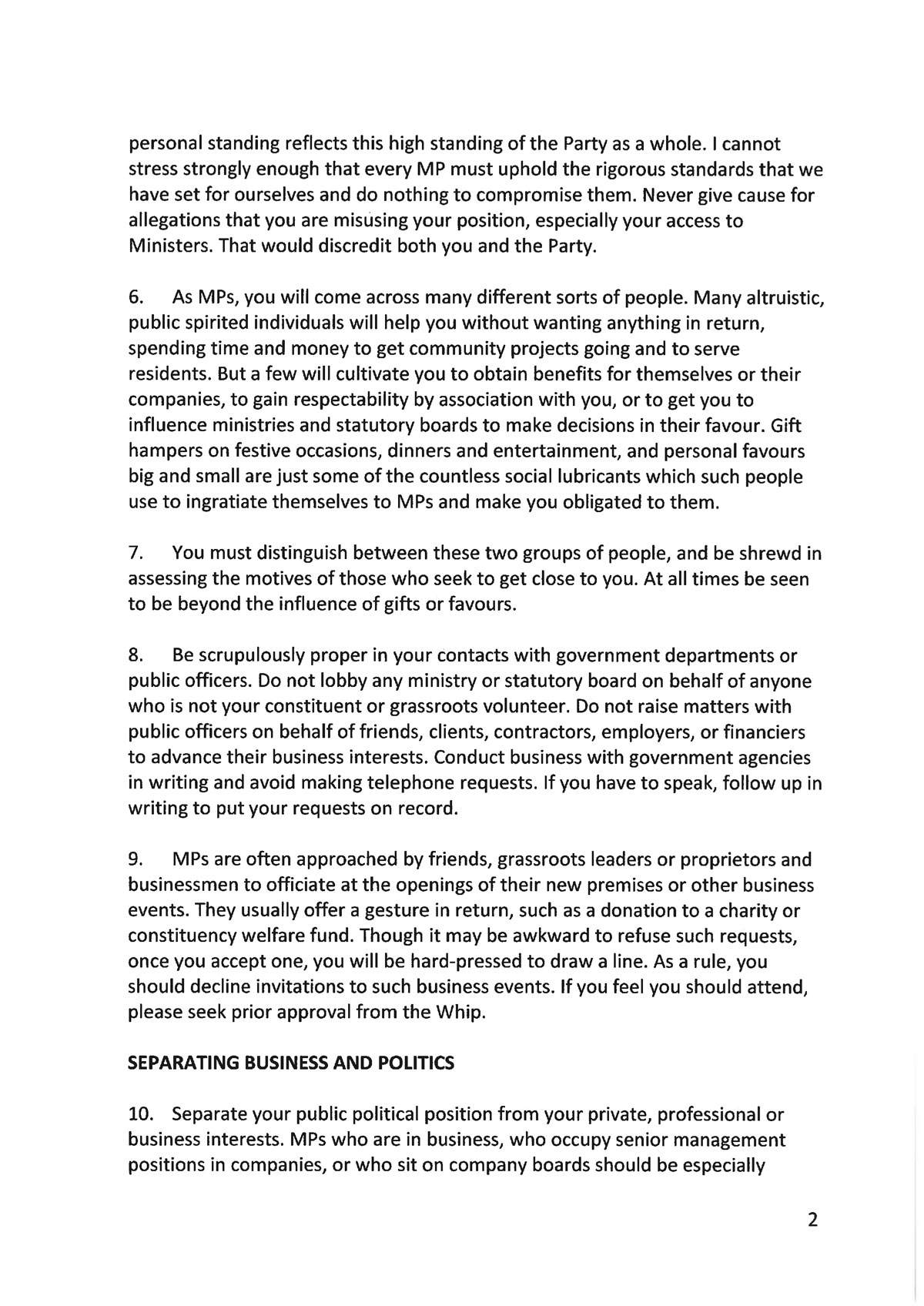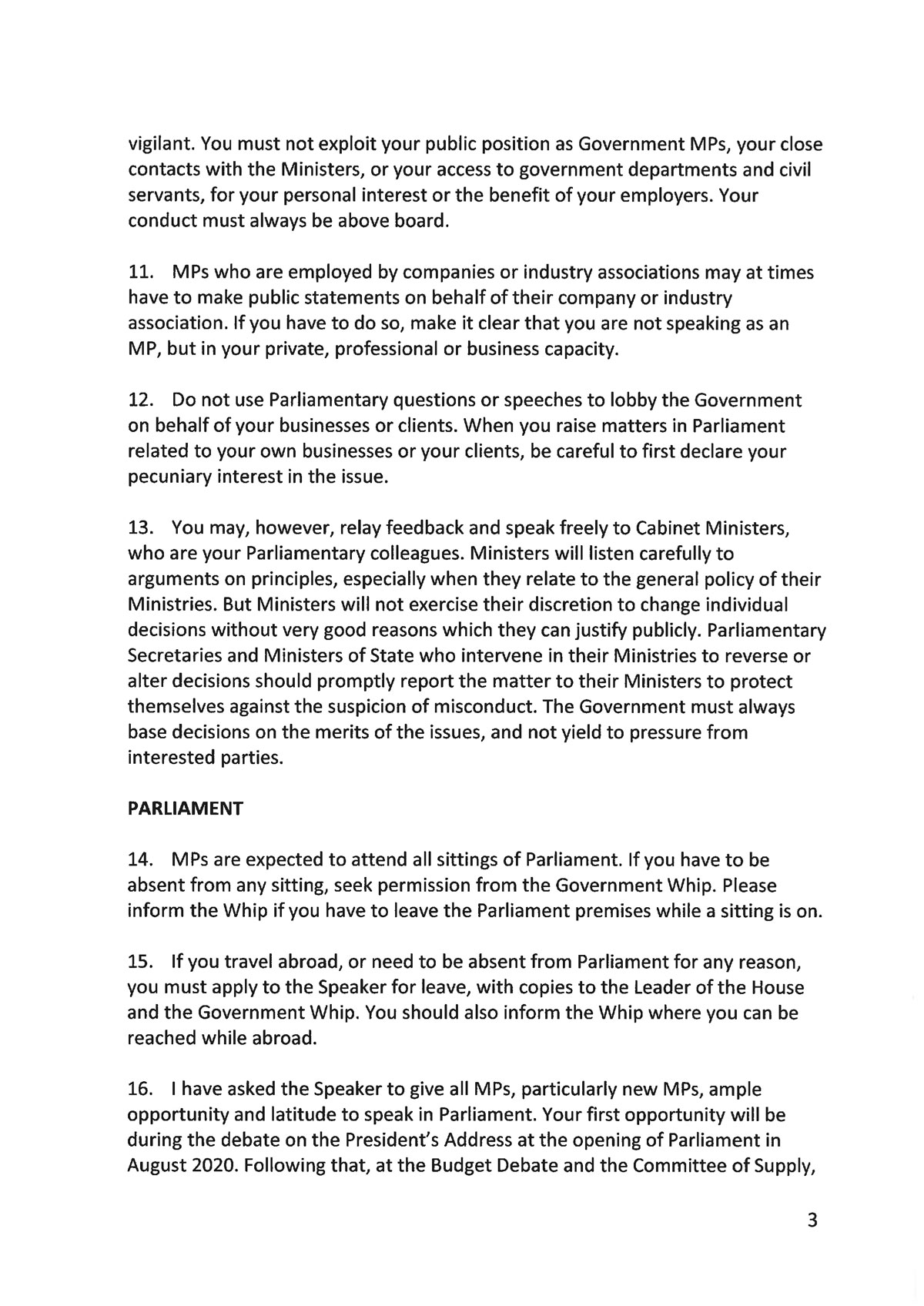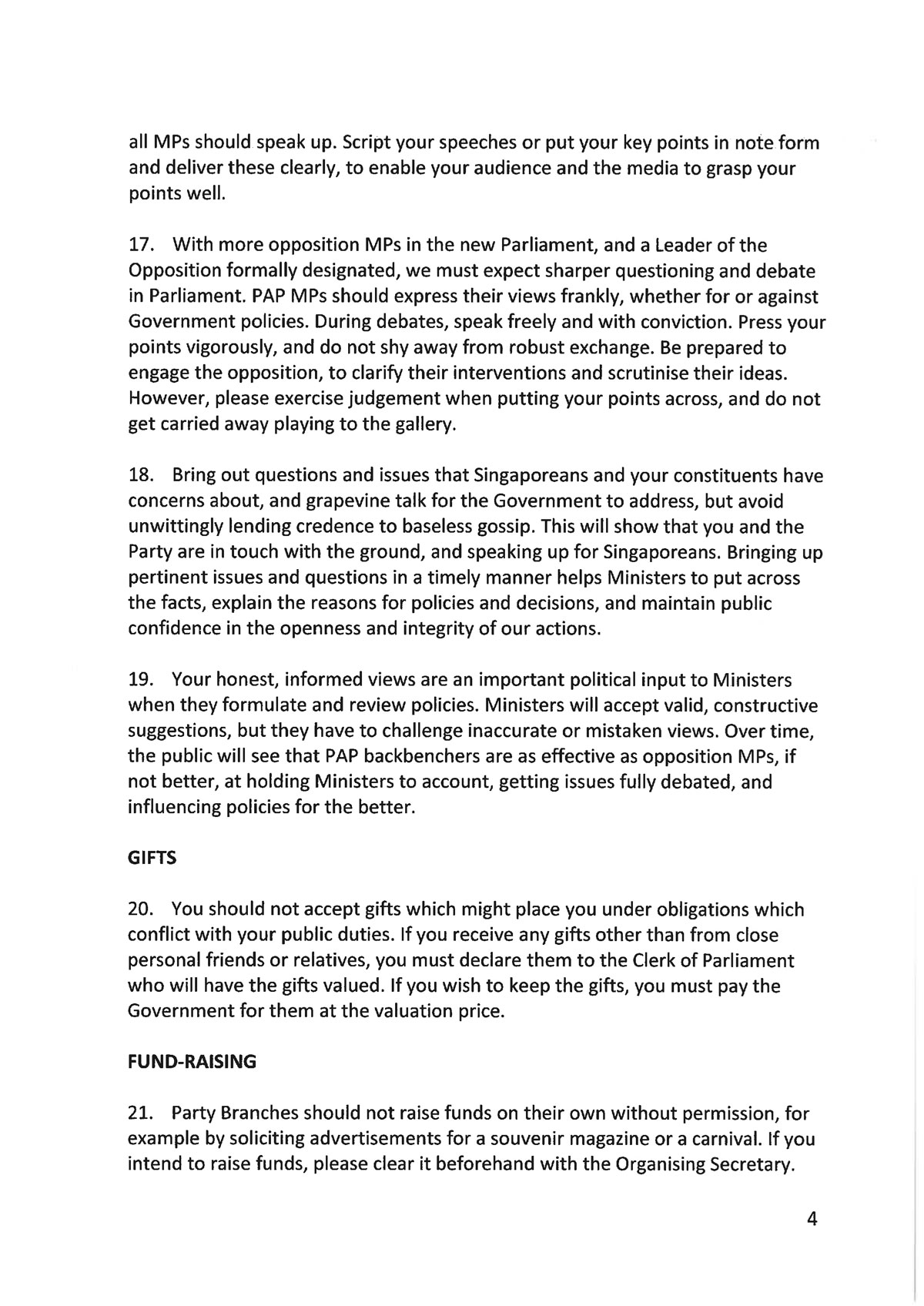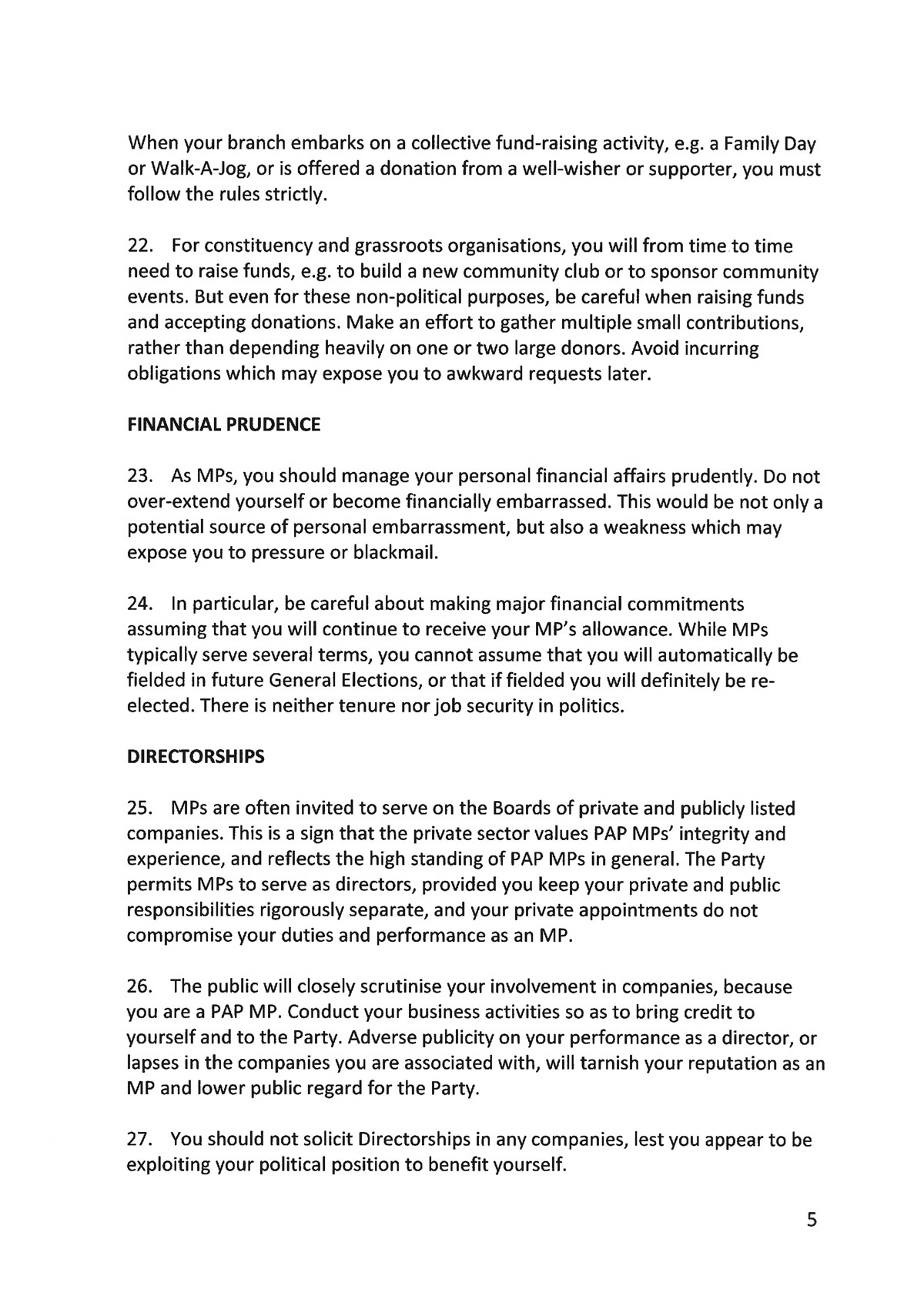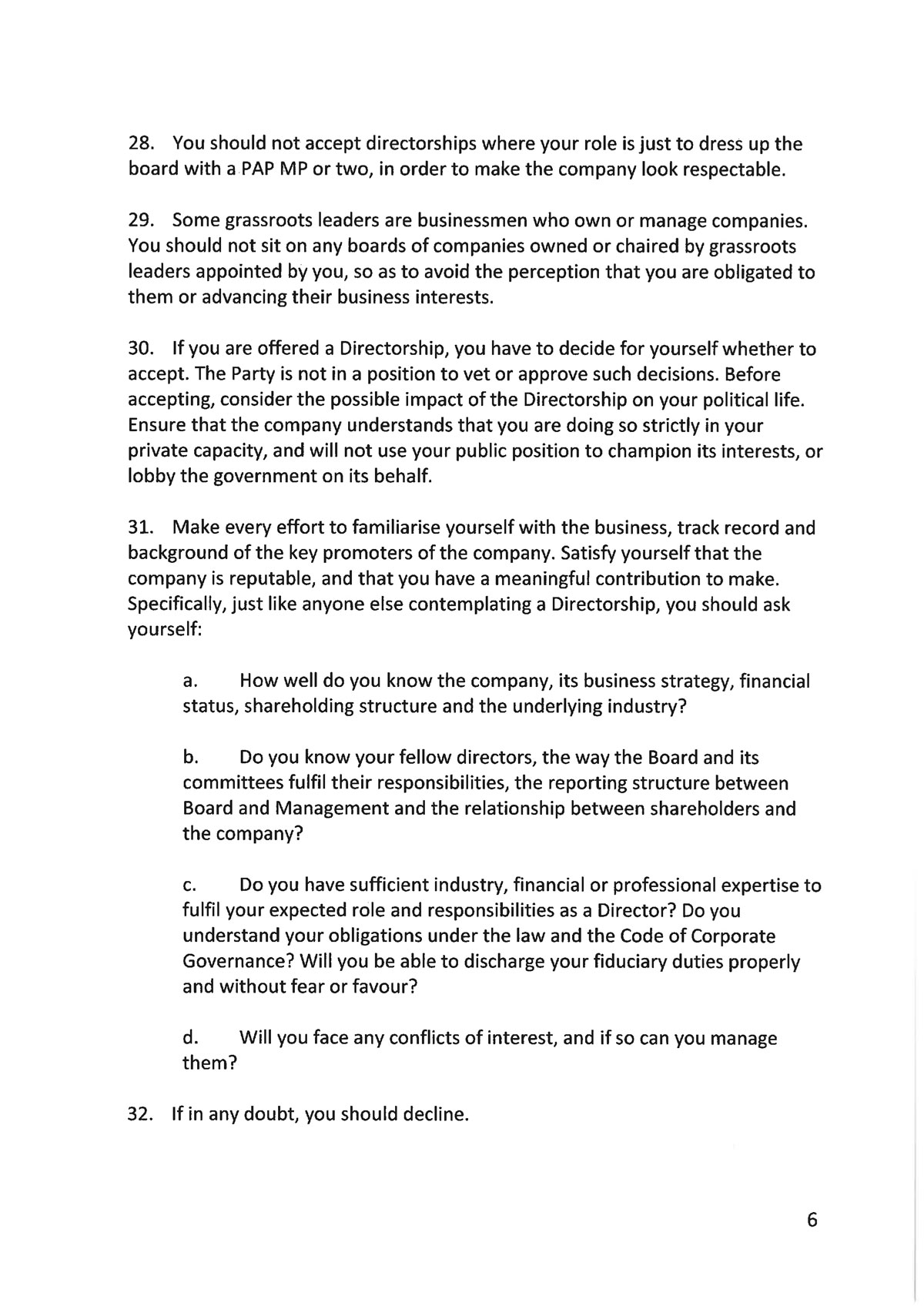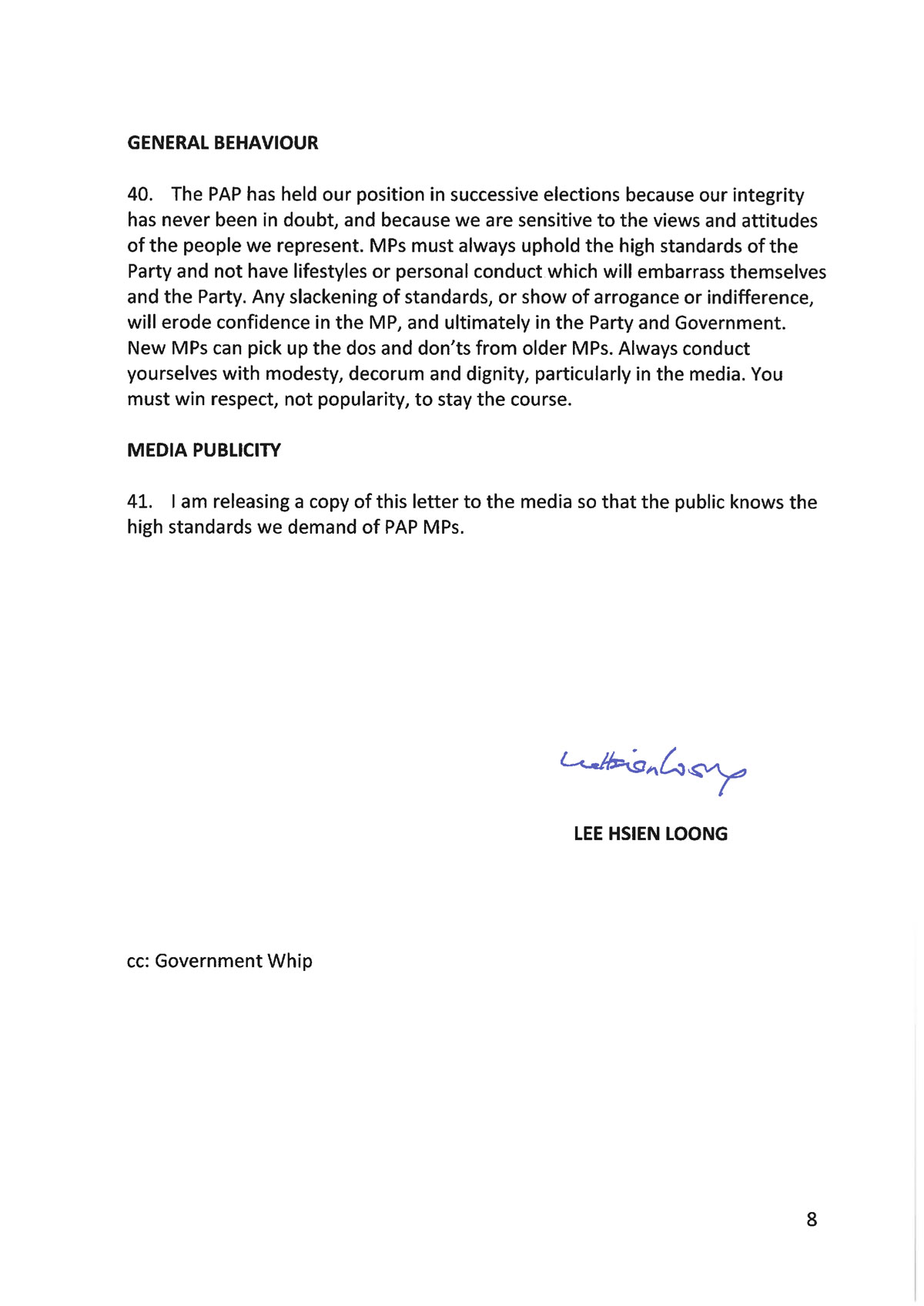 If you like what you read, follow us on Facebook, Instagram, Twitter and Telegram to get the latest updates.