Edit: A reader pointed out that this incident might have occurred near Layar LRT station in Sengkang instead of Punggol. We have updated the article with this information.
Talk about humans and animals co-existing in our city state.
A long-tail macaque, possibly a very hungry one, was spotted stealing bread from a supermarket.
In the video, which was uploaded to Facebook page Kuanyewism, the macaque prowls silently towards a supermarket.
Shelves of bread and cakes can be seen outside the supermarket.
Suddenly, the macaque dashes forward and grabs a load of bread wrapped in plastic. It turned around and ran, bread in mouth.
It then sits down on a pathway, tears open the packet and starts eating.
"Wah so fast!" a male passer-by remarks.
As the cameraman moves closer to the macaque, it proceeds to climb up a tree, perch on a branch and continue eating its bread.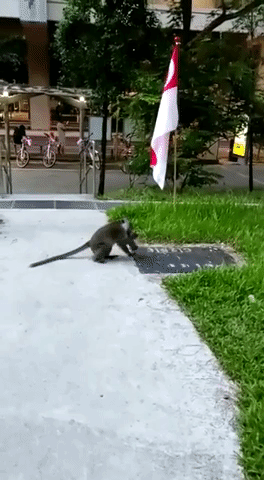 It's unclear where this was shot but based on the surroundings, it could be somewhere in Sengkang near Layar LRT station.
The NParks advises minimal contact with wild monkeys, including macaques. If you spot one in the open, do not attempt to approach it and do not turn away from it and run.
Remain calm, avoid eye contact, and back off slowly.
You can watch the full video below:
Top image via Kwanyewism/Facebook.
If you like what you read, follow us on Facebook, Instagram, Twitter and Telegram to get the latest updates.