A black Volkswagen Golf GTI hatchback made the news recently after it and another vehicle were caught on camera weaving through traffic and getting involved in an accident.
The accident at around 9pm on Wednesday night, July 29 occurred along the Central Expressway towards Seletar Expressway (SLE) after Ang Mo Kio Avenue 5.
It also involved another van, which overturned in the bushes.
The
video
of the CTE accident also showed a person, believed to be one of the two car drivers at the scene, being confronted by the person filming the video, as well as by others.
The accident resulted in the van driver and his passenger to be taken conscious to Khoo Teck Puat Hospital, the police said, and two men, aged 30 and 41, arrested for dangerous driving.
Golf GTI caught on video driving dangerously multiple times
It has since been discovered that the black Volkswagen Golf GTI hatchback involved in the accident had on previous occasions been caught on camera driving dangerously on the roads here.
July 7, 2020: Golf GTI was seen accelerating on the right most lane along the CTE and barely overtaking the car with the camera footage that was filtering to the right lane.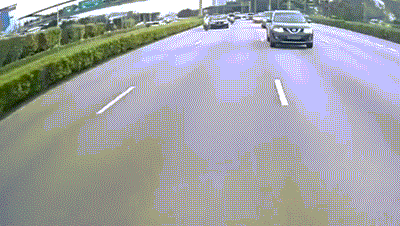 ---
Jan. 16, 2019: Golf GTI was seen weaving between two cars to overtake them.
---
Nov. 23, 2019: Golf GTI was seen overtaking car on the right-most lane by filtering out of the lane and cutting back in again without signalling.
All the footage appeared to have been contributed by other motorists, and were compiled and put up online on Aug. 3.
Following the July 29 CTE accident, the two arrested car drivers also had their vehicles impounded and their driving licences suspended with immediate effect.
Police investigations are ongoing.
If you like what you read, follow us on Facebook, Instagram, Twitter and Telegram to get the latest updates.