United States Health and Human Services Secretary Alex Azar arrived in Taiwan on Sunday, Aug. 9, in the highest-level visit by an American Cabinet official in decades since Washington cut formal diplomatic relations with Taipei in 1979.
Azar said in a statement that his visit is to show U.S. President Donald Trump's support for Taiwan's "global health leadership" and that the visit underscores their "shared belief" in democracy.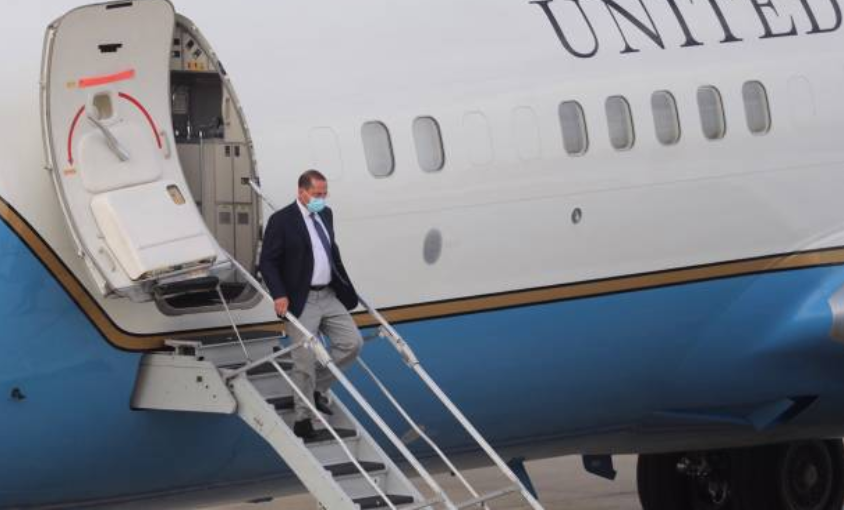 The U.S. said his visit was facilitated by the 2018 Taiwan Travel Act, which encouraged sending higher-level officials to Taiwan after decades during which such exchanges are few and far between to avoid damaging ties with Beijing.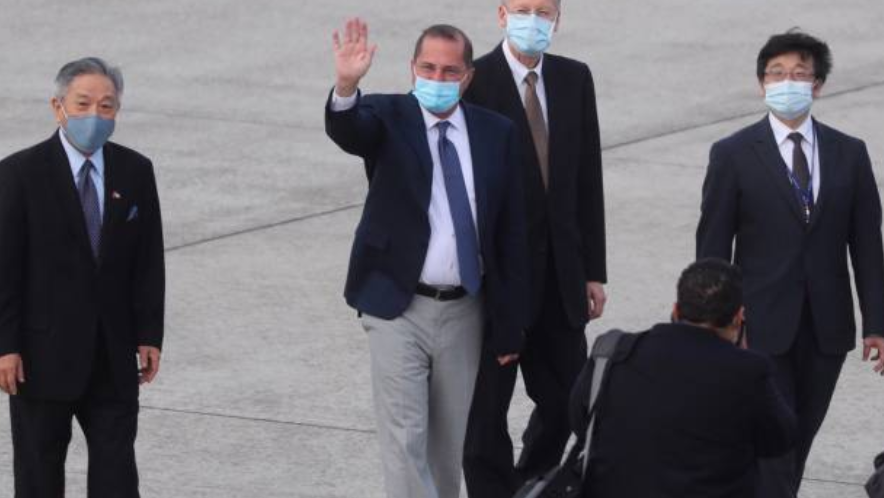 China slams visit
The move, which is also the first visit by a U.S. Cabinet member to the island in six years, has drawn Beijing's ire.
Chinese Foreign Ministry spokesperson Wang Wenbin said on Aug. 5 that Beijing "firmly opposes" official exchanges between the U.S. and Taiwan, adding that China has made "stern representations with the U.S. side both in Beijing and in Washington".
He also said Taiwan is an issue of "the utmost importance with the highest level of sensitivity" for U.S.-China relations.
China sees Taiwan as a wayward province awaiting reunification, by force if necessary.
Taiwan hits back at China
Taiwan has countered China's criticism of the visit, with its Foreign Ministry spokesperson Joanne Ou saying that Taiwan is "a sovereign country", and that China has "no right to object" to Taiwan's interactions with other "like-minded countries".
She added that China should resolve its own domestic issues first before criticising others.
Azar is expected to meet Taiwan's President Tsai Ing-wen and the island's foreign and health ministers.
Visit comes amid dwindling relations
Azar's visit comes amid freezing relations between the U.S. and China, which Chinese Foreign Minister Wang Yi described as the lowest point in bilateral relations since both countries normalised relations in 1979.
The Trump administration has accelerated its campaign of punishments targeting China as the U.S. presidential election nears in November 2020.
For instance, the U.S. has placed sanctions on Hong Kong and mainland Chinese officials over Beijing's crackdown on democratic freedoms in the city, objected officially to China's claims in the South China Sea, and barred any U.S. transactions with popular social media and messaging app WeChat and video-sharing app TikTok.
The New York Times opined that the campaign was said to be partly provoked by China's growing assertiveness in its foreign policy, as well as Trump's desire to convince voters that he is tough on China.
U.S. sending a signal to China
Jonathan Sullivan, a China specialist at the University of Nottingham, told Bloomberg that Azar's visit is "clearly a signalling device".
Sullivan opined that the official reason the U.S. gave for the visit was simply a cover for its real intention, saying "the 'public health/ Covid' cover story is transparently nonsense.
"It is about sending a message to Beijing amid rapidly deteriorating bilateral relations and the routine military nuisance that Beijing has been causing Taiwan throughout 2020," he said.
But the U.S. is still respecting China's red line
But the U.S. has sought to downplay the visit.
U.S. Secretary of State Mike Pompeo, known to be a China hawk who has declared the failure of decades of diplomacy with Beijing and frequently criticised China over issues such as human rights abuses, told reporters that U.S. Cabinet members have travelled to Taiwan previously, and saying Azar's visit is "consistent with policies of previous times".
He said Azar will "go there and talk to them about public health issues".
Douglas Paal, former director of the American Institute in Taiwan -- the de-facto American embassy in Taiwan -- told AFP that the Trump administration knows the risks involved should tensions with Beijing boil over due to Taiwan.
Taiwan a dangerous flash point between the U.S. and China
Taiwan is a potential flash point between the U.S. and China.
Under the 1979 Taiwan Relations Act, the U.S. is obligated to regard any coercive moves by Beijing against Taiwan as a serious threat to the peace of East Asia.
While the U.S. has sent trade officials to Taiwan regularly throughout the 1990s, Paal said that sending Azar to Taiwan at this particular time when U.S.-China relations have hit a new bottom shows respect for the old framework while "putting a finger in China's eye at the same time".
He opined that by not choosing to send a national security advisor or someone else suggests the U.S. is "trying to come as close as possible to China's red line", but is careful not to cross it.
In another instance of the U.S.' show of restraint, Trump stopped short of placing sanctions on Chinese President Xi Jinping over Beijing's passing of the national security law in Hong Kong -- the highest-level mainland Chinese official targeted was Luo Huining, the top mainland official in Hong Kong.
Top image adapted via Alex Wong/Getty Images & Sam Yeh/AFP/Getty Images
If you like what you read, follow us on Facebook, Instagram, Twitter and Telegram to get the latest updates.