Millions of single-use plastics have been saved by companies across various sectors in the span of a year, as part of their commitment to reducing plastic waste.
This figure was revealed in a report by the World Wide Fund for Nature (WWF) Singapore under PACT (Plastic Action) initiative.
Over 12 million plastic items saved
First launched in 2018, PACT guides businesses and provides them with resources on to reduce their plastic consumption, with the ultimate goal of No Plastics in Nature by 2030.
Currently, 22 companies have signed individual commitments under PACT and in the past year, have managed to save over 12 million single-use plastics.
The companies include those from the e-commerce, F&B, hospitality, manufacturing and retail property management industries.
Here's the full breakdown of single-use plastic items reduced across all sectors.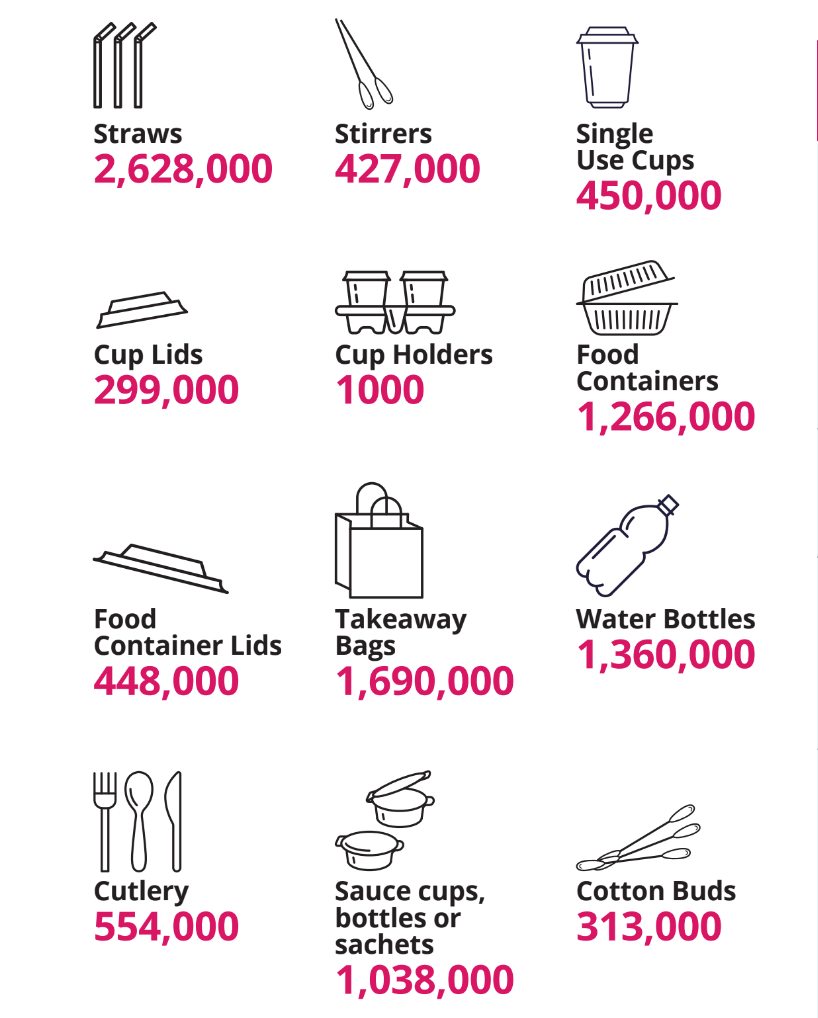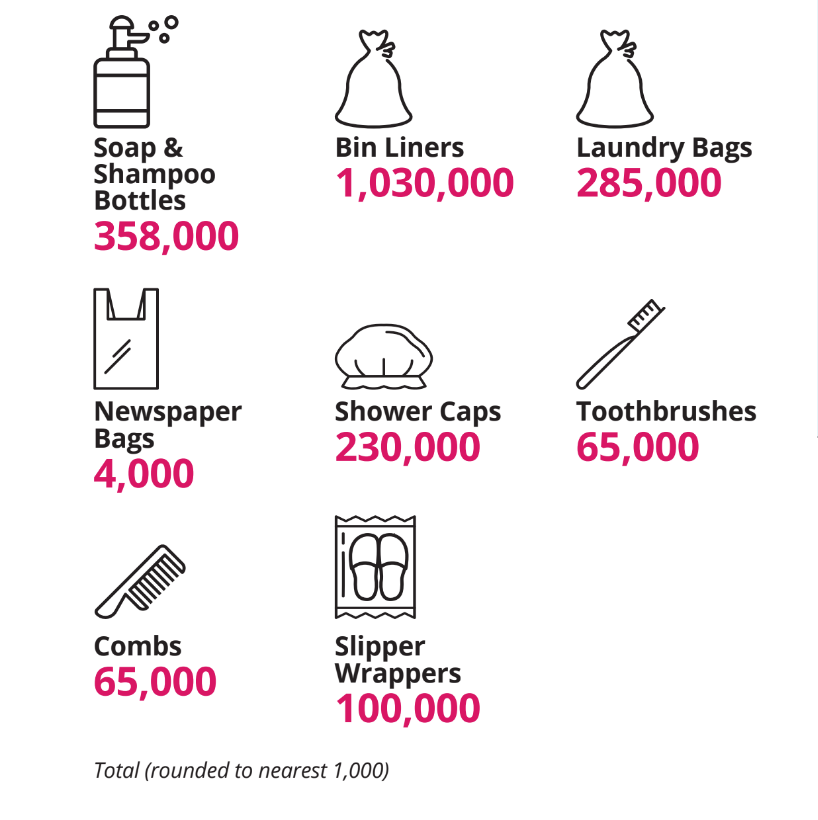 Efforts in the F&B and hospitality industry
10 of the 22 companies are from the F&B sector, including popular chains like SaladStop!, Udders Ice Cream, Pastamania and Nam Nam.
Majority of the plastic items eliminated from their front-of-house operations — either through complete removal or the use of more sustainable alternatives —  were straws, takeaway bags and takeaway food containers.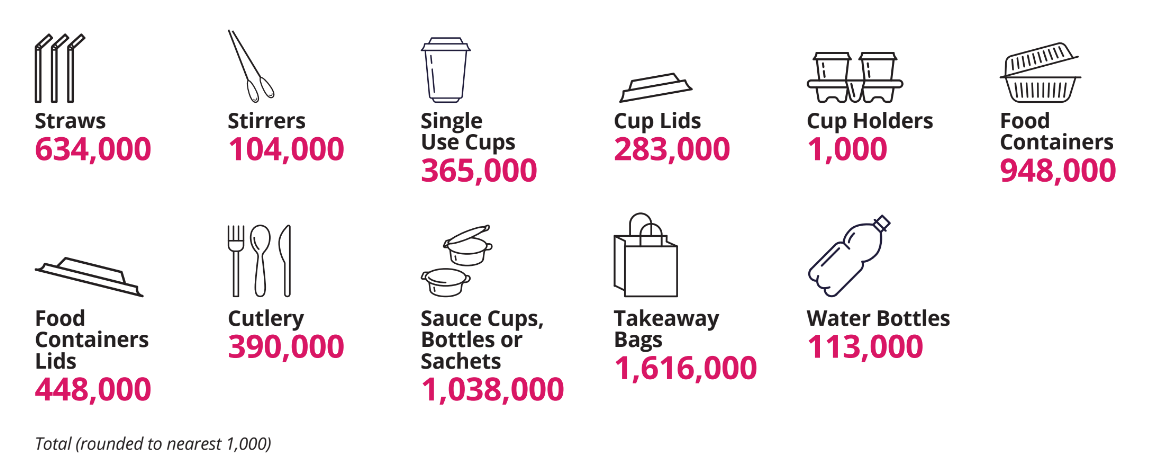 Meanwhile, firms in the hospitality industry such as Grand Hyatt Singapore, Hilton, The Fullerton Hotels and Pan Pacific Hotels Group, made efforts to reduce plastic use in both F&B areas and guest rooms.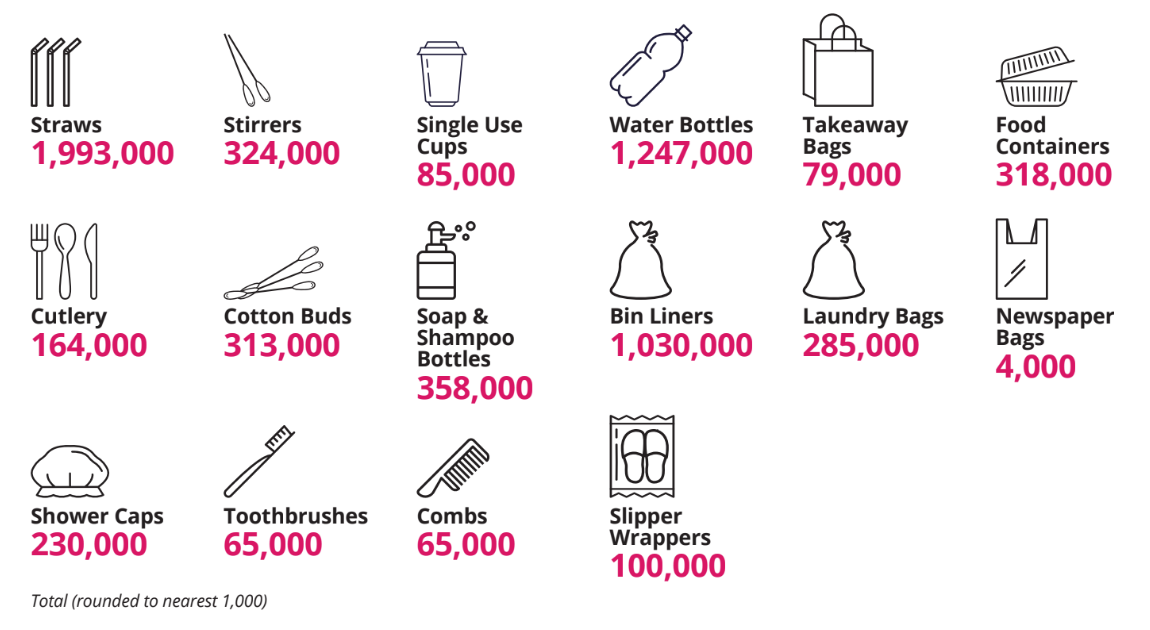 Perromart, an online pet store, managed to reduce over 500km of plastic tape used in its delivery packaging.
Sector-wide changes
Aside from individual commitments, PACT has worked with over 200 participants to come up with industry-wide pledges to collectively reduce plastic use .
These pledges include the No Straws Pledge, Food Delivery Pledge and Retail Bag Charge.
The former had over 300 F&B outlets pledge to remove straws from their operations from July 2019 onward.
Meanwhile, three food delivery companies, Deliveroo, Grab and Foodpanda publicly committed to various sustainability initiatives such as providing the option for customers to opt out of receiving plastic cutlery.
Several businesses such as H&M and Lego also pledged to charge customers for single-use bags, whereby proceeds are then contributed to conservation efforts.
Top photo from Pixabay
If you like what you read, follow us on Facebook, Instagram, Twitter and Telegram to get the latest updates.