Workers' Party (WP) candidate for Hougang SMC Dennis Tan has taken his opponent Lee Hong Chuang to task over the latter's claim that he had implemented Neighbourhood Renewal Programmes (NRP).
The claim from the People's Action Party candidate was made in Lee's election flier, according to Tan in a July 6 Facebook post.
Lee's flier can be seen here: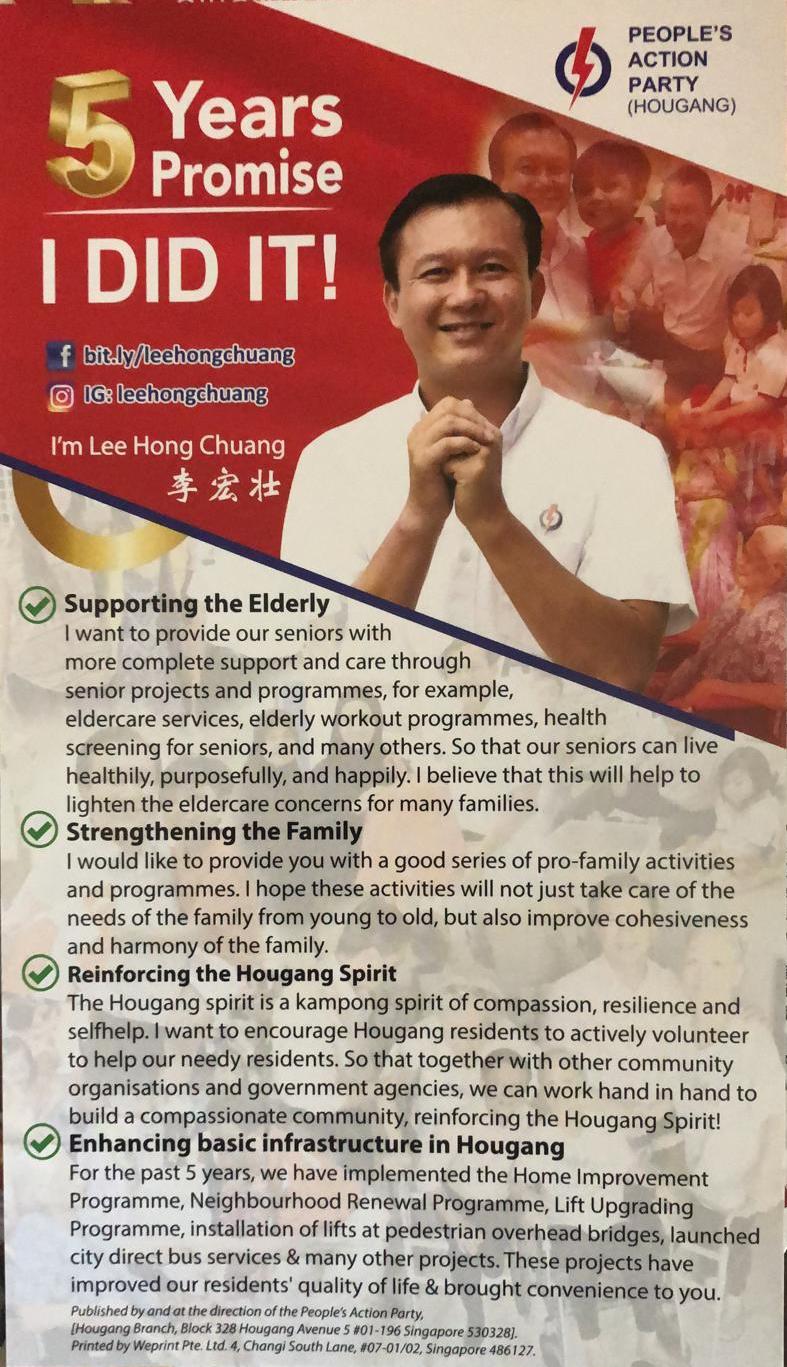 NRPs implemented by town council
In it, Lee takes credit for fulfilling promises that he had made in the last election, where he lost to WP's Png Eng Huat.
Specifically, Tan took issue with Lee's declaration that he had succeeded in "enhancing basic infrastructure in Hougang", through NRPs.
"The NRP is not implemented by Mr Lee. It is implemented by the Aljunied-Hougang Town Council under the leadership of the Hougang MP (member of parliament)," wrote Tan.
Not the first time Lee claimed credit
Tan noted that it was not the first time that Lee had tried to claim credit for the NRP, linking his post to one by outgoing Hougang MP Png.
"The first void deck elderly and adult fitness corner is taking shape in Hougang. As the town council was progressively implementing the NRP in Hougang, publicity about the upgrading, featuring the previous PAP candidate, started to appear as well," said Png in his post from June 2019.
"This prompted residents to ask who is actually carrying out the NRP plans for the estate, as they all understood it to be the WP-run town council"
Hougang's MP then pointed out that during the 2016 Bukit Batok by-election the PAP had clarified that NRP plans were linked to town councils and the elected MPs who ran them.
"If a candidate for election as Member of Parliament is not elected, his Party's town council naturally cannot be responsible for the constituency, and cannot carry out its NRP plans for that constituency," read the statement according to The Straits Times.
HDB's website also states that NRP are implemented by the town councils.
While Lee lost to Png in 2015, he remained as the grassroots advisor for Hougang.
Mothership has reached out to Lee for comment.
Top image from Png Eng Huat's Facebook page and by Andrew Koay
If you like what you read, follow us on Facebook, Instagram, Twitter and Telegram to get the latest updates.