Speaking during a walkabout at Bukit Merah View on Tuesday (July 7), Progress Singapore Party's (PSP) chief Tan Cheng Bock highlighted the importance of moving away from the politics of fear and not participating in gutter politics.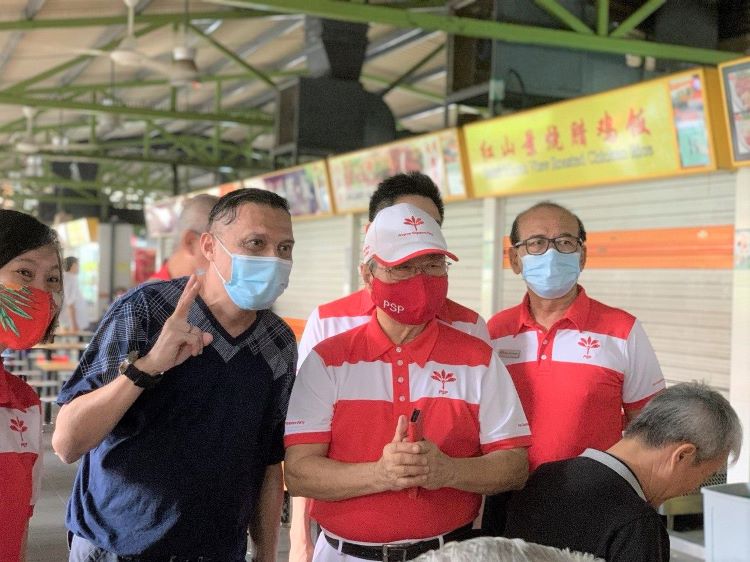 "This is what you call gutter politics": Tan
Responding to a media query on his comments on what he thought about PAP's statement on Workers' Party's Raeesah Khan, Tan said that he and his party do not want to be involved in gutter politics.
He questioned why the social media posts by Khan were only brought up now, especially so when one of the posts was made two years ago:
"Honestly, I don't want to be involved in this type of politics. So long ago they should have taken action. Why wait until now? That's my question.

...We have to set good examples for all of you. When it comes to politicking of this nature, let us stay high, and the world will look at us and regard Singapore as a very mature country. I don't want to just to pick an event that has happened two years ago."
He also commented that People's Action Party has been "waiting for this moment" and called it gutter politics.
"That means they have been waiting for this moment. And this is what you call gutter politics. I already told my people "Please don't do that, we have grown out of this".
Tan reiterated that he did not want to comment on what Khan had written as "it has passed already, so long ago" and asked for PAP to "look at themselves and see whether they have conducted themselves in a gentlemanly way":
"Last minute you bring something like that to me I think it is not right not nice. I don't want to comment on what she wrote because it has passed already, so long ago."
Tan on the politics of fear
Drawing from his walkabouts and personal experiences, Tan expounded on the "politics of fear".
He noticed that there is a culture of fear and reward:
"See, when I walk around, I noticed something. There's the fear, the politics of fear. I reward you, you vote for me. You don't vote for me. You are against me, straight away I don't like you already."
He then added that this did not allow for the chance to have a dialogue or a conversation and felt like this idea should be discarded.
He also claimed that he observed this fear among new citizens who felt that if they voted for the opposition, the government might will take away their citizenship.
"I'm quite sad that they are using this this fear factor to frighten even our new citizens. So when the new citizens tell us, if we vote for them, they will take away our citizenship.
So I tell the new citizens, please don't let this politics of fear, interfere with the right to choose the right person to go into parliament."
PSP candidate Wendy Low added to the response and said that the party subscribes to gentlemanly politics and that this allows for a new generation of young political leaders to step up without worrying that their comments on their social media accounts will be used against them.
"I just want to add that overall we do subscribe to the politics of gentlemanly politics. I think it's important and I think Singapore is too small and fragile to be attacking political opponents based on character or past comments.

Then we have seen a new generation of young political leaders that they have. And I think that's encouraging. And we should actually give them that platform to say, step up, don't be afraid, don't be fearful of being attacked.

Because when you continue with a politics of fear, it deprives Singaporeans of the best leaders. I know a lot, a lot of qualified professionals, people of different backgrounds who want to step up. But it's because they're so afraid of having a public life exposed. I think we're doing Singaporeans a disservice by perpetuating that."
Tan Cheng Bock: Just political talk
Responding to another media query on comments made by Prime Minister (PM) Lee Hsien Loong at an online lunchtime rally on July 6, Tan also added that he had previously warned that this is "not the right time" for the election.
In a statement made by PM Lee, he said that the opposition "have been completely silent on how to tackle Covid-19 during the last six months, and in this election campaign".
Speaking to members of the media, Tan highlighted that he warned that is was not the right time for the election and that the situation was not created by PSP.
"I think this situation is created by them. Not by us, right? I've always, I've always warned this is not the right time for election. So now you tell us we are misbehaving. I think it is because they set the mood, they set the pace.

What else can we do? Right, we already warned you, don't hold this election now because of the danger and to say that we are not complying, and all this, I think is not fair. It's just political talk."
PM Lee criticised the opposition parties on July 6, for having not much to say about getting Singapore out of the current situation.
In response to this point, PSP member Michael Chua added that their manifesto aims to address structural problems beyond the current Covid-19 pandemic.
"We have released our manifesto the day before the nomination day. I believe our manifesto has articulated our vision for Singapore, there are very clear blueprints of what we need to do to address this issue at the country level for the longer run.

As much as COVID-19 is a very important crisis that is affecting the country, the country should not stop and look at the problem on its own. But look at what else (needs to be done) to address the structural problems affecting us."
Chua also suggested that PM Lee can consider looking at PSP's manifesto and incorporate some ideas into "future plans".
"So perhaps when the Prime Minister has the time to review our plan, he can consider looking at some (of our) ideas and incorporating that into whatever they plan to do next."
Speaking to Mothership, PSP candidate Wendy Low added that the party does not want to politicise the situation.
"I think that was also some thinking that you know, it's a pandemic and a crisis. Let's not politicise the situation and let the situation be handled."
Top photo by Sumita Thiagarajan
If you like what you read, follow us on Facebook, Instagram, Twitter and Telegram to get the latest updates.