Follow us on Telegram for the latest updates: https://t.me/mothershipsg
When 28-year-old Sally* (not her real name) was looking for a place to rent while waiting for her Build-To-Order (BTO) flat to be completed in about two years time, she experienced discrimination from a real estate agent who assumed her identity from her WhatsApp photo.
Discriminated from outfit in WhatsApp photo
Speaking to Mothership, Sally said that she is a Singaporean brought up with the Malay culture, and speaks the Malay language.
While looking for a place to rent in February this year, she messaged a real estate agent through WhatsApp.
But she was surprised that her first response from the real estate agent was: "Hi. I'm sorry landlord prefer non-Indian tenants. Thanks."
The young mother, who was looking for a place to rent with her husband and her 3-month-old child, was puzzled as to how the agent came to the conclusion about her identity.
She added that her WhatsApp featured her own name, which she mentioned is a 'common Malay name'.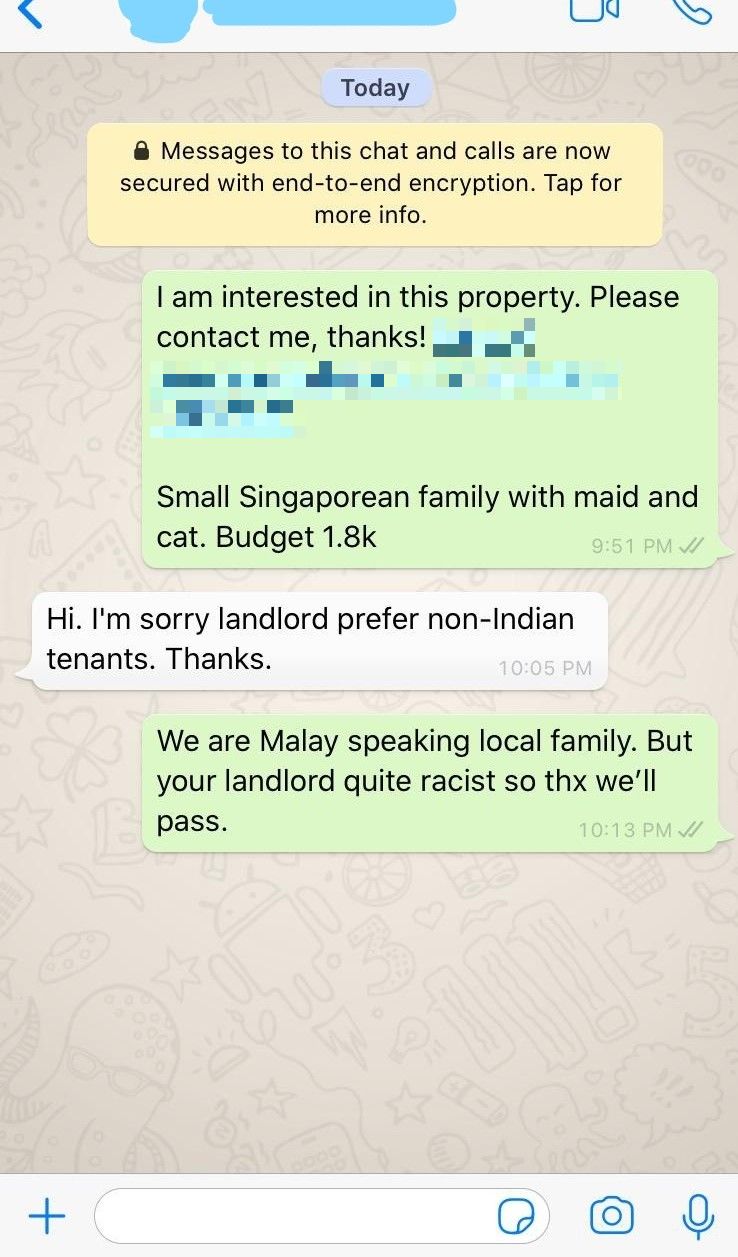 Sally then realised that the only thing the agent would have used to make the assumption was an Indian outfit, a sari, that she was pictured wearing in her WhatsApp profile photo.
She told Mothership that the photo she used for her profile was taken at her friend's wedding, where she was wearing the outfit.
Sally, who works in the legal industry, and her Singaporean husband, who works in the IT industry, have since found a place in Queenstown with a Chinese landlord.
She told Mothership that someone else she knows faced the same experience of discrimination when trying to find a place to rent, and was surprised that it is more common than she thought.
Rental discrimination isn't an isolated issue
Unfortunately, Sally's experience is not an isolated one.
In a survey conducted by YouGov in 2019, 23 per cent, or nearly one in four Singaporeans, have faced ethnic discrimination when renting a house.
Another Singaporean, 32-year-old Andy* (not his real name) has been looking for a place for his elderly Singaporean Indian father, who is 69-years-old, while renovating a room in his family home in preparation for his father to move in with him and his wife.
However, he told Mothership that he has had a tough time trying to find a room to rent for his father in the northern part of Singapore, with racial preference by home owners being cited as a reason.
Out of the 15 real estate agents he approached, only two agents have not rejected their rental requests based on his father's race.
Here's a screenshot that Andy shared with us.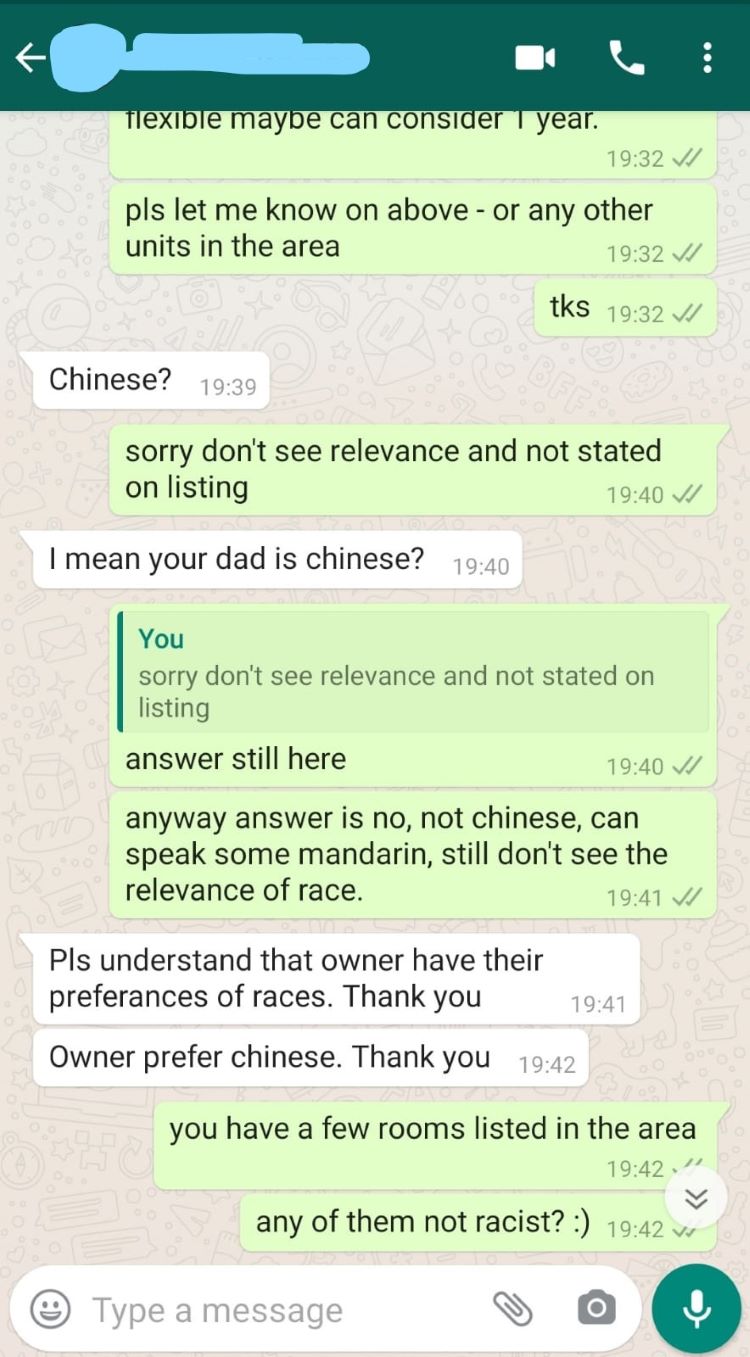 Andy also shared with Mothership that his father will only be sleeping in the room that he's looking to rent, and will not be cooking.
In addition, Andy shared that his father will be spending most of the evenings at his place for dinner and is out for work from 8am.
Andy added that his father will only return to the rental place at 12am.
Another discriminatory experience
In another incident, Facebook user Siddharth Karthik, posted a screenshot on Facebook with the caption, "it's 2020, I am a Singapore Citizen, I served 2 years of national service ...... only for this shit".
In a later update to the post, he highlighted that he was just sharing the experience and will not be naming and shaming the owner or the agent as it is not an isolated incident.
Siddharth also responded to those who asked him to respect the opinions of the home owners and asked for them to imagine how they would feel if they "were treated like you are 'unwanted' or 'inferior' in your own country solely on the basis of your race or how you look".
Here's a screenshot of his post, which garnered over 2,000 reacts and 2,000 shares: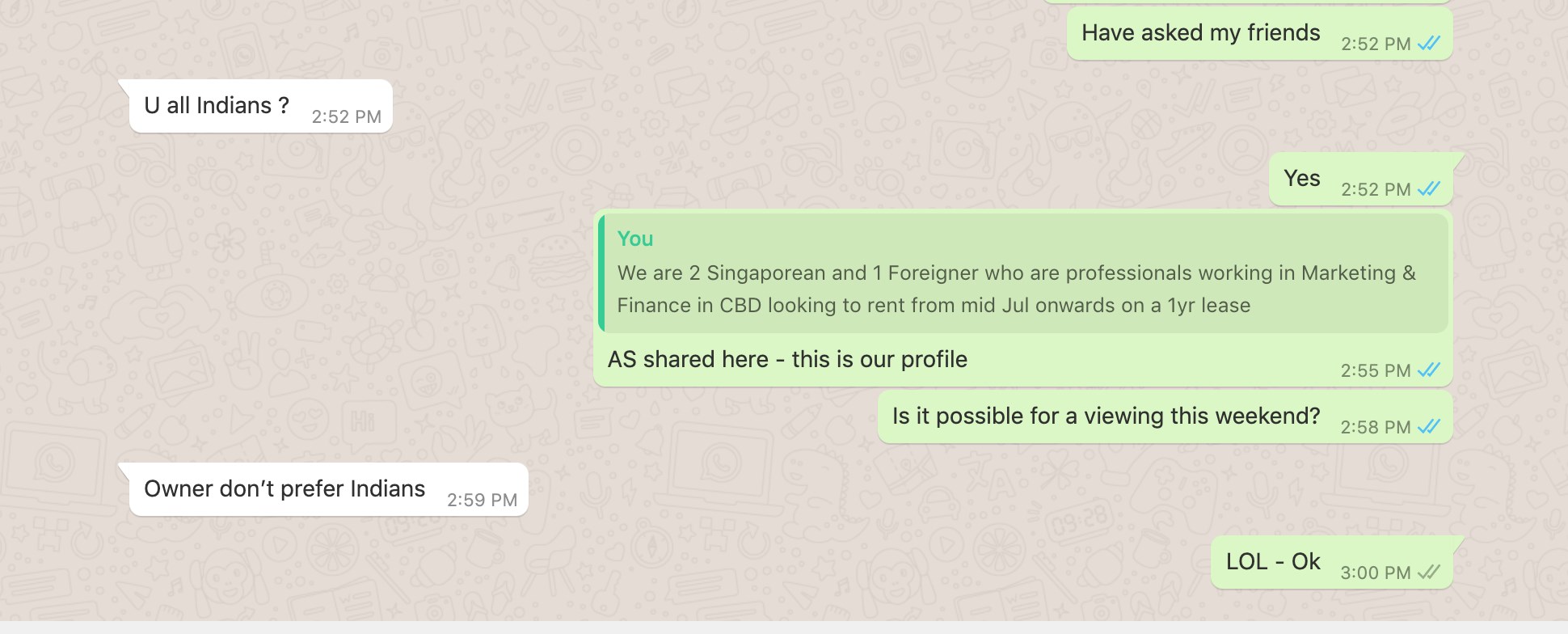 More share their experiences with rental discrimination on Twitter
On Twitter, a Singaporean who goes by the name Jay, shared screenshots of a conversation where they were asked to reveal their profession and race:
"Are you Indian or Singh?"
Even though I'm Singaporean, this is the kinda shit I have to deal with while apartment hunting. pic.twitter.com/IX1Wsz99u7

— Ranajay On The Road (@ranajayonroad) July 7, 2020
In another tweet, a Twitter user @posthumandancer shared that when their Chinese girlfriend messaged the real estate agents, the response was different from what they received.
The tweet featured a story of a Chinese landlord who was spooked by 'big ancestor photos' displayed in the living room by an Indian tenant who previously lived there.
I've had experiences where the agents were all smiles when my Chinese girlfriend messaged them on my behalf but when I stepped in to take over they went silent. And there is stuff like this that happens as well. https://t.co/3GVxBto2QM pic.twitter.com/dKCGJfs8Sh

— AnalogCyborg (@posthumandancer) July 7, 2020
Guidelines for real estate agents may not be enough
Such "preferences" may appear to be legal.
According to a BBC article in 2014, Article 12(2) of the Singapore Constitution forbids discrimination on the basis of race for Singapore citizens.
However, the article said that "according to experts", this can be used by a citizen against the state, but cannot be "relied upon" to seek legal redress against another individual or legal entity.
According to practice guidelines by the Council for Estate Agencies (CEA) for real estate agents, under the Estate Agents Act, the only guideline which mentions racial discrimination is one that address discriminatory advertising.
"In advertising properties for sale, purchase or rental, salespersons should be sensitive to the diverse, multi-racial and multi-cultural nature of society and advise their clients against placing advertisements that are discriminatory, offensive or stereotyped in nature against any particular race, religion or group in society."
However, while agents are not allowed to advertise the preference for a particular race, the problem could be pushed downstream, when the agent imposes the landlord's preference when someone looks to rent the property.
Also, home owners who don't use licensed agents are not subject to CEA guidelines.
Mothership has reached out to HDB for comment.
Top images via Andy* and Sally*
If you like what you read, follow us on Facebook, Instagram, Twitter and Telegram to get the latest updates.