It's a sunny Thursday afternoon on Jul. 2 when I step into the People's Action Party (PAP) Kebun Baru branch office.
It is Day 2 of GE2020 campaigning, and the office is bustling with volunteers. They are mostly dressed in white, some wearing PAP polo shirts, and with the PAP logo pin.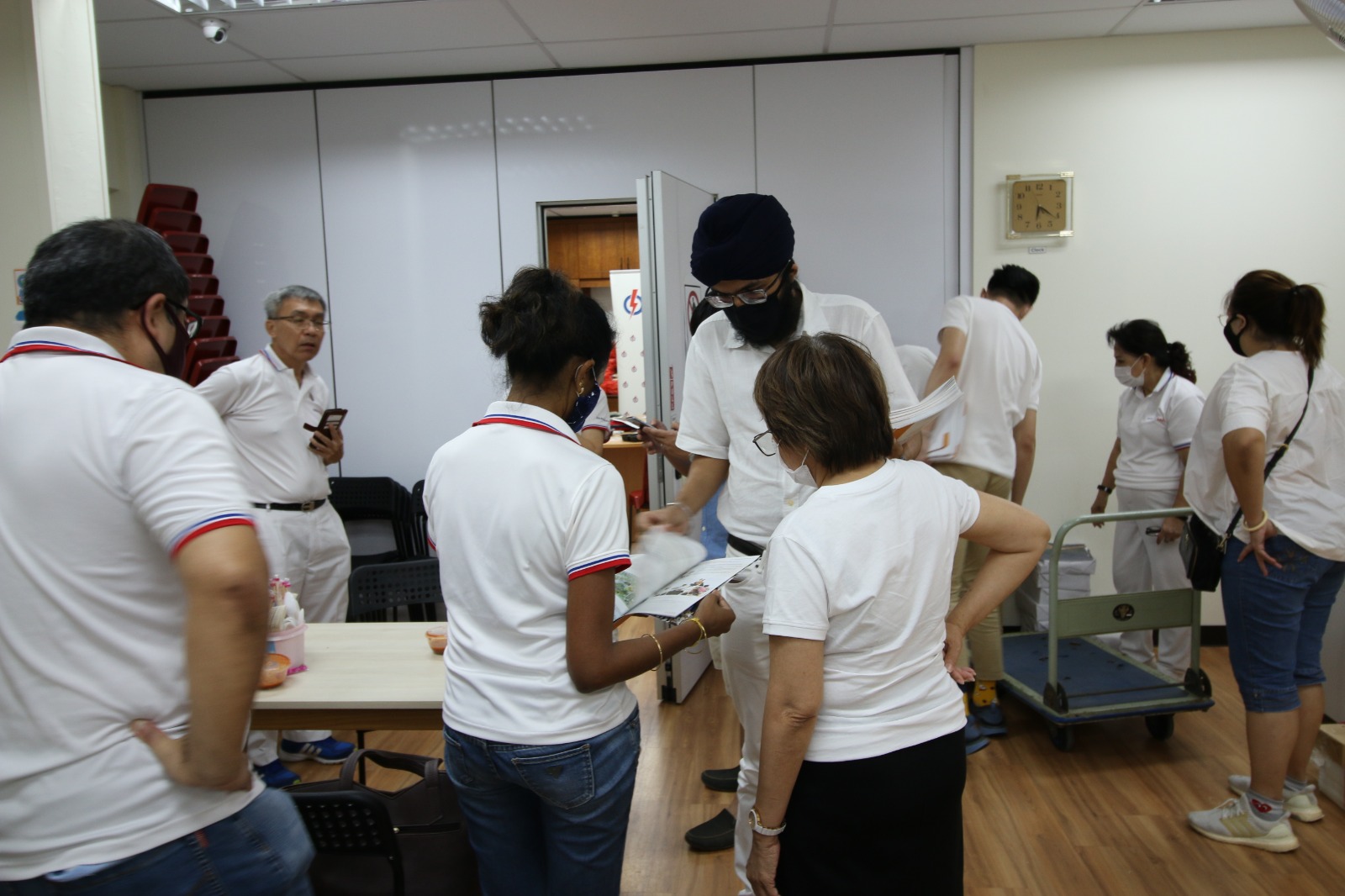 The office has snacks and drinks stocked, to fuel the volunteers through their campaigning work, including soya bean drinks and desserts from Mr. Bean.
I am here to speak with Jejhar Singh, a 23-year-old polytechnic student who has been volunteering with the PAP since 2018 — serving on the Youth Executive Committee, helping out at Meet-the-People Sessions, and now assisting with GE campaigning.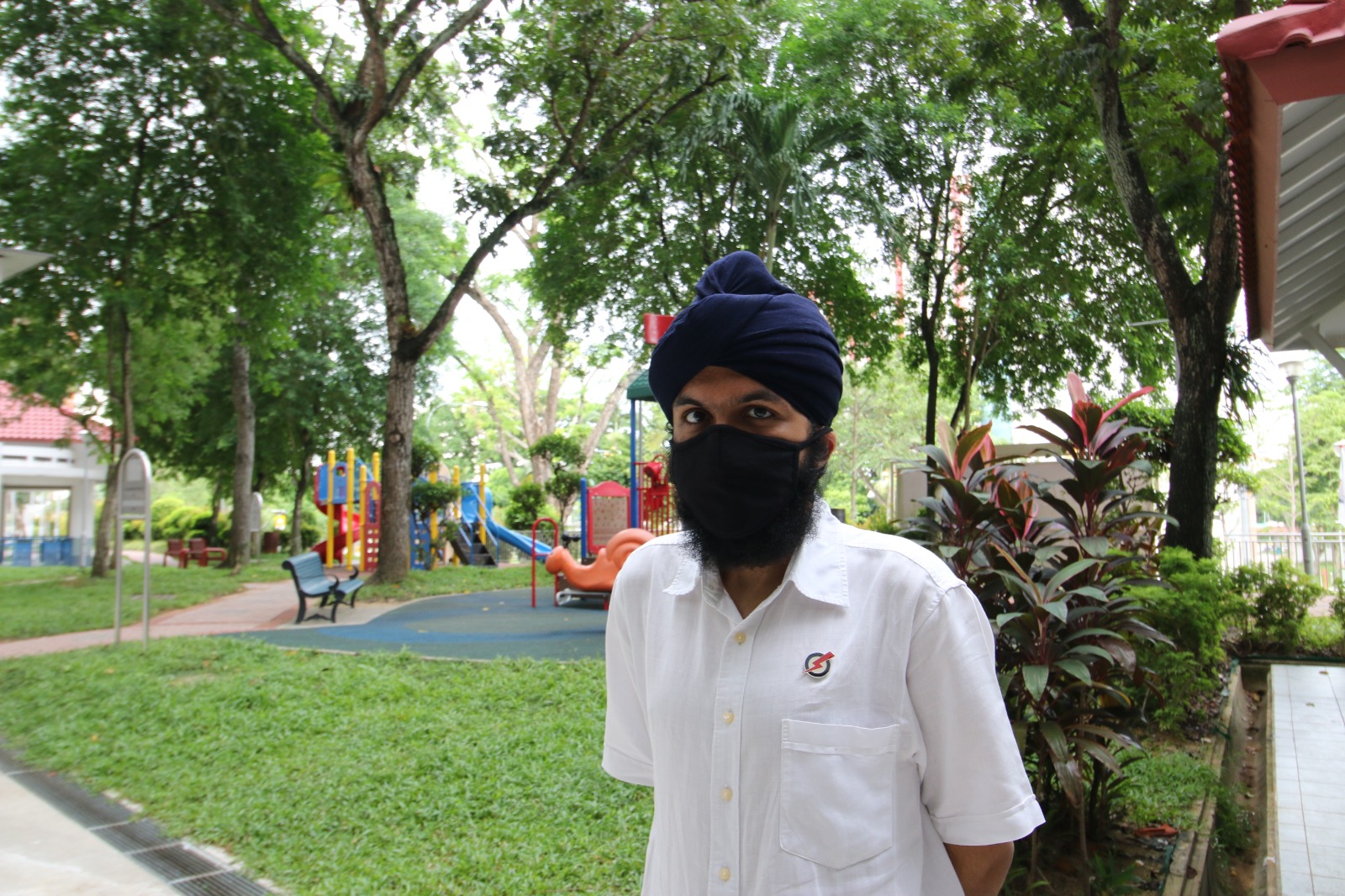 Getting involved
Singh first started volunteering when he was about to finish his National Service in 2018.
At the time, he admits that he actually wasn't very interested in Singapore politics, but followed UK politics "quite closely".
"It's very interesting to learn about their way of doing things," he tells me.
However, his neighbourhood committee's chairman, whom Singh knew from community events, suggested that he start volunteering. And so, Singh joined the Youth Executive Committee (now known as Youth Network), which organises events to engage young people.
In the course of his volunteering, Singh began working with the Kebun Baru team, where he met Henry Kwek.
Kwek was the Member of Parliament in charge of Kebun Baru under Nee Soon Group Representation Constituency (GRC) at the time, and is a candidate for GE2020 for the newly-formed Kebun Baru Single Member Constituency (SMC).
Singh shares that Kwek takes the time to speak one-on-one with each of the volunteers, to understand their goals and how they can achieve them.
Singh, whose goal is to finish his diploma and go to law school, says that Kwek's guidance has been extremely helpful:
"His advice is… I really appreciate it a lot, because the way he has advised me so far is like, wow. He really is very, very knowledgeable."
"To serve the community, I must understand the community."
Singh got involved with Meet-the-People Sessions in order to get closer to the ground.
"To serve the community, I must understand the community," he says.
At the weekly Meet-the-People Sessions, which run from 7pm until around 10 or 11pm, Singh helps out with registering the residents, taking their temperatures, and greeting them.
During the Covid-19 pandemic, before the circuit breaker in April and May, registration also involved taking their temperatures and particulars.
Then, during the session, he and other volunteers sit down one-on-one with residents to hear about what their problems are, and help draft letters to appeal to the relevant government agencies.
Once an appeal letter is written, it is vetted by another volunteer, before being signed off by Kwek.
The volunteers also help identify residents who want to speak with Kwek directly, and link him up with them to hear from them personally.
Covid-19 and GE walkabouts
During the Covid-19 circuit breaker, Singh helped out with a virtual jobs counselling initiative started on the community club-level, holding video calls sessions with residents who needed help finding jobs.
And now that GE is approaching, he also walks the ground in Kebun Baru.
He and other volunteers go around handing out and explaining the PAP's manifesto, answering constituents' questions, and providing important information, such as which polling station people need to go to.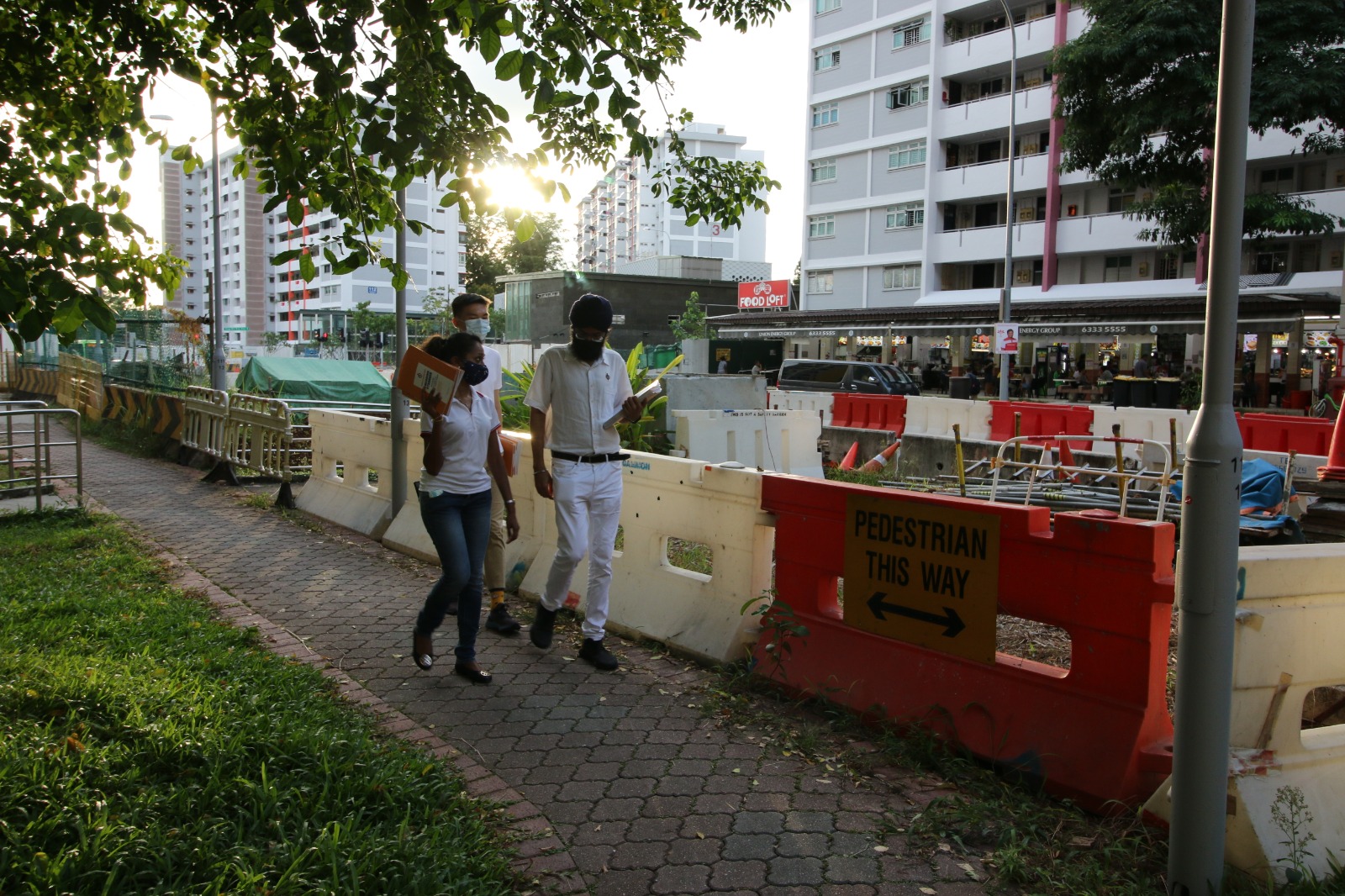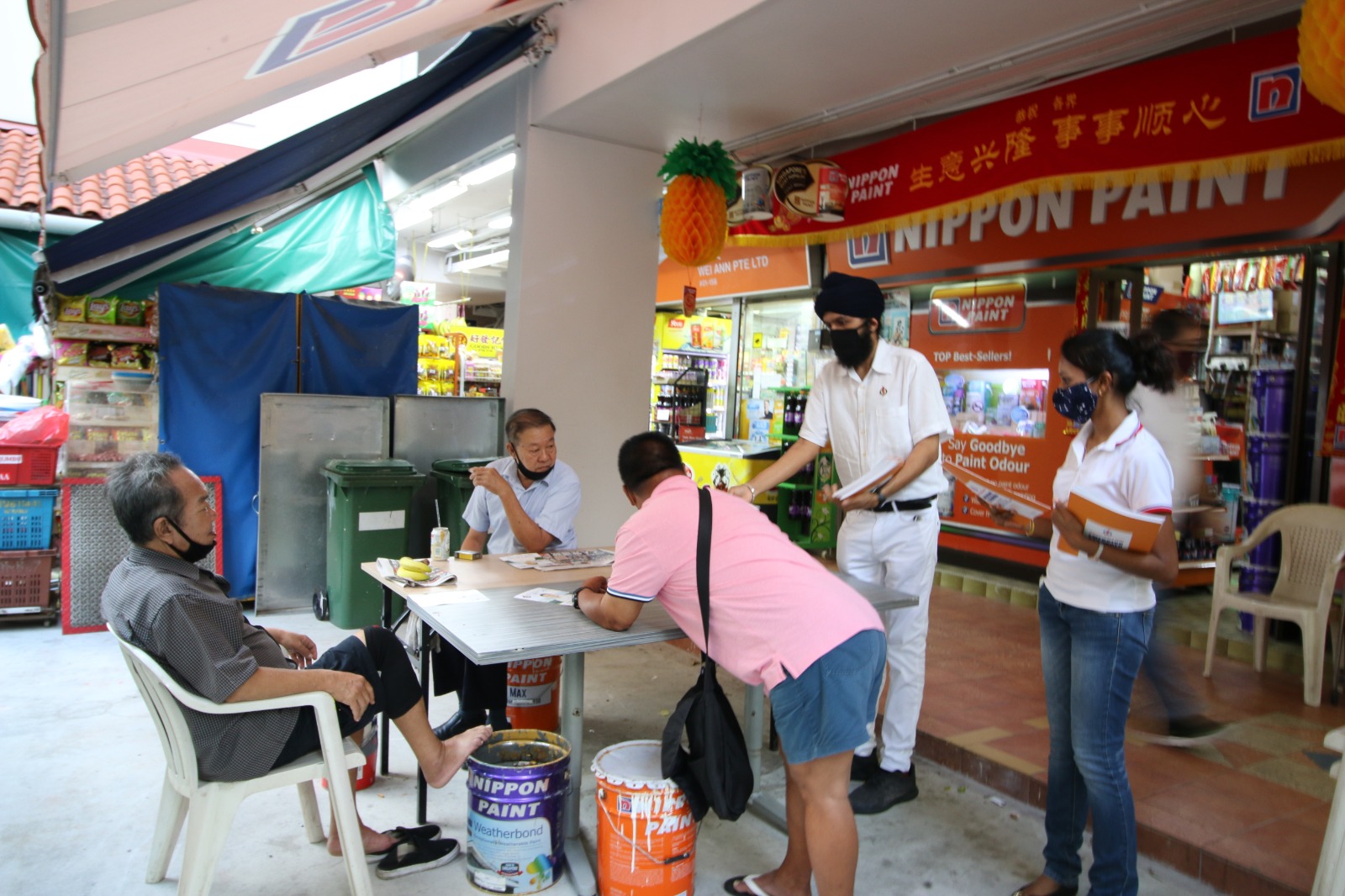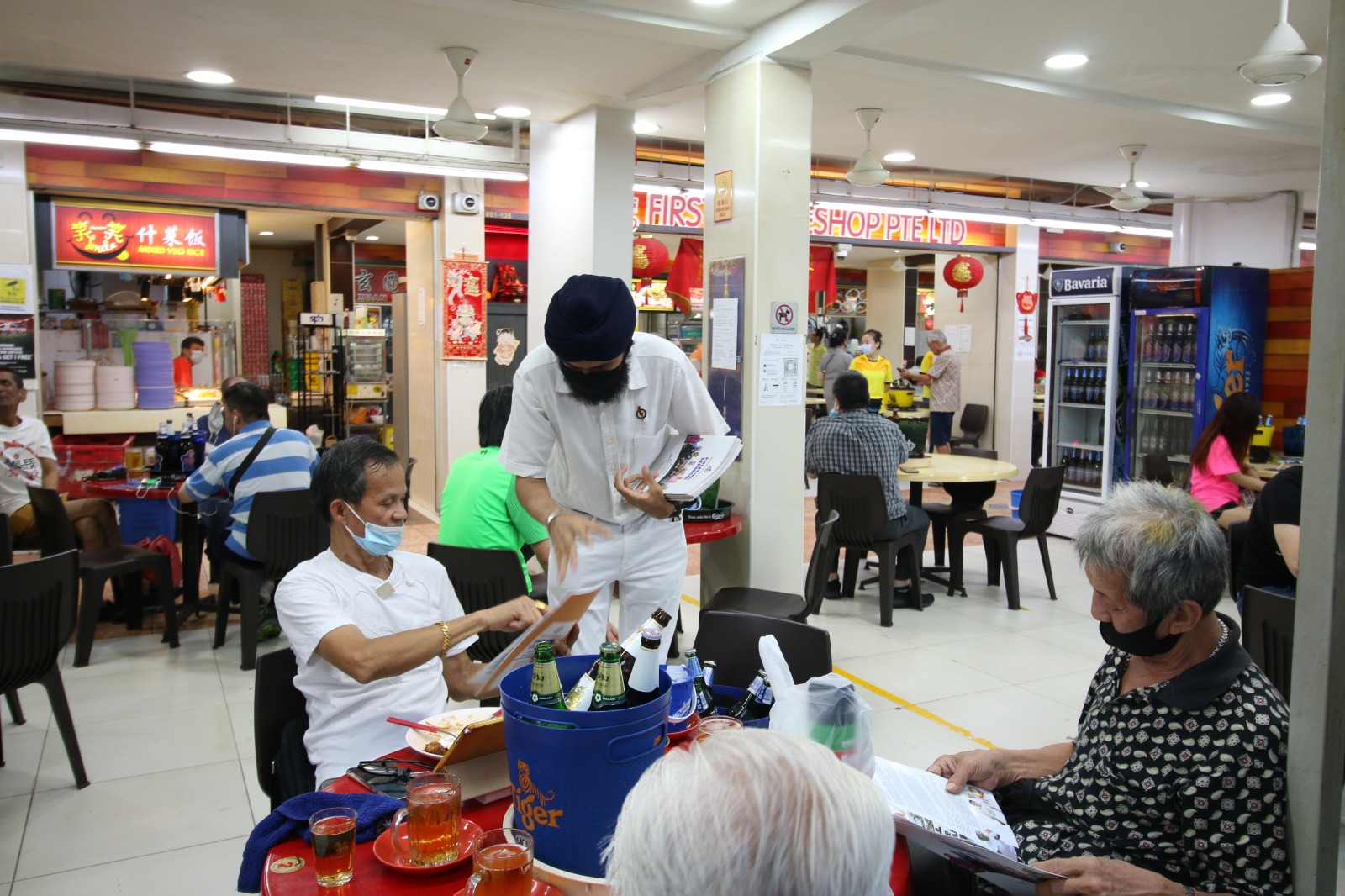 If there are any questions that come up from constituents that the volunteers are unable to answer, they note down the resident's contact information and give it to the People's Association staff to follow-up on.
One funny thing that's happened to him during walkabouts, Singh tells me, was when a resident asked if he was the candidate.
"One time, I went there, and then lady goes, 'Are you the candidate?'

Then I was like, 'No, no, no, no! I'm not the candidate. The candidate is Mr. Kwek Hian Chuan!'"
Singh shares that his experience on-the-ground has been good, and that residents in Kebun Baru are very kind, even offering the volunteers to step inside for a drink.
Languages help him connect
One thing that has helped Singh connect with the residents he meets in his volunteering is his love for languages.
So far, he speaks seven languages, to different extents. They are: English, Mandarin, Punjabi, Hindi, Russian, Japanese, and Malay.
Singh grew up speaking Punjabi and Hindi at home, and he learned Russian and Japanese through taking lessons.
"My hua yu (Mandarin) is also very good, in my opinion," he says, laughing.
He picked up Mandarin over the years from his friends, and from sitting in on Chinese lessons (although he didn't take it as a class) during his school days, as Punjabi — Singh's mother tongue — was only offered on Saturday:
"Everyone was speaking Chinese, and I was just absorbing all the Chinese words in my ears."
Listening to Mandarin songs has greatly helped refine his pronunciation, he said. Singh, who is a fan of Andy Lau, pulls out his Spotify to show me that four of his most listened-to songs of 2019 are either Mandarin or Cantonese songs.
This Mandarin ability is particularly useful when communicating simple messages to Chinese-speaking constituents, he says:
"If I have to say something very basic in Chinese, it does really help. Sometimes you have to get a point across … then you mix Mandarin and English and then they usually get the point."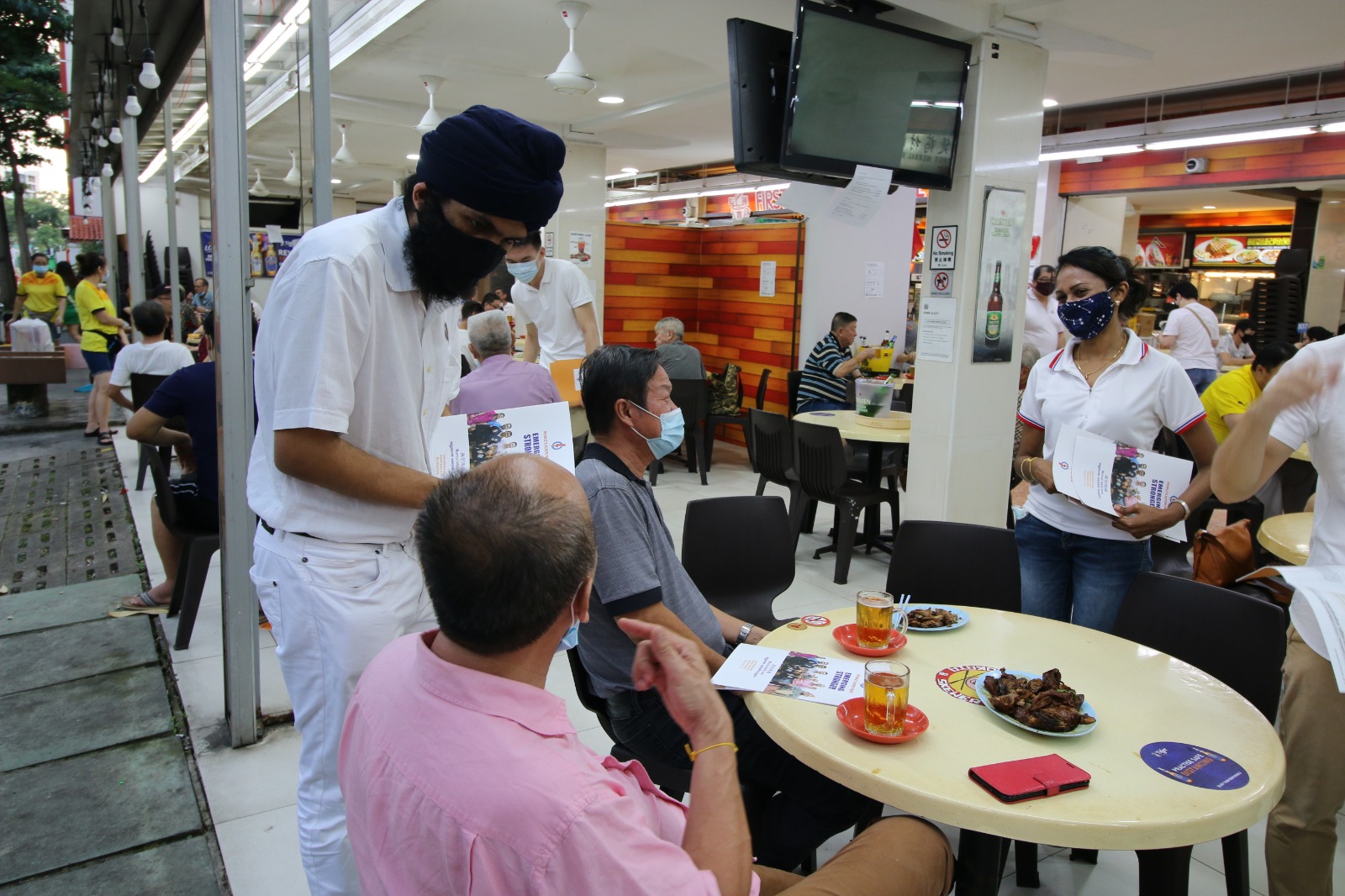 Singh tells me about how residents have been surprised and excited by his language proficiency.
He recounts how he was giving out brochures to a group of residents when one of the women got very animated after he greeted them in Mandarin. She excitedly asked him many questions about the GE, such as about the polling card and whether she could go at a different time than her assigned polling time.
"I said, 'zhe ge timing bu shi 100 per cent de. Ni ke yi qu anytime ni want, lah.' (This timing isn't 100 per cent. You can go anytime you want.)"
Singh also began learning Malay recently, buying books to teach himself what he feels will be a useful language to know, both for his volunteering and his personal life:
"I felt that there are not many Malay speakers volunteering here.

And the next thing is our neighbouring countries speak Malay, so I felt it's a good thing to learn, and it'll really help when you're traveling, when you're going to Malaysia, or you're doing business in other countries."
Learning from volunteering
"[In the beginning] I was not really sure about what's going on, you know?" He says.
But since he began helping out at Meet-the-People sessions, Singh has been exposed to a wide range of issues people in the community may face.
And from there, he discovered that he slowly learned about policies and policy-making:
"It made me more aware of the government policies and the government schemes that are there to help people."
He has also learned about the importance of patience and listening to constituents:
"I think you have to be very patient. That's one of the key things I learned — being patient.

And controlling your impulse. You know sometimes you may want to [interject but] you don't really try to interject. Unless you really have to."
Others should get involved, try to understand
Now that he's been volunteering for two years, Singh says that he would encourage other young people to get involved and learn more about what's happening on the ground:
"I think youth need to be more involved. I strongly recommend to all youth out there — come to at least one MPS session, regardless of wherever it is.

After election, after the physical MPS sessions start, go and check it out. Go and talk to people, and then you'll understand what's what."
And while he recognises that some people, including his peers, might be critical or sceptical of the PAP, Singh suggests that they try to understand what the party is doing:
"They should try to understand what we are doing, and what we have done, and why are we doing it. People need to understand before [they] can learn how to accept certain ideas or certain views."
---
Stories of Us is a series about ordinary people in Singapore and the unique ways they're living their lives. Be it breaking away from conventions, pursuing an atypical passion, or the struggles they are facing, these stories remind us both of our individual uniqueness and our collective humanity.
---
Top photo by Jane Zhang.
If you like what you read, follow us on Facebook, Instagram, Twitter and Telegram to get the latest updates.