The traditional physical rally featuring fist-punching and flag-waving, while huddled with fellow Singaporeans on a grass patch enduring the tropical humidity in the evening, has made way for a whole new banter-filled seminar-like e-rally offering, no thanks to Covid-19-imposed safe distancing measures.
The result? The approach to reaching the masses this GE2020 has softened.
In their second East Coast GRC e-rally, the PAP's team delved a little into their personal lives as they revealed more about the East Coast plan.
The e-rally resembled a chit-chat session, with Senior Minister of State Maliki Osman's jovial moderating easing the other four candidates into the topics such as senior care, young families, environmental sustainability and upcoming infrastructure.
Peppering their proposals with jokes and anecdotes, the more than one-hour online rally was lighthearted.
Lim Swee Say, retired East Coast Member of Parliament, described it "people-centric".
At one juncture, the conversation even sounded like something from a parenting seminar, as all four candidates burst into laughter.
How far removed is this experience from the usual physical rallies?
Plenty much.
Parenting advice for first-time dad Tan Kiat How
Tan Kiat How shared that his first child was due next month, which then set off a flurry of congratulations from the rest of the East Coast team.
"Honestly, a little bit nervous, first time being a father, a parent. And I'm very grateful for all the residents I've met over the last few days. They were offering me very warm tips on how to take care of the first child," said Tan Kiat How.
Some residents told Tan to get as much sleep as he can now, which made the other candidates laugh.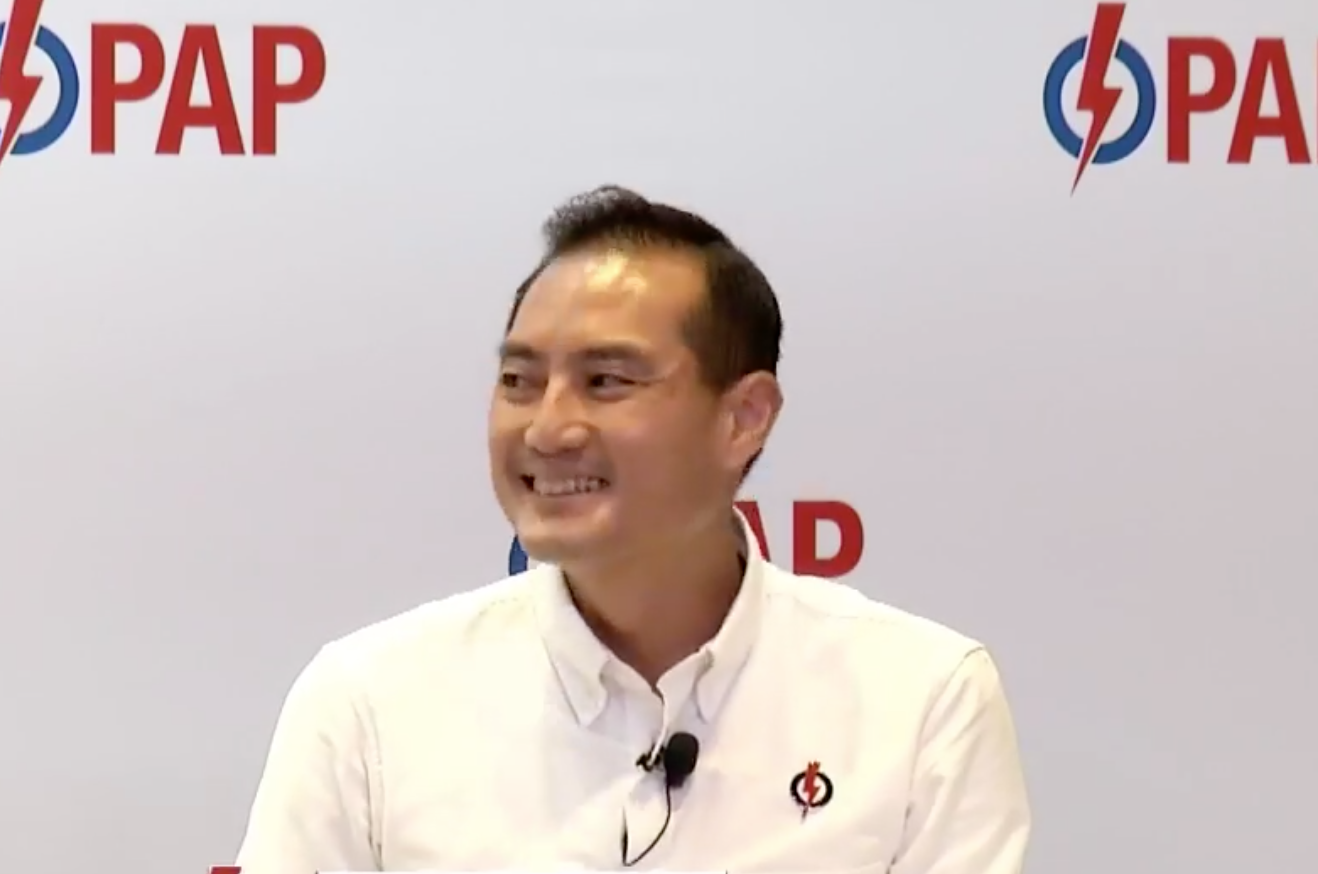 The rest of the East Coast team then promptly unleashed a barrage of their own parenting experience and advice.
"Childbirth very important ah, father must be there. Cause you all know right? We need to support our women as they continue to have their careers so father must be there. So not enough sleep very true, better sleep now," said Maliki, who also happened to be Tan's mentor.
Maliki shared how moved he felt when he cut his daughter's umbilical cord for the very first time.
"It was a very, very moving experience, because you really felt it was your flesh and blood there," Maliki said.
Heng also provided his own anecdote on getting up in the middle of the night to help his wife to breastfeed their daughter.
"To keep myself awake, I went to make some Milo and some biscuits, and while my wife was feeding the baby, I was feeding myself," joked Heng.
Heng also learnt the skills to bathe his infant daughter, which he then offered to teach Tan Kiat How.
Heng quipped: "I can teach you the skill.. and I won't charge you for the SkillsFuture course."
As one of two female candidates in the team, Jessica Tan also chipped in, saying that though men typically focused on the tasks of fatherhood, the feeling of holding your own child for the very first time will truly be the unforgettable moment.
A multi-generational model for East Coast
Linking the conversation back to East Coast, Tan Kiat How said for young families like his, living in the mature Bedok area opens up the opportunity for intergenerational support from their parents.
"One thing which I am very happy with is how many people I see in our hawker centres and shops are really multi-generational families. 5G families, 4G families, coming together to spend time together." Heng also observed.
Cheryl Chan also mentioned about how the existing eldercare centres, which provide mental and social support for seniors, will be expanded and improved.
With more BTO flats slated for the coming years, the PAP East Coast team emphasised the building of infrastructure and caregiving centres to support the young families moving in, as well as the current elderly residents.
Environment
The team proceeded to talk about a hot topic among young voters: The environment.
Not only do they aim to do more for sustainability, they also hoped to preserve the natural spaces that East Coast residents are proud of.
In particular, Maliki gushed about Pulau Ubin.
He said: "Pulau Ubin is the most beautiful place in Singapore, because it really brings back memories of what Singapore was like."
Heng also mentioned that Singapore is moving from being "a garden city", to "a city in a garden", to being "a city in nature".
Aside from preserving nature, the team also suggested plans to build more community gardens that grow edibles, and for the vegetables to be given back to needy families.
The team also touched on reducing energy consumption, encouraging people to bring their own bottles to the community events, increasing e-waste recycling, and charging stations for electric car-sharing.
Heng said that what's "green" to him is "all of the above and more".
He urged people to take climate change seriously and added that these activities such as growing edibles in the community gardens and appreciating nature can also become a way to build community spirit and bonds between neighbours.
After sharing their GRC manifesto and key areas of focus, the team invited residents of East Coast to join them in the East Coast Conversation to share their feedback so that the team can set out their priorities to best meet residents' needs.
Top photo from East Coast GRC/Facebook
If you like what you read, follow us on Facebook, Instagram, Twitter and Telegram to get the latest updates.