On Saturday (Jul. 25), Prime Minister Lee Hsien Loong announced the new Cabinet.
Minister for Education Ong Ye Kung was announced to be relinquishing his appointment, which he has held since 2015, and will be appointed as Minister for Transport.
After the announcement was made, Ong took to Facebook to share a tribute to his time at the Ministry of Education (MOE), as well as his hopes for the Ministry of Transport (MOT).
Leaving MOE with a heavy heart
In his Facebook post on Jul. 25, Ong wrote, "It is with a heavy heart that I am leaving MOE."
He shared that one of his predecessors had told him MOE is a special ministry, and echoed his agreement with the sentiment. He added that he had learned a lot during his time in MOE:
"Over the past five years, I learnt a lot from teachers, academics, educators, staff, parents and students.

We worked together to usher in profound reforms to a system that is already internationally well-regarded, to make it even better. It is indeed a very special honour."
Ong also reminisced about the "really exciting journey" involving the issues that he has worked on at MOE, including:
He handed off the baton to Lawrence Wong, who was announced as the next Minister for Education:
"Lawrence Wong will lead the next phase of this journey, to make education even more fulfilling and empowering for our students, and enhance the strength of society and communities."
Photo of card exchange with Primary 3 student
In his Facebook post, Ong also included a photo of a letter he received from a Primary 3 student, next to a card he wrote in reply.
The student shared in their letter that their mother works long hours as an English teacher, and that they wished she would have fewer papers to mark and fewer classes to teach.
The student also added, "(And I want less homework!)", along with a drawing of Ong.
Ong responded to the student in his card, asking the student to thank their mother for working so hard and to tell her "she is making a big difference in the future of children in Singapore."
He also wrote:
"Unfortunately, Uncle Minister is leaving MOE to another ministry. But ministers come and go. What is more important is that our teachers & educators in MOE continue their good work, to mold the future of our nation!"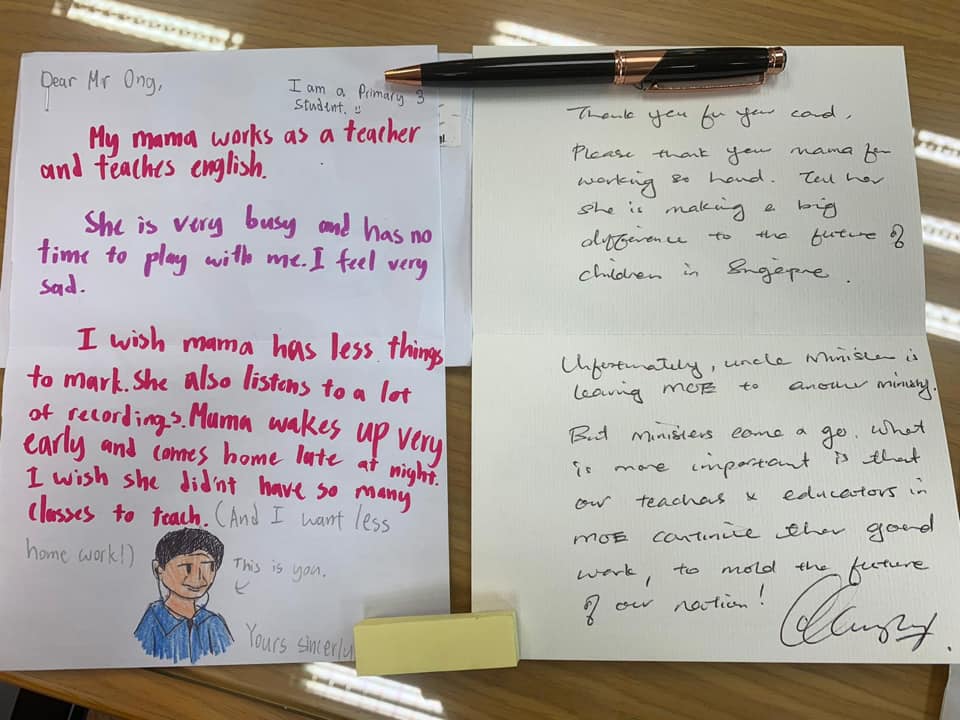 Continuing the work of Khaw Boon Wan at MOT
Ong also shared his thoughts on moving to MOT, noting that he had taken over both Khaw Boon Wan's GRC (Sembawang GRC) and his ministry, with Khaw's retirement.
Ong recognised the impact of Covid-19 on Singapore's trade and aviation industries:
"We have an immediate and critical task - to rebuild and secure Singapore's status as a maritime and aviation hub.

Domestically, we need to envision and realise a post Covid-19 transport system that serves the people well, is green, sustainable and affordable."
He stated, "I have much to do at MOT and I will work closely with our partners, and give my best."
In his speech announcing the new Cabinet, PM Lee had recognised Khaw's work at MOT as "an excellent job", and stated that Singapore needs a "very good Minister at the helm" of the Ministry for its upcoming plans.
PM Lee said:
"In the next few years, MOT's emphasis will shift to envisioning and realising Singapore's post Covid-19 connectivity by land, sea and air.

For land, our public transport system will need to evolve further, to be sustainable, affordable and part of our long-term plan for a green Singapore. For sea and air, the critical task is to preserve Singapore's status as a global hub, especially in the post-Covid-19 world.

MOT will also be engaged with Malaysia and Indonesia on major bilateral projects like the High Speed Rail and RTS Link, and also sensitive air space and maritime issues. So we need a very good Minister at the helm, with Cabinet experience and political nous."
You can read Ong's full post here:
Top photos via Facebook / Ong Ye Kung. 
If you like what you read, follow us on Facebook, Instagram, Twitter and Telegram to get the latest updates.