Former Malaysian prime minister Najib Razak was sentenced to 12 years in jail and fined RM210 million (S$68.1 million) for crimes linked to state development fund 1Malaysia Development Berhad (1MDB) on Tuesday, July 28. 
Guilty on all seven charges
Najib, 67, who served as prime minister from 2009 to 2018, was found guilty of seven charges in his first trial related to the transfer of US$10 million (S$13.8 million) into his personal bank accounts.
According to Malay Mail, High Court judge Mohd Nazlan Mohd Ghazali, in delivering his judgement to a packed courtroom, said Najib was complicit in the transfer of RM42 million (S$13.6 million) from SRC International in his private account.
He said: "In conclusion after considering all evidence in this trial, I find that the prosecution has successfully proven its case beyond reasonable doubt against the accused, I therefore find the accused guilty and convict the accused on all seven charges." 
Najib's wife, Rosmah Mansor, was not present.
Najib "over-trusted"
After the verdict was delivered, Najib's lawyer Muhammad Shafee Abdullah requested for the sentencing to be delayed till Aug. 3, CNA reported.
He said: "As we are aware, the whole country is in lockdown, my client isn't going anywhere." 
But the request was rejected by the judge.
In mitigation, Shafee said Najib was only at fault in trusting people, Malay Mail reported.
Shafee also said Najib is not a corporate person and expected the board of directors of SRC International and 1MDB to be professional.
"If he was at fault, he was only at fault in trusting people that ought to run the company - 1MDB as well as SRC International. One can say he over-trusted them," he added.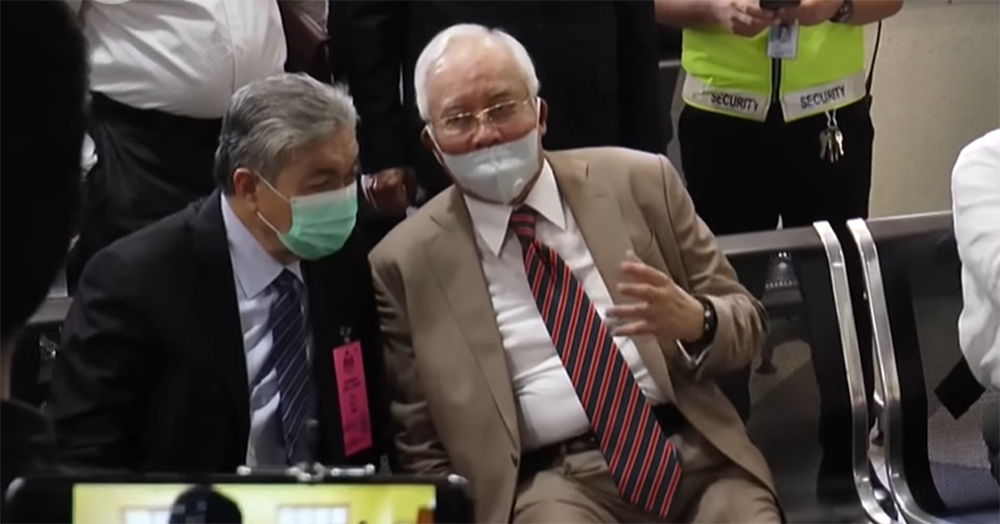 Background
The transfer of RM42 million (S$13.6 million) from former 1MDB unit SRC International into his personal bank accounts took place in 2014 and 2015.
It involved RM27 million (S$8.75 million) and RM5 million (S$1.6 million) in December 2014, and another RM10 million (S$3.2 million) in February 2015.
Najib was also charged with three counts of criminal breach of trust, three counts of money laundering and one count of abuse of power.
The three criminal breach of trust (CBT) charges -- as a public servant and agent of the government, namely the PM, finance minister, and SRC International advisor emeritus -- were made under Section 409 of the Penal Code, which provides for a jail term of up to 20 years, whipping and a fine upon conviction.
Related stories:
Top image via Getty Images
If you like what you read, follow us on Facebook, Instagram, Twitter and Telegram to get the latest updates.