It is late in the afternoon when manpower minister Josephine Teo meets us for a chat.
Just hours earlier, Teo and her team — who are being fielded in the Jalan Besar constituency — submitted their nomination papers at Bendemeer Primary School, and were confirmed as People's Action Party (PAP) candidates contesting in the 2020 General Election.
We remark that she still looks quite fresh despite having been on her feet for most of the day.
"That plant looks more fresh," she says wryly, nodding at an ornamental orchid nearby.

Connecting with residents
A day before, Teo effused the same warm and affable nature during a walkabout at Beo Crescent Food Centre.
Despite being a new addition to the Jalan Besar team, she greeted patrons and hawkers at the hawker centre with enthusiastic hellos and spoke to them at length, as if chatting with longtime friends.
This will be Teo's first time anchoring a GRC in her 14-year career as a Member of Parliament (MP), if she is elected.
If she weren't in politics, she would probably be pursuing a PhD in Organisation Development, Human Psychology, or, perhaps, Anthropology, Teo muses, adding that she has a passion for people development.
In fact, just before she entered Parliament, Teo led Human Resource departments in the Economic Development Board, the Agency for Science, Technology and Research, and the National Trade Union Congress.
For a time, Teo was also an adjunct faculty at a non-profit organisation that specialises in leadership development. It was an experience that she enjoyed a "great, great deal".
Challenging for working mothers
Evidently, switching gears to enter politics in 2006 at the age of 38 while managing a brood of three kids — all below 10 years old at the time — wasn't a planned move.
The initial adjustment period was "heartbreaking", says Teo.
Between trying to find her feet as a rookie MP and engaging her constituency residents on the ground, and holding a full-time job in the labour movement, Teo rarely had time for her family.
There were many nights when she reached home after a long night of MP work, only to be welcomed by a pitch black house.
"It can be quite overwhelming so... I would be concerned for my colleagues who have come in, especially if they've young children. It is extremely challenging for them."
It's a difficult situation for all working mothers, not just MPs, Teo points out. "You sometimes feel that you're not there enough."
Short of sweeping changes in the way we, as a society, expect mothers to juggle child-rearing and a full-time job, there isn't much that can be done.
Still, working mothers cannot afford to allow themselves to be bogged down by this, said Teo. Whenever she was overwhelmed, she remembered the little message that magazines like The Economist sends to pre-subscribers:
"'Josephine Teo, the world is waiting for your decision.'

So I kind of always remember that. Okay, Jo, decide, decide, decide, and move on. You don't have time to think too much."
One piece of advice that Teo, the chairperson of the PAP's Women's Wing, gives to new female MPs is this: Don't be afraid to ask for help.
"Very often, we are more likely to want to depend on ourselves. But, you know, nothing big can be accomplished on one's own efforts. Usually you need a team", she cautions, adding that as a MP, she has learned that there are plenty of grassroots volunteers in society who are willing to chip in.
On the other hand, being a female MP can be an asset. Personally, Teo has met many residents — both male and female — who felt comfortable enough to cry in her Meet The People sessions.
"I consider that a privilege. When somebody feels that they can let their guard down and they can show their most vulnerable side to you. That's a real privileged position to be in. And that gets to the heart of what it means to be an MP."
On the PAP's new batch of female candidates, Teo is cautiously happy that the party has managed to field a record number — 10 — in this election.
The party has been "unexpectedly successful" in persuading these 10 women to stand as candidates even with the full knowledge of the job's demands, says Teo.
"I give a lot of credit to the women who are prepared to step up in this very difficult time. And I hope that it will continue to persuade other women to stand with the PAP, and to serve. We look for people who understand that this is not going to be an easy journey. And they have to be in for the long haul."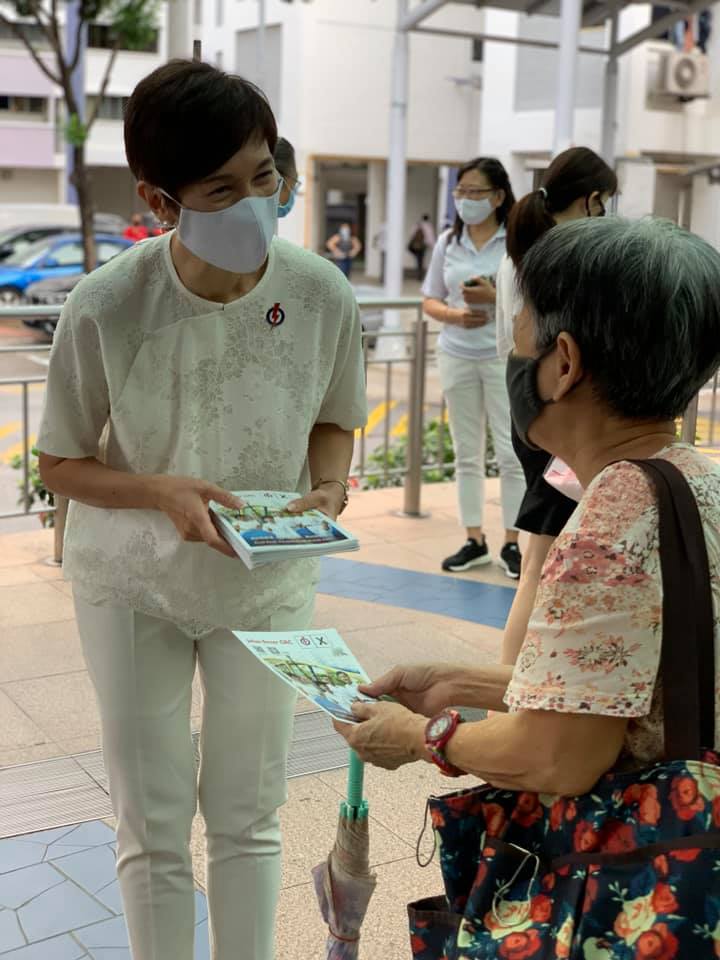 Mentored by Lim Swee Say
After entering Parliament in 2006 as a backbencher, Teo found herself taking on meatier portfolios over the years, and was finally promoted to full minister in May 2017, as a Minister in the Prime Minister's Office.
One year later, she became Singapore's first female manpower minister. Her rise would not have been possible without the mentorship of preceding manpower minister Lim Swee Say, Teo says.
Teo and Lim worked together at EDB and subsequently, NTUC. Teo found his experience and advice particularly helpful in navigating the unions, which, to her, was a "completely different world".
"I think, for me, NTUC was a huge turning point....I really learned something about Singapore that I wasn't so familiar with, and aware of... the whole labor movement, and Singapore's very unique style of tripartism. It sounds sometimes, you know, like a slogan. You have to be in it to see how it works."
Lim's guidance paved the way for Teo to build her own relationships with the unions.
And of course, Teo took home one rather meaningful (and quintessentially Lim Swee Say) quote from her mentor:
"People don't care how much you know until they know how much you care."
"Don't you think that is just fabulous advice?" Teo beams.
Migrant worker dorm issue is biggest challenge ever faced
Being Singapore's first female manpower minister inevitably brings with it some form of pressure, especially when her ministry is in the spotlight for the spread of Covid-19 infection in Singapore's migrant worker population recently.
However, Teo insists that she has never thought about the pressure. Instead, the people on her mind were the MOM frontline staff, who had the unenviable job of issuing advisories to companies and bearing the brunt of verbal abuse.
"I'm always thinking to myself, my guys on the frontlines — they're having it harder... So don't complain. Don't think of this, think of them. They are the ones that need the relief. They are the ones that need the support. They are the ones that need the encouragement and turn your energy towards trying to see how they can have more resources. That was what we were trying to do."
Teo also acknowledges that this crisis is the biggest challenge she has faced so far, largely because there were so many gaps in our understanding of the virus when it started spreading.
"For quite a long period of time, the doctors were more likely to say that, you know, without symptoms, it doesn't transmit. But as it turns out, you can have asymptomatic transmission. So that was one big unknown gap.
More importantly, this crisis has shown Teo that Singapore has to accept the possibility that new knowledge of the coronavirus might be discovered in future. And when it does, we have to be agile enough to get out of its way then.
That, says Teo, will be a huge challenge.
Top image by Abriel Tay
If you like what you read, follow us on Facebook, Instagram, Twitter and Telegram to get the latest updates.