Much has been said in the past couple of weeks about the Progressive Wage Model (PWM) and a minimum wage, as opposition parties and the People's Action Party (PAP) made their case regarding the merits and pitfalls of each.
In a Facebook post on Jul. 14, Workers' Party Member of Parliament-elect Jamus Lim continued the conversation.
His post claimed that the PWM apparently does not seem to be working for at least some people.
According to estimates by WP, 100,000 workers remain below the minimum wage.
Lim, an economics professor who holds a PhD in International Economics from the University of California, Santa Cruz, explained in his post how research overwhelmingly shows that implementing a minimum wage has little effect on employment, and addressed issues with the Progressive Wage Model.
WP manifesto: implement minimum take-home wage
The Workers' Party manifesto proposes for the implementation of a minimum take-home wage for all working Singaporeans.
Their proposed minimum wage is S$1,300 per month for full-time work, to be pro-rated for part-time work.
The manifesto references government data that indicate that an average four-person household in Singapore would need to spend S$1,300 each month on basic necessities such as food, clothing and shelter.
It states that there are over 100,000 Singaporeans who earn a take-home pay of less than S$1,300 per month, while engaged in full-time work:
"This means a large number of Singaporean families have difficulty making ends meet, even though their breadwinners are working hard to provide for them."
The WP is not alone in its calls for Singapore to adopt a minimum wage policy.
Other political parties that have called for a minimum wage include the Singapore Democratic Party (SDP), Reform Party (RP), Singapore People's Party (SPP), and Peoples Voice (PV).
The Progressive Wage Model
However, as opposition parties call for the adoption of a minimum wage policy, the PAP has continuously argued that the existing Progressive Wage Model (PWM) works, and that a minimum wage is unnecessary, or even harmful.
First off, what is the Progressive Wage Model?
According to the Ministry of Manpower (MOM), the PWM "helps to uplift" low-wage Singapore citizen and permanent resident workers working in the cleaning, security, and landscaping sectors.
The PWM, which was made mandatory for the cleaning sector in September 2015, spells out the minimum wage that must be paid to workers in specific industries, as well as the required wage increases that workers must be given as they progress in their careers.
The minimum wage amounts for each category are also adjusted incrementally over the years.
For example, as of Jul. 1, 2020, general cleaners in F&B establishments must be paid a basic salary of at least S$1,236 per month, but starting from Jul. 1, 2021, they must be paid S$1,273 per month.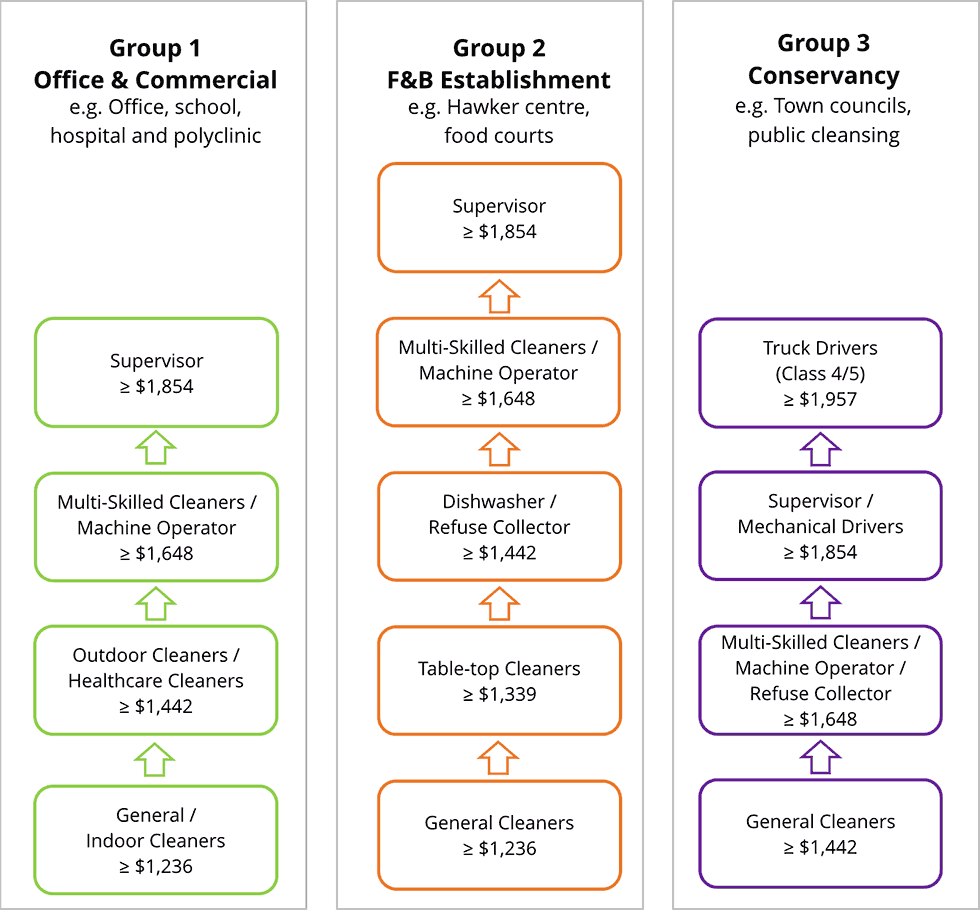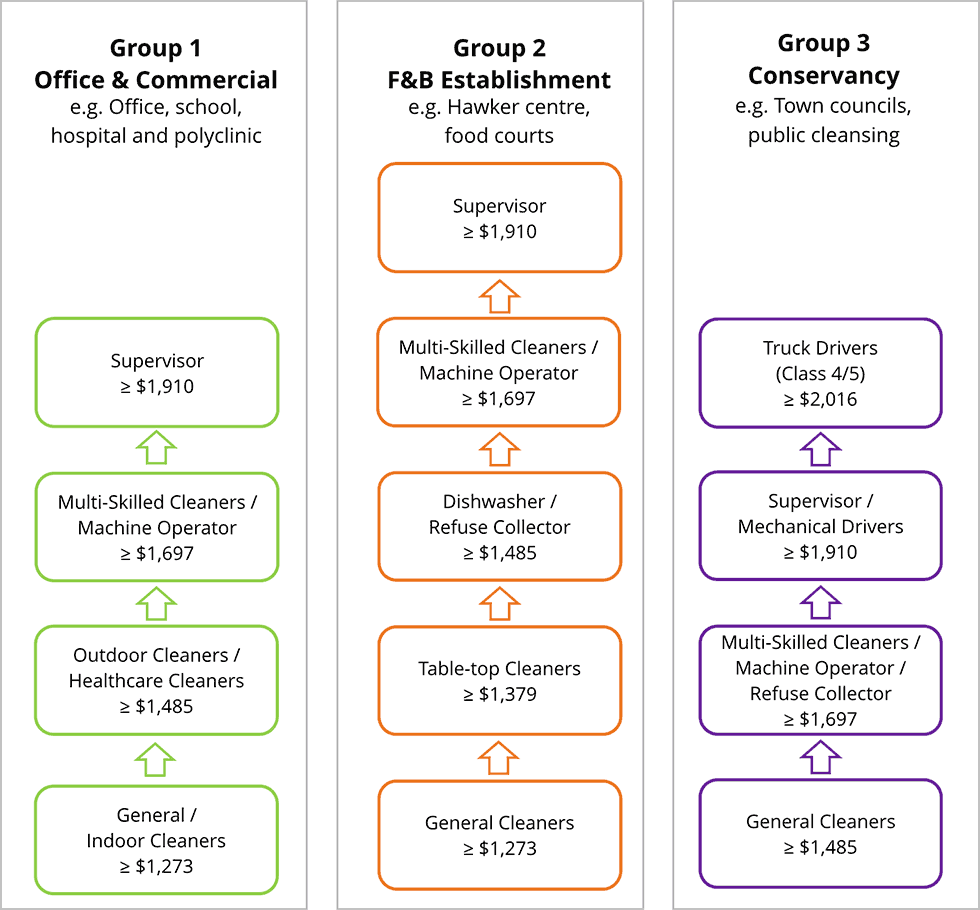 PAP politicians on the PWM
A number of PAP politicians have spoken about the PWM and its benefits in the past, and a number of notable individuals — including Senior Minister Tharman Shanmugaratnam, Minister for Manpower Josephine Teo, and labour chief and former Minister in the Prime Minister's Office Ng Chee Meng — discussed it during GE2020 campaigning.
In a PAP dialogue session on Jul. 1, Teo said the PWM "allows the individual worker to move up" by "acquiring more skills through training and then, at the same time, usually, by taking on larger responsibilities".
She said:
"Actually, in Singapore, what we want to do is much more than the minimum. In Singapore, we ask ourselves the questions — the workers, are they happy with just earning the minimum, or actually [would they] prefer to have the opportunity to move up, to progress?"
Teo said that some sectors value people to a different degree, so are willing to pay more. Therefore, she explained, if the government were to implement a flat minimum wage across all sectors, some sectors where the companies are actually able to pay more will choose not to do so.
On Jul. 2, Ng was also featured in a PAP dialogue session about employment and employability, during which he said that the PWM is a better policy than a minimum wage.
He stated that the objective is "to ensure that our workers have a capability to have a meaningful livelihood":
"The difference between the minimum wage and the progressive wage, simply put, is that we want, in our model, to add that productive element into a worker's wage, so that he can climb the ladder."
Ng said that implementing a minimum wage at too high of a level for companies to afford could lead to retrenchment.
And in a speech on Jul. 6, Tharman said that "the progressive wage model is working", and that it is better than a minimum wage.
He said that the goal is to expand it to other sectors and to work out practical ways in each industry in order for the PWM to "put everyone on a ladder of skills and wages", which will help lower-income workers move up.
Tharman said that the Government also adds Workfare benefits to their wages.
Workfare targets Singaporean workers whose earnings are in the bottom 20 per cent.
Tharman also added that the rising wages of low-income workers would cause costs to go up over time.
"All of us as Singaporeans will have to pay slightly higher costs. But that is a small cost to pay for building a fairer and more equitable society, where everyone is moving up together."
Jamus on why minimum wage is a sound policy
Lim began his Facebook post by emphasising that he does not believe that having a minimum wage is an "unabashedly good policy", but rather that it is a "good start that is also evidence-based".
In the GE2020 political debate on Jul. 1, Lim had said that policies such as a minimum wage would help increase social mobility.
He wrote in his Facebook post about the need to recognise that studies can yield different results, which is why continued research is important, and why policies should be based on overall literature.
The best way, he said, to evaluate results of studies, would be to look at studies of studies, or meta-analyses.
Lim stated that almost all meta-analyses in the UK and the U.S. "find little or no employment effects" from minimum wages.
However, he also recognised that there are features specific to specific countries.
"That's why before rolling out such a policy here, it is crucial that we have an evaluation framework in place, and an independent min wage-setting board, which can make on-the-fly adjustments in response to local conditions."
Lim also addressed the question of who would have to pay for the minimum wage, if it were to be implemented.
Contrary to some people's beliefs, Lim said, most minimum wage models have no fiscal impact.
Instead, he said, three-quarters of the impact is borne by higher prices paid by consumers, and the other one-quarter by firms.
However, this slightly higher cost is not a negative to Lim:
"I see this as a feature, not a bug.

The point is to redistribute some bargaining power from capital to labor, and I think we can afford to chip in a little to take care of the least well-off in society.

With many more buyers than min wage workers, the price effect will be small."
Lim concluded his Facebook post by addressing the PWM and the argument that it is basically a minimum wage.
He disagreed, saying that by tying wages to job function, the PWM gives employers too much room to cut corners, without correcting power differences.
"It also leaves those who simply cannot upskill in the lurch, and earning below a living wage.

The reality is that, by our estimates, 100,000 workers remain below the min wage, and so PWM is obviously not working for these people."
Top photos via YouTube / CNA and xkcd.
If you like what you read, follow us on Facebook, Instagram, Twitter and Telegram to get the latest updates.