We have all overestimated how much we can really eat at times, and usually, that means we'll have to leave a sad, half-eaten meal on the table.
But how often do we reach out to the food stall after that?
On July 17, a student left a handwritten note for a restaurant after she left, where she apologised for not finishing her meal.
She even left a S$2 tip, which was her pocket money for the day.
While it is not clear exactly how old the student was, the eatery describes her as a "young [child]."
Here's the full note (and the tip):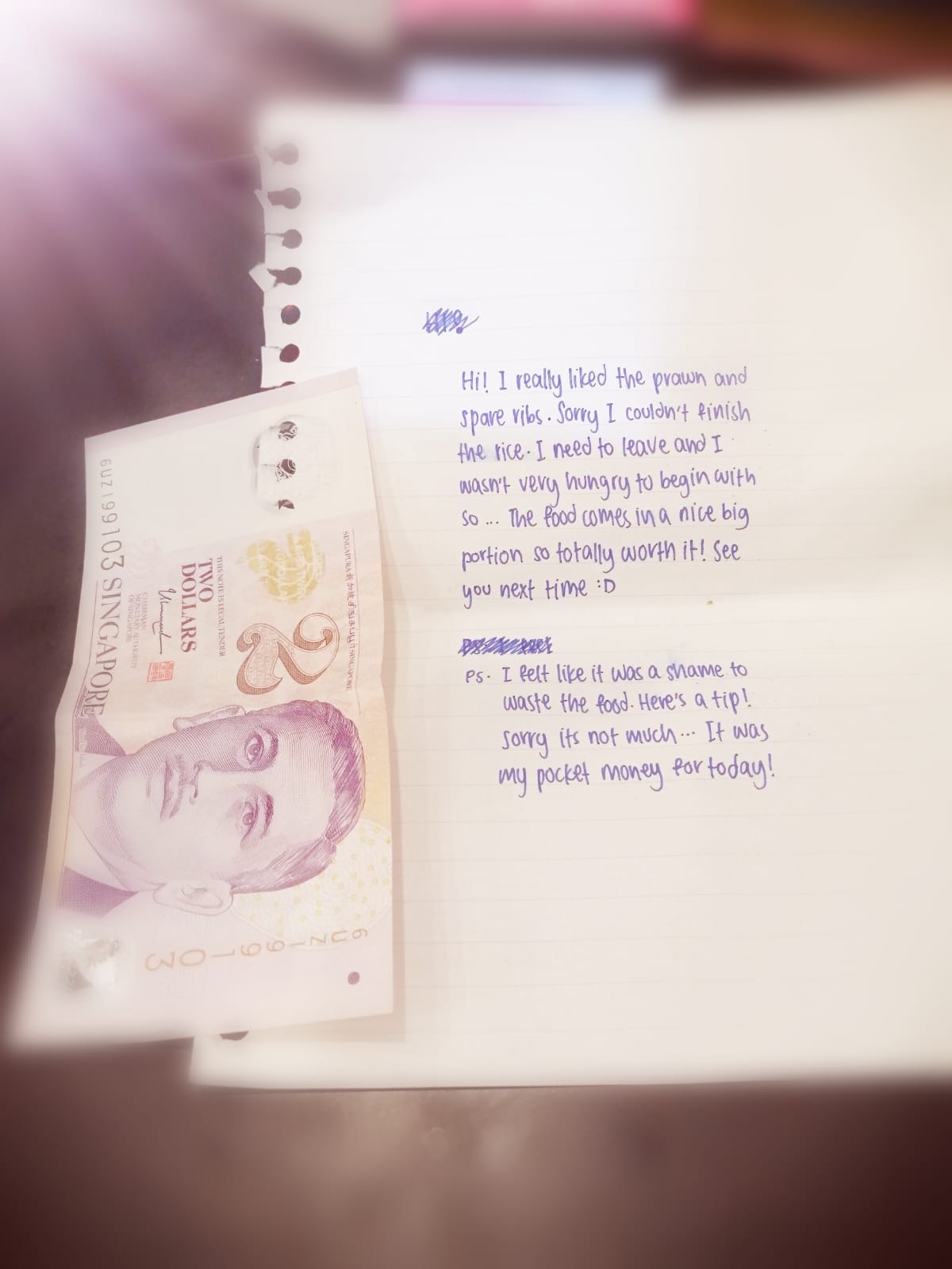 Too full to finish the meal
According to Chef Kang's Prawn Noodle House, the girl had entered the store on July 17 with her mother and sister.
While the mother and sister ordered prawn noodles, the girl had stone pot rice instead, which she was unable to finish.
She then clarified in her letter that she really liked the prawn and spare ribs in her meal, but had to leave the store before she could finish.
She also stated that she wasn't very hungry in the first place, and that the meal came in a "nice big portion, so it was totally worth it!"
To end off the letter, the young customer wrote that she left the tip as she felt "like it was a shame to waste the food", and apologises again for the small tip.
Restaurant invites her back for free meal
The girl's kind gesture touched the restaurant's staff, who shared that business had been badly hit due to the Covid-19 pandemic.
"But nevertheless, we continued to work hard to pull through this tough period by improving our food and services. This note made us feel that our efforts were all worth it 🙂"
The restaurant has also invited the young customer, her parents, and her teacher back to the store for a free lunch to show their appreciation.
The restaurant later confirmed that the girl's mother has contacted them, and thanked everyone for their support.

:')
Top images from Chef Kang's Prawn Noodle House | FB and Google Maps.
If you like what you read, follow us on Facebook, Instagram, Twitter and Telegram to get the latest updates.