Households found with multiple mosquito breeding habitats during inspections will face stricter penalties from today (July 15).
This was announced by the National Environment Agency (NEA) in response to the sharp rise in dengue cases recently.
As of July 13 3pm, the total number of dengue cases hit 17,249, exceeding the number of dengue cases in the entire 2019.
NEA revealed that there has been a five-fold increase in the incidence of Aedes mosquito larvae detected in homes and corridors during the circuit breaker.
There was a two-fold increase in the detection of Aedes mosquito larvae at construction sites during the same period as well.
Penalties raised
Currently, households are issued composition sums of S$200 if mosquito breeding is detected at their homes. This is regardless of the number of breeding habitats found.
Offenders will then be sent to court for the fourth offence.
However, from July 15 onwards, these penalties will be raised.
If a single mosquito breeding is detected, first-time offenders will be fined S$200, and S$300 if multiple mosquito breeding habitats are detected within the same inspection.
Penalties will increase for subsequent offences, capped at S$5,000 for third and subsequent offences.
These offenders may also face imprisonment for up to three months, or both a fine and imprisonment.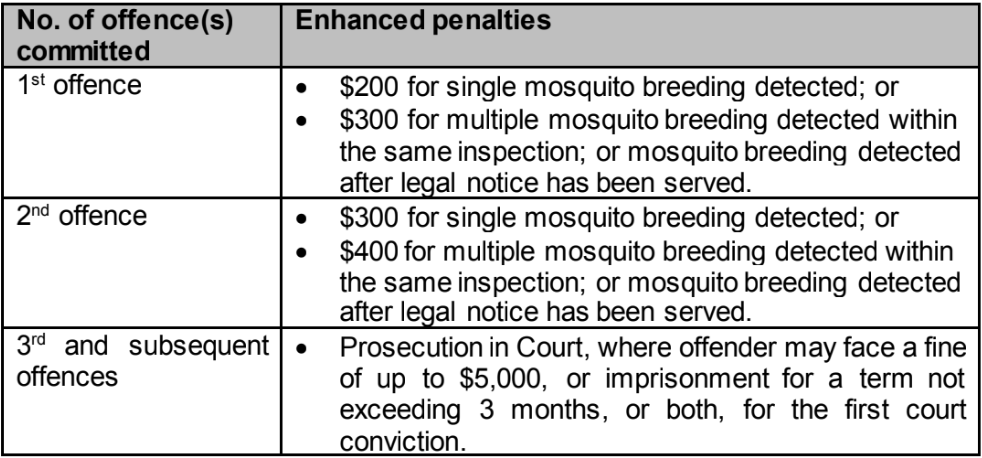 Composition sums will also be raised for mosquito breeding at construction sites.
The penalties are as follows:

Continuing surveillance and inspections
Enforcement for Town Councils for mosquito breeding will also be tightened, mainly at areas like drains, and scuppers/gully traps.
Currently, Town Councils can be fined up to S$5,000 for mosquito breeding detected at areas with dengue clusters.
NEA has been managing dengue clusters by conducting continuous surveillance of Aedes mosquito populations through the use of Gravitraps, regular inspections of potential mosquito breeding habitats as well as the removal of mosquito breeding sources through search-and-destroy methods.
From January to May 2020, 351,000 inspections were carried out by NEA islandwide, where 8,600 mosquito breeding sites were uncovered as of June 18.
NEA stated that they have also taken over 1,200 enforcement actions against owners of premises for mosquito breeding.
73 summonses and two Stop Work Orders (SWOs) were issued to construction sites, and four contractors will be charged in court for repeat offences.
As of July 13, NEA has reported 371 active dengue clusters, nine more active clusters from the previous week.
Currently, the large dengue clusters located at Bukit Panjang Ring Road, Aljunied Road / Geylang Road, Arthur Road, Leicester Road / Potong Pasir Avenue1 and Tampines Avenue 7.
Top photo from NEA Stop Dengue Now
If you like what you read, follow us on Facebook, Instagram, Twitter and Telegram to get the latest updates.