Being able to stay and work from home during Circuit Breaker period is a privilege.
At least for me.
I get to spend a lot more time with my parents, both in their 50s, as compared to how we used to be busy with work and our varying, hectic schedules.
Staying at home brings an opportunity for us to have almost all three meals together and have deeper conversations such as sharing about our future plans.
That includes my dad's retirement life, which is not too far ahead.
Thinking about retirement over CB period
With loads of free time and not being able to head out, we created a monthly budget over one of the CB weekends as we spoke about his retirement plan.
My dad had been a salaryman for a large part of his life before opening a neighbourhood furniture shop at Tampines a decade ago. Despite being self-employed, he still puts parts of his earnings into his Central Provident Fund (CPF) accounts.
Putting personal bank savings and allowance from his children aside, he has about S$170,000 set aside as his retirement sum (a combination of the money in Ordinary Account and Special Account) at 55.
That means in 10 years' time, at 65, he will receive about S$1,500 monthly for the rest of his life, according to the CPF Life Estimator.
Retirement? Simplicity is bliss.
My dad does not imagine a drastic change in his retirement. He does not have parachuting on his bucket list for one.
In 10 years' time, he probably will want to continue his business just for old times' sake, enjoy his kopi-o kosong in the day and some beer occasionally at night.
He would not have to be pressured to hit any sales targets since he will be receiving a steady stream of monthly payouts under CPF LIFE.
Occasionally, he can plan some dates with my mum (as suggested by siblings and me).😉
Still following? If this sounds like your parent's retirement life too, here's how it can work out.
What can around S$1,500 monthly cover?
With around S$1,500 every month, my dad can cover his daily expenses and spend on some leisure activities.
Here's a breakdown of how the money would be used:
Pay the bills and essentials
Necessity to pay for every month
Comments
Meals: (S$5 x 3)x 30 = S$450
While my dad is unlikely to eat out every day, and cooking at home might be cheaper, this budget takes into account that possibility.
Transport: S$64

Senior citizens aged 60 and above can sign up for concession travel for both train and bus rides and that will cost S$64 for unlimited rides.
Phone bills: S$30

There are many affordable data plans that cost less than S$30.
Utilities: S$150
Utility bills can vary from month to month. On warm days, my parents might want to switch on the air-conditioner more often.
Groceries and toiletries: S$200
Perhaps they will spend more when my siblings and I return for dinners but hey, we will top up the extras.

This also includes the cost of my dad's personal indulgence in peanut snacks and beers.

Monthly conservancy charges for 4-room HDB: S$65
Insurance: S$100
Home insurance, mortgage-reducing insurance and other coverages e.g. personal accident. Additionally, he can use his MediSave to pay for insurance premiums for MediShield Life, Integrated Shield Plans, CareShield Life/ElderShield.
Health and wellness expenses: S$150 (after MediSave, subsidies and insurance claims)
This can cover any ailments, check-ups or traditional Chinese medicine and treatments if need be. It's good to know that some treatments are heavily subsidised by CHAS and some expenses can be covered with MediSave and insurance too.
Property tax: S$100

Total: S$1,309
That leaves him S$191 payout to spare, excluding personal savings and allowance from us.
Not a mundane retirement life
With most of the CPF payout used to cover the basic needs, the remaining money, albeit not much, is enough to pay for some leisure activities.
Retirement 👏 life 👏 is 👏 not 👏 boring 👏 at 👏 all
For example, catching a movie costs S$5 all year round for Singaporean seniors.
Going to the public swimming pools costs S$0.50 per entry for senior citizens.
Likewise, there are discounts for senior folks to use other sports facilities such as gyms via Active SG. A one-month membership fee for off-peak period usage of ActiveGYM costs S$9 while peak period use costs S$18.
Not forgetting, all the various nature parks and reserves which are free to explore e.g. Little Guilin or Bukit Timah hill.
Besides staying physically fit, one has to keep the mind active as well to age gracefully.
There are plenty of classes and interest groups that one can join at affordable prices at the community centres.
This presents a great chance for those who have stopped working to make friends with like-minded people and maintain a supportive social circle.
For example, taking up wellness or IT courses under the Senior Academy programme will only require an enrolment fee of S$10 for Passion Card members and S$20 for non-members.
Lifelong learning, right?
On top of that, my dad can also use his own personal savings for other aspirations such as travelling (when the Covid-19 situation is over).
Start planning early for retirement
As much as it's a relief for my dad that the consistent savings in the CPF accounts over the decades come handy at this juncture, I am too reminded of the importance of having such a safety net.
That's perhaps why my dad chose to contribute to his CPF accounts despite being a self-employed person. And luckily he did.
For those who are not aware, regular CPF top-ups mean getting more eventually with the help of attractive interest rates*. If you top up S$100 per month to your Special Account (for members below age 55), your retirement nest with CPF can grow by more than S$24,000 in 15 years).
And if you choose to defer your CPF LIFE payouts (up to age 70), you will get higher monthly payouts by up to 7 per cent more, for each year you defer.
* Computed using base interest rate of 4% p.a. on the Special Account (SA). Other terms and conditions apply.
Here's a quick glance of the monthly payouts you can receive under CPF LIFE, based on the retirement sum set aside at age 55 in 2020: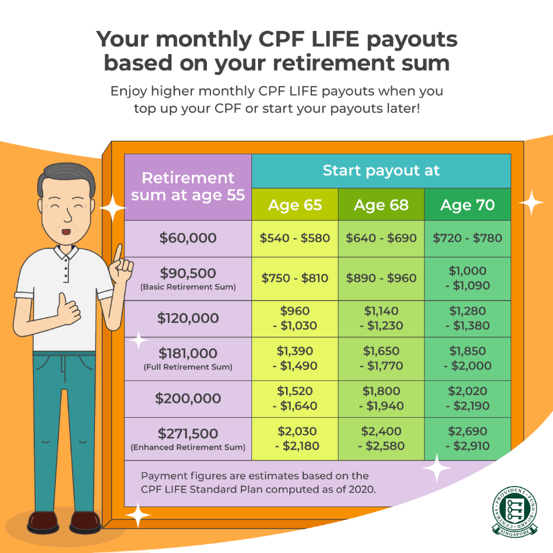 Be prudent, save and let the money work for you. Right?
That said, if you would like to have more in your retirement, there are ways that you can do so:
Set aside more now to get a higher payout in the future.

You may top up your Retirement Account to the prevailing Enhanced Retirement Sum (for those above age 55).

Those below 55 can set aside up to the prevailing Full Retirement Sum in their Special Account. If you're helping your parents to top up their CPF accounts, you can get tax relief at the same time.

If you are able to, use part-cash, part-CPF for your housing purchase, or choose to set aside some amount in your Ordinary Account instead of depleting the entire sum. This unused amount will grow with interest and help boost your retirement savings!

Defer the start of your payouts (up to age 70) and earn up to 7 percent more for every year you defer.
And most importantly, start planning early.
It's never too early for the writer of this article sponsored by the Central Provident Fund to start planning for retirement.
Top image via Getty Images
If you like what you read, follow us on Facebook, Instagram, Twitter and Telegram to get the latest updates.