While Covid-19 and issues of unemployment might have dominated airwaves over the election and the weeks leading up to it, a YouGov survey found that Singapore voters had other considerations too.
And top of the list was the issue of the cost of living, which 26 per cent of respondents cited as one of five "top national issues or concerns."
Here are the full results from the survey.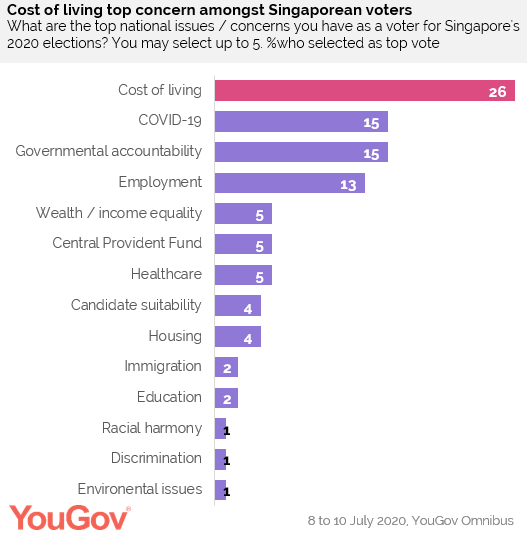 YouGov interviewed a representative sample of 1461 Singapore Citizens aged 21 years and over between July 3-8, 2020.
The four issues that received double digit responses were cost of living, Covid-19, government accountability, and employment.
Difference in priorities
But according to the survey, there were differences in priorities between People's Action Party (PAP) and Opposition supporters.
While both are equally concerned about cost of living, PAP voters are much more concerned with COVID-19 than Opposition voters (18 per cent vs. 10 per cent). Ditto for the issue of employment (16 per cent vs. 10 per cent).
Opposition voters are more concerned about governmental accountability than PAP voters (18 per cent vs. 12 per cent). They are almost twice as likely to be influenced by issues such as wealth / income equality (Seven per cent vs. four per cent), and twice as likely to factor in CPF (six per cent vs. three per cent).
According to YouGov, voters consider integrity (23 per cent) to be the most important quality in a political candidate.
This is followed by passion to serve (22 per cent), competence (11 per cent) and honesty (10 per cent).
Plurality of respondents expected PAP to win, but with smaller majority in Parliament
While many commentators differed in their expectations, the election outcome was not surprising to some Singaporeans surveyed.
When asked before Election Day what they believed would happen, 44 per cent expected the PAP to win with a smaller majority. 35 per cent expected the PAP to win with the same or an increased majority, while four per cent expected the opposition to win.
YouGov Head of Public Affairs and Polling, Dr Campbell White commented:
"While some argued that the COVID-19 pandemic would cause a flight to certainty during this election, this polling demonstrates that many voters had broader concerns. This research provides valuable insights which help explain the voters' choices at the ballot box."
Images from Getty/jeijiang and YouGov
If you like what you read, follow us on Facebook, Instagram, Twitter and Telegram to get the latest updates.