The guilty plea of Singaporean man, Dickson Yeo, who admitted to being an illegal agent of China, has sparked discussion on the role of Chinese influence operations abroad, and the potential vulnerability of ethnic-Chinese Singaporeans in such espionage endeavours.
The case has also led to speculation that Singaporean Chinese would come under suspicion in the United States in a way that was similar to how they were targeted in racist attacks in the United Kingdom and Australia due to the Covid-19 pandemic, as pointed out by public intellectual Bilahari Kausikan.
China says it's not aware of Yeo's case
In a regular press conference held by the Chinese foreign ministry on Monday, July 27, spokesperson Wang Wenbin said he was not aware of the case involving Yeo.
Saying that U.S. law enforcement has been "busy hyping up the so-called China infiltration and espionage issues to the point of paranoia", Wang said it is "open knowledge that the U.S. runs an aggressive espionage and theft program all across the globe, sparing not even its allies".
He added that there is "solid evidence" for his claim, and urged the U.S. to stop using the "so-called espionage issue to smear China".
News muted in China
News of the case has been rather muted in China, where a search on popular microblogging site Weibo only threw up a few results that garnered little traction.
The posts included screenshots of the news on national broadsheet The Straits Times and not Chinese-language broadsheet Lianhe Zaobao, which is banned in mainland China.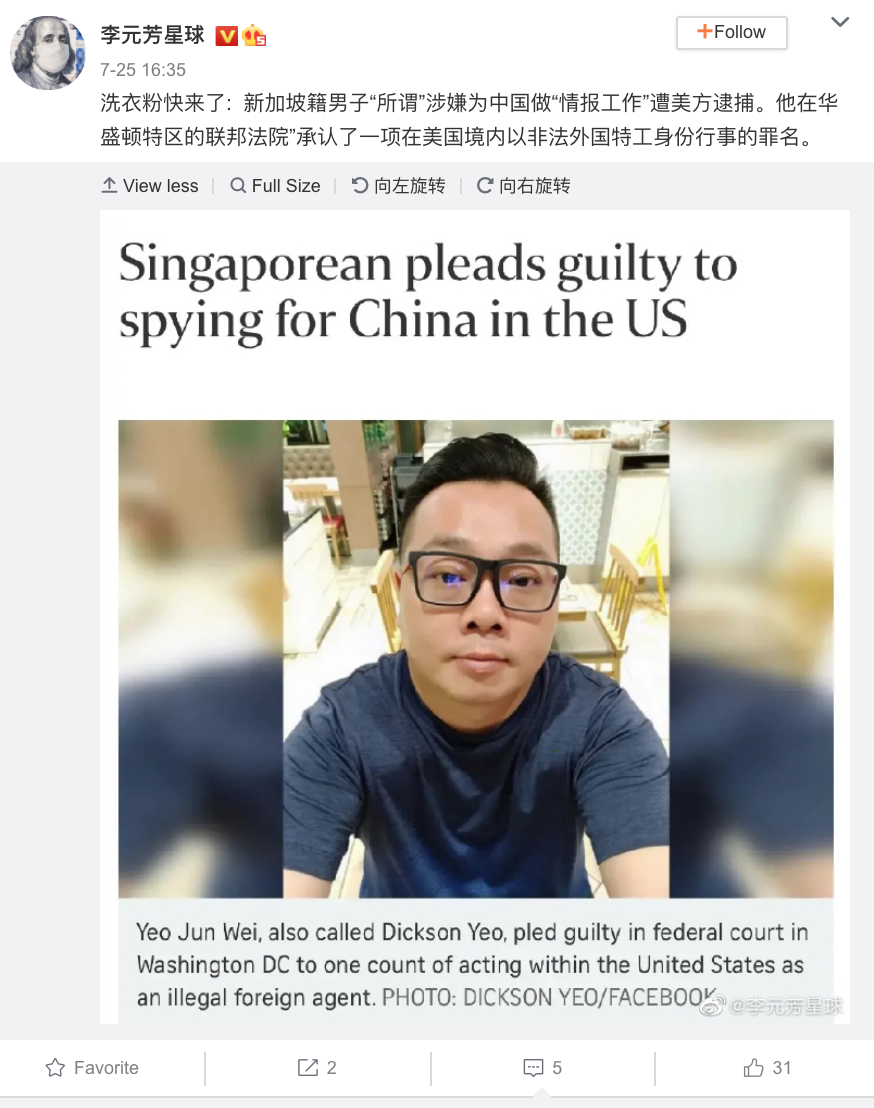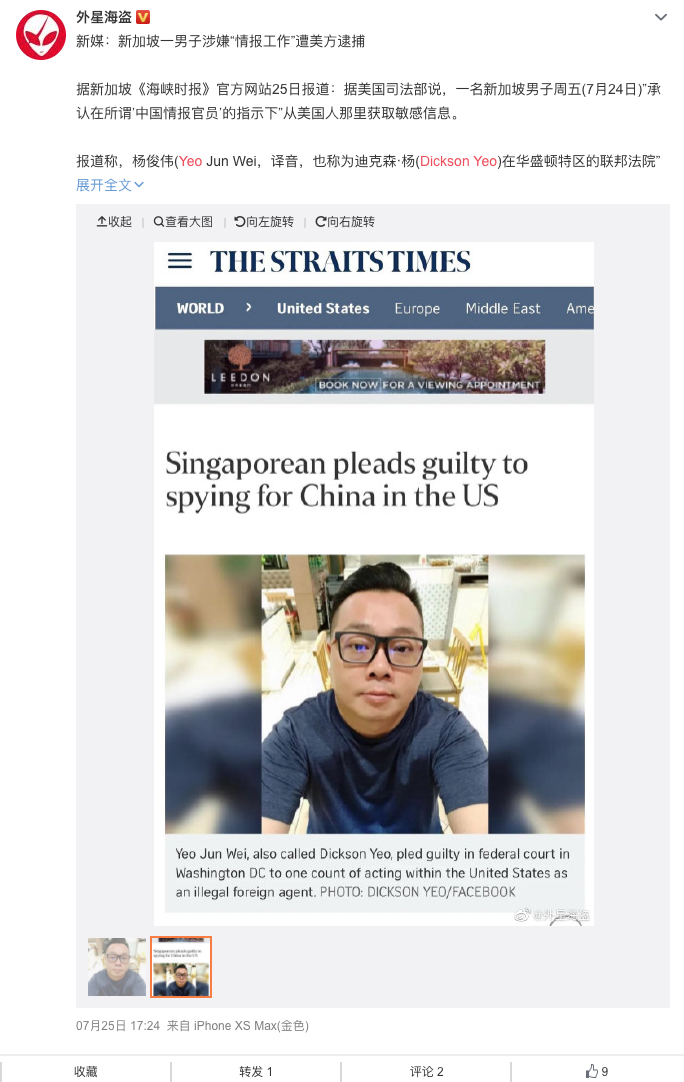 While the news was found on relatively less popular sites, such as Chinese foreign exchange news website FX168, major Chinese media outlets appear to have given it a miss.
Perhaps due to limited exposure on mainland Chinese media, chatter on the news on online platforms in China was contained.
Commenters defend China's innocence
Most comments on Weibo, where nationalistic voices tend to get amplified, echo China's official response to Yeo's case, defending China's innocence and claiming the U.S. fabricated the case to wrongly accuse China of the crime.
Here are some of them.

"Respect for sacrificing yourself to protect your comrades in the White House."
---

"How troublesome it is to find a Singaporean. You can also pick out a random white person in the U.S. and say he is a spy for China. Too easy to plant evidence and set someone up."
---

"(The U.S.) is starting to put up a show."
---

"Can't find anyone in China, so they found a guy from a small, inconsequential country to scapegoat."
U.S.-China relations possibly at lowest point in decades
The closure of the Chinese consulate in Houston and the retaliatory closure of the U.S. consulate in Chengdu are the latest downturn in U.S.-China relations, which is said to be the lowest point in decades.
今天,我们告别美国驻成都总领事馆 。我们会永远想念你们。 pic.twitter.com/sV2fe9KVPJ

— 美国驻华使领馆 US MissionCN (@USA_China_Talk) July 27, 2020
The closure of embassies dealt a further blow to the diplomatic channels between the two countries.
The Chinese government's decision to close the U.S. consulate in Chengdu was met with approval by locals and online commenters.
An onlooker even set off firecrackers in front of the consulate to celebrate the move.
But the nationalistic gestures were tamed by authorities, who fear any gatherings of people getting out of control, especially if they are consumed by emotions.
For instance, police stopped a man from unfurling a banner and detained him, Bloomberg reported.
Perhaps the authorities were hoping to prevent the violent demonstrations in 1999 in response to the American bombing of the Chinese embassy in former Yugoslav capital Belgrade from happening again.
As U.S. President Donald Trump accelerates his campaign of punishments targeting China, such anti-U.S. sentiments are perhaps expected to be on the rise.
Trump, who was said to be keen on appearing tough on China for his reelection campaign, had ordered sanctions on Chinese officials and companies over Hong Kong and Xinjiang policies, in addition to blaming China for the Covid-19 pandemic that has spread worldwide.
U.S. State Secretary Mike Pompeo questioned the results of 50 years of diplomacy with China, declared China's claims in the South China Sea as "unlawful", and called for "free nations" to stand up to Beijing.
In yet another blow to academic exchange, the U.S. has also suspended its Fulbright programme in mainland China and Hong Kong.
Prior to the closure of the consulates, in perhaps an attempt to calm tensions, Chinese Foreign Minister Wang Yi has acknowledged in early July that relations between the two countries have hit their lowest point since diplomatic relations were established in 1979.
He also called for "peaceful coexistence" between the two major powers.
Related stories:
Top image via Dickson Yeo's Facebook
If you like what you read, follow us on Facebook, Instagram, Twitter and Telegram to get the latest updates.