This year's National Day Parade (NDP) will be a very different one, with no one balloting for tickets as it won't be happening at the Marina Bay Floating platform.
At a media event on July 30, Chairman of the Show Committee Wong Shi Ming highlighted that this year's show will be a different one, drastically reduced in terms of scale.
NDP2020 will be optimised for the home viewer
The NDP2020 Evening Show will be broadcasted from The Star Performing Arts Centre at Star Vista, with only about 150 spectators attending the show.
They will include the President, the Prime Minister, some members of the parliament, and representatives of the society, including frontline workers.
At the same time, this is the first time that the show will be conducted indoors, in a more cosy and intimate setting.
The show's choreography, digital animations, films, sets, lighting and special effects have all been optimised for the home viewer.
Wong said that the scale of the show has drastically reduced from 3000 participants during the show to 87 participants.
According to him, one thing will not change this NDP: its rallying spirit in bringing Singaporeans together.
The show will have six acts in total, with performances by Abangsapau, Charlie Lim, Nathan Hartono, Umar Sirhan, and many others.
Creative Director Royston Tan explained how he had hoped to capture the "very real and relatable experiences" of Singaporeans in what has been a very challenging year.
Some performances will feature tributes to frontline workers, while others will feature everyday Singaporeans who have helped others during the pandemic.
Here's a sneak peak at the photos from the performances at the media event on July 30: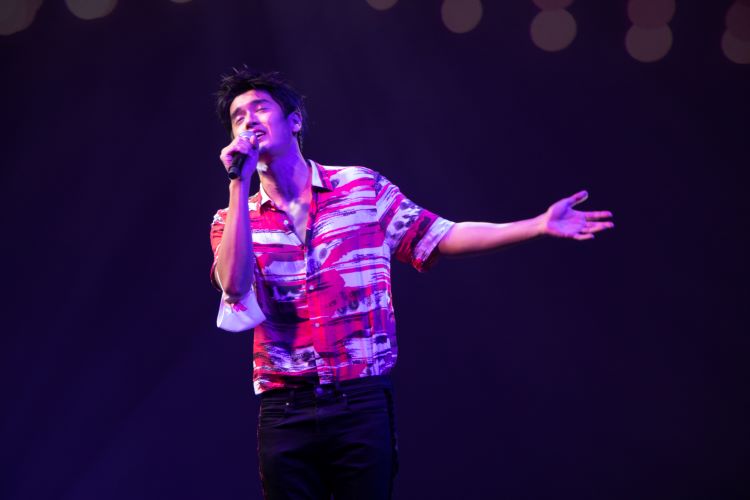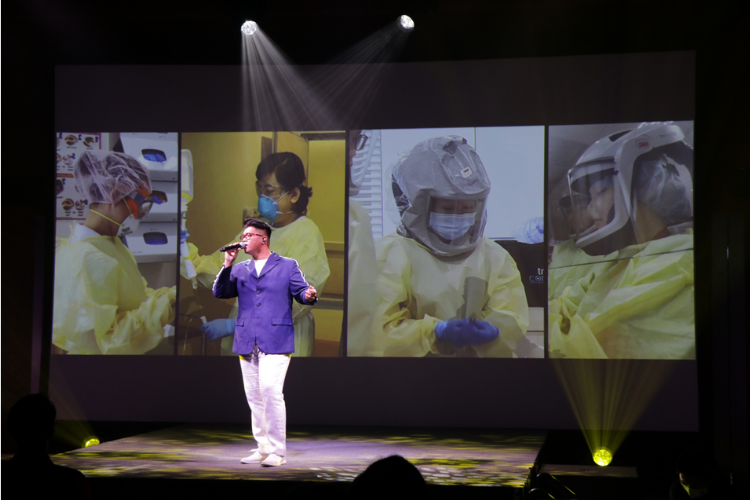 Key highlights for those at home
This year's NDP hosts will be Fauzie Lail, Hossan Leong, Joakim Gomez, Rebecca Lim, and Suthasini Rajenderan.
The three key interactive highlights are as follows:
Singing along with the NDP Virtual Choir
Just like you might do so back in your school days, you can join in on sing along sessions with familiar National Day songs during the evening show.
However, one song to look out for is We Are Singapore, which will be performed by the NDP Virtual Choir, which will be an amalgamation of individual submissions received from thousands of Singaporeans.
Pledge Moment at 2020hrs
At 2020hrs, or 8.20pm, the NDP Evening Show will ask for all Singaporeans to recite the national pledge together.
This will be signalled by the Singapore Civil Defence Force Public Warning System which will be sounded island-wide.
Light Up Moment at your window
For those who have collected your NDP Together pack, you will find red torch stickers, which you can stick to your phone flashlight as you stand at your window and shine your light.
To help Singaporeans follow along with the show, a digital NDP Show guide will be released before August 9, via a QR code.
The guide will include explanations on key highlights, and even song lyrics for those who might want to sing along.
Health and safety of performers & organisers
To ensure the health and safety of NDP2020 Evening show participants, most of the show's performances will not have more than 25 participants on stage.
In addition, all performers and members of the show management crew are required to take two separate Covid-19 swab test, once in July and once in August.
When performers are off stage, they are split in groups of five and are given staggered meal times and specified rest areas, to prevent cross-mixing.
Related stories:
Top images by Lauren Choo
If you like what you read, follow us on Facebook, Instagram, Twitter and Telegram to get the latest updates.