A Sunday Times survey published on June 14 has caused quite a stir.
The reaction was led by local artists in the community, after the occupation was ranked as the topmost non-essential job during a pandemic.
Jobs Singaporeans don't want to do
The survey, which collated responses of around 1,000 participants aged 16 and above, brought to light perceptions on the role of essential workers as well.
It was reportedly conducted using a "nationally representative sampling across age, gender and income groups" and was carried out by Milieu Insight, a Singapore-based consumer research firm.
Aside from ranking the top five essential and non-essential jobs, which can be seen in the image below, respondents were asked what were the jobs they were least willing to take up.
These are the top 10 jobs that Singaporeans "don't want to do":
Garbage collector

Construction worker

Cleaner

Politician

Telemarketer

Artist

Security guard

Corporate lawyer

Nurse

Doctor
57 per cent of respondents rated garbage collector as the job they were least willing to do.
Which is pretty ironic, considering that it was ranked as the third most essential job during this period.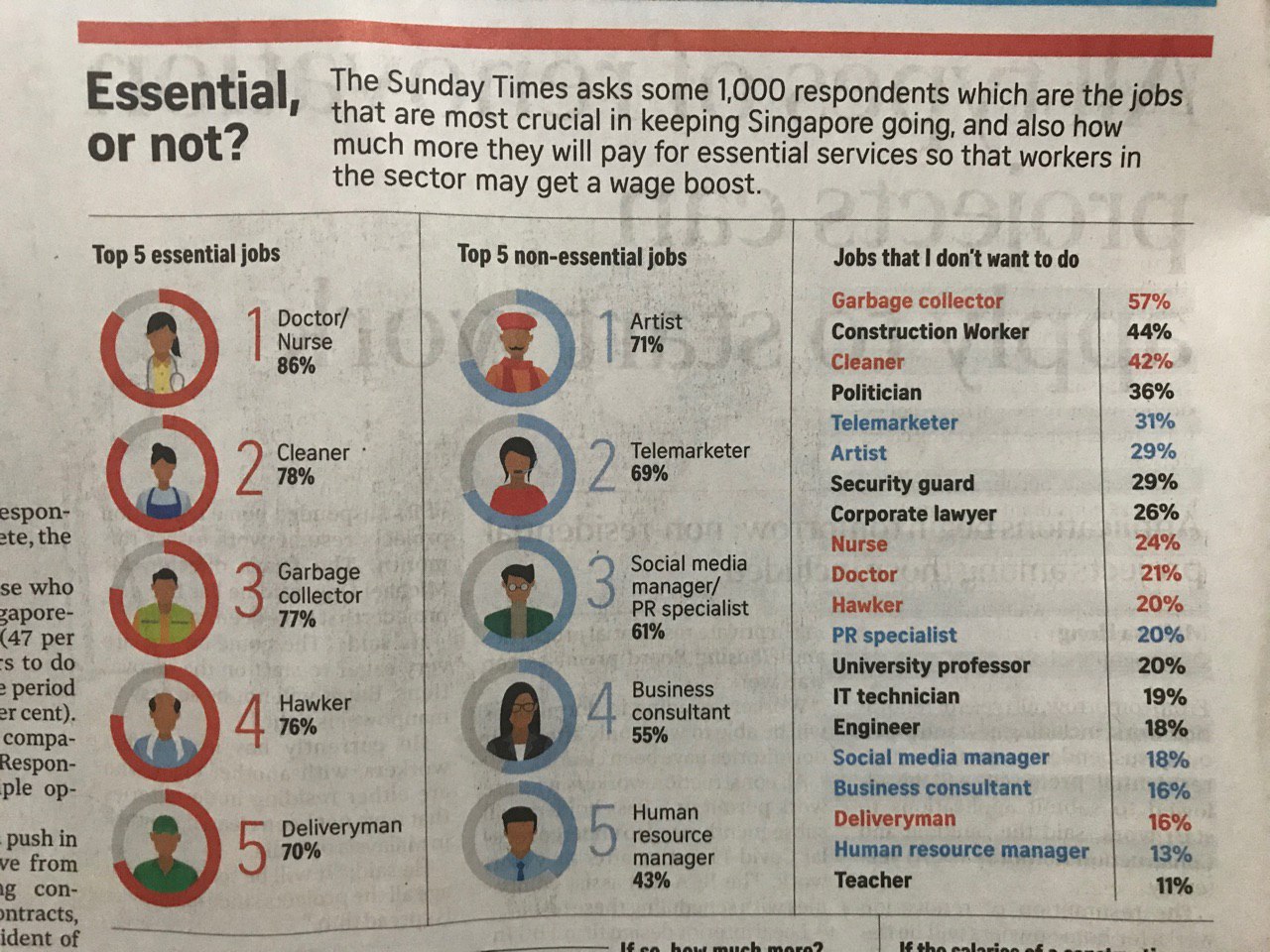 The second job Singaporeans were least likely to do was construction work.
Cleaners, the third job Singaporeans were least likely to do was considered the second-most essential job.
Both garbage collectors and construction worker occupations are mostly taken up by Singapore's large workforce of migrant workers who hail from countries such as Bangladesh, India, and China.
Majority of Singaporeans willing to pay more for essential services
The survey also revealed that eight out of 10 Singaporeans (78 per cent) are willing to pay more for essential services such as cleaning or security, The Straits Times reported.
Around 80 per cent of this number is willing to pay 10 to 20 per cent more.
But this is the case only if the extra amount paid is funnelled directly to these workers.
These fees can be included in service and conservancy charges for HDB residents, or maintenance fees for private property owners.
According to The Sunday Times, S&CC typically range between S$20 to S$90 a month for Singaporeans.
A similar result was observed when respondents were asked whether they would pay more for home renovation if the extra amount goes to workers.
Chan Kok Hong, managing director of Savills Property Management, which oversees several condominiums, disagreed with the idea of increasing maintenance fees.
Chan told Sunday Times that condo management councils "face pressure" during this annual meeting, and suggestions of increasing the maintenance contributions are "thrashed".
He suggested setting up collection boxes for residents to donate food vouchers for essential workers instead.
Half of Singaporeans would consider working in essential services if salaries are higher
When asked what companies could do increase the wages of essential workers, majority of respondents believe that workers should be paid according to the number of tasks completed as opposed to calculating it head count.
Respondents also suggested there should be higher Workfare Income Supplement payouts — a scheme that supplements workers' income and retirement savings with payouts and CPF contributions — for essential workers, and that foreign worker levies should be reduced.
47 per cent suggested hiring more Singaporeans instead of foreigners for such work.
Incidentally, half of respondents (49 per cent) said they would consider working as cleaners, construction workers or security guards if the salaries were tripled.
Top photo by Ashley Tan via Sunday Times
If you like what you read, follow us on Facebook, Instagram, Twitter and Telegram to get the latest updates.