PAP candidate Ivan Lim pulled out of the 2020 General Election after online accusations of his character attracted immense public scrutiny.
Soon after Lim's controversy exploded online, another social media post started gaining traction complaining about another new PAP candidate, Shawn Huang.
The 38-year-old director for enterprise development at Temasek International had previously served in the military for 19 years.
He was a former fighter pilot and Parade Commander for the National Day Parade in 2018.
Another PAP candidate accused of having bad attitude
The allegations were made on Facebook posted by one Lin Leo on June 28, who publicly complained about Huang when he was a parade commander back in 2018 at The Float @ Marina Bay.
The incident portrayed Huang as someone who "thinks he is the parade commander is the biggest", and would "throw food back" at the servicemen because he was offended.
Here's the post in full: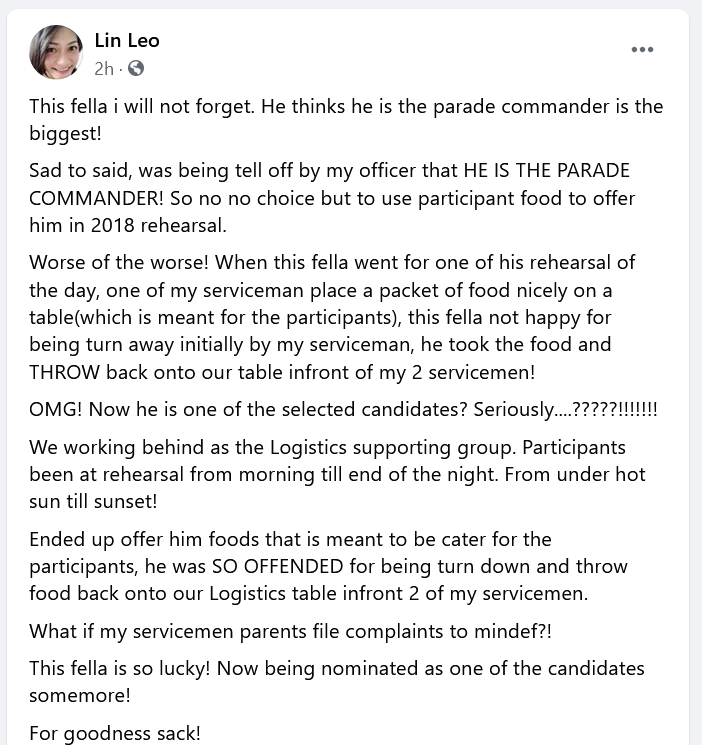 The post had been shared more than 1,000 times in less than a day, but was later taken down.
Huang clarifies it as a misunderstanding
Huang addressed the incident on Facebook in a post at around 1:14am on June 28, detailing what he can recall.
Huang said that he approached Lin, who was then part of the logistic control group, to ask for a pack of food.
However, Lin did not accede to his request so he went to find lunch elsewhere.
When Huang returned back to the table after lunch, he saw the pack of food left for him.
He then "politely" returned the food to Lin and stated in his post that two other military personnel witnessed this -- an indication his account can be corroborated as he has alibis.
This was what Huang recalled of the incident back in 2018:
Usually there would be rations left over and they would have to be disposed in the next 30mins or so. However, the WO in charge would not issue me a set of rations. I tried to reason it out with the WO that the rations would otherwise be disposed anyway. However, the WO insisted, and I decided that rather than pursuing it further I decided to leave the tent and went elsewhere to ask for a pack of food. I found another pack of ration that was leftover.
Huang's clarification post contained a revelation: The woman who complained about him was a Warrant Officer.
It is unclear if the woman who made the post is still in active service.
Huang added that he was "surprised" that Lin had posted the allegations and tried to respond to her on the post to clarify the matter.
However, the post was no longer available for public viewing as it had been removed.
Huang also thanked other servicemen for their support.
Here's the post by Huang:
Top image via PAP and Lin Leo/Facebook
If you like what you read, follow us on Facebook, Instagram, Twitter and Telegram to get the latest updates.