In a surprise twist in the late hours of June 25, the Reform Party (RP) announced on its Facebook page that it had learned some "shocking news" that Tan Cheng Bock, leader of the Progress Singapore Party (PSP), had allegedly gone back on a "deal" with RP.
However, when contacted by Mothership, a PSP spokesperson denied that any deal had been agreed upon, and it was unfortunate that RP had launched a "vicious attack" on Tan's integrity.
The announcement
RP's first post, which was shared at around 11:20pm, said that Tan was going to "bring a 3-cornered fight to (them)." It further added:
"We can only say that because they have not honoured their side of the deal and acted so dishonestly any deal we had must be presumed dead in the water."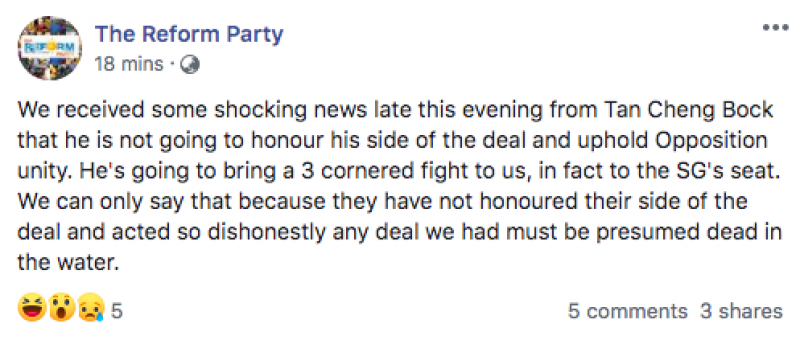 A Facebook page apparently belonging to Andy Zhu, Chairman of RP, shared a post that said PSP was not honouring its "gentleman's agreement."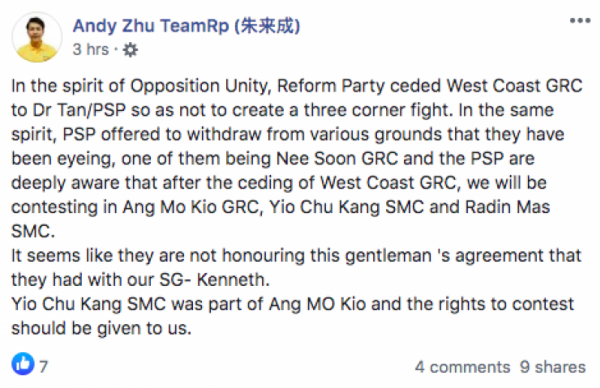 Posts not accessible
As of 1:00am on June 26, RP's initial post was not accessible.
However, it shared another post, which shared Zhu's own post. You can see it below: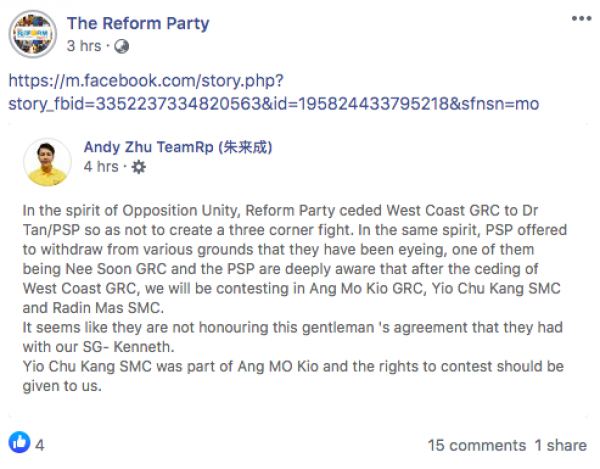 In a series of comments on the post, RP claimed that the main sticking point was that PSP supposedly decided to stand in Yio Chu Kang Single Member Constituency.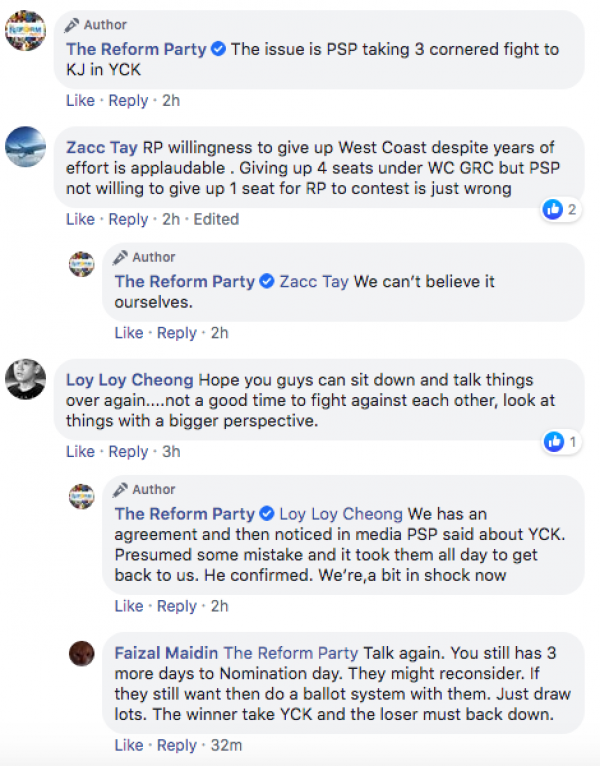 RP also claimed that it took a while for PSP to answer their calls: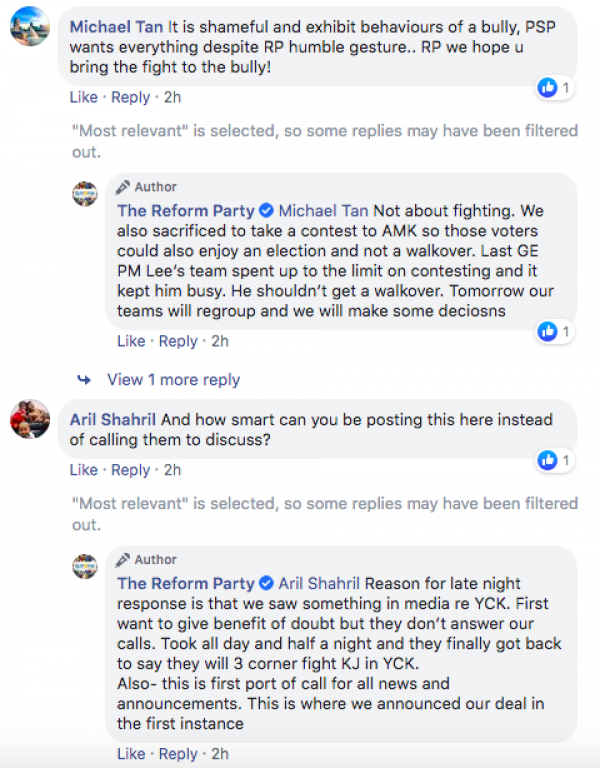 Previously, RP announced they would not stand in West Coast
On June 24, RP announced via Facebook that after discussions with PSP's Tan and Assistant-Secretary General Leong Mun Wai, it had decided not to stand in West Coast GRC.
The post was also shared by RP Secretary-General Kenneth Jeyaretnam on his Facebook page.
Presumably, this meant that PSP could stand in West Coast without worrying about a three-cornered fight. RP contested West Coast in 2015, taking 21.43 per cent of the vote.
RP also claimed that in exchange for ceding West Coast, PSP agreed to withdraw from certain constituencies that RP was "eyeing".
Implications of a three-cornered fight
On the same day, during a breakfast meeting at Tiong Bahru market, Tan mentioned RP's decision. Speaking to the media, he said:
"Recently I heard from Mun Wai that actually RP has decided not to contest also in West Coast, which is good. I must really thank RP for actually not contesting in West Coast.

You see, we all understand the implications of a three-cornered fight. So we are trying to get our differences aside so we can contest with the PAP one to one."
The PSP spokesperson said in response to queries, "It is unfortunate that right now they have come out to launch a vicious attack on the integrity of Dr Tan Cheng Bock."
But the spokesperson acknowledged that Leong was engaged in direct discussion with Jeyaretnam.
Top image from Tan Cheng Bock and RP's Facebook pages.
If you like what you read, follow us on Facebook, Instagram, Twitter and Telegram to get the latest updates.