---
It's the first day of Phase 2, and among those who flock outside in droves, many have undoubtedly taken to the roads as well.
And from one viral Facebook post which has garnered over 3,700 shares in less than a day, it seems quite a number of road accidents have occurred in the morning.
15 accidents between 2am and 10am
At 12pm earlier today, Singapore roads accident.com posted several screenshots of Telegram alerts of road accidents that happened since the start of Phase 2 last night.
Between 2:25am and 10:25am, 15 accidents had occurred.
Screenshot from Singapore roads accident.com / FBThese alerts were likely sourced from LTA's Twitter, which provides timely updates on-road situations.
Accident on BKE (towards Woodlands) before SLE Exit. Avoid lane 3

— LTATrafficNews (@LTAtrafficnews) June 19, 2020
As of the time of writing, there have been 22 road accidents on June 19.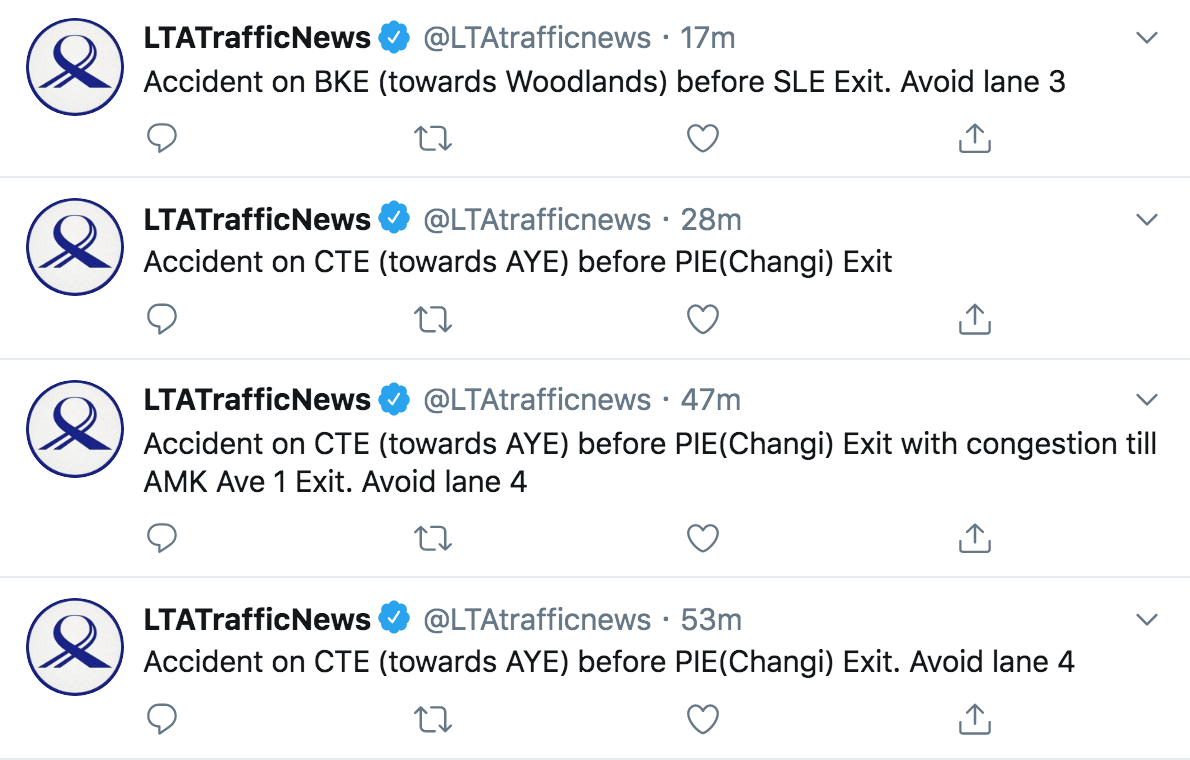 More accidents on first day of Phase 2? Not really.
In the comments section of the post, several netizens believe that the accidents were due to the start of Phase 2, with more people and motorists heading out.
And understandably so.
However, the number of accidents recorded today might not be as much of an anomaly as it seems.
Here are the number of road accidents that occurred in the past week, according to LTA's alerts.
June 18 - 10

June 17 - 28

June 16 - 31

June 15 - 7

June 14 - 12

June 13 - 45
Besides the number of vehicles on the roads, weather factors also play a part and motorists should be mindful at all times.
Stories related to Phase 2
In other Phase 2 news, crowds and long queues have formed at various public places like IKEA and stores like Daiso and Popular.
Groups of five were even spotted taking advantage of the midnight easing of restrictions to dine out for supper in the wee hours of the morning.
Top photo from LTA / Twitter and Wikipedia
If you like what you read, follow us on Facebook, Instagram, Twitter and Telegram to get the latest updates.