Follow us on Telegram for the latest updates: https://t.me/mothershipsg
President Halimah Yacob has asked for podcast OKLetsGo to "sincerely and humbly apologise to all women."
Her views on the popular but highly polarising podcast were made in a Facebook post on June 15, 2020.
Halimah said that children, especially boys, should be taught from young to respect women, highlighting the increasing trend of domestic violence during the pandemic.
The responsibility falls on everyone, she added — especially those who have great influence through social media.
The president then expressed her concern about the podcast, and asserted that "women are not objects to be made fun of, ridiculed and trampled upon".
She added that the programme takes "cheap pot shots" at women to boost ratings or for comedic effect, an offensive act that cannot be justified as a conversation starter or freedom of speech.
Halimah then asked for the podcast to apologise for their remarks about women.
"Hence, the Podcast OkLetsGo should sincerely and humbly apologise to all women for their offensive, humiliating and misogynistic remarks on their podcasts about women. I received so many emails from very concerned people. They worry about the kind of values that are being promoted among the young, and their concerns are justified.

It's not ok to treat women like dirtbags and punching bags."
She concluded her post by emphasising that the women in Singapore are important in building healthy communities, and that they do not deserve such treatment by OkLetsGo or any other group.
The podcast team
The hosts of OkLetsGo comprises three former Mediacorp deejays: Dzar Ismail, 34, Raja Razie, 38, and Dyn Norahim, 38.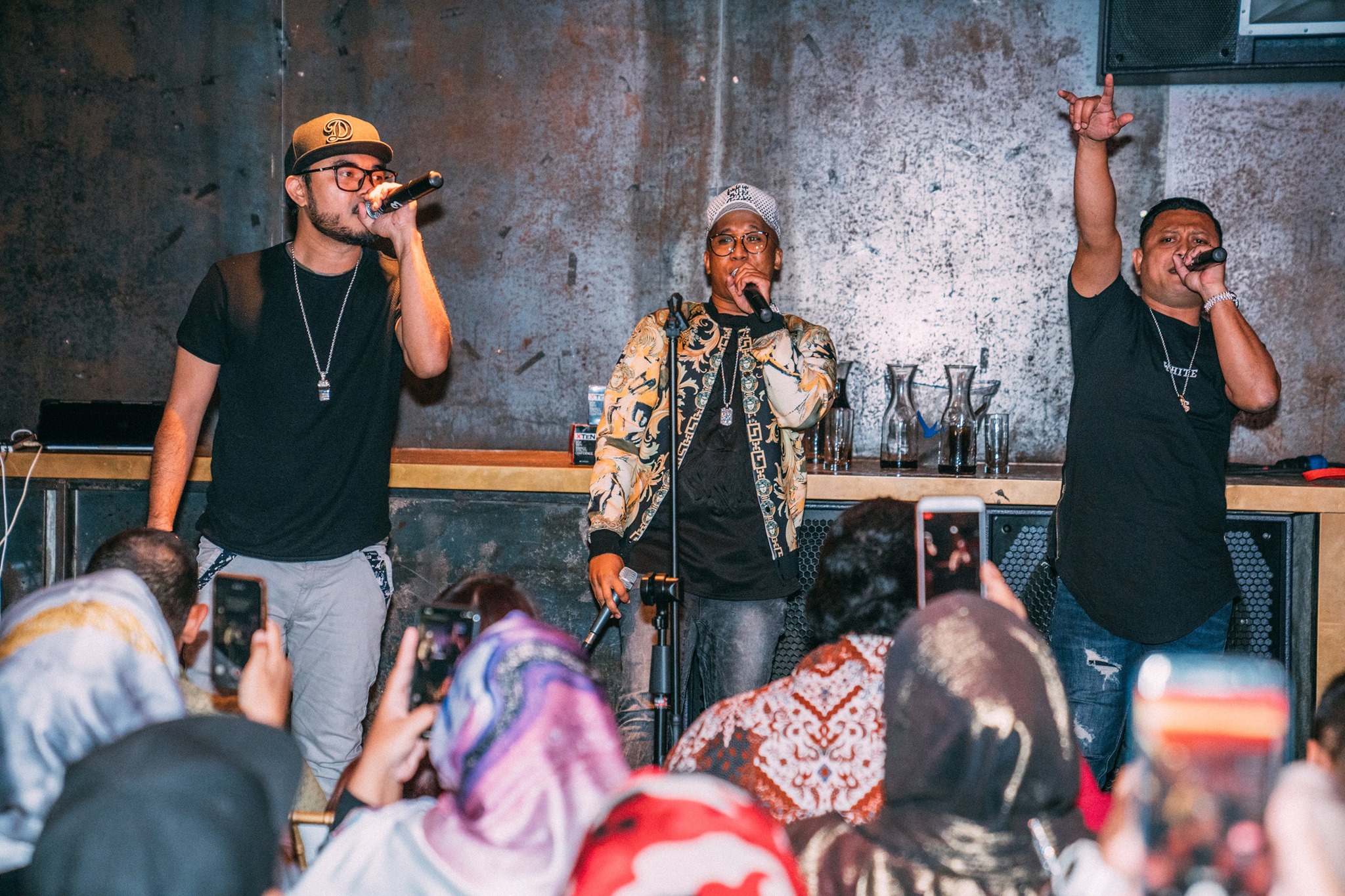 The first episode aired on Feb. 2, 2019, and has since gone on to become the number one podcast on Spotify.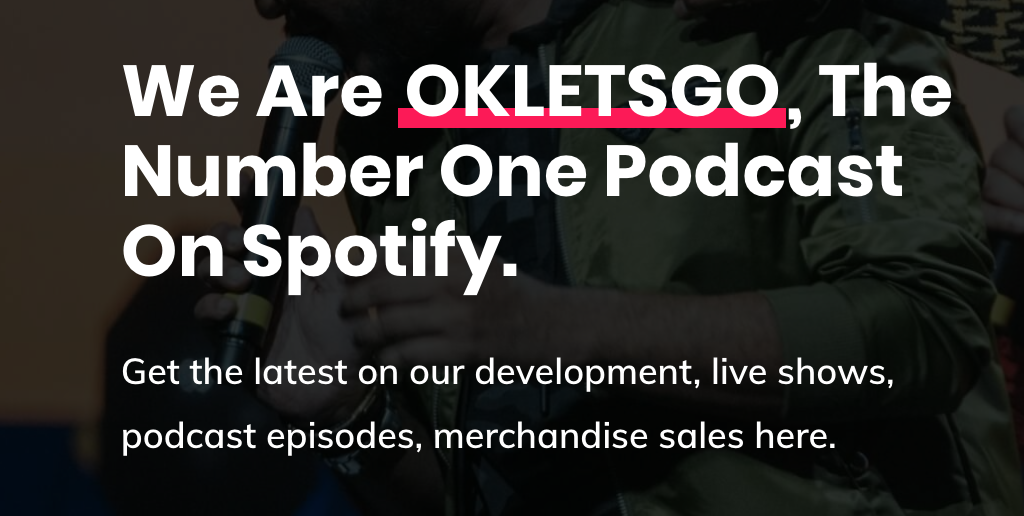 The programme has recently come under fire for its sexist and misogynistic remarks.
Many on Twitter have explained what exactly is it that makes them uncomfortable.
Sorry my essay very long but I'm tired of this OLG bullshit pic.twitter.com/yWLfvYE9uL

— spuki mak kau 👻✨ (@antlerchild) June 12, 2020
---
I dislike OLG because they remind me of the Malay men in my life and environment who casually dehumanise and sexualise women and brush it off as jokes. Having that normalised and aired to the Malay masses does enable/shape the current and next generation of Malay men.

— goyeng pichang (@anygalien) June 9, 2020
---
I honestly dont understand how people or women in particular listen to OLG - how are you not offended and or disgusted?? The underlying sexist misogyny in their jokes are distateful - and it mostly makes me uncomfortable

— *:charlie・゚✧ (@malyxsa) June 8, 2020
---
we can go on and on about OLG but the thing is: they don't even see how or why their content is problematic. they don't understand it, they don't want to understand it, and anyone who offers criticisms are just "haters"

— fahms (@hellyeahfahmi) June 12, 2020
On June 13, the team acknowledged the backlash they had been getting, but did not apologise.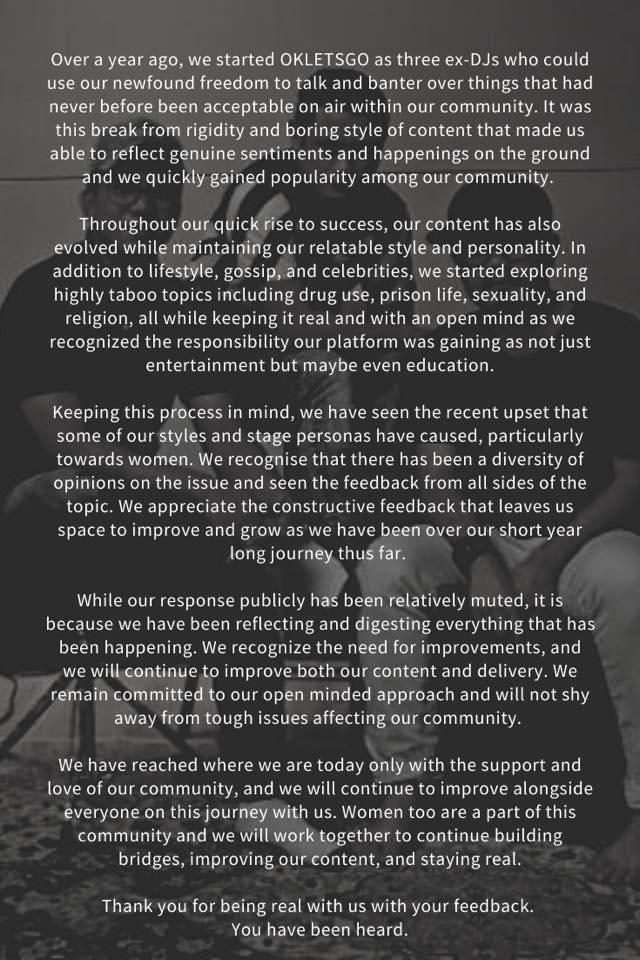 Top image via OKLETSGO and Halimah Yacob's Facebook page 
If you like what you read, follow us on Facebook, Instagram, Twitter and Telegram to get the latest updates.