The Islamic Religious Council of Singapore (MUIS) announced on June 21 that mosques will gradually resume daily congregational and Friday prayers starting from June 26, 2020.
Friday prayers will resume this Friday on June 26
This is in compliance with an advisory issued by the Ministry of Culture, Community and Youth (MCCY) on June 18.
However, limited prayer spaces will be available to stick to strict safe management measures.
50 people per prayer session
In line with national guidelines, mosques will require worshippers to book prayer slots through an online prayer booking system.
The online booking system will be available starting from Wednesday, June 24 at 9am.
Entry to mosques will only be available through SafeEntry using NRIC/FIN, and usage of the TraceTogether app is strongly encouraged.
The system allows for reservation of available prayer spaces for daily and Friday congregational prayers.
For Friday prayers, there will be two 30-minute prayer sessions, with a half-hour interval between the two sessions for safe crowd management.
Sermons and prayers will be shortened to a maximum of 20 minutes.
To enable more worshippers to perform their Friday prayers, the online prayer booking system will limit the number of bookings an individual can make for Friday prayers to one reservation every three weeks.
There will be a maximum limit of 50 congregants per prayer session.
For individuals who are not able to get a slot for the Friday prayers, the Fatwa Committee has advised that it is sufficient and permissible to perform the regular noon (Zuhur) prayer in place of the Friday prayer.
This concession also applies to those who are vulnerable and at risk of infection, such as seniors aged 60 years and above, those with pre-existing chronic conditions, and children below the age of 12.
For those who would still like to visit the mosques, but are unable to get slots, they can visit the mosques outside of prayer sessions for private worship.
For daily congregational prayers, mosques will offer 50 slots for each of the five daily congregational prayers immediately after the Azan (prayer call).
Only congregants with a valid booking will be allowed entry into the mosque for these daily congregational prayers.
Slots will be given on a first-come-first-served basis through the booking system.
Walk-ins are strictly not allowed.
Four mosques will remain closed
For the time being, the following mosques will remain closed:
Masjid Abdul Ghafoor

Masjid Bencoolen

Masjid Ba'alwie

Masjid Burhani
Mats will be placed 1m apart in designated spaces
According to a press release by MUIS, those attending prayer will have to pray in designated areas, with 1 metre distance between worshippers.
This is an example of how worshippers could be arranged during prayers: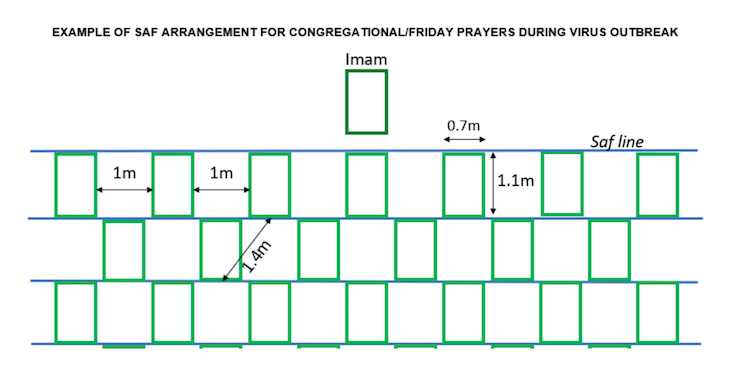 Imams will stand at least 2m away from the first row and will be required to wear a face shield, while delivering sermons.
According to MUIS, congregants should not mingle with others and should leave the mosque immediately after the prayer session.
Enhanced Safe Management Measures at mosques
Mosques will implement the following safe management measures, starting this Friday, June 26.
They will maintain separate entrances and exits, and a single entrance and exit path per prayer zone.
Washing points will be modified to provide sufficient safe distancing and reduced water flow to prevent splashing of water.
Fans will be used at prayer halls to allow for better air circulation and reduce the possibility of aerosol transmission from recycling of air from air-conditioning systems.
Worshippers are advised to abide by the following measures:
Perform their ablution (or ritual purification) before coming to the mosque.

Wear masks at all times when in the mosque premises, including during prayers.

Bring their own personal prayer items, such as prayer mats, praying garment for ladies, and sarongs for men.

Bring bags for their footwear, to facilitate a quicker and more orderly dispersal after the prayer.

Refrain from talking while queuing to enter the mosque, while inside the mosque and upon exiting the mosque.
Top image via Siti Rahmanah Mat Daud/Unsplash
If you like what you read, follow us on Facebook, Instagram, Twitter and Telegram to get the latest updates.