A large two-metre long solar panel that was spotted outside a flat on the eighth floor in Punggol, has since been taken down.
Residents in the area worried about the fall hazard
Lianhe Wanbao reported that the solar panel was pictured balancing across the clothes-drying rack and on the ledge with an air-con unit.
Residents in the area were reported to be worried about the potential hazard as the solar panels were suspended above a common area where residents burn paper offerings.
It was reported that the panels were seen outside the unit from as early as half a year ago and one resident thought it was meant for warding off birds.
AsiaOne reported that industry sources estimated that the panels in the photos are between 10kg and 20kg, and may not stay in place for long.
Besides the long solar panel, five other panels are also placed on the ledge outside one of the rooms.
When Mothership visited the block in Punggol this evening around 6.30pm, the panels were no longer seen outside of the eighth-floor unit: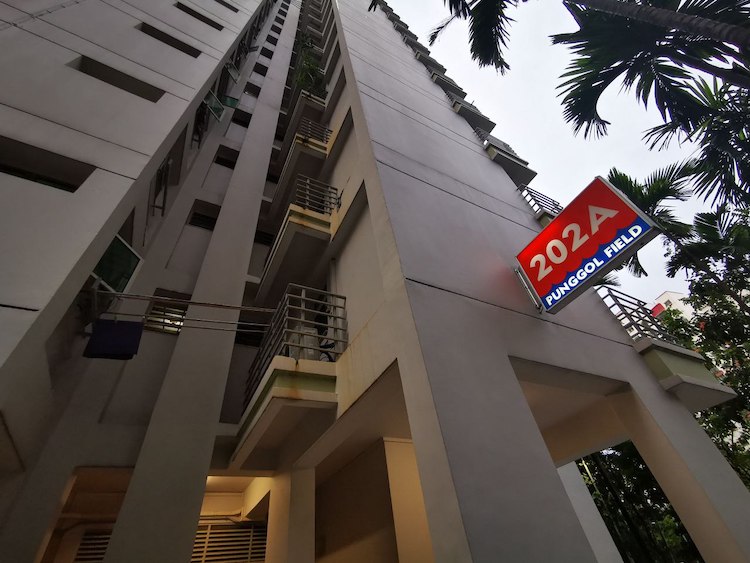 Panels allegedly used by a family of five to save on utility bills
The homeowner's wife mentioned that the solar panels were installed about three months ago as the homeowner lost his job as an engineer before the Covid-19 pandemic.
The family of five has since been using electricity from the solar panels to save on electricity bills.
While there are no specific rules under the Housing Development Board (HDB) (Common Property and Open Spaces) Rules, with regard to the installation of solar panels by apartment owners, it might be considered as an obstruction of common property if the ledges are defined as "common property".
Installations outside flat not permitted: HDB
In response to queries from Mothership, HDB responded that installations outside the flat are not allowed, as they may endanger members of the public and affect the structural integrity of the building.
According to HDB, no installations should be put up outside the flat unless there is approval from the respective Town Council.
In the above-mentioned case at Punggol, HDB mentioned that the installation of the solar panels were unauthorised, and that the homeowner has since removed them.
Top image via Lianhe Wanbao and Zhangxin Zheng
If you like what you read, follow us on Facebook, Instagram, Twitter and Telegram to get the latest updates.