Earlier on June 29, the Ministry of Health (MOH) confirmed an additional 202 cases of Covid-19, taking the total confirmed number of cases to 43,661.
There were a reported six cases in the community, with four Singaporeans and two Work Permit holders.
Six additional locations
MOH reported six additional locations where confirmed cases in the community visited during their infectious period (past 14 days). However, these locations may have been visited by confirmed cases before.
These are:
Everyday Spa 94 Lorong 4 Toa Payoh, June 19, 8:15 to 9:15pm.

Siam Square Mookata (155 Bukit Batok Street 11), June 21, 6:00 to 7:00pm.

Durian 36 (608 Geylang Road), June 23, 8:30pm to 10:15pm.

New World Centre 1 Jalan Berseh Sheng Siong Supermarket, June 24, 9:45pm to 10:30pm.

Causeway Point (1 Woodlands Square), June 22, 12:15 to 12:45pm.

Mustafa Centre 145 Syed Alwi Road, June 24, 7:55 to 8:40pm.
Those who had been identified as close contacts of confirmed cases would already have been notified by MOH.
As a precautionary measure, persons who had been at these locations during the specified timings should monitor their health closely for 14 days from their date of visit.
They should see a doctor promptly if they develop symptoms of acute respiratory infection (such as cough, sore throat and runny nose), as well as fever and loss of taste or smell, and inform the doctor of their exposure history.
There is no need to avoid places where confirmed cases of Covid-19 have been. The National Environment Agency will engage the management of affected premises to provide guidance on cleaning and disinfection.
Here's the full list of public places: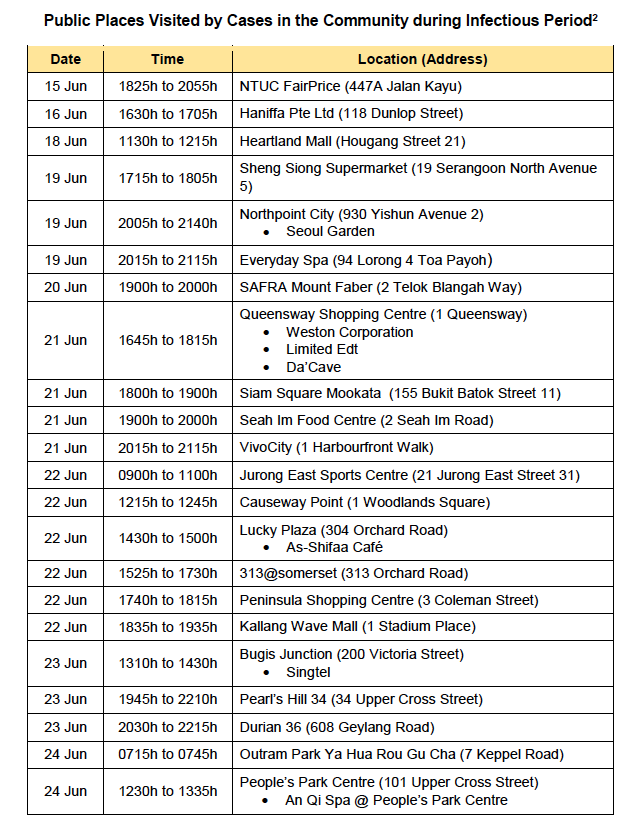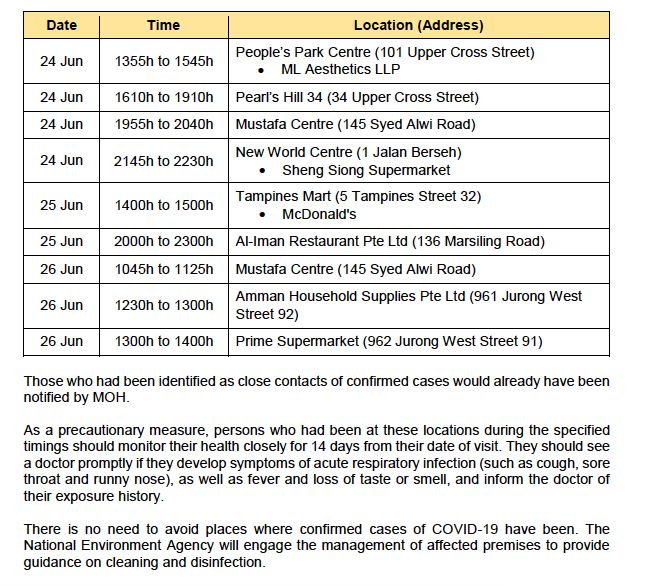 Update on community cases
Amongst the four Singaporean cases, one case (Case 43538) had been identified as a contact of a previously confirmed case, and had already been quarantined earlier.
He was swabbed during quarantine to verify his status. Another two cases (Cases 43539 and 43637) were detected due to proactive surveillance of persons working at dormitories or deployed to frontline COVID-19 operations, even though they are asymptomatic.
Epidemiological investigations are ongoing for the remaining case (Case 43691).
Both Work Permit holders (Cases 43540 and 43638) are asymptomatic, and had been swabbed as part of proactive screening of workers in essential services or those working at dormitories.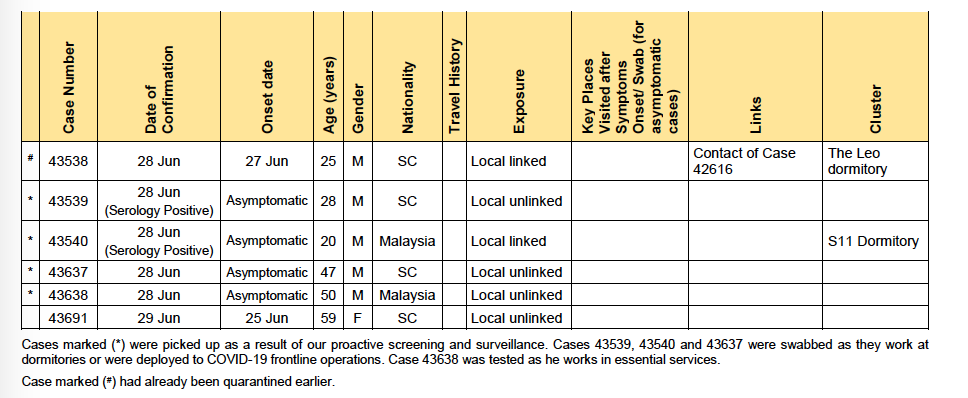 Recovered cases
477 more cases have been discharged from hospitals or community facilities, bringing the total number of people who have recovered from the virus to 37,985.
197 remain in hospital, with one person in the Intensive Care Unity. 5,453 people remain in community facilities.
One is in critical condition in the intensive care unit.
26 have died from complications due to Covid-19 infection.

Top image from Causeway Point Facebook page.
If you like what you read, follow us on Facebook, Instagram, Twitter and Telegram to get the latest updates.