The commanding officer of a Chinese People's Liberation Army (PLA) battalion stationed along the border with India has been killed in a clash with Indian soldiers, Hindustan Times reported.
The violent clash happened in eastern Ladakh along the Himalayan border last Monday night, June 15. His second-in-command has died in the violent clash as well, according to the Times of India.
20 Indian soldiers, including a colonel-ranked officer, were reportedly killed.
The casualties were the first to occur in a clash with Chinese soldiers along the border in 45 years since 1975.
The clash followed a series of brawls last month.
Improvised weapons used in fierce fights
Both sides contend that no shots were fired, according to the de facto border code.
But in place of firearms, they resorted to attacking each other with their fists and highly improvised weapons, such as batons wrapped in barbed wire, Financial Times (FT) reported.
During the brawl, which broke out on a narrow ridge overlooking the Galwan Valley 4,270 metres above sea level, several Indian soldiers reportedly fell into the ravine below.
India and China last fought a war in 1962 in the same area where the clash broke out, The New York Times (NYT) reported.
The incident is the latest in the protracted history of armed skirmishes between both sides along the 3,500-kilometre border through the late 1960s and mid-70s.
Both sides sought to relieve tensions
In a bid to relieve tensions, China's foreign minister Wang Yi and his Indian counterpart S. Jaishankar talked over the phone on June 17.
China said both sides agreed to "cool down the situation", while India said "neither side would take any action to escalate matters".
India's Prime Minister Narendra Modi further said in a statement that India wants peace, but is also capable of "giving a befitting reply" if provoked.
Chinese Foreign Affairs Ministry spokesperson Zhao Lijian also said at a regular press conference on June 18 that China and India are communicating with each other through diplomatic and military channels to resolve the situation on the ground.
But both blamed each other for the clash
However, he blamed Indian soldiers for "once again" violating the agreement reached at the commander-level meeting, and crossing the Line of Actual Control in the Galwan Valley.
The Indian soldiers "violently attacked the Chinese officers and soldiers who went there for negotiation, thus triggering fierce physical conflicts and causing casualties", he said. 
On the other hand, Jaishankar said China's action "was directly responsible for the casualties".
Indian military officials also said the Chinese had insulted them at the meeting on June 15, which was attended by hundreds of soldiers on both sides to discuss deescalation of tensions, according to NYT.
China did not reveal number of casualties
China has been reluctant to reveal the number of casualties it incurred on its side.
Zhao did not respond to queries about Indian Union Minister VK Singh's comments that more than 40 Chinese soldiers were killed in the clash, saying he has no information to release on the matter.
While Chinese hawkish state media, Global Times, acknowledged that there were Chinese casualties involved, it said that if China releases a number that is lower than 20, India would "come under pressure" again.
The reason why China did not release casualties number is that China also wants to avoid an escalation. If China releases the number which is less than 20, the Indian govt would again come under pressure: observer https://t.co/ik664PrYLU

— Global Times (@globaltimesnews) June 22, 2020
Incident angered many
Global Times's editor, Hu Xijin, made a caustic remark about India's military capability, following a statement that most of its fatalities resulted from exposure to sub-zero temperatures in the high-altitude terrain.
Hu said that the failure of the army to provide emergency treatment to the wounded shows that it does not have "real modern combat capabilities at plateau".
17 injured Indian soldiers reportedly died due to lack of in-time rescue, which reflects the serious flaws of Indian army to provide emergency treatment to the wounded. This is not an army with real modern combat capabilities at plateau. Indian public opinion needs to stay sober.

— Hu Xijin 胡锡进 (@HuXijin_GT) June 16, 2020
The incident has sparked anger in India, with some calling for a boycott of Chinese goods.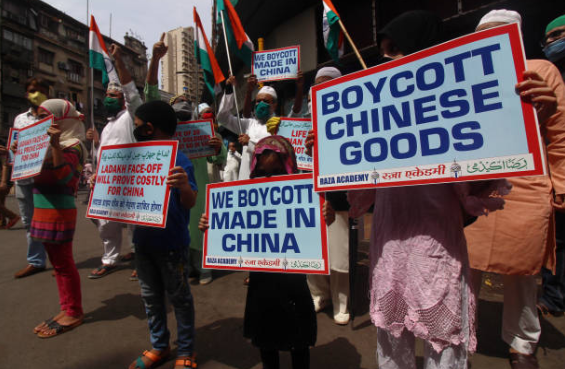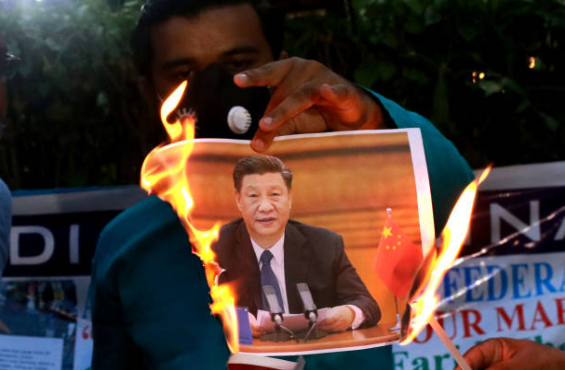 India won't forget this @ChinaSpox_India . #China will pay for this cowardly acts. #ChinaIndiaFaceoff #CCPVirus #ChinaLiedPeopleDied #Wuhan #WuhanVirus #bejingcoronavirus #ChineseProductsInDustbin #IndiaStandWithArmyAndModi #ChinaMustPay #XiJinping #BanChineseProducts #Chinese pic.twitter.com/AiZxGjf1nT

— 🇮🇳 Sachin (@kingsachinIND) June 20, 2020
Nationalist anger rising
According to FT, retired Singaporean diplomat Bilahari Kausikan said the rise of nationalist sentiments, which were perpetuated by both governments, could make it harder for Modi and Chinese President Xi Jinping to deescalate tensions.
India stands with the 3 brave martyrs who were killed by China today in #Galwan. My thoughts are with families of Colonel & 2 brave soldiers. The commanding officer was leading from the front. The government must avenge these killings & ensure that their sacrifice was not in vain

— Asaduddin Owaisi (@asadowaisi) June 16, 2020
While neither of them is looking for more trouble, it will depend on whether they can contain social media reaction, he said.
Top image via Pinterest
If you like what you read, follow us on Facebook, Instagram, Twitter and Telegram to get the latest updates.