Growing up as an only child in a single-parent family, Zacharie Ong Kah Wee picked up cooking out of necessity.
"My mom used to go out from morning to night. So her biggest concern was that I have no siblings," he says, chuckling.
And so Ong's mother, who was working at McDonald's, decided that her son had to be equipped with some cooking skills. The first culinary skill she imparted to him was fried rice with lup cheong (Chinese sausage) and egg.
Ong would rush home after school to fry rice and bring it down to his mother's workplace where the duo would have their meal together.
Ong's mother would give her son her burger ("At that time, McDonald's was something luxurious") while she ate his fried rice, giving him pointers to improve his cooking.
That, says the 45-year-old Ong, was how his mother cultivated his interest in cooking. Over the years, he expanded his culinary repertoire — Nyonya curry, traditional ngor hiong (meat roll), nasi kunyit (turmeric glutinous rice) and prawn noodles.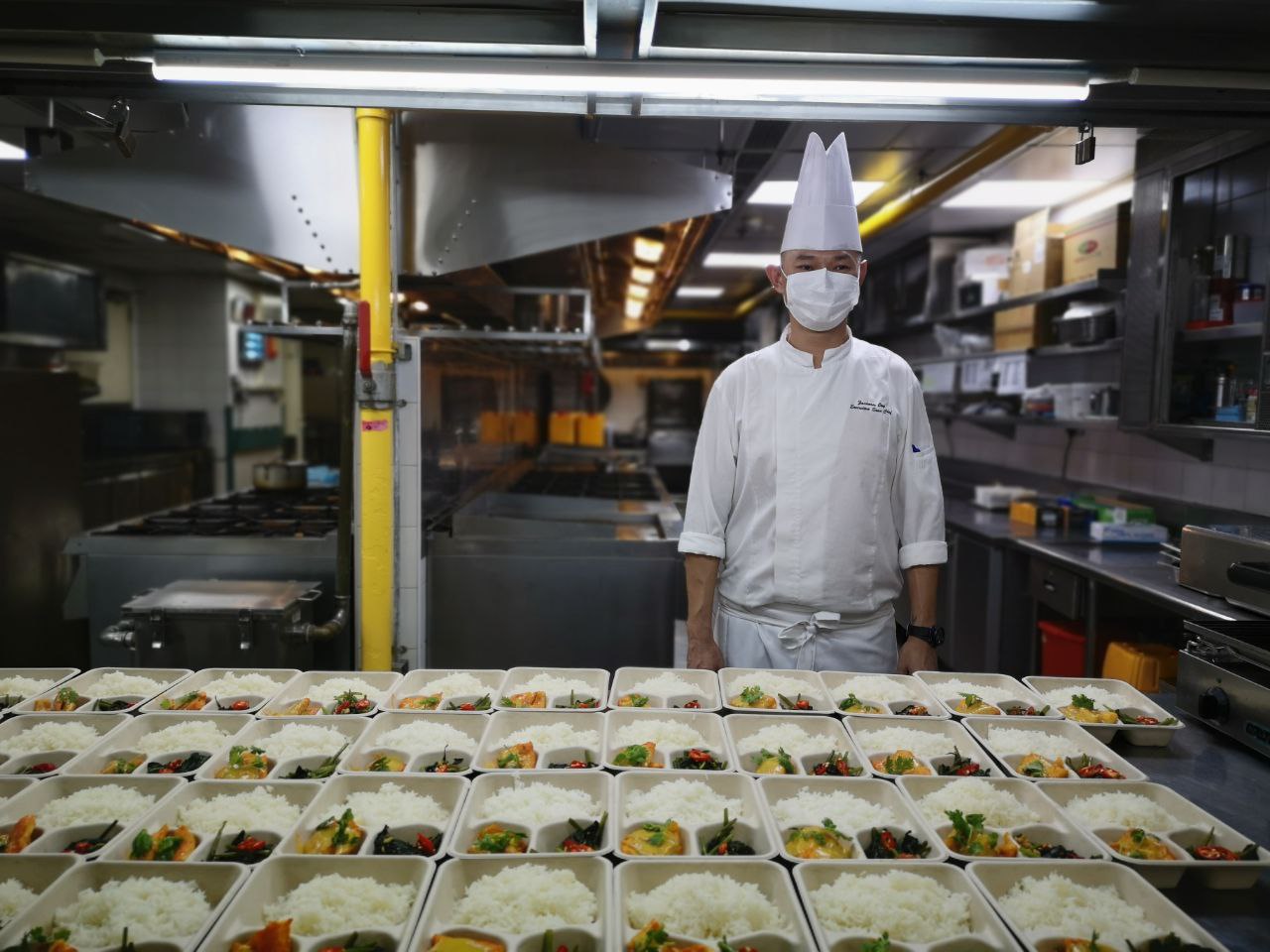 It wasn't much of a surprise that Ong enrolled into the Singapore Hotel and Tourism Education Centre (Shatec) after his O-Levels to pursue his passion. He became a chef and earned his stripes over two decades at various hotels along the way — Marina Mandarin, Four Seasons, and finally, The Fullerton Hotel where we are currently having our chat.
The Fullerton Hotel's iconic atrium where we're seated at is missing its usual bustle, having been closed to the public for more than two months thanks to the Covid-19 pandemic.
However, a palpable hum of excitement is beginning to return to the five-star hotel.
Just two days earlier, the Singapore government announced that the country is ready to embark on the second phase of its reopening. Retail and F&B outlets, including the restaurants at The Fullerton Hotel, would be allowed to open for business again, and staff of the hotel are raring to return.
It's been quite a tedious and often anxiety-inducing journey for Ong who oversees the operations at nine restaurants and bars — including Jade, Town Restaurant, and Lantern — across The Fullerton Hotel and The Fullerton Bay Hotel.
"Even before the Circuit Breaker started, we already felt the impact. We saw that business was going down, and banqueting events started to get postponed or even cancelled," says Ong, adding that the Circuit Breaker brought everything to a standstill.
Most of Ong's 150 chefs were seconded to various companies, like Cold Storage and Nestle, where they do part-time cashiering, ordering and stock-take work.
"Some of the chefs are at the food counters, like cutting meat, something related so they don't forget their skills."
The rest remained at the hotel to take part in a rather meaningful endeavour: Cooking for healthcare and migrant workers.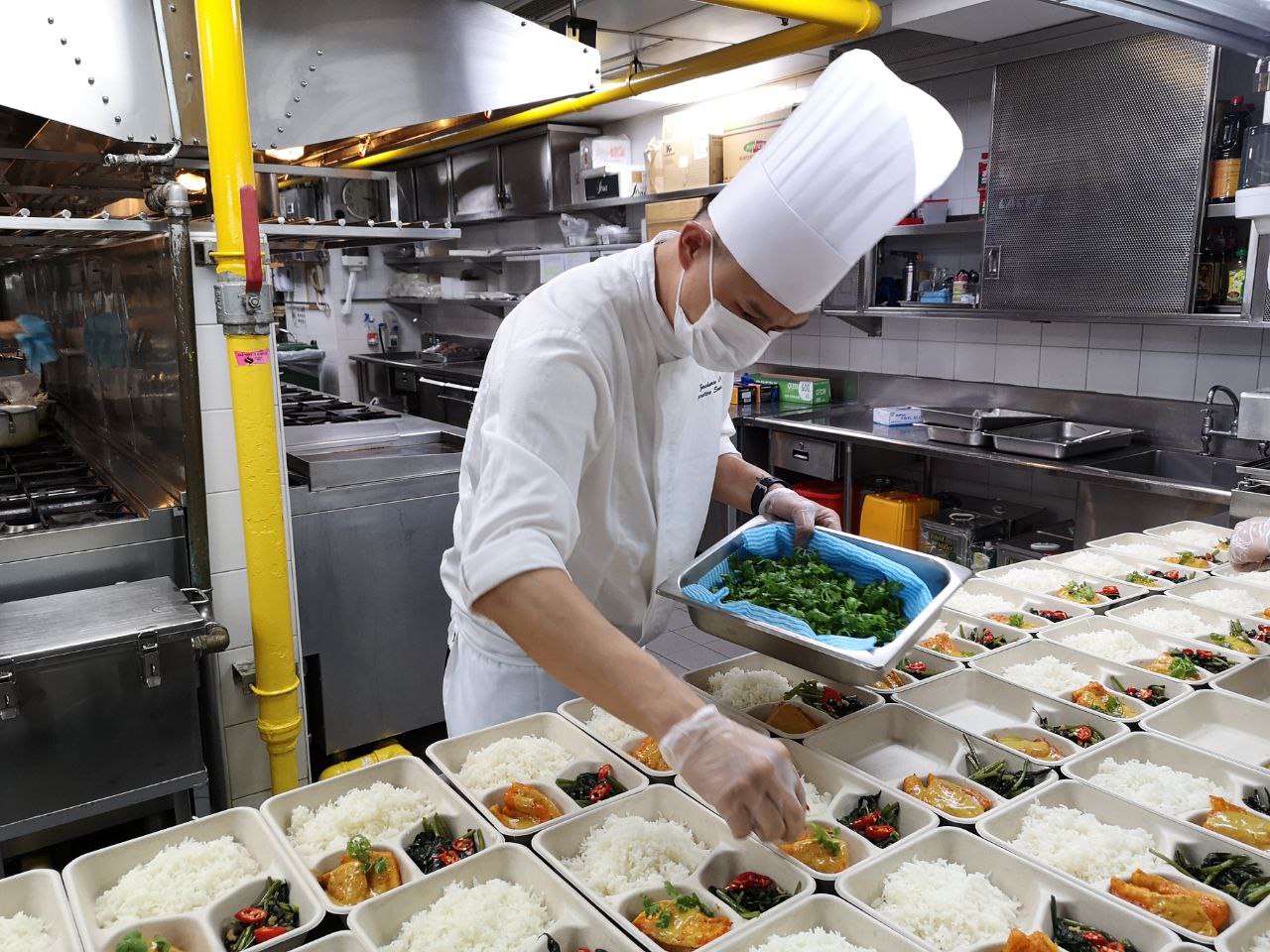 The hotel has an arrangement with Singapore General Hospital (SGH), migrant worker NGO Healthserve, and the Alliance of Guest Workers Outreach to provide food for those on the frontlines.
Every day, Ong and his chefs whip up 310 boxes of piping hot meals.
At lunch time, 210 meals go to SGH while another 50 boxes are deposited at Birch Road for a group of migrant workers. In the evening, Ong and his team prepares another 50 meals for the same migrant workers' dinners.
Three days a week, Ong also prepares around 10 boxes of food for folks at HealthServe for their dinners.
To date, Ong estimates that his team has produced and given away about 17,000 meal boxes.
The menus are customised according to the beneficiaries.
"Some of the migrant workers are Muslim, so for their food we usually have no pork, no lard, no alcohol. And they did share with us that they prefer to have more carbohydrates, which is rice, and they don't mind having curries every day."
On the other hand, staff at SGH requested to have less rice and more vegetables in their meal boxes.
Some of the dishes that Ong and his team cooked include sambal fish, stir fried kai lan with turmeric rice, sweet and sour chicken with pineapple and capsicum, and braised mushroom with bok choy.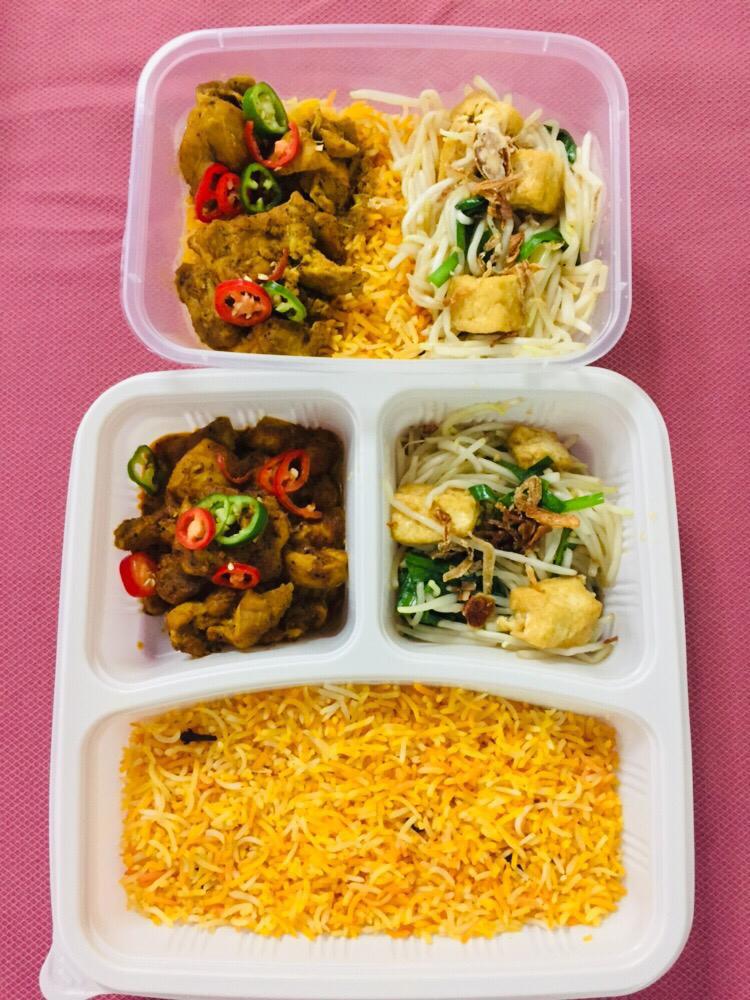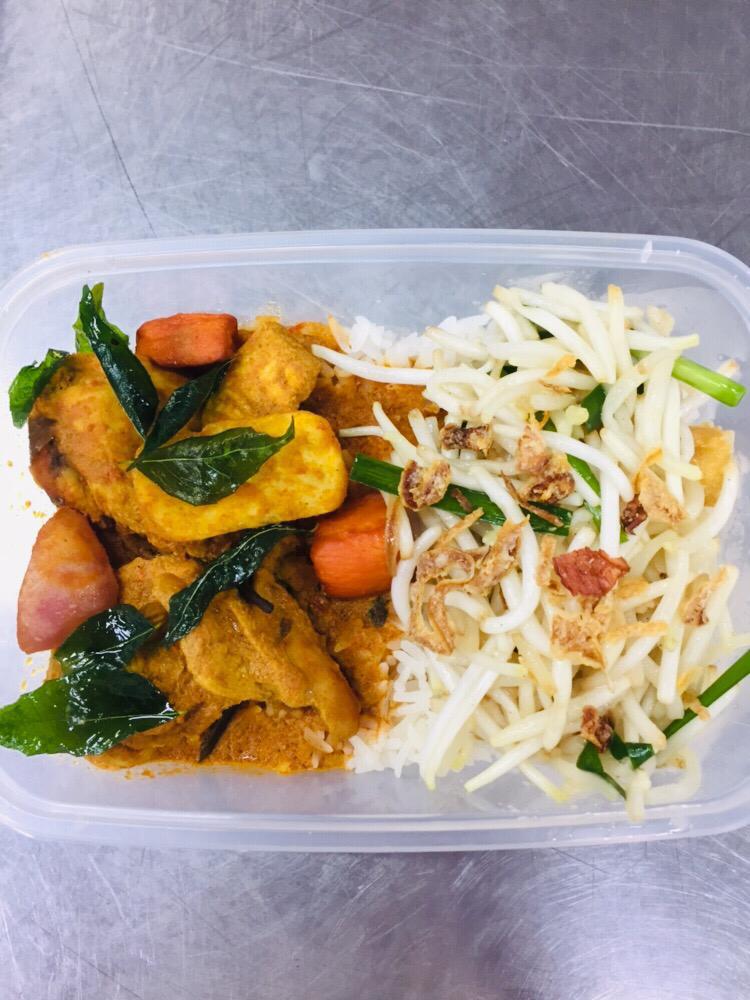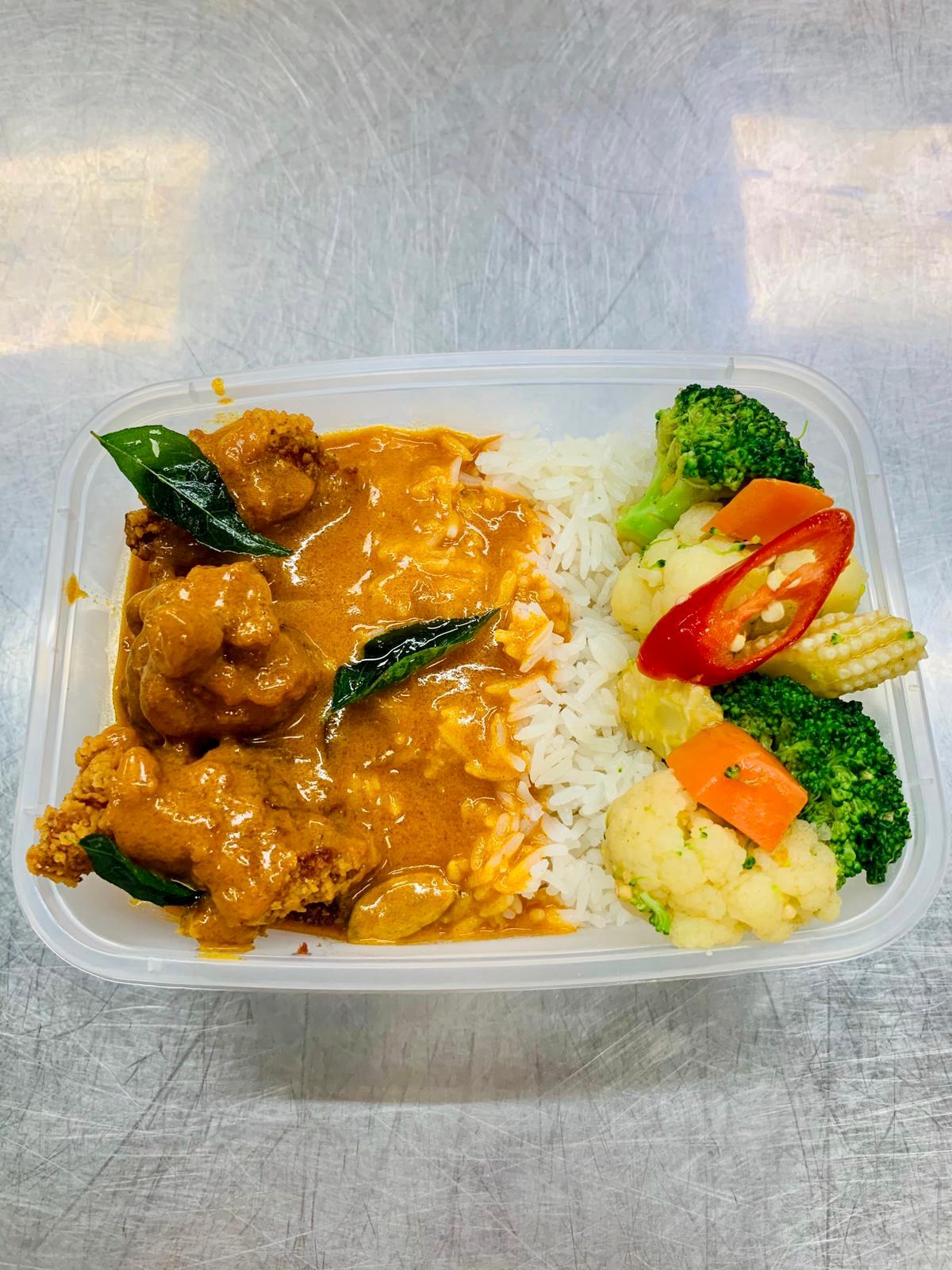 On the day of our visit, Ong's team was preparing sambal curry fish with a side of stir-fried sweet potato leaves.
"I hope to master all the local hawker foods," Ong says with a smile.
The work by Ong's team has been received with gratitude. He says that the SGH beneficiaries often text their thanks along with with photos of their staff with the meal boxes.
Once, while Ong was delivering the meal boxes to Birch Road, a migrant worker in a wheelchair thanked him profusely for delivering food.
It is such responses that motivates Ong in doing what he does, cooking for those who need it. "We are always checking in with them, see whether they require further help," he adds.
His work now might be different from cooking for hotel guests but it is no less challenging. One of the challenges, he says, is coming up with a different menu every day for his beneficiaries.
Now that society and the economy is slowly reopening, this meal box programme will also be coming to an end come June 30, but Ong already has his hands full with another uphill task: Reopening the hotel's restaurants to the public.
While restaurants at The Fullerton Hotel have adapted well to takeaways and deliveries during its one-and-a-half-month closure, it is clear that Ong and his team are raring to welcome customers back. After all, much of a five-star dining experience comes from the ambience and service that cannot be replicated in a takeaway box.
"Everybody is hoping to see the business come back but at the same time, we hope that all the safety procedures are in place so that everybody is safe from Covid-19."
For instance, The Fullerton Hotel restaurants are trying to go contactless. That means no more self-service operations or buffets. Everything is plated for the patron. Menus will also come with Quick Response (QR) codes that customers can scan to view the entire menu.
As we end our chat, I ask Ong what has kept him going as a chef for the last 22 years. He says:
"We always try our very best to cook with our heart and soul, so we ensure that we bring a smile to their face, and for them to come back again."
Top images by Joshua Lee. 
---
Stories of Us is a series about ordinary people in Singapore and the unique ways they're living their lives. Be it breaking away from conventions, pursuing an atypical passion, or the struggles they are facing, these stories remind us both of our individual uniqueness and our collective humanity.
---
If you like what you read, follow us on Facebook, Instagram, Twitter and Telegram to get the latest updates.