FIRST-PERSON: Zakir Hossain Khokan, 41, is a Bangladeshi migrant worker, writer, and photographer who has been working in Singapore for the past 17 years. He is a construction supervisor, and was living at Cochrane Lodge II prior to being confirmed to have Covid-19 in April. Since then, he has been in hospitals and community isolation and recovery facilities.
Zakir is the founder of Migrant Writers Singapore and One Bag, One Book, an initiative to spread reading culture among migrant workers living in Singapore.
He spoke to Mothership, sharing his experience with Covid-19.
---
As told to Jane Zhang
Roommate tested positive for Covid-19
This actually start when one Indian worker who living in my room, he get virus I think, April 11. So April 11, he feeling fever.
Then for him they call ambulance and this boy go to take ambulance and go hospital admission. And after one day, he call my room, because I have one of the WhatsApp group [with] all of my roommates. So we ask him and he say he is positive.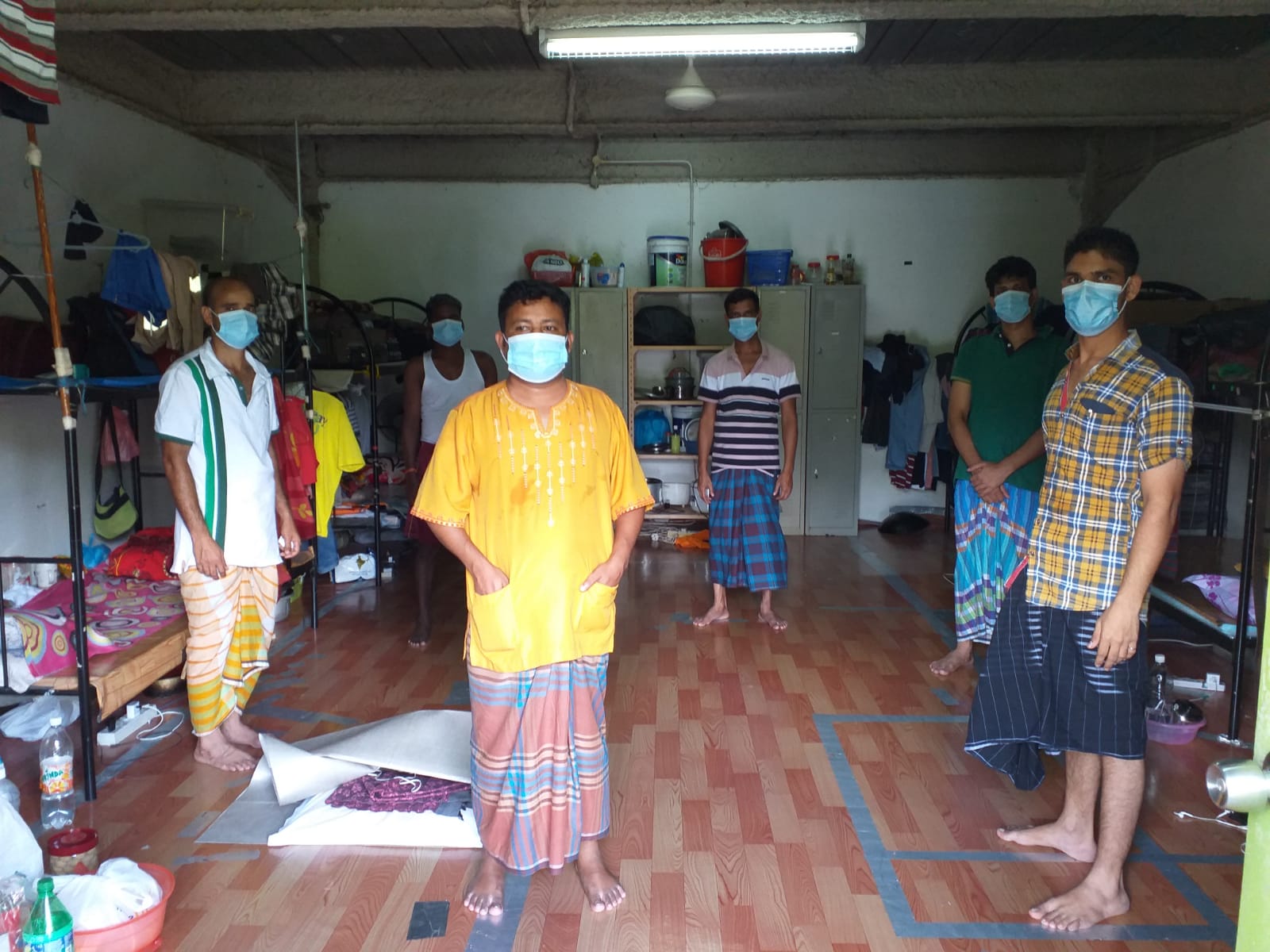 So on that night, in my room, everyone very scared. Very worried. Two person was so much worried that full night on this April 12 they do salat, they do pray. And they cry full night, you know? They was very scared.
Actually, I was not very scared. This kind of feeling actually not working inside me, that time. Because this is naturally in my character — if any incident or accident happen in my life, actually, I try to take that is easy way, not with the scary, with the worry. This I get from my father, lah.
We living Cochrane Lodge 2, C block, level three. From the room balcony, actually, every day I see so many ambulance come in my dormitory and left my dormitory, especially this start in the early morning and the evening part.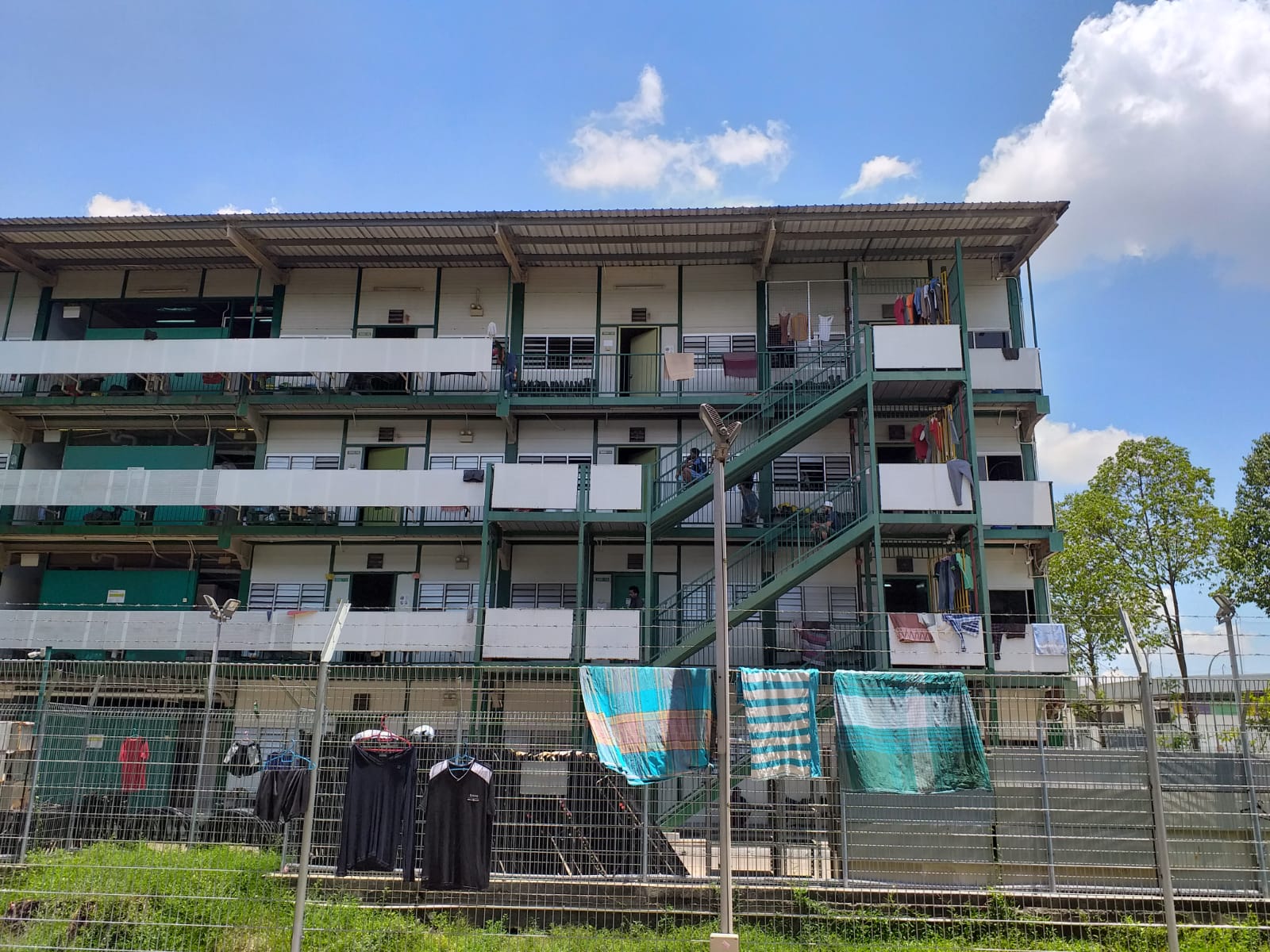 I find in my level three, I think there have totally 19 room. So most of them, because every day they see the ambulance, so most of them are very worried. And our level in our dormitory is face to the road.
So every day I find their face is very worried. I try to encourage people, "Hey no worry, this ambulance come, they will recover. No problem, you people know that Singapore for the treatment and medical is very good, so no need to [worry]."
Began feeling unwell
So after that one day or two day, then my body also feeling not well. And one night, totally I cannot sleep. I think that is April 14. My whole body is shaking.
My full body is sweating and I feeling hot, my head and body. I think, "Okay, I go take shower, lah!" Because in the room, night time hot, the body is sweating.
The shower time I feeling my body is shaking. I say, "Oh my god, what's going on?" Then I take paracetamol.
Then I awaiting April 15, I think this will be can go [away]. But in April 16, I see my temperature is 37.9 [degrees Celsius]. That time I realise, I have to go.
So thanks to God that I not feeling that kind of scared and that kind of worry. I feeling that I need to confirm if have, and I have to take treatment. Because this is have in the character — no worry, but have to careful, lah. So this was playing in my mind.
So, I no worried, I no scared. But I was aware that I have to go hospital, I have to take admission, and I have to recover fast. And I have to confirm that really I am affected Covid-19 or not, because I am feeling that I am affected Covid-19.
And I talked to my roommates, "Hey, I want to go hospital." Then they say, "Wow, Zakir bhai, no need to go hospital. You take paracetamol then okay ah." Because I find they are very scared.
Reported to security
So I report security guard, "I think I am affected by Covid-19. Because one of my roommate already affected Covid-19."
But security said, "No problem, bhaiya, no problem. You go, you take rest in your room. Hope you can recover, or you can be good. Maybe many people one room so you feeling like that. No problem."
But actually I not feeling very well that time, so luckily that time one young MOM officer was there. He know me because I doing some activity for the migrant community, do the mental health activity in room-to-room.
Then I ask to him, "Hey brother, can help me? Because I'm not feeling well."
He arrange for me ambulance. After one and a half hour, ambulance came. By this time, I go back my room and take my clothes, tooth brush, paste, this kind of things, what need.
And I come back in security there, I waiting one hour plus, then ambulance come. By this ambulance, I go to hospital.
At Khoo Teck Puat Hospital
So when I go to hospital, I need to sign some forms. Then there have temporary shelter outside of the hospital. Then I go there, I follow one nurse. I sit down there. Then after 10 minute, I not feeling well and very bad, I cannot sit down on the chair, going to fall down.
Then I call nurse. One nurse come, two nurse come. These two nurse ignore me, they say, "No problem, we bring you your place." I say, "I cannot sit down. Then why you want to bring me?"
I called third nurse, then third nurse see me that really I'm going to fall down, then she bring one bed, which is with wheel, so she bring me on the bed.
When I lie down on the bed actually, I almost senseless, lack of mood — mentally and physically actually. So after few minute, one nurse come. She ask me something but I actually cannot response. Then she keep asking me, but still I cannot response to her.
Then I try to use my hand, I say that I not feeling well. She ask me, "You feeling pain in your chest?" I put my hand on my chest and say, "A bit. A bit pain."
Then she go and come another nurse, one boy nurse. So together they actually hold me, my body, and try to sit down on the bed. Use pillow and one person hold me, another person doing the swab test.
Then, that night, I totally going to senseless after that. I don't know what happened. In the morning, 5 o'clock something, I woke up. And I see I am on the bed and very hungry in my stomach.
Then I try to stand up, but cannot stand up.
I call one nurse, "Please help me. I want to go to urine." One nurse come and help me. Then slowly, slowly, I walk. Still I feeling very giddy, feeling like that I'm going to fall down. So I strongly grab her hand and I going to toilet and urinal area.
But that time, I see so many people, in the early morning. So many people, so many patient is sit down on the chair, and they sleep full night on the chair. On the chair, all the patient. Then I realise, as a photographer mind, my idea is, if I can take photo this one then I... *laughs* what stupid I thinking, still I thinking photography.
Then I come out from the toilet, I go my bed. Then they bring me breakfast. Then 12 something, they bring me inside the hospital, from the temporary shelter to inside hospital.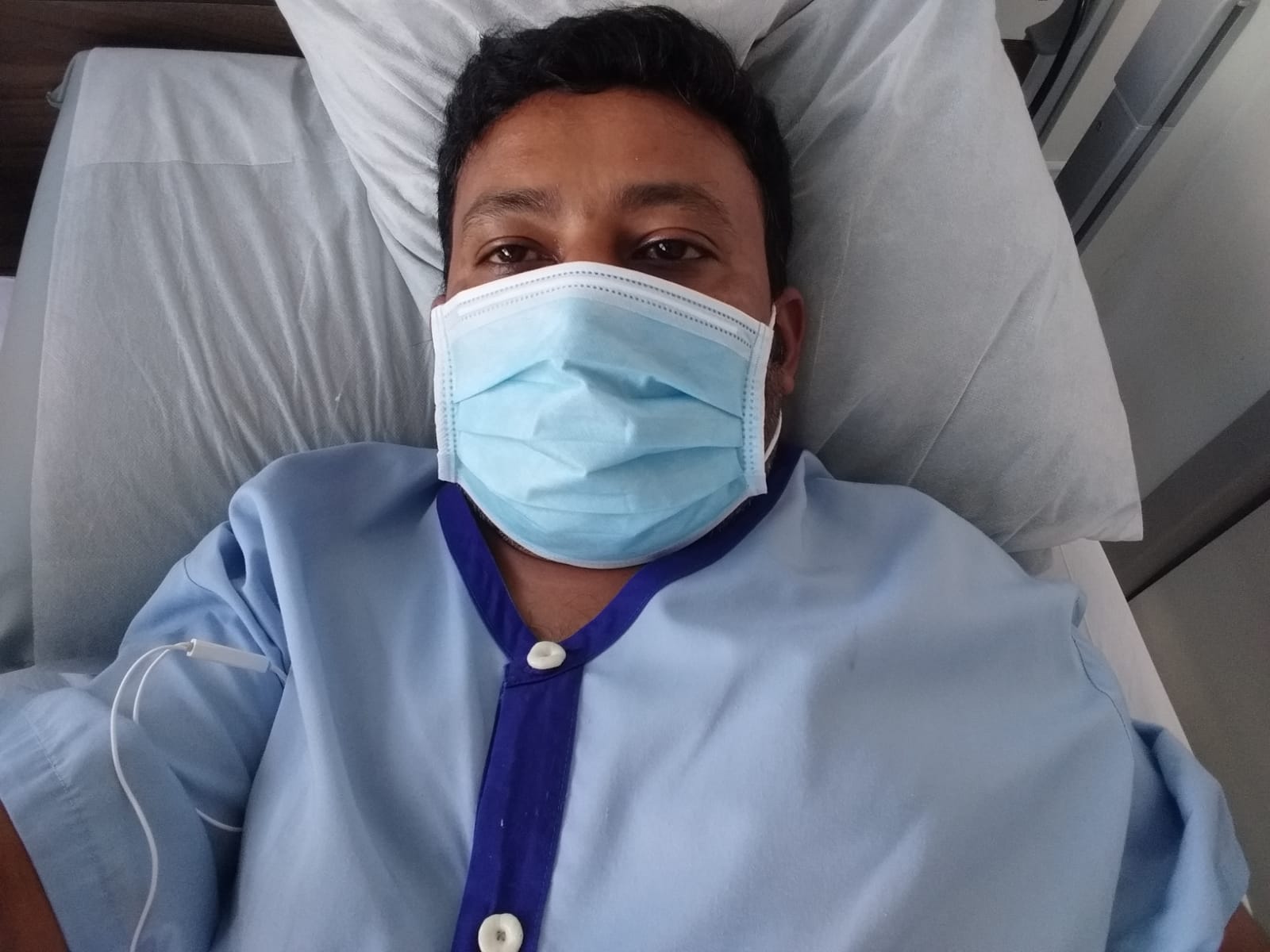 That time I ask them, "Hey, what is my result? Is the positive or what?"
They said, "Nobody tell you, ah?"
I say, "No, nobody inform me."
Then they ask one nurse, "Hey what is the patient result?" Then one nurse come and they see my seat number, then they say, "This is positive."
Then they bring me inside the ward. They was very aware [that] totally I cannot walk that time. If I going to walk, I going to fall down.
Second swab test, never got results
So I was in hospital from April 16 to April 29. On 29th, they send me Expo. Though my body was not very good, not stable, but they send me.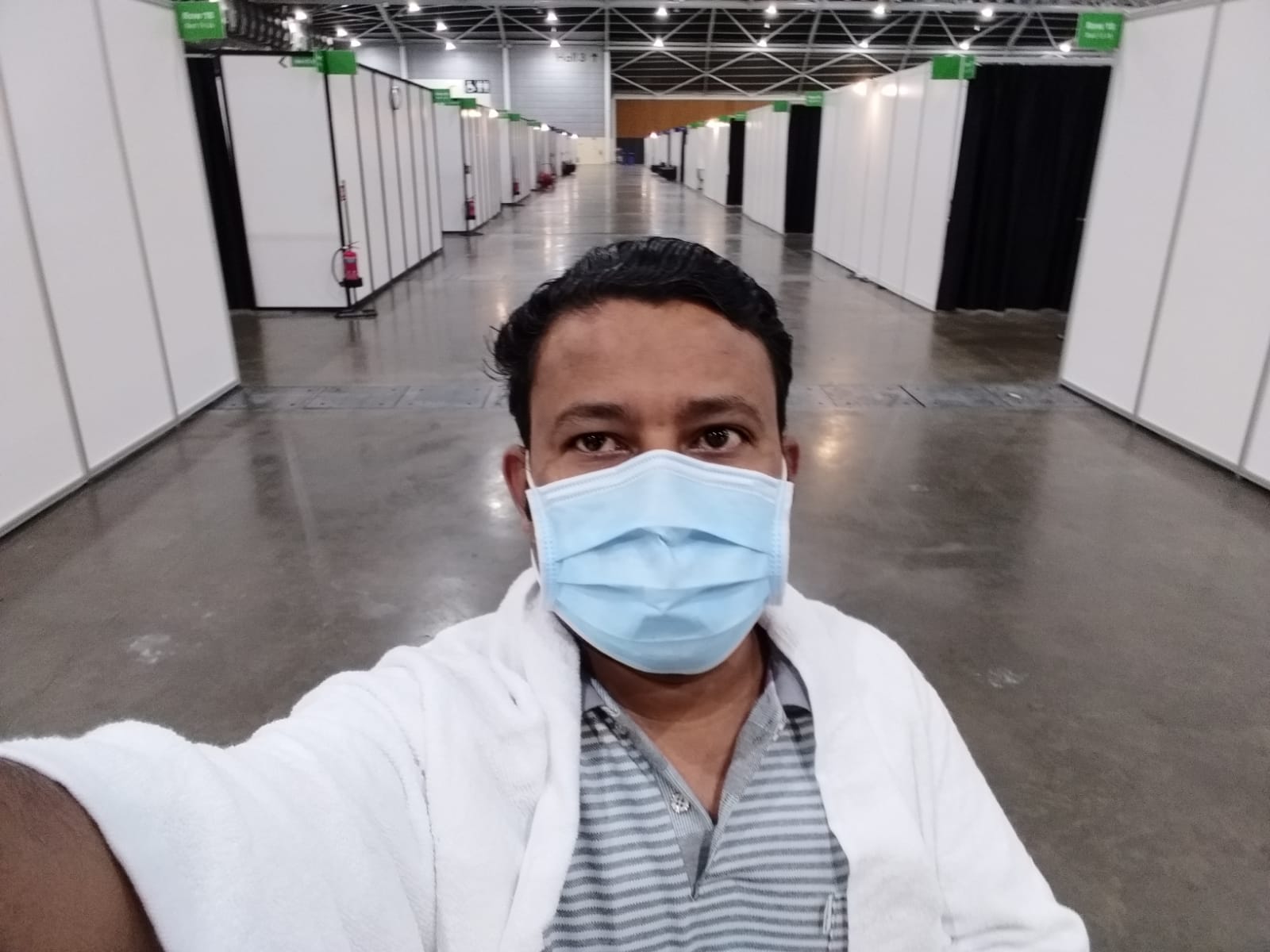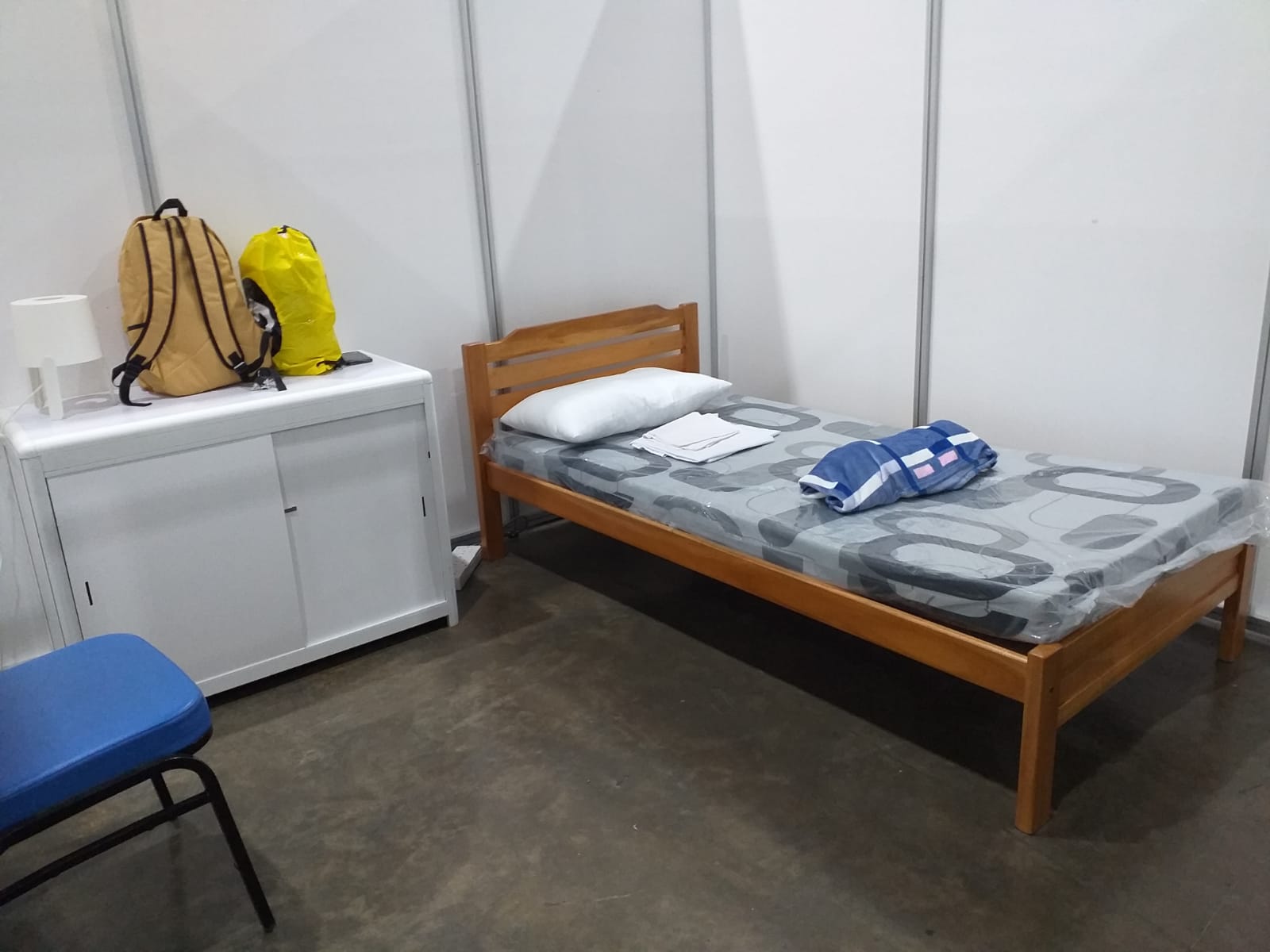 [Editor's note: According to a statement shared with Mothership on Apr. 18, this is what MOH said about Community Isolation Facilities, such as the Expo:
"Patients who are more severely ill and require additional clinical care, including oxygen support or intensive care, will continue to be treated in acute hospitals. Other patients who no longer require acute hospitalisation may be transferred to private or community hospitals to continue their recovery if they require some medical support, or transferred to the Community Isolation Facilities (CIFs) if they are clinically well but still test positive for Covid-19."]
Then I ask them, because in April 27, they did my second swab test. I ask nurses, "What is the result? Positive or negative?" They no answer. Next day also ask. No answer.
And when I come back to the Expo, that time also ask them, "What is the result? Why you people don't want to tell me?" Then they no answer. Then they say only, "Take care," that kind of nice words, lah. But they no inform me.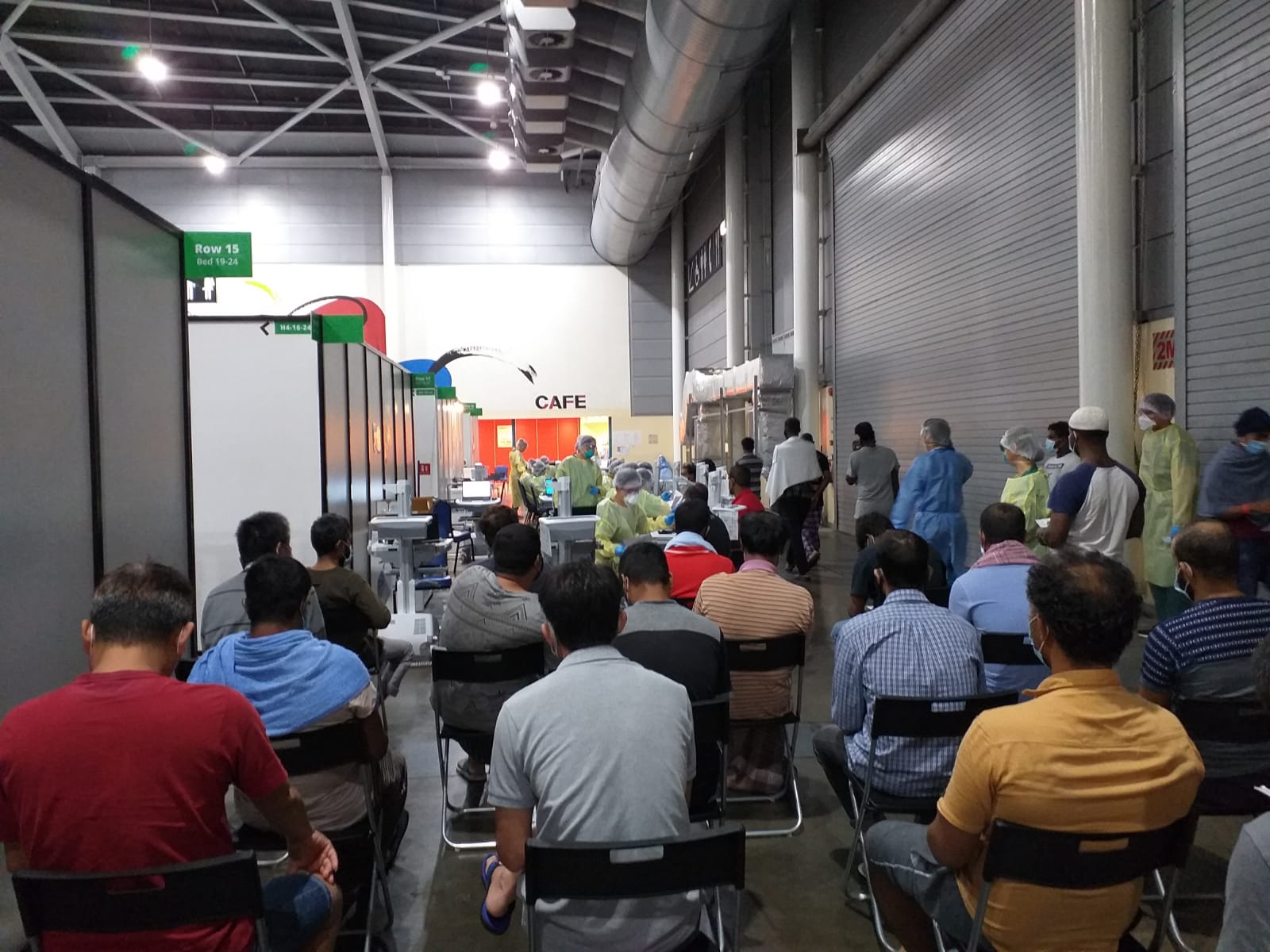 And when I come here, in Tanjong Gul camp, I do one appointment with doctor [over video call]. That appointment experience was very waste, very bad experience, lah.
[Editor's note: Tanjong Gul camp is one of the SAF-managed Community Recovery Facilities, which are for patients who have remained well for 14 days and are clinically stable.]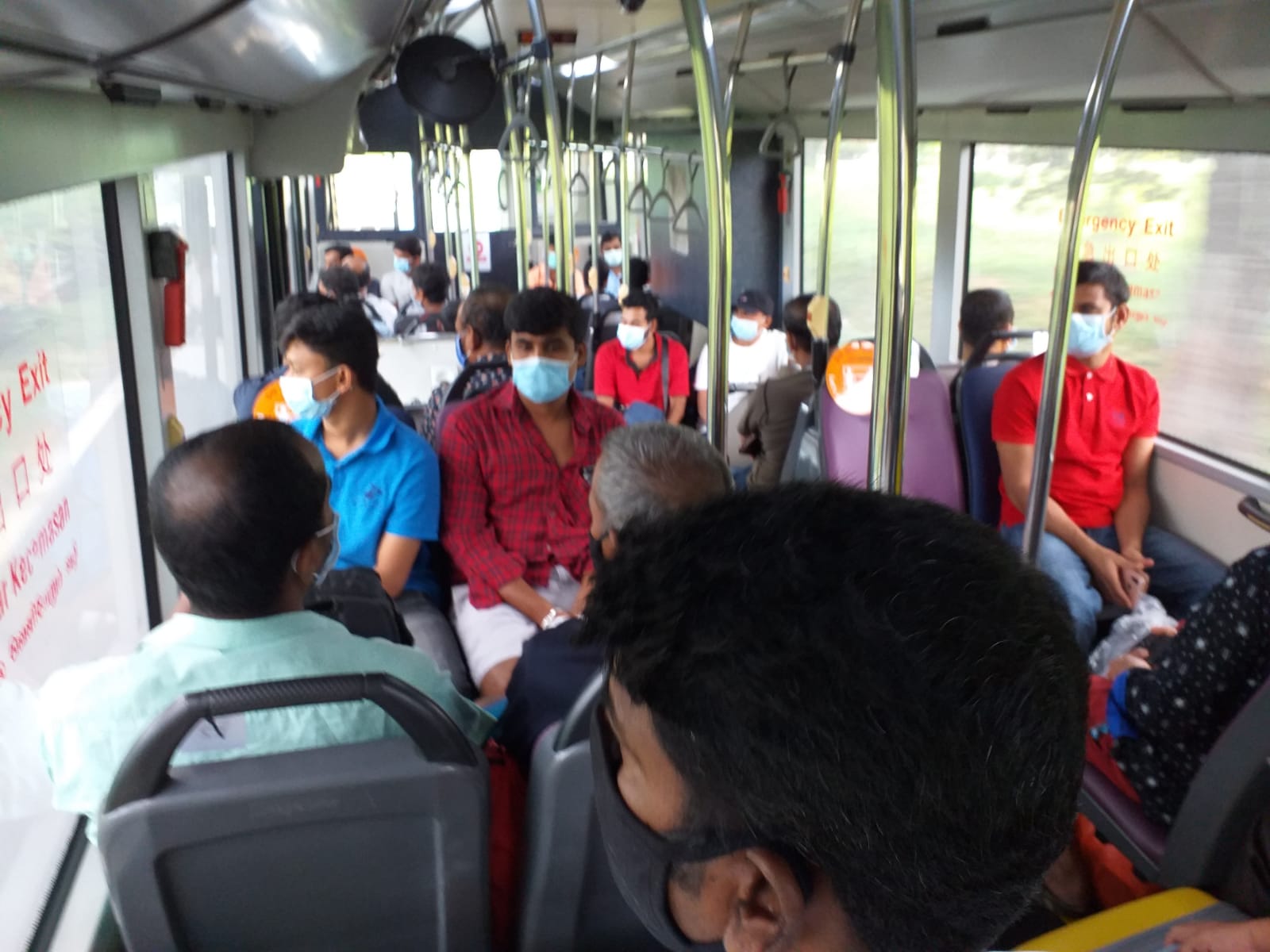 I also ask this doctor, "Hey doctor, I don't know, I'm positive or negative? If I still a bit positive, I have to do my activity and movement very carefully. If negative, please inform me."
Then he talk to me, this camp doctor, he say, "No, no, no, brother! You here come only for recovery. No have any test here, no have any test."
I said, "I no say the test have or not. I want to know… Because I cannot check. So can you check? And just inform me I am positive or negative."
Again he repeat, and he talking to others – just child attitude. Laughing here and there in the video. "No, no, no problem, no problem. Brother, take rest. Take rest."
I say, "How to rest? In the tent, where you leaving us, the daytime still cannot sit down also. Very hot." Then he no answer. Like that, lah.
Still now (May 14) I am not sure, from the second swab test, I am positive or negative. Still now I am not sure.
[Editor's note: Zakir was sent to National University Hospital (NUH) from Tanjong Gul camp on May 15 as his symptoms worsened, and remained there for about a week. He said he informed NUH staff that he never received his results for his second swab test. He also told us that they swabbed him two times, and was told that he tested negative for Covid-19.]
Helping others, even while unwell
[While] sick [in the] hospital, Expo, and here [Tanjong Gul camp], I trying to work from the Migrant Writers of Singapore and One Bag One Book.
Some friends actually called me and they said their food is very bad. And now you know the Ramadan time, they cannot go out from the dorm… and some they cannot do the iftar and the sahur, they cannot do. This mostly affected the factory-converted dormitory.
From first day, we try to give, we try to collect from the donors. Luckily donors trust me.
[Editor's note: Zakir is part of Migrant Writers of Singapore, which collaborated with other individuals and organisations for a Ramadan project distributing food and supplies to workers.]
We give two times — the evening time and the morning time — two time food to the migrant workers in different dormitory. Almost 1,400-something. So every day we give two times food.
So almost 2,000 people receiving every day, two times —
sahur
and
iftar
the evening and breakfast in the morning. And fruits, and dried foods, and coffee, milk. So many things, milo. So many things actually we giving to them in the different dormitories.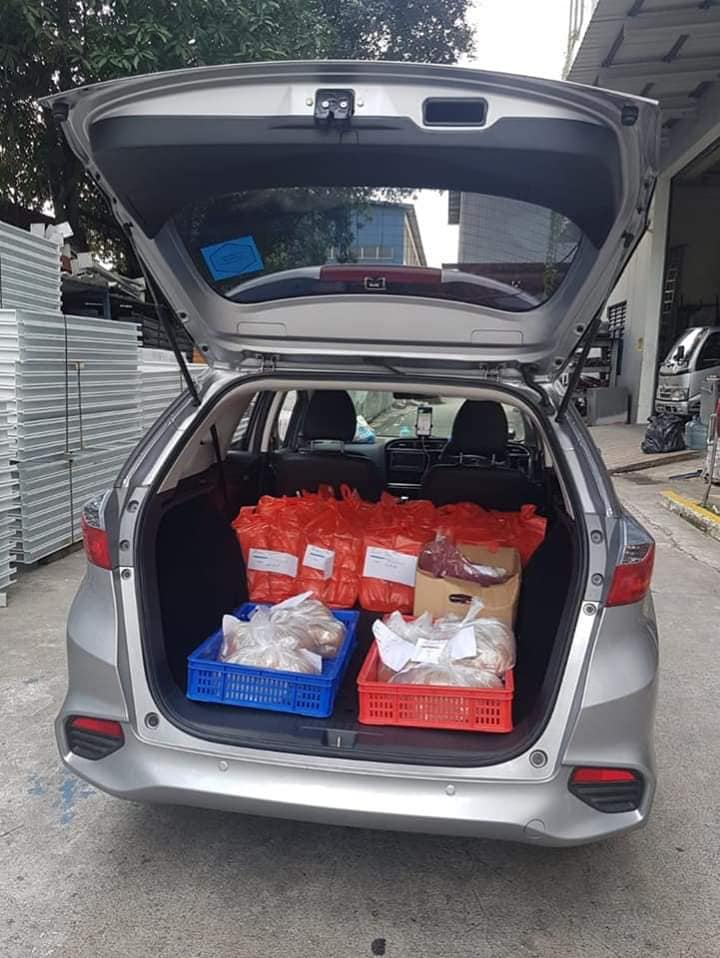 So we arranging for 6,000 migrant workers' lunch.
So in Eid day, the Hari Raya day, we will distribute to them 6,000 food, 6,000 lunch with the sweet — in Bengali say shemai. This is very close to the culture of Eid. And we're giving biryani and some other soft drinks. So this way we giving.
Also, we giving the prayer rug for the Muslims, and prayer cap for the Muslims.
We give masks, we give hand sanitisers, we give the room cleaning item — even the mop, even the bucket, Vitamin C tablet, even Dettol soap also.
And from the One Bag, One Book, still we distributing book to the migrant workers — Tamil, Bengali, English, Bahasa Indonesia, Tagalog — this kind of things actually we giving.
So from that activity, few dormitory we already have 457 volunteers.
So this what I find that this pandemic time, or this Covid-19 time, we find out that how strong is our volunteer team and how strong is the communication.
I very thankful that donors is put their heart, their money, their emotion, their love, their respect, to help to the migrant community. They come closer to us.
And all the migrants who receiving this gift, they are really thankful to everyone.
We hope that more people can come as a volunteer, as a donor, so in future also we can continue help to support to the migrant community.
If I can help to people, that can make me the strength. That yeah, I also helping the community. I also helping this and that.
I get energy from this activity.
Life at Tanjong Gul
Here is one bad thing: that they see [patients] one day, and medicine give another day. So the same day, they no give medicine.
But I say that I need BP tablet also — blood pressure — because I have high blood pressure. I take that medicine from Bangladesh. Then they ask — they no give first time any medicine for BP.
First day, I see doctor. I need to go very far. Very far. From my zone, [Zone] E, to all the way to A. Very far. I think almost 20 minute or 25 minute need to walk.
So I go from here to see doctor, video conference. And I talk this camp doctor. I explain to him that this is my body condition now, and I request for the BP medicine.
This blood pressure medicine actually I taking quite a few years lah — two, three years, I think? Expo also no give any blood pressure medicine. Hospital also no give. And here [camp] also no give.
I ask the doctor about my blood pressure medicine. "But where is my blood pressure medicine?" Then he say, "Oh, really meh?" Then he check by handphone, then he ask me who are giving the medicine.
He say, "What medicine now you taking?"
And I say, "This Bangladesh medicine. I don't know the origin name of the medicine, but this I bring from Bangladesh."
Then he say, "Okay. So you go back your room, you bring your Bangladeshi medicine. Then we will give you next day the medicine. The medicine have to come. After order have to come."
Then actually that time, physical condition I cannot walk properly. Very weak and very painful the leg and body.
They have one small car-type things, lah. So I say [to the staff], "I cannot walk. Can bring me to my room, Block E, and I can come back to here?"
Wah, this guy also become very, very... I don't know, lah, attitude ah: "No, no, no, no, no. You must walk! You must collect! Why you no bring your medicine? Why you no bring? Why? Why?"
I say, "Why you very excited? I don't know the doctor need that medicine." Because that medicine already finish. I have only strip of the medicine, no have medicine inside the strip.
So I say, "I no have medicine. I have one empty strip, so I going to collect this one. Can bring me?"
He said, "Cannot. Cannot." He no support me.
I say, "Hey, brother, I cannot walk." Then he no take me in his car. He come all the way to my E Block, in the tent, the room here. Then I take this empty strip. Then I go walk to the medical camp there, A Block.
He drive behind me, that small car. He go behind me, but he no bring me.
Here, actually, only two person sometimes come here in this camp. They just provide the food. Here no have any nurse, no have any doctor, no have any BP measuring any tools.
Just here, ah, we who are the patient here, we just living here.
So they give one handphone number. They say, "If any people feeling unwell, falling, then call this number." Otherwise, no have any things here.
[Editor's note: The premises of each CRF are clearly zoned according to the amount of contact a staffer, volunteer or helper might have with infected patients. This zoning system is aimed at minimising any risk of transmission between Covid-19-positive patients and the people who attend to them.
There are also very clear rules about who actually needs to go and interact with the patients, with steps taken to minimise interaction, where possible.
Communicating with family
Okay, when the Covid start, and most of the dormitory spread out the virus, my family also get info. So my wife family also get info. So they always calling me and asking me how is the condition — how is the Singapore condition and my dorm condition.
Then when I going to hospital, that time inside the ambulance, that time my wife calling me. She asking me then where I am. I said I'm going to hospital.
And she asking me, "Why?"
I say, "I'm feeling unwell, fever. So I go, I check doctor."
Then she actually the react was very bad. She cry very loudly in the phone, very worried. Then my mother also keep calling me.
So this is actually the first step — I give info to my wife. And she was very worried, very scared. Because why, you know?
Because she hear from the social media and other that who get coronavirus, police or ambulance bring them outside of the city and shoot them! Kill them on the spot. So she was, "oh my God!" Mentally different type of attitude.
I talked to her, "No worry, I just going to hospital. If any info then I will update you."
Then this news, this info actually split in my whole family — the relatives in Dhaka, in the village, and in my wife's side, and my brother, brother wife's side, and other friends — all keeping calling me that time, the news that Zakir is affected by coronavirus! Oh my God!
And honestly, in my country also, people are give the very horrible and terrible attitude [to the people] who are get coronavirus. So that also one part or one things that my family and relatives and friends were very worried.
But I always try to tell them, "No worry about me. Singapore is a very nice country, and this country is very famous for the treatment. So no worried."
I no have ability to answer everyone. 'Til today also I no pick up so many call. Because this is one kind of stress also, need to answer so many things; they asking this, that, how, why, when... there's so many things.
Then when I going hospital, actually, I was on bed and no have physical capacity to call my family, but still I try to connect with them by WhatsApp message.
This kind of no worry type word I just send to them, lah. That I am getting well, I getting recover, I getting better — that kind of word actually, I using them.
All the migrant workers really, really worry about their family who are living in Bangladesh or India, or other country like China they are very worried.
So, I can say, worry is okay but no need to very worry and mental pressure for this things. Guide your family and give some suggestions so that will be help family.
After affected Covid-19, I no send any money to my family. They also not feeling comfort to ask me send money.
And actually I no have chance — no have any facility or anything that we can send money from here — but few friends, some local friends, always asking me, "Hey Zakir, if you need to send any money to your house, please let us know. Give bank account, then we send."
Then I check with my family, they say, "Okay, you have to recover first. Now no need to tension about this." Yeah, so haven't send after affected Covid-19, I haven't send any money to my family. But hopefully, when I going to recover, can send money.
Misinformation that needs to be addressed
I think, need to — if physically okay, mentally okay — need to share more info to the surrounding and family so they will be aware, and they will not be scared.
This was the first step I see in the my migrant community and in my family, that they was very scared that who will be affected by Covid-19 they will be must die.
Oh, another miscommunication have in the migrant community, that who are going to ship — because who are come out from the hospital, then the government is shifting them some hotel and two ship, that kind of things — so some misinformation is in the air that all worker will be killed inside the ship, because they have virus.
So this kind of information I clarify so many people who call me. "Zakir bhai, this true or not?" "Zakir bhai, can clarify me? Can clarify us?" So many people call me, they very scared.
That this is only one type of misinformation, or fake news, or fake information.
I can say to my migrant community that "No worry, no scared. Trust yourself and Singapore government really take care very good for the migrant workers. So you no worry that government will kill migrant workers in ship or bring out and kill. No, no, no."
So I think need to share the right information; not the misinformation, should be the correct information.
Grateful for the care of doctors, nurses, and friends
I see the nurses and doctors and the professors, how they treat in hospital to the migrant workers — this is awesome. This is wonderful.
This both hospital I see that they are treat us as patient, they no find am I a worker or am I local or foreigner, whatever. They treat us very well.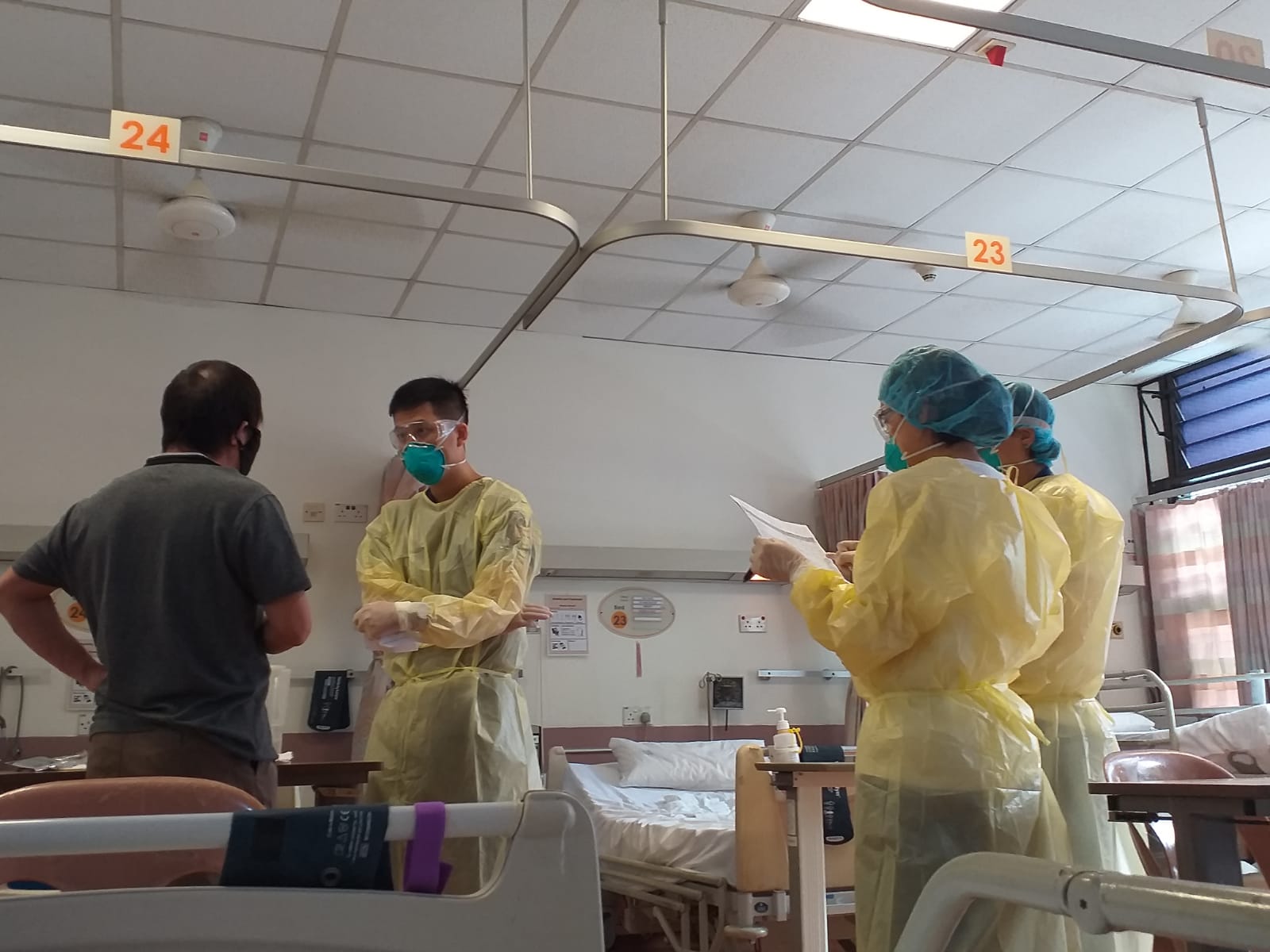 This is how I see in Yishun KTPH and now I am in National University Hospital (NUH).
One day, one nurse say, "Hey brothers!" Most of them [in the hospital] were Bangladeshi. "Can I play one Bangladesh song?"
I was surprised! She play one Bangladesh song on her, I think some microphone or something. They try to make us happy. This was very, very good. Gave very good feelings and experience for me. And I thankful for all the doctors and all the nurse of this hospital.
And how they take care us, we no have any word to say more than thanks, lah.
One good things that my colleagues — they are mostly the local: project manager, manager, director — they actually call me, WhatsApp message send me, and they are asking me and they say, "Must take care of yourself."
And I received so many wish from my migrant community, my colleagues, even my friends — local Singaporeans.
They wish me by Messenger, by WhatsApp, by email. Even they post on Facebook, Instagram. They wish for me for recover. I am very glad and very thankful that I receive so many wish, love from the people surrounding me. Local and migrant, both side. Even from my country.
Anecdote from Yishun hospital
One story, this one is from Yishun hospital. One patient, he also Bangladeshi. One ward was four person.
So the fourth person, the window side one, this guy was cry[ing on my] first day.
I ask him, "Brother, why I see you cry? Any issue? Any problem?"
Then he say, "No brother, not problem. I cry because after many years, I find this good type of bed for sleeping. In my dormitory, no have that kind of bed. So when I come here, I find this type of good bed, good pillow, these things. This one I cannot control my emotion, just cry."
I say, "Why you cry, very, very loudly cry, and the nurses also come to you?"
He say, "I cannot control my emotion that time. Because in my country, I actually have this kind of facility, from my childhood.
This soft bed, and nice bed and pillow have. But when I come here, become a migrant worker, last seven year..." — He was seven year in Singapore — "I no have this kind of facility. So after seven year, when I see these things, so I cannot control my emotions. So I cry."
What's next for him? And for Singapore?
I hope. I hope [that life will go back to normal.] I'm not sure what things will be changed.
I hope I will going back to work.
But in the meantime, my family also chasing me: "No stay any more in Singapore. When you come out from the hospital, come back to Bangladesh."
I know this is the emotional part for them, for us. They very worry and love me, and they want to see me.
So this also one kind of emotional things is playing in my mind. And I also thinking when the situation will be quite good, maybe I take home leave and go Bangladesh and see my family.
So this, how lah, depends on the situation how is that.
And also I doing some photography in my handphone. I plan that when I recover I will do a photo story from this, how much I can do. This is in my plan.
But I no have physical or mental capacity doing now.
And maybe if government work for the dormitory, so maybe dormitory will be improved, the accommodation. I'm not sure what kind of change will be happen on that area.
But in my life, I think everything will be okay. Everything will be okay.
Need to work and monitor the dormitory, workers' health condition. Because no need to push them one corner of the society and don't care, that kind of things, lah.
So I think MOH have to work closely with the company, bosses, migrant workers, dormitory bosses, and MOM. They can work together.
They have to honour that they really want to improve migrant workers' accommodation facility. Government side, they have to.
Because they doing, in Singapore is very famous for their construction building, right? And they do, when they do this kind of construction, whatever — the office building or shopping mall or the HDB or the condominium — actually they have one team they work together then they do design, that how is the air can go and come out? How is the light can come out?
So, I think if they were honest, and they do this kind of work for develop of the migrant workers' dormitory accommodation, I hope by few years, this will be improve.
Health of workers and Work Permit application
One more thing: every year we need to renew our Work Permit. So Work Permit renewal time, they have one medical test.
I think this can be do six months one time, and need to include blood pressure and diabetes. I think need to include this kind of things also, if we facing the heart problem or blood pressure problem, or diabetics problem.
[Editor's note: Before a Work Permit is issued, workers have to complete a medical examination by a Singapore-registered doctor. According to MOM's website, the medical examination screens the worker for four types of infectious diseases (tuberculosis, HIV, syphilis and malaria) and checks if they are fit to work.
If a doctor certifies that the patient is medically unfit for the job, a Work Permit will not be issued/renewed.
You can see the examination form, which requires clinical examinations and other tests be performed, here. The form also includes a component on declaration of medical history.]
I think 99 per cent migrant worker… they don't know that what really going in their body and day-by-day going to more and more sick.
And this present time, in the Covid time, I see who becoming affected by the Covid — mainly migrant workers. Actually, now they are finding they have patient with diabetes, patient with high blood pressures.
And another thing is, they are very scared, that if they have this kind of problem in their body, that they have blood pressure problem, or diabetes problem, each company know then company will be cut their permit or not renew their permit.
For this reason, even if they [migrant workers] have this kind of problem, they don't want to share with their company, and if doctor ask, don't want to share.
And this need to open, and this need to say to from the government, MOM, side that "Hey, no worry. This will be not cut your permit if you have this kind of problem."
Covid-19 experience has given him a chance to feel everyone's love
This Covid actually bring me that how actually people love to me. I am very thankful. And sometimes I actually, I check myself that, wah, so many people actually pray for me. That is really, really, very good things.
This is really very good things. And I think this kind of pray actually helped me to recovering. The medicine also, and [the] care of the nurses and doctors also, environment also.
I don't know how to explain in English, actually. How to explain this feelings. I no have capacity to explain this feelings in English.
I receive so many greetings, wish, from my colleagues, friends. I no have... I think I need to learn some word that how to explain thank you to more. I don't know what is that kind of word or sentence.
Because sometimes I feel how I receive people love and wish, that is really blessed for me. I don't know any more word more than thanks, but I thinking I need to say more things which can explore more than "thanks". I don't know how to say.
Just thank you, everyone, who actually are doing very hard work for overcome this situation. Especially who they're helping hand and heart for the migrant community and the local community in this Covid-19 situation.
From Migrant Writers of Singapore, and One Bag, One Book, and personally from Zakir, I am thankful to them and respect to them. This day we can overcome, and we can enjoy our life.
Eid Mubarak and happy Hari Raya to everyone. We will enjoy another Hari Raya soon, Eid al-Adha. This will be come after two and a half months.
So hopefully, that time the Covid-19 will be run away from the world. We can enjoy our life very soon. Very soon. No worry.
Have an interesting perspective to share or a commentary to contribute? Write to us at [email protected]
Top photos courtesy of Zakir. 
If you like what you read, follow us on Facebook, Instagram, Twitter and Telegram to get the latest updates.