Tuhina Singh, the CEO and founder of digital securities service provider Propine was mistaken for being the infamous "sovereign" lady.
Information circulated around social media
Tuhina was mistaken for Paramjeet Kaur, a 40-year-old Singapore citizen who was fined for breaching safe distancing rules at Shunfu Mart in April.
Paramjeet was subsequently caught in the act again on May 3 at the same location. Her identity was revealed when she appeared in court to face her charges on May 5.
Prior to Paramjeet's court appearance, Tuhina's information was being circulated on social media, including the SGTalk forum which included her interviews with SPH radio station Money FM 89.3, and a screenshot of the employees in that company.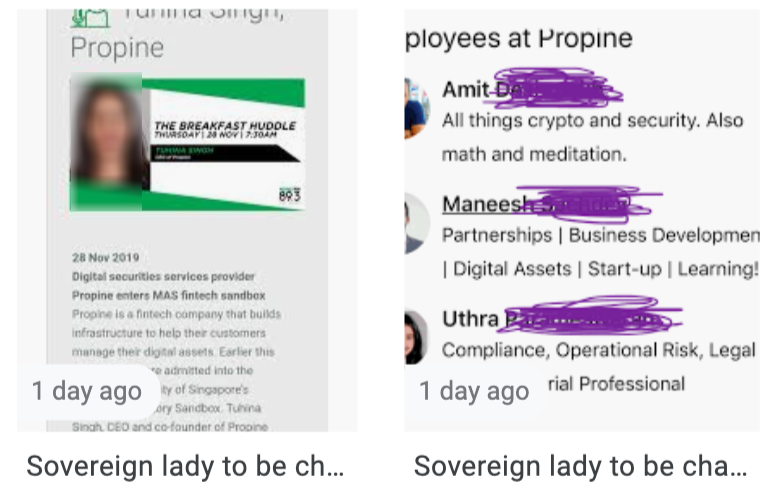 The thread has since been taken down as of the time of writing.
Her information was reportedly being circulated in the All Singapore Stuff group chat on Telegram, but it has since been deleted as well.
Thanked everyone for "promptly redacting the misinformation"
Propine has since released an official statement on their LinkedIn and official website on May 6, clarifying that their CEO Tuhina had been confused for Paramjeet.
In the statement, Propine said that they want to "thank everyone for promptly redacting the misinformation once they uncovered the truth".
Tuhina also conveyed her gratitude to those who stood up for her and the company.
"I want to thank all well-wishers who reached out and stood up for us. Thank you for helping spread the right message. We felt deeply loved and cared for."
The statement also reminded everyone to "adhere to the rules and laws that help keep our society civil".
"Let us continue to stay home, wear masks & keep ourselves, our loved ones & our country safe. Wishing everyone good health".
You can read the full statement below:
Top image via SG Covidiots and Google
If you like what you read, follow us on Facebook, Instagram, Twitter and Telegram to get the latest updates.