Follow us on Telegram for the latest updates: https://t.me/mothershipsg
Over 224,000 tests for Covid-19 have been conducted in Singapore thus far, and the Ministry of Health (MOH) aims to ramp up this number to 40,000 tests per day by the later part of the year.
To facilitate this, a recruitment exercise is being conducted by the Health Promotion Board (HPB), the National Trades Union Congress (NTUC), and the Employment and Employability Institute (e2i).
According to the job application form, individuals who are hired as swab assistants will earn a monthly salary of S$3,400, while those who are converted to swabbers will earn S$3,800 a month.
More tests to be done in Singapore
The recruitment exercise comes after the Multi-Ministry Task Force said on May 12 that it would be testing the entire population of 300,000 migrant workers in dormitories, to facilitate their safe return to work.
All preschool staff in Singapore will also be tested from May 15.
Requirements
Job applicants must have a minimum education qualification of GCE 'N' levels or a level five Statement of Attainment (SOA) for the Workplace Literacy and Numeracy assessment (WPLN).
They must also be medically fit with no history of chronic diseases and be proficient in English and a mother tongue language (which can be Chinese, Malay and/ or Tamil).
Fluency in dialect and Bengali is a bonus.
Job listing publicised by members of parliament
Members of parliament Tan Chuan Jin and Sun Xueling publicised the recruitment exercise on their Facebook profiles on May 14, attaching a recruitment poster with details of the roles.
Tan said that "this is one small slice in a bigger effort to create more new jobs, temporal or for the longer term".
He encouraged Singaporeans to "look out for and share these opportunities with those who may need it".
Sun also highlighted that the job will "entail risks" and that seniors should not apply, as they are more vulnerable to Covid-19.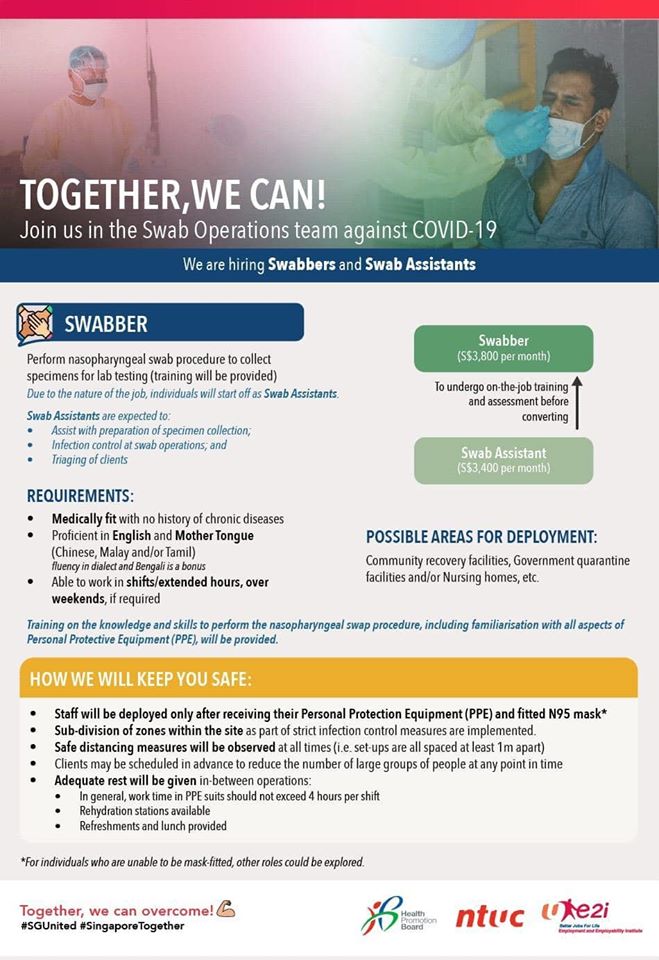 On-the-job training provided, to work six rotating days a week for six months
According to the poster, there will be on-the-job training on the knowledge and skills to perform swab procedures, including familiarisation with all aspects of Personal Protective Equipment (PPE).
Other roles can also be explored for individuals who are unable to be mask-fitted.
Applicants who are successful may be deployed to various locations such as Community Recovery Facilities, Government Quarantine Facilities, and nursing homes.
They will also have to work six rotating days a week for a period of six months, with an option to extend for three more months.
Here's what each job entails:
Swab assistants
Ensure that the right client turns up at stated appointment slot for on-site registration by checking name and ID number against namelist provided by the camp

Fill in registration and laboratory forms completely

Disinfect tables and chairs after each client during triage and registration. Prepare tissue papers for clients if needed

Coordinate with ushers to approach individual client with swab kits (with correct client names) at designated areas

Inform client on swab process, potential discomfort and next steps after swabs

Prepare and seal specimen bag/s for swabber to deposit specimen container after each swab

Triaging of clients
Swabbers
Check with verified clients for any respiratory symptoms/contraindications based on checklist provided

Coordinate with medical doctors to swab and attend to isolated clients who declared positive for respiratory symptoms/contraindications

Double check correct client name labels on swab kits and ensure 1 meter spacing at all times

Perform Nasopharyngeal swab procedure to collect specimens for lab testing. Attach patient sticker with lab number onto specimen container after each swab

Follow necessary procedures and secure the swab in the UTM on lab provided rack

Check in on client's well being at all times before and after swab
Good question
Top image via JurongHealth Campus and Sun Xueling on Facebook
If you like what you read, follow us on Facebook, Instagram, Twitter and Telegram to get the latest updates.