With circuit breaker measures due to last until at least June 1, Singaporeans have been told to stay home and defer non-essential trips outside, in order to minimise the spread of Covid-19.
This means that Meet-the-People Sessions, traditionally held in person by Members of Parliament (MP) in their respective constituencies, have been suspended, with residents told to get in touch via email or phone instead.
Singapore People's Party (SPP) chairman Jose Raymond, who intends to campaign in Potong Pasir Single Member Constituency (SMC) in the next general election, has found a novel way to connect with residents amid the current circuit breaker -- sending letters.
Raymond previously stated that anyone in Potong Pasir who may need his help can message him directly.
Sent more than 1,000 letters to Potong Pasir residents
According to Raymond, since he stopped doing door to door visits, he has been sending letters to residents block by block, in order to remain in contact with as many residents as possible.
This is in addition to using social media, whatsapp messages, and through phone, video or Zoom calls.
Raymond said that he started with 50 letters a day, and now average 80 letters a day, with a total of more than 1,000 letters signed off thus far.
He said that the home addresses were collected over the last three and a half years, through the frequent house visits to residents of Potong Pasir conducted by Raymond and his team of volunteers.
According to Raymond, some Potong Pasir residents have reached out privately to thank him, with some residents thanking him publicly.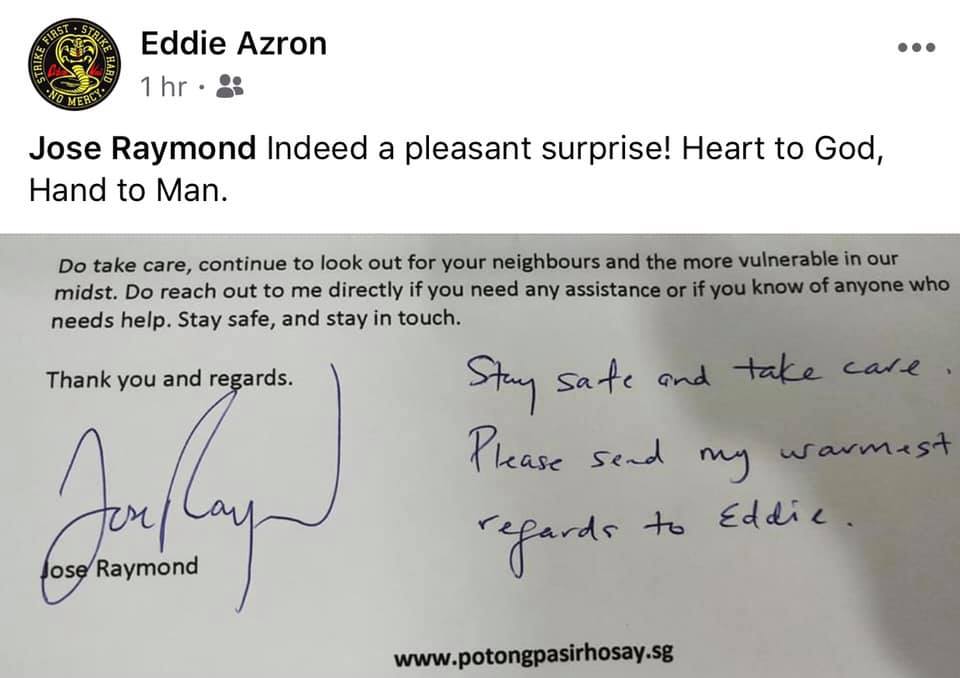 You can see Raymond's full Facebook post here:
Potong Pasir residents can submit appeals directly via his website
In a separate Facebook post, Raymond said that Potong Pasir residents can now submit appeals to him directly via his website's "Get Help" tag.
He said that ever since he stopped doing door to door visits in Potong Pasir due to the implementation of circuit breaker measures, some residents have been reaching out to him for various appeals via Whatsapp or phone calls.
These appeals include things such as traffic fines, medical bills and job placements.
Raymond said that as he could not meet these residents who needed the help, the residents were asked to send their documents to him via Whatsapp, Facebook messenger or email, whichever was more convenient.
While receiving these requests, he also worked on creating a section on his website to allow residents to submit appeals to him directly.
Speaking to Mothership about the website, Raymond said:
"When I first started knocking on doors, I found that the older residents of the estate usually smiled whenever I told them that the Jose in my name was pronounced as 'Hosay'.

I then came up with the idea of using 'Potong Pasir Hosay' as the local slogan to identify with my campaign and ground engagement. It was meant to stick because it also means Potong Pasir is great!

When I floated the idea of using Potong Pasir Hosay as my slogan with a few of my classmates at the Lee Kuan Yew School of Public Policy, they said they found it easy to identify with it, which is why I settled on the slogan, and the subsequent choice of the URL for the website.

The site serves as a one stop location for people to know a little bit more about me, my career so far and also the many volunteer roles I have undertaken throughout the course of my life."
He added that the website has a chatbot which directs all incoming messages to his Facebook account.
Since the "Get Help" tag was added the previous week, Raymond told Mothership that four appeals have already been submitted.
Any time of the day
With the new function now live, residents can send their appeals to Raymond at any time of the day, and urgent appeals can be filed immediately.
Raymond assured residents that they can still contact him via the previous methods, such as Whatsapp or calling him personally, and that he will explore new ways to keep residents engaged in the longer term.
"In the slightly longer term, we will continue to explore new ways to keep engaging Potong Pasir residents and to help them with appeals support to minimise any personal burden. Technology, coupled with human relationships, can be a powerful tool to bring hope and help to people in need," said Raymond.
You can see the full Facebook post here:
Related Story
Top image from Jose Raymond/FB. 
If you like what you read, follow us on Facebook, Instagram, Twitter and Telegram to get the latest updates.