Preschool employees had to reportedly wait for more than one hour outdoors to board shuttle buses to take them to their allocated swabbing centre.
A video of the wait outside Khatib MRT station has since been put up on Facebook by Lianhe Wanbao:
The video's caption said a total of 30,000 preschool education staff in Singapore have started testing for Covid-19 from May 15.
It added that the first batch of employees reported to Tampines, Dover, Woodlands, and Khatib MRT stations since 8am to wait to be transferred to the swab testing centres by shuttle bus.
At around 10:30am, the preschool staff queuing at Khatib MRT station formed a queue roughly 200m long, with a waiting time of over one hour just to board the shuttle bus.
Based on the video uploaded of the scene, there appeared to have been about 200 people in the two queues.
An image sent by a Mothership.sg reader showed the packed situation witnessed on the ground: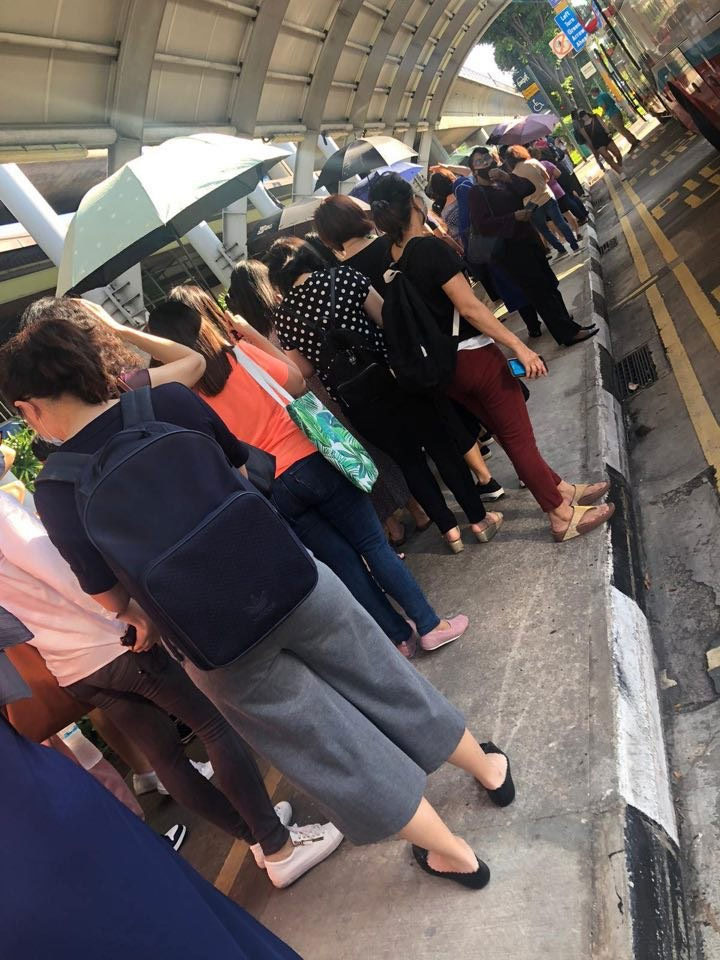 The reader revealed that those going for the swab tests are given allocated timings, but the situation on the ground to queue for transport appeared to have defeated safe-distancing measures.
The Ministry of Social and Family Development posted an update on Facebook regarding the lines.
"The queues at early morning and mid-day arose due to a scheduling issue for one of the preschool operators, which has since been resolved, and some staff turning up hours ahead of their scheduled slots."
According to MSF, "the situation at the other transport points have been manageable" and safe distancing has been observed.
Background
From May 15, all preschool staff are to undergo a one-time swab test.
This is according to a circular sent by the Early Childhood Development Agency (ECDA) to preschool staff in Singapore.
The swab tests will be conducted throughout May 15 to 26, even over weekends, as well as the Hari Raya Puasa public holiday, due to the tight schedule.
4 swabbing centres
There will be four swabbing centres and preschool staff will be allocated to one centre.
Staff can only go to the swabbing centres via authorised shuttle buses at the following designated pick-up points:
Woodlands MRT
Tampines West MRT
Dover MRT
Khatib MRT
The entire process, including travelling to the swabbing centres, will take about one hour.
The swab test itself will take about six minutes.
Preschool staff can generally expect to get their results within 48 hours.
The swab test is said to be safe for pregnant women and wouldn't invalidate the fast of Muslim staff.
All staff will have to do the swab tests as part of the "stepped-up measures" and to "safeguard the wellbeing of all children and staff" as general services in preschools are opening up soon.
According to the circular seen by Mothership, this one-time swab testing has been prioritised for preschool staff.
If you like what you read, follow us on Facebook, Instagram, Twitter and Telegram to get the latest updates.