You might not have heard of Lee Xin Li, but chances are high you've seen his work.
Lee, who works as an architect, is the illustrator behind beautiful artwork that appear to be inspired by Belgian cartoonist Georges Remi, the man behind The Adventures of Tintin.
However, unlike the globe-trotting adventurer, Lee's characters are entrenched in very local scenes that will resonate with Singaporeans:
https://www.facebook.com/PokPokAway/photos/a.132291773643222/693253757547018/?type=3&theaterhttps://www.facebook.com/PokPokAway/photos/a.132291773643222/372055373000193/?type=3&theater
Lee's latest masterpiece, however, really takes the cake. You'll need to tap it to view it in its entirety on Facebook.
Familiar scenes of Circuit Breaker life
It's an incredibly detailed depiction of a familiar scene of an HDB corridor overlooking an estate square. While it's during the Circuit Breaker (everyone outside is wearing masks), the scene is still relatively bustling with energy.
If you look closely, you might spot otters frolicking at a playground, and various people playing instruments from their HDB flats.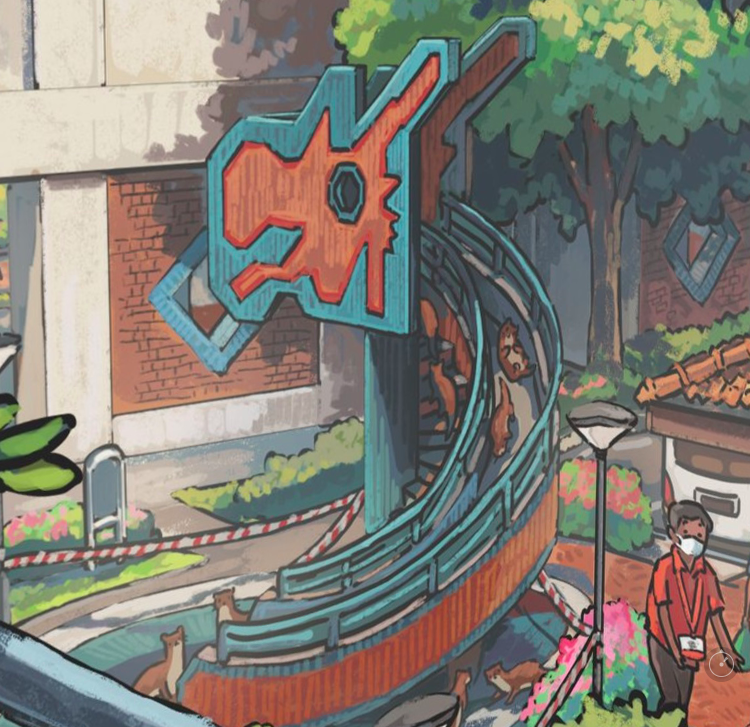 Speaking to Mothership, Lee said this project was the result of a collaboration with the Ministry of Communications and Information (MCI) who wanted to support local illustrators since the creative industry was badly hit by Covid-19.
The brief was simple: To highlight that everyone can play their part in overcoming Covid-19 by adhering to Circuit Breaker measures like social distancing, wearing masks, and working from home.
"At the same time, they hoped to encourage Singaporeans to stay resilient and support each other during these trying times," said Lee.
Challenging to depict so much in a small space
The entire project took him about two weeks to complete and, as you can imagine, was fraught with challenges. One of them was the space limitation.
"It was tricky to put in as many elements as possible yet still able to view them clearly without the elements being too small. I had to balance the architectural accuracy and the drawing intent: to show how Singaporeans have adapted to the circuit breaker measures and possibly new lifestyle norms post-circuit breaker as we continue to fight Covid-19."
HDB corridors are already relatively narrow spaces on their own, so Lee had to remove window grills and open the doors of the flats to create more space in the immersive 360° illustration.
Lee also recognised that not everyone experiences the Circuit Breaker in the same way, so he based the characters on actual people he knows, as well as his own personal experiences.
"The HDB flat experience was inspired by my own experience living in HDB at Jurong East, Bukit Batok, or visits to my sister's flat at Bishan, and friends' flats at Boon Keng and Whampoa."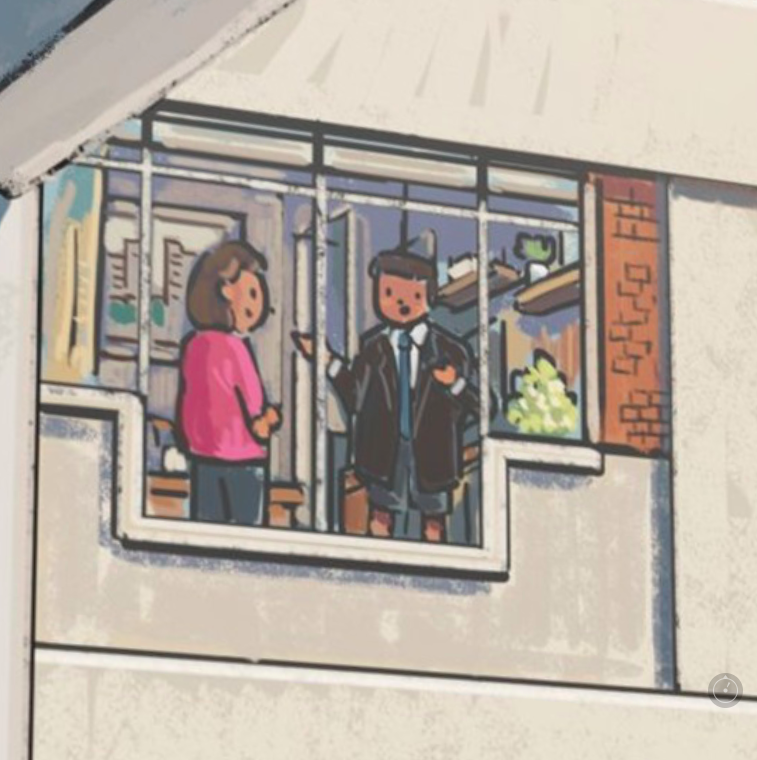 Easter eggs: Rebel cats and Final Fantasy
Lee also threw in some Easter eggs inspired by viral stories like the dog with a plastic bag over its head and rebel cats sitting on cordoned-off benches.
There are also cultural Easter eggs waiting to be found:
"There are three references to the Adventures of Tintin in the piece. There are also references to Studio Ghibli films which I have been re-watching during this circuit breaker. I also played Final Fantasy 7 when I was younger; I have added in a couple of references to that as well."
He even managed to sneak in works from fellow local illustrators Josef Lee and Muffinsaurs (see if you can spot them!).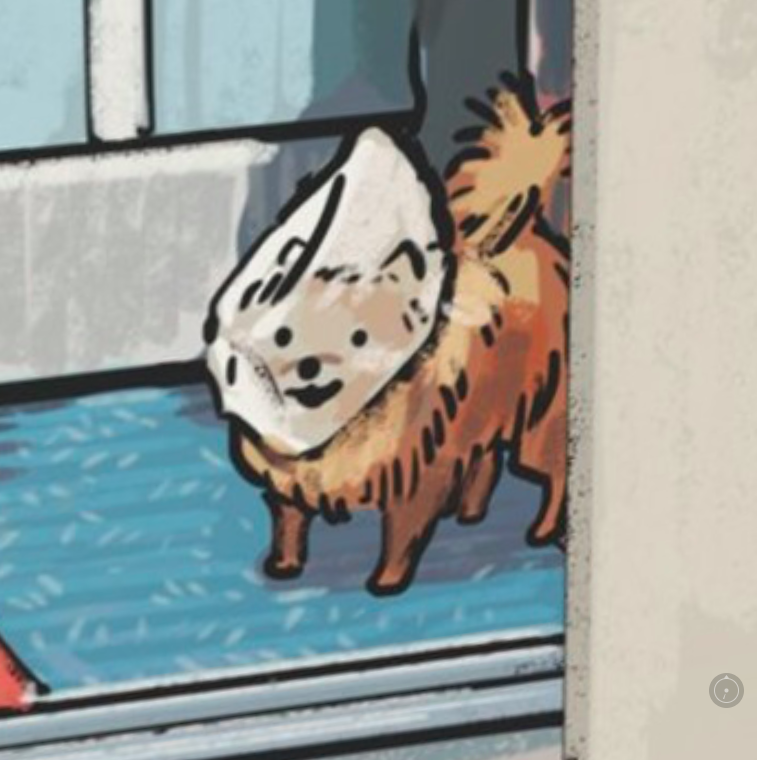 Published on May 15, Lee's post quickly went viral, garnering over 9,300 shares on Facebook within a week.
"This made me miss home so much!" said a Facebook user.
"The detail in this is so amazing! I've been looking through it and zooming in for the small details for so long now!" said another.
One user requested a copy so that he can hang it at home.
Lee attributes the virality of his piece to the novelty of the 360° medium which allows viewers to move around the illustration.
"Then there are the many relatable elements and good stories highlighting our kampong spirit — something you might have encountered in the neighbourhood or experienced it yourself," he added.
Received generally positive feedback
Generally, feedback on his piece has been very positive, Lee said.
"Singaporeans understood the intention and they had fun with the artwork, just like a (Where's) Wally piece."
Lee also received feedback about the HDB spaces — namely that they are too tight.
While this can be attributed to the limitation of a 360° image, he admitted that it was also his intention to illustrate the challenges of maintaining social distancing and living together — especially for bigger families — during the Circuit Breaker.
Privacy issues aside, he hopes that viewers will be prompted to think about the less-privileged who are struggling with less space and freedom:
"Think about migrant workers living in dormitories, families with domestic abuse and so on—I hope these reflections will encourage more empathy in the community and perhaps also encourage people to reach out to those in need in this period."
Speaking about those who are less fortunate, Lee explained that it was also an intentional choice to include musicians in his piece because the music industry was badly hit by the pandemic.
We managed to spot a violinist, a saxophonist, a guitarist and a clarinetist.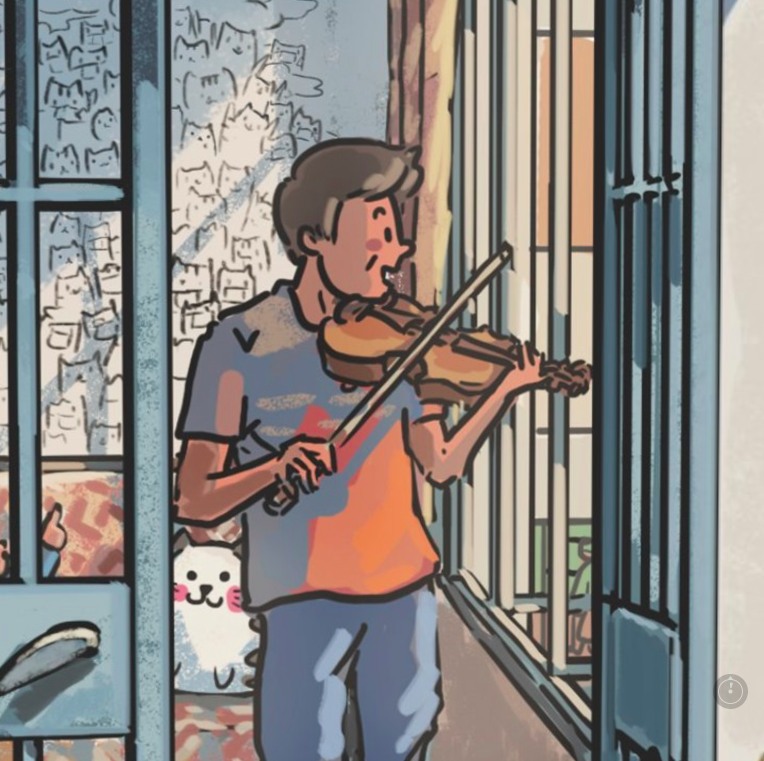 "The violin player was actually a tribute to my sister, niece and nephew, especially my dad who plays and teaches the violin despite his age," said Lee, adding that his dad, like many other musicians, was affected by the loss of gigs.
Music, said Lee, is a medium that has tided people over during lockdowns around the world, like in Italy where people sang and danced from their balconies, hence its inclusion in his piece.
"I picked those that I enjoyed a lot but regrettably unable to play — Issac Albeniz's guitar music or the saxophone found in jazz music by Charlie Parker."
Looking forward to kaya toast and half-boiled eggs
As an architect, not much of his work has changed because it is quite solitary, said Lee.
"Projects also take longer than usual as the decision-making and parties involved are affected by the Circuit Breaker and lockdowns abroad. Because of that, I am able to find time to work on my personal projects."
And while it is more distracting to work at home, he has adjusted to it and developed routines that allow him to work and exercise, although he misses the occasional gatherings.
"I am used to solitude at school, work and during my travels but I miss seeing people gathering and enjoying themselves," he said.
Most of all, he misses the freedom of planning a trip without concerns of infection and travel restrictions, as well as mundane things like getting a jar of pasta sauce from the supermarket.
"For now, I look forward to a haircut and maybe enjoying fresh kaya toast and half-boiled eggs with a cup of kopi siew dai at the coffeeshop."
---
Stories of Us is a series about ordinary people in Singapore and the unique ways they're living their lives. Be it breaking away from conventions, pursuing an atypical passion, or the struggles they are facing, these stories remind us both of our individual uniqueness and our collective humanity.
---
Top image credit: Pok Pok and Away/Facebook.
If you like what you read, follow us on Facebook, Instagram, Twitter and Telegram to get the latest updates.