It's not uncommon for couples to surprise each other by sending food or gifts via delivery services, especially during this Covid-19 circuit breaker period.
However, not all partners are equally appreciative of these gestures.
Girlfriend asks boyfriend not to send her sweet food but to give her cash instead
On May 18, a pair of screenshots of a woman's musings on Instagram were shared on Facebook.
In it, she complained about how her boyfriend sent her desserts via food delivery.
In the first screen shot from Instagram Stories, the girlfriend can be seen telling her boyfriend not to send over any sweet things as she is "sian (Hokkien for tired) of sweet food already".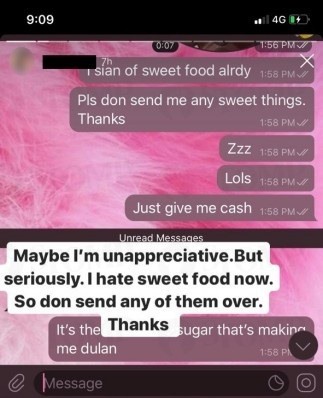 She then asked her boyfriend to "just give (her) cash".
While she acknowledged that she might seem "unappreciative", it was simply because she "hate sweet food now".
Boyfriend gets scolded for sending over 'overpriced cake' and 'yoghurt' despite being told not to
In a following screen shot, the girlfriend can be seen scolding her boyfriend for sending her an "overpriced cake" and "yoghurt":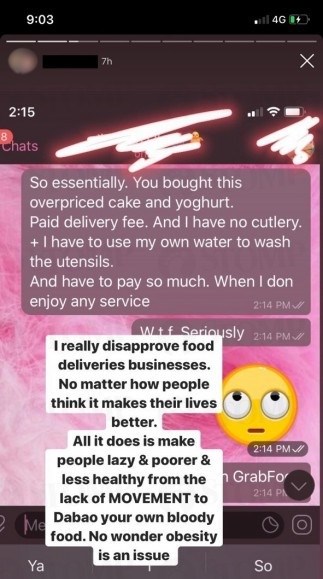 After grumbling about not having any cutlery and having to use her own water to wash her utensils, she chided her boyfriend for paying so much for the food and delivery, despite her not enjoying any of the service:
"So essentially. You bought this overpriced cake and yoghurt. Paid delivery fee. And I have no cutlery. + I have to use my own water to wash the utensils. And have to pay so much. When I don enjoy any service"
She added that she "really disapprove of food deliveries businesses":
"No matter how people think it makes their lives better. All it does is make people lazy & poorer & less healthy from the lack of MOVEMENT to Dabao (Chinese for take away) your own bloody food. No wonder obesity is an issue."
Girlfriend accuses boyfriend of not listening to her, says delivery is an "insult"
In a following screen shot of their conversation, the boyfriend seemed to have acknowledged his mistake:
"Yes I said I won't ever get it"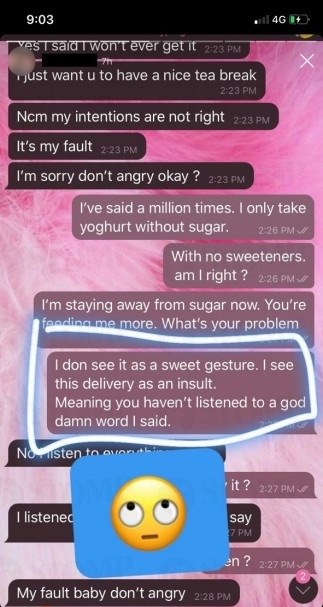 He explained that he just wanted her to have a "nice tea break" even though his intentions were "not right".
He also mentioned that this was his fault, apologised, and asked his girlfriend not to be angry:
"It's my fault

I'm sorry don't angry okay?"
However, his comments appeared to have angered his girlfriend even more, as she accused him of not listening to "a god damn word" she had said:
"I've said a million times. I only take yoghurt without sugar.

With no sweeteners. Am I right?

I'm staying away from sugar now. You're feeding me more. What's your problem

I don see it as a sweet gesture. I see this delivery as an insult.

Meaning you haven't listened to a god damn word I said."
People should not send food over if they don't know what the receiver likes
In an earlier screen shot, the girlfriend had also complained that people should not send food if they "don't even know what the other party like".
She added that "the receiver will only realise that is how much you know about them" and that people should not "just hop on this trend cause everything is doing it":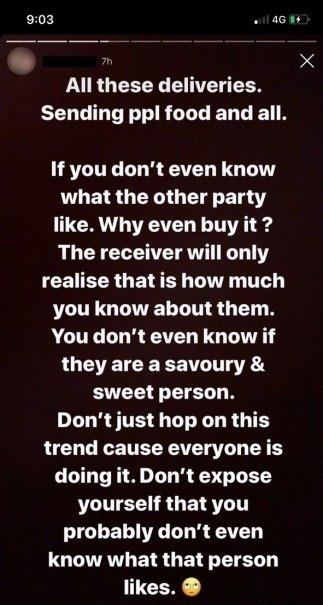 Finally, the girlfriend posted a screenshot of S$50 she had received via PayNow on May 16 at 2pm, followed by the caption:
"Don't know what to buy me. Give me cash. So Easy."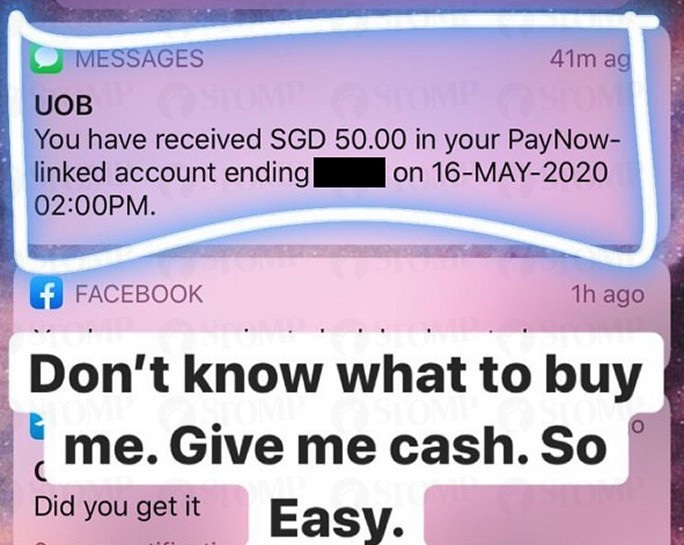 However, she did not mention if it was her boyfriend who transferred her the S$50.
Exact nature of relationship not clear
However, some caveats should be in place.
It is not known what the exact relationship of the two people are but it has been assumed that they are girlfriend-boyfriend.
Some people who read the Instagram Stories assume they are in a sugar baby-sugar daddy relationship.
Some have also read the conversation as between a man trying to court a woman but they are not in a relationship yet.
These differences in starting points will alter the dynamics of how the exchanges are read.
Top image via All Singapore Stuff Facebook via Stomp and David Holifield for illustrative purposes
If you like what you read, follow us on Facebook, Instagram, Twitter and Telegram to get the latest updates.