Follow us on Telegram for the latest updates: https://t.me/mothershipsg
Update on May 13, 7:05pm: Foodpanda has sent a separate update in addition to their earlier statement, explaining that the incident was a glitch as the customer service agent could not input the refund amount. 
Despite facing multiple cancellations, a Foodpanda customer was left feeling worse after receiving a "sarcastic" apology voucher of S$3.3000000000000003.
"So sad"
Speaking to Mothership, the customer, known as Heng, said she had placed her order on May 11.
The order was to be self-collected on May 12, at 11:30am.
However, Heng received a notification that the restaurant had cancelled the order on the morning of collection itself, at 9:49am.
According to Heng, this was not the first time that this particular restaurant had cancelled on her.
Heng then started a live chat with a Foodpanda staff at around 9:50am to explain her situation.
Unfortunately, the customer felt that she had received an "unprofessional" reply: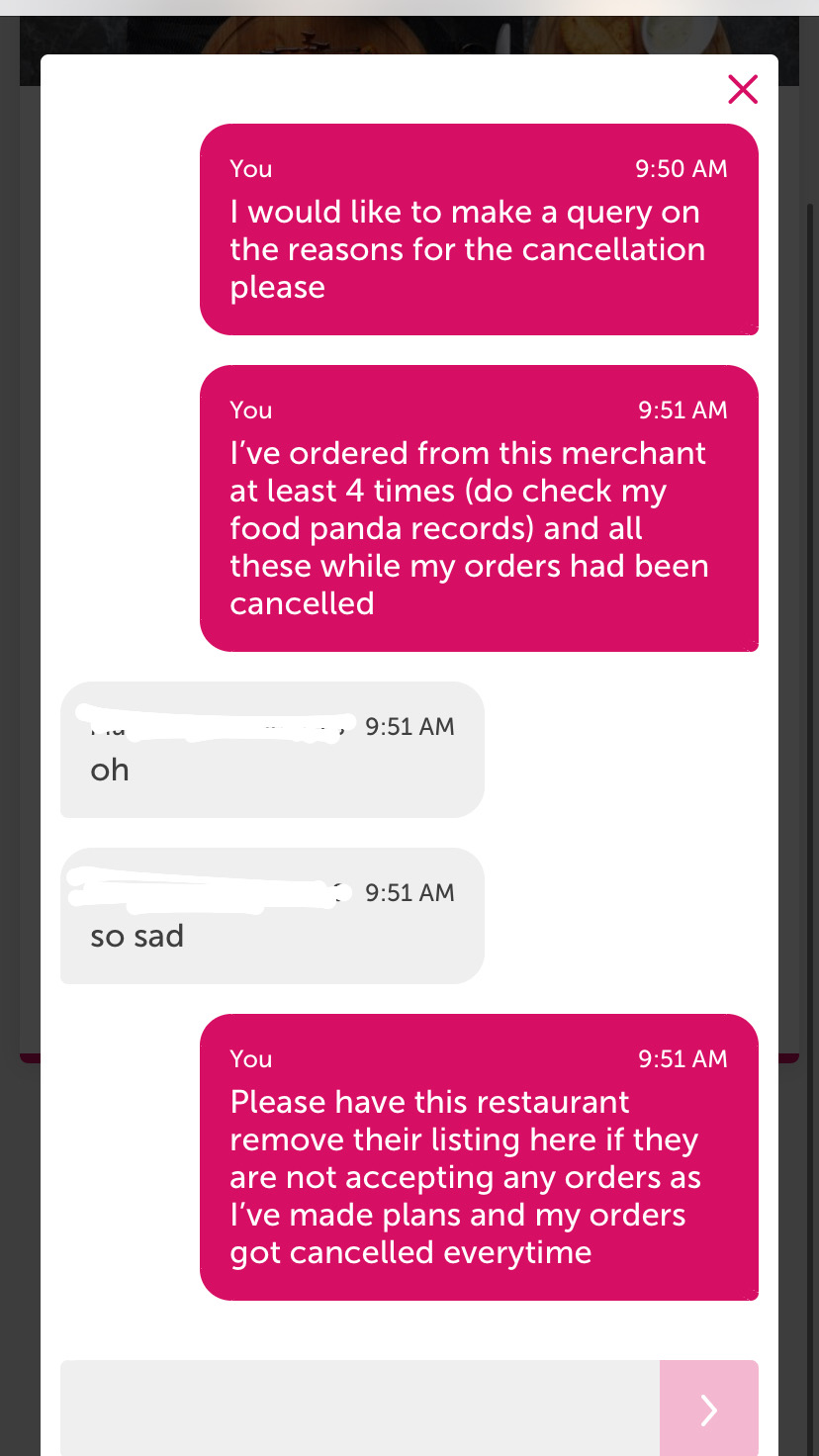 After "oh" and "so sad", the staff updated that he had forwarded Heng's feedback to the restaurant, and asked her if she had any other issues.
Emailed Foodpanda
Heng said that she emailed Foodpanda about this particular cancellation as well, and the delivery company reportedly cited an "uncontactable" restaurant as the reason.
The very first time the same restaurant cancelled on her, Heng said, Foodpanda had reportedly cited a technical issue as the reason.
Heng also lodged another feedback with Foodpanda regarding her encounter with the live chat staff.
In response, Foodpanda assured her that they would look into the matter, as they take staff training very seriously.
Apology voucher
The next day, Heng received an apology voucher from Foodpanda: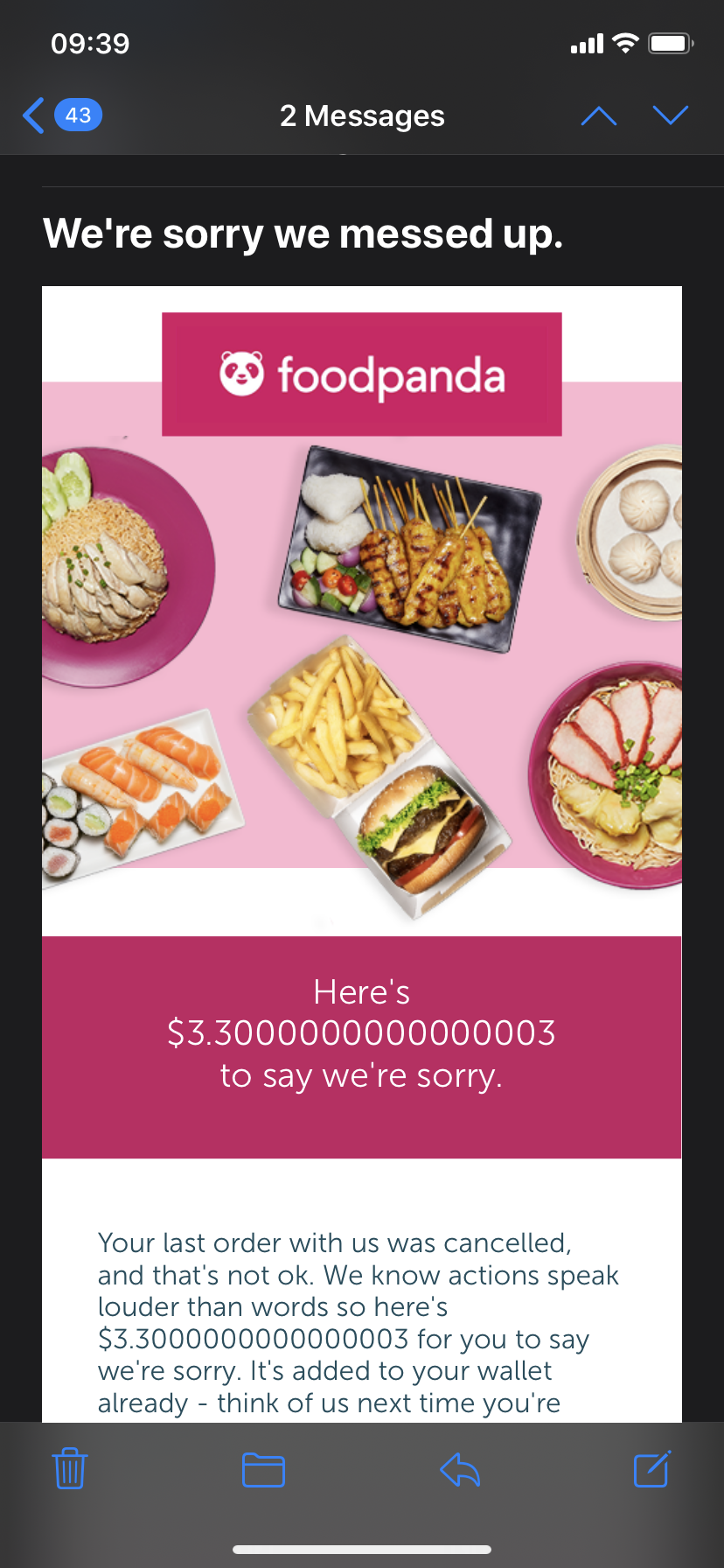 But the S$3.3000000000000003 did not make her feel better.
Heng said:
"It is very clear to me that Foodpanda is trying to be sarcastic in putting so many zeros in the latest voucher. And on top of the many bad reviews Foodpanda currently have due to unfulfilled orders and refunding issues, this situation I encountered is on a whole new level, with the company responding to my issues by insulting my actions and showing no sincerity at all."
She also told Mothership that she has received past refunds from Foodpanda, both of which looked "normal":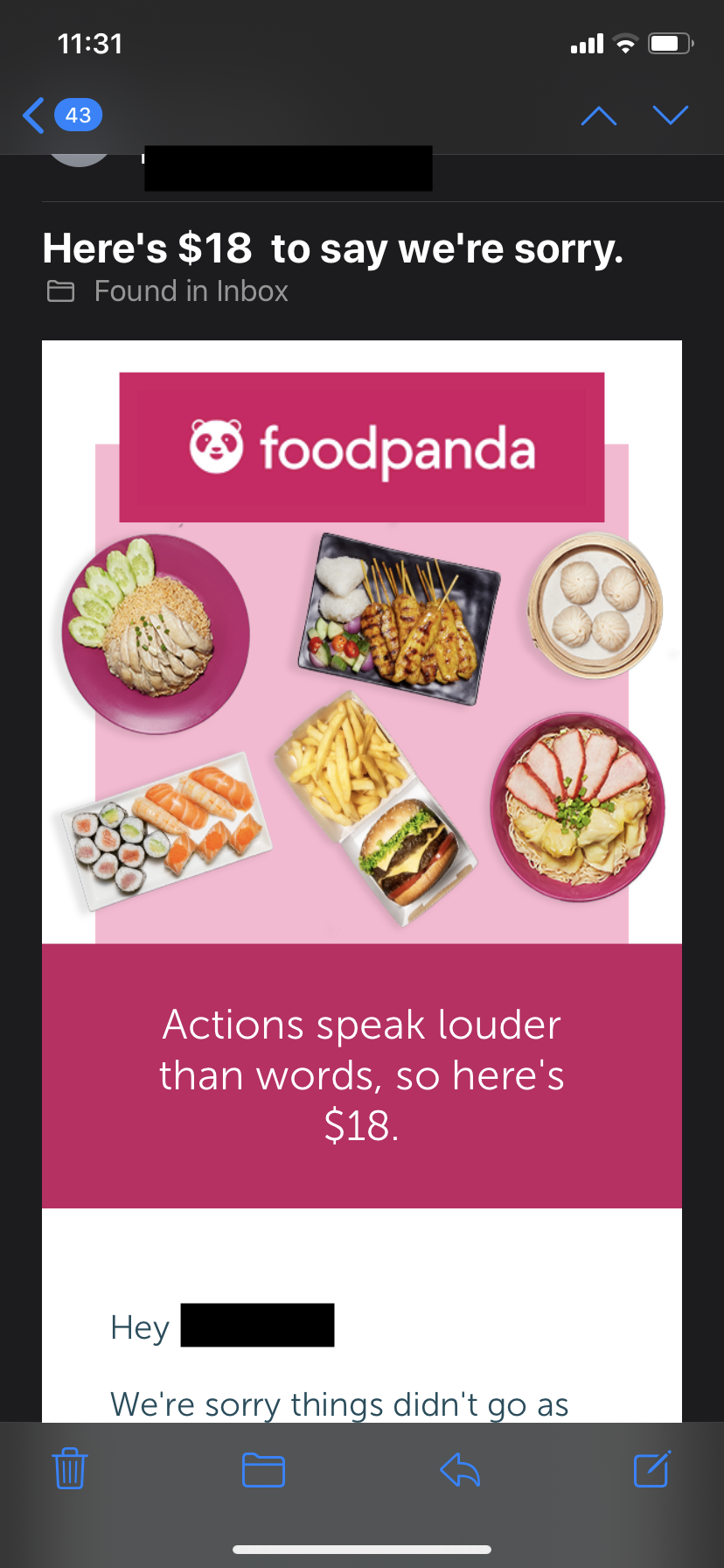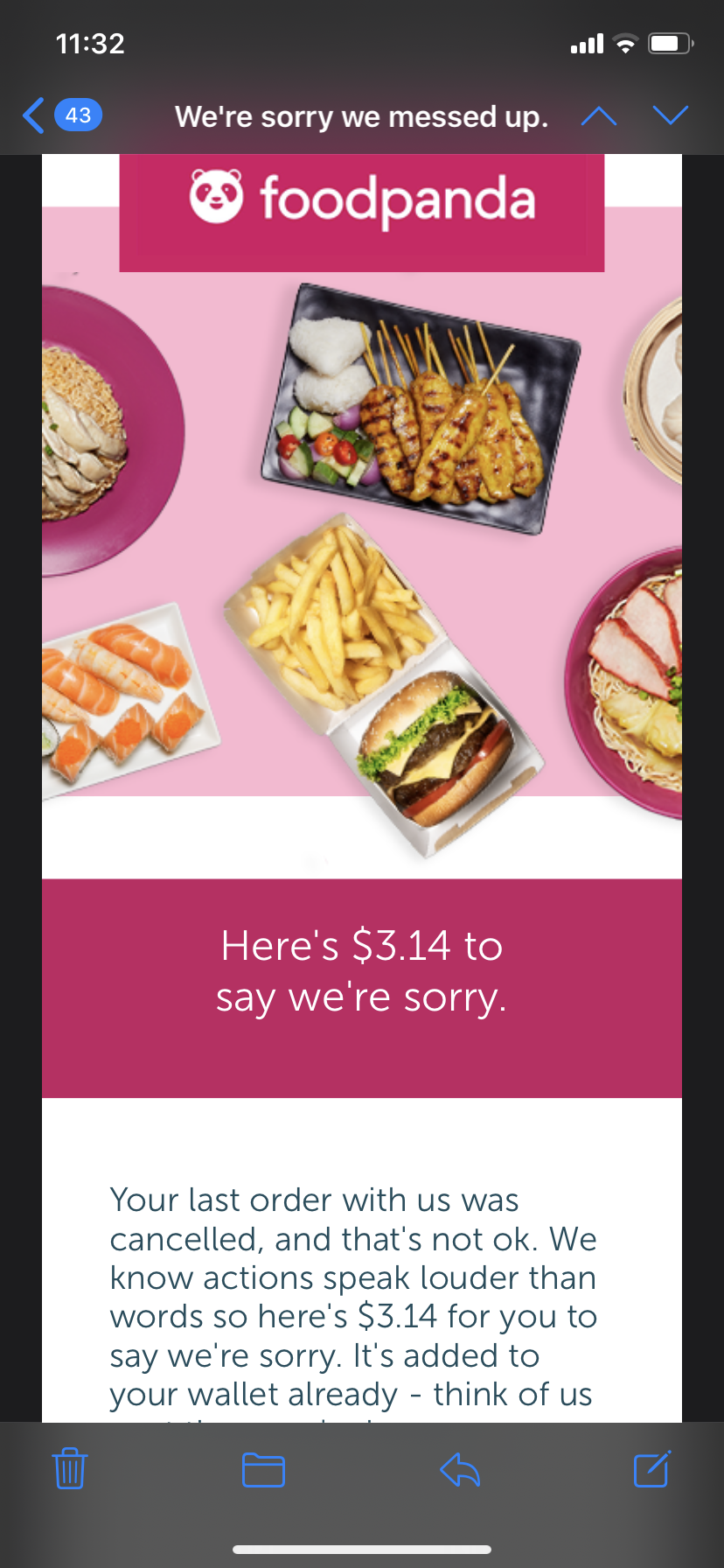 Heng revealed that she has written to Foodpanda to understand how the vouchers are being calculated.
Foodpanda responds
In response to queries by Mothership, Foodpanda said that they take customer feedback "very seriously", and will be investigating the matter.
The company also explained their cancellation system.
However, no mention was made of the S$3.3000000000000003, and whether it was a glitch or otherwise.
You can read Foodpanda's statement in full here:
"Foodpanda takes customer feedback very seriously and continues to review our processes to ensure the best possible experience. We will be investigating this matter, and would like to apologise for any inconvenience and unhappiness caused.

Foodpanda does not cancel orders on behalf of our restaurant partners. Our restaurant partners have full autonomy to decide if they want to continue taking in orders via Foodpanda. We will be working closely with our restaurant partners to ensure better planning of resources and manpower to minimise such occurrences. We would like to encourage our customers to get in touch with us at [email protected] with their details so we may be able to assist with their feedback, requests and refunds."
Top image courtesy of Foodpanda customer
If you like what you read, follow us on Facebook, Instagram, Twitter and Telegram to get the latest updates.