Many people have turned to online shopping during this circuit breaker period as they dutifully stay at home.
In response, some scammers are taking this opportunity to prey on shoppers using sophisticated methods.
Recently, some people in Singapore have received fake SingPost delivery text messages to notify them about the delivery status of their purchase.
These links are likely to be phishing scams under the guise of a SingPost delivery tracking page.
According to one Facebook user, Thomas TangMushi, the message "looks so real" that you might fall for it if you were indeed waiting for deliveries to arrive.
Here's how it looks: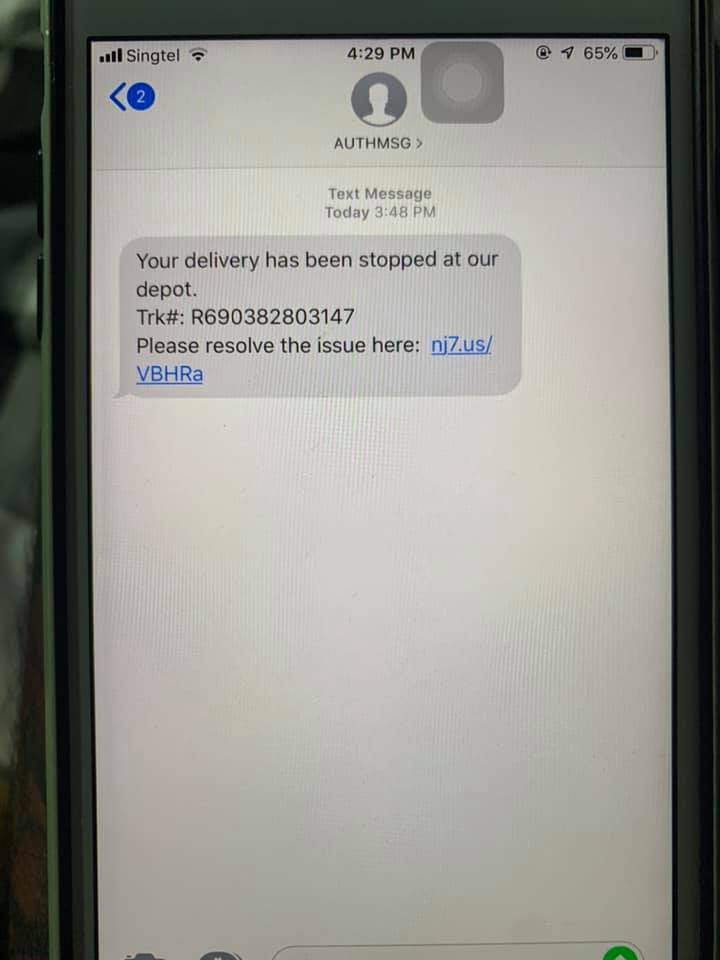 The link in the text message will direct you to a fake delivery tracking webpage that has the SingPost logo at the top.
The potential victim is then informed that the delivery has been put on hold due to outstanding payment.
The payment indicated on the page varies, but it is usually a small amount such as S$3, S$1.67, or S$2.95.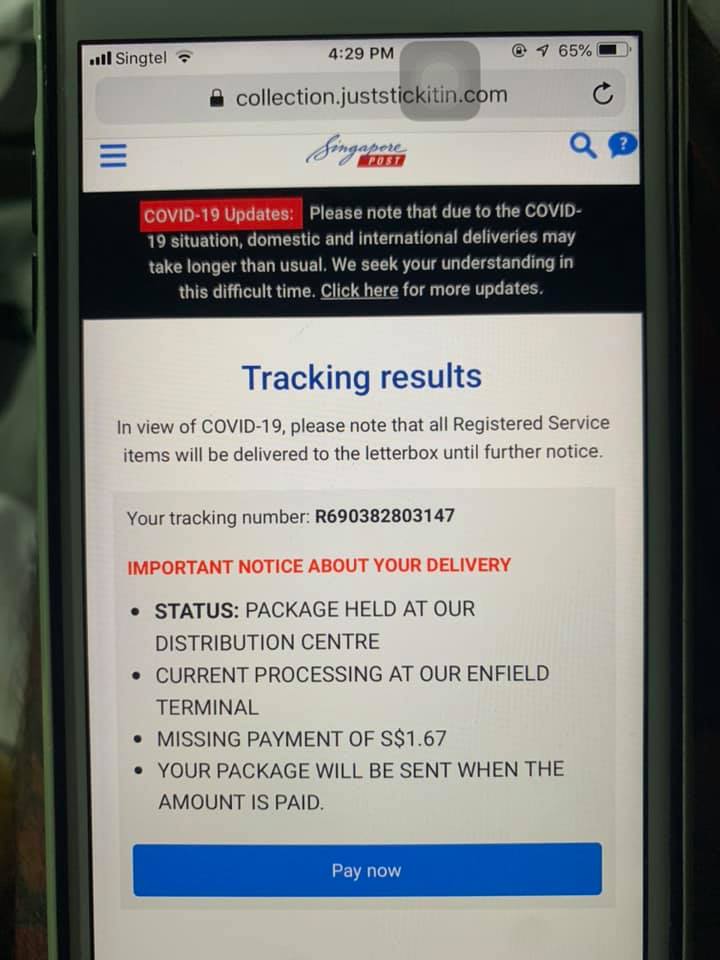 Here's another example of how the page might look like after you click into the link in the text message: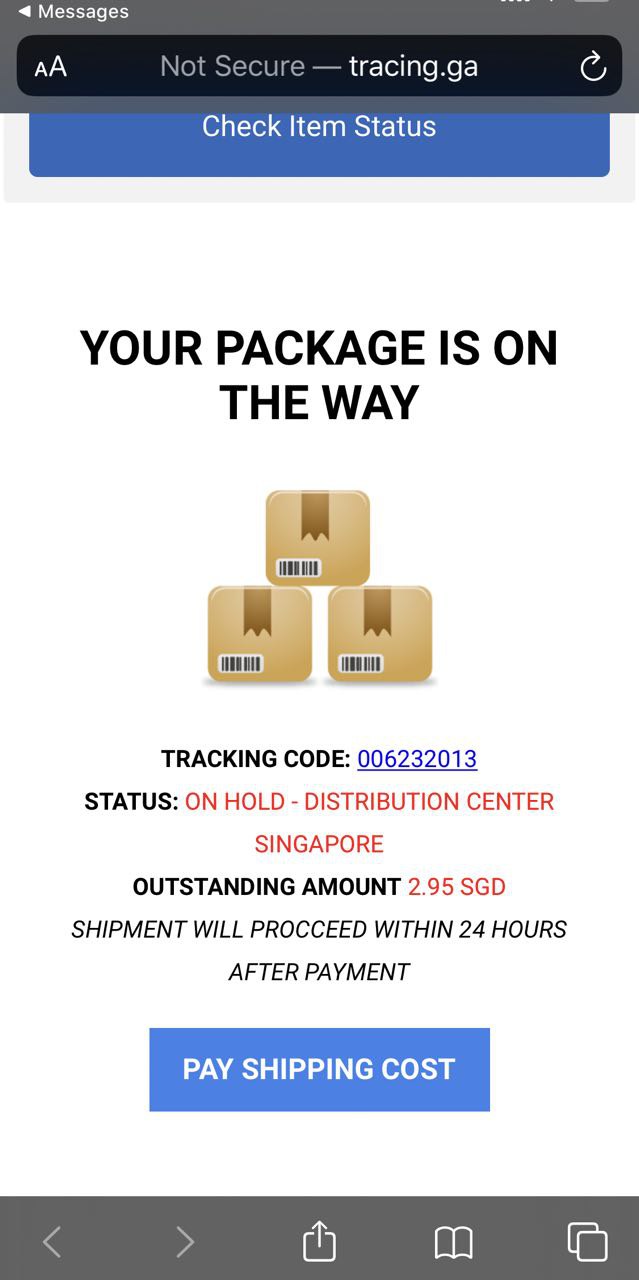 Then you will be directed to another page where you'll have to enter your name, address, phone number, and credit card details.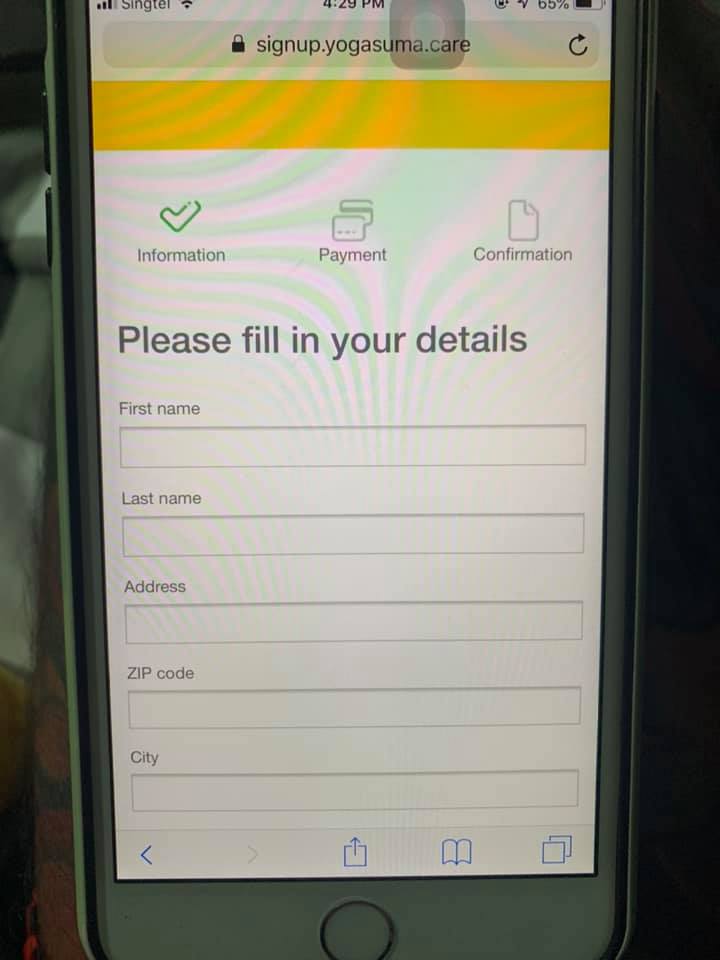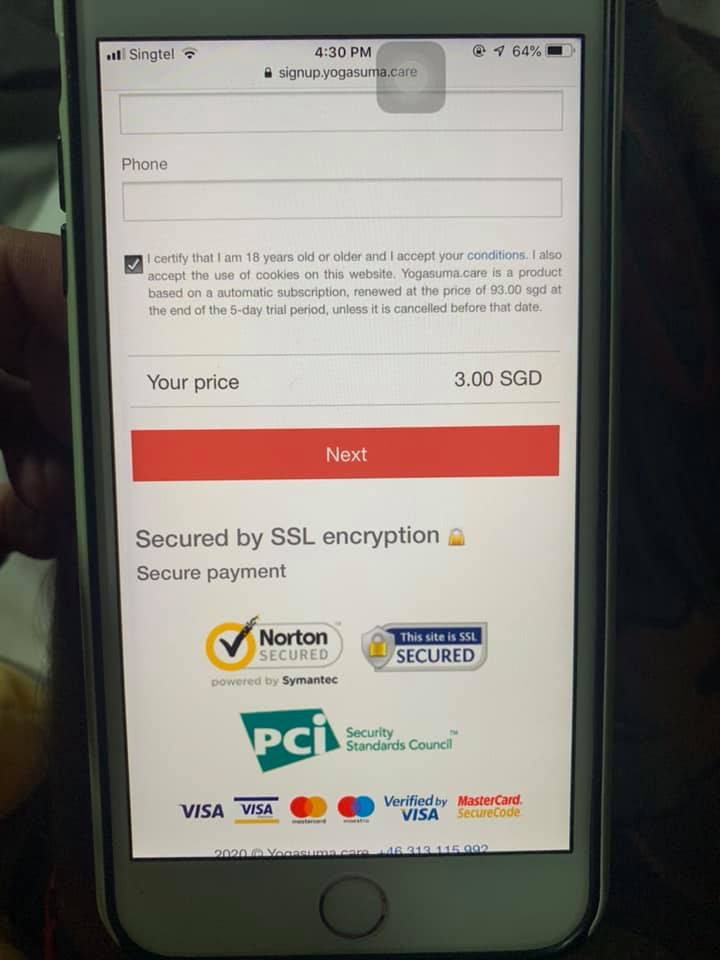 But eagle-eyed consumers will sense something is amiss from the website URL such as "collection.juststickitin.com" and "signup.yogasuma.care".
Phishing scams
These fake messages are phishing attempts, SingPost confirmed with Mothership.
Phishing is an attempt to obtain sensitive information, such as names, passwords, and credit card details from the victim.
The scammers usually disguise themselves as well-known or trustworthy corporations over electronic communications.
According to SingPost spokesperson, Robin Goh, SingPost is aware of this particular phishing scam that has been designed to imitate the SingPost website, with text messages asking for personal data to claim an undelivered parcel.
"It is most unfortunate that scammers are taking advantage of the Covid-19 global pandemic to feed on the vulnerable during these uncertain times," Goh said.
SingPost has also informed the authorities and "immediate crackdown measures" have been enacted.
SingPost does not delay delivery due to outstanding payments
According to Goh, SingPost does not ask for outstanding payments via text messages or stall the deliveries because of that.
"SingPost does not ask for outstanding payment via text messages as 'ransom' before parcel delivery, as the scam messages currently demand."
In the event of any outstanding charges or payment, SingPost will only collect the payment at the point of delivery or collection of the parcel.
Tips on how to identify phishing scams
SingPost has warned users of such phishing attempts which can be in the form of email or websites seeking users' personal, financial or other sensitive information on their website.
They have also shared some tips on how to identify a phishing scam:
A phishing email tends to address you generally as "Dear Sir/Madam". It tends to also urge you to act quickly or with threats.

Beware also of pop-ups. Do not click on hyperlinks, download files or open attachments unless you are sure that the source is legitimate.

Beware of text messages asking you to claim a prize or to do a survey by following a hyperlink

Look out for any security warnings displayed by web browsers and any security software. If there is a security warning, it is best to follow it.
If you have responded to any of these fake SingPost messages or emails, you are advised to lodge a police report, change your passwords on all online accounts and to contact your banks to stop any transactions.
If you are unsure of the authenticity of the message or email you've received purportedly from SingPost, you can call SingPost hotline 1605 for verification.
Top image via Thomas TangMushi/Facebook
If you like what you read, follow us on Facebook, Instagram, Twitter and Telegram to get the latest updates.