A driver in Singapore has been commended for being exceptionally sensitive to the needs of his Muslim passenger during the current month of Ramadan.
A video of the encounter was uploaded online.
The passenger had boarded the car 10 minutes to the time she would be able to break fast for the day.
The driver was apparently aware of the timing, indicating he had already taken note of the break fast timing for the day.
Made arrangements for passenger to break fast
The driver then took action to ensure that his passenger would be able to break fast under optimal conditions.
First, he asked the customer about the radio channel that would play the "azan" or call to prayer, which would signal the end of the fast for the day.
He assured her that she could break her fast in the car, which meant that the passenger would not have needed to ask for his permission to do so.
The driver then drove at a faster speed to ensure that his passenger would arrive at her destination more quickly.
However, he slowed down when the azan was heard on the radio, and made sure that the passenger was comfortable and could hear the radio well.
Driver commended by commenters
Comments on the post were overwhelmingly positive.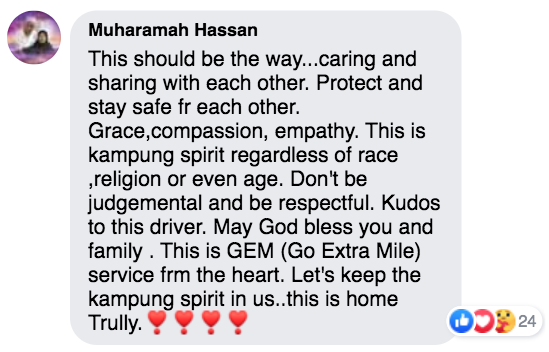 Many reflected on inter-religious harmony in Singapore.



Driving speed was called into question
It seems that even a simple heartwarming story can't please all Singaporeans, however, as some held back their praise to call the driver's speed into question:

One commenter pointed out his own experience of being the subject of complaints for dangerous driving after going at a faster speed to accommodate riders who were running late:

Top photo via All Singapore Stuff
If you like what you read, follow us on Facebook, Instagram, Twitter and Telegram to get the latest updates.