Follow us on Telegram for the latest updates: https://t.me/mothershipsg
Circuit Breaker will end, but a new series of measures will take its place on June 2.
The Multi-Ministry Taskforce announced on Tuesday, May 19 three phases of re-opening:
Phase 1 (Safe Re-opening)

Phase 2 (Safe Transition)

Phase 3 (Safe Nation)
According to Health Minister Gan Kim Yong, Phase 1 is expected to last minimally four weeks, or possibly longer.
Phase 2 is expected to take months, while there is no time limit at Phase 3.
Phase 1 (Safe re-opening) - Commencing on June 2
Economic activities that do not pose a high risk of infection will be resumed first, but social and entertainment activities which pose a higher risk will have to remain closed.
Everyone should continue to wear masks and to only leave home for essential activities. Seniors are advised to stay at home as much as possible as they are a vulnerable group.
Unfortunately, this means that you still can't visit your friends in Phase 1. However, visits to parents and grandparents living in a different house will be allowed, within limits.
Safe Home and Community
Each household will be allowed to visit their parents or grandparents staying elsewhere, although visits should be kept to a minimum.
Each receiving household should only have one visit per day, and allow a maximum of two persons from the same visiting household.
Children can be dropped off at parents' and grandparents' homes for childcare, subject to the same limit of two visitors from the same visiting household per day. This is on top of the existing provisions for informal childcare arrangements for essential workers.
Safe Work
Most manufacturing companies can resume full production, subject to the set guidelines by the government.
Most offices can also re-open, but telecommuting should be the main mode of work. Those who have been working from home so far should continue to do so, and employees should go to the office only where demonstrably necessary.
Employers must enforce safe management measures at the workplace, and employees must comply. Checks will be conducted and non-compliant workplaces will be closed.
Hairdressers will also be allowed to offer their full range of hairdressing services. All home-based businesses that operate using a delivery/collection model will also be allowed to resume.
Most retail outlets and other personal services will not re-open in Phase One. Dining in at food and beverage outlets will continue to be disallowed.
Only selected services such as motor vehicle servicing, aircon servicing, basic pet services, school bookshops and retail shops selling school uniforms will be allowed to resume.
In-person marriage solemnisations allowed again
Marriage solemnisations can take place in-person again, with a limit of 10 persons.
Places of worship can re-open for up to 5 members of the same household praying together at any one time. Families can continue to gather for wakes and funerals, with no more than 10 persons at any one time.
Other non-essential activities and social gatherings involving people from different households will remain prohibited. Sports and recreation facilities will remain closed.
Safe School
Preschools will gradually re-open by levels from June 2 and fully resume by June 10, so that young children can be cared for safely while their parents return to work.
Primary 6, Sec 4 and Sec 5 students will attend school daily, while other cohorts from primary and secondary schools will alternate between Home-Based Learning (HBL) and returning to school for lessons weekly.
Junior Colleges and Millennia Institute will arrange to have half of their students back in school at any one time.
Students of Institutes of Higher Learning (IHLs) who are not on vacation will be able to return to campus for practical and lab-based sessions, while online lectures remain.
All staff and students will be required to wear masks or face shields when on campus. Further details will be provided by the Ministry of Education (MOE) and the respective educational institutions.
Student Care Centres will fully re-open on 2 June 2020, along with the reopening of schools.
Co-Curricular Activities, enrichment activities and tuition will not resume as they involve mingling across classes and schools.
Safe Care
Healthcare services such as specialist outpatient services, medical procedures, allied health services, community-based services, and chronic disease management will resume.
Healthcare providers will decide which services to prioritise based on medical necessity and available capacity.
Preventive health services, such as the flu shot, will resume.
Complementary healthcare services will resume for one-to-one sessions and by appointment, and Traditional Chinese Medicine (TCM) needle acupuncture will be allowed for all conditions.
Senior services and senior-centric activities will still be limited. However, Senior Activity Centres will gradually and safely resume some activities to address the psychosocial well-being of seniors with little or no social support.
Community-based centre services for persons with disabilities will also gradually re-open, with safe distancing measures in place. Activities will be held in smaller groups, and persons who have medical conditions are encouraged to receive home-based support. Staff will continue taking the necessary precautions.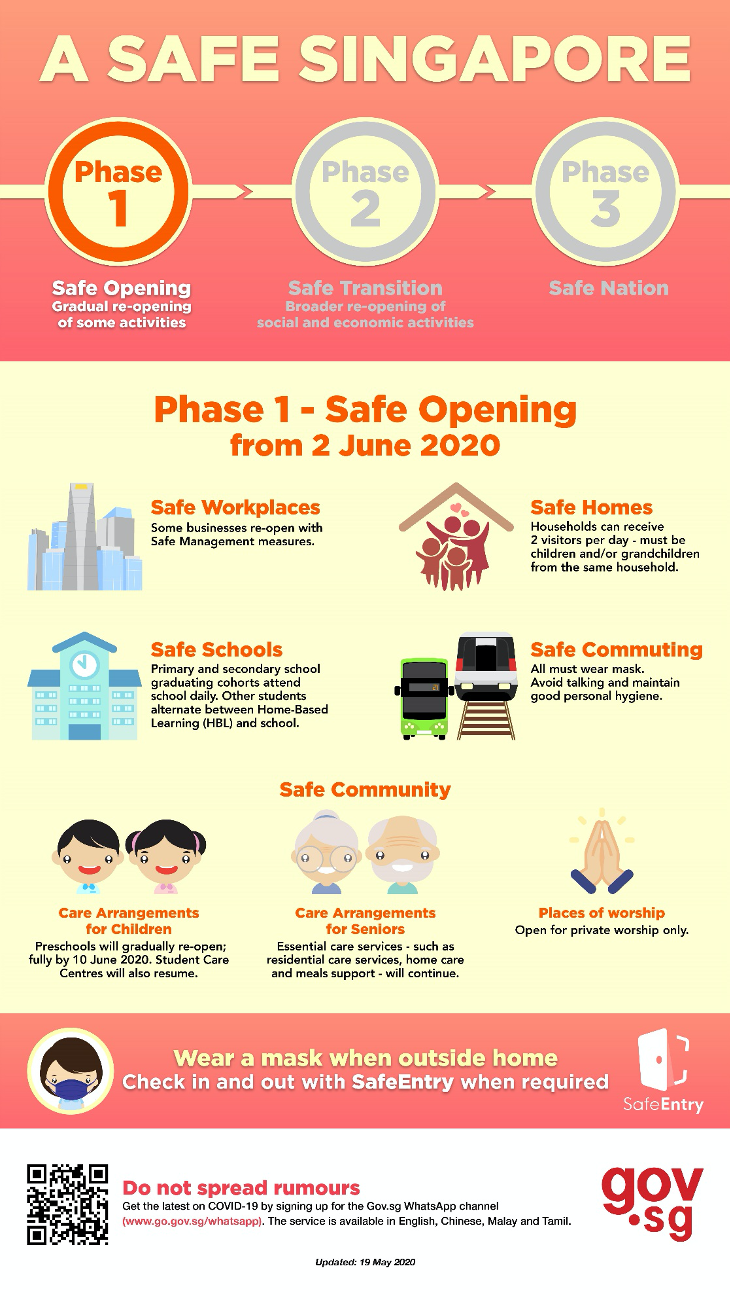 Phase 2 (Safe Transition)
If community infection remains low and stable, and dormitory infection rates are under control, Singapore will move on to Phase 2, allowing more activities to resume.
Social activities in small groups will be allowed to take place.
More firms and businesses, starting with F&B dine-in and retail outlets, gyms and fitness studios, and tuition and enrichment centres, will gradually be allowed to re-open if they can provide a safe environment for patrons.
Employers should still ensure that those who can work from home continue to do so.
Depending on the situation, all students will hopefully return to school and IHLs will increase the number of students back on campus. Sports, recreation and outdoor facilities will also start to re-open, subject to safe management practices.
Phase 3 (Safe nation) - a new normal
Singapore shall remain in Phase 3 until an effective vaccine or treatment for COVID-19 is developed.
National Development Minister Lawrence Wong said that Phase 3 is not a return to life before Covid-19, as precautions and limits will still be implemented.
Social, cultural, religious and business gatherings or events would have resumed, although gathering sizes would have to be limited in order to prevent large clusters.
Seniors should be able to resume day-to-day activities while practising safe distancing measures and avoiding peak period travel, crowded places and large groups.
Services and activities that involve significant prolonged close contact (like massages) or significant crowd management risk in an enclosed space (e.g. theatres, bars, and nightclubs) would need to seek permission to re-open, subject to the implementation of effective safety measures.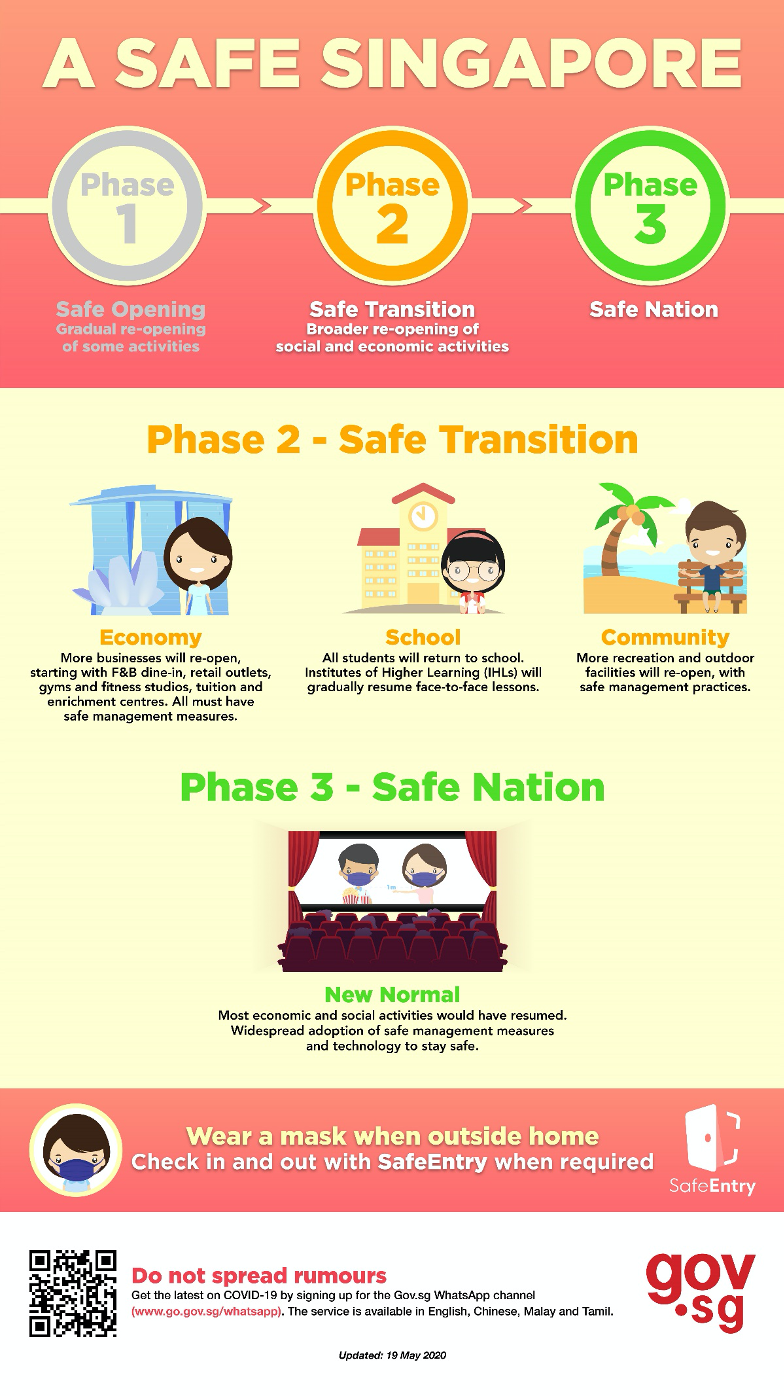 Top photo via MOH.
If you like what you read, follow us on Facebook, Instagram, Twitter and Telegram to get the latest updates.